The Nation's 10 Busiest Submarkets for Construction: Uptown/South End Charlotte, North Carolina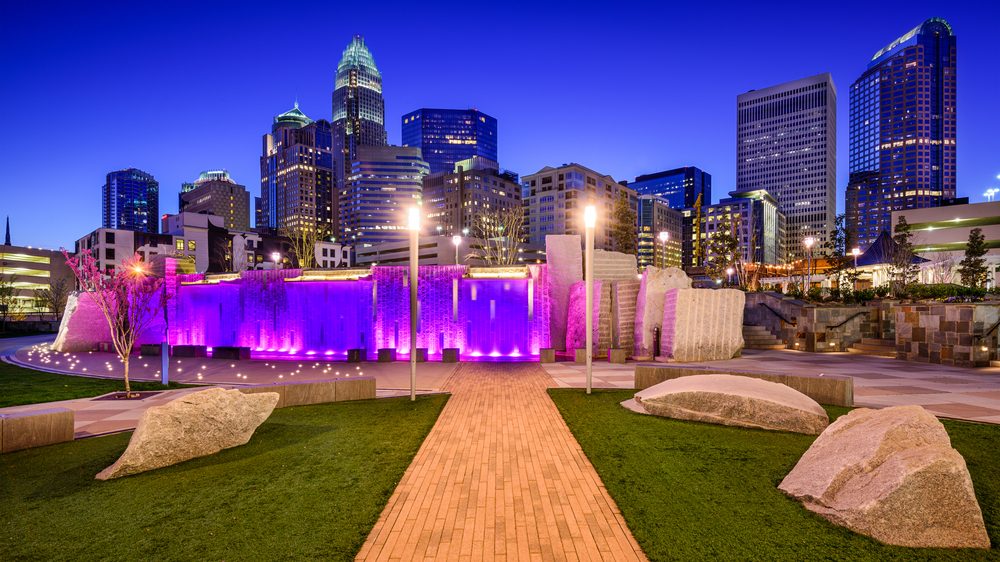 Taking the top spot on our list of The Nation's 10 Busiest Submarkets for Construction is Uptown/South End in the Charlotte metro. This submarket's inventory growth rate since 2012 is 107.7%, 8.8 percentage points higher than the #2 submarket, Frisco/Prosper. Submarket inventory growth rate calculations include new apartment supply since 2012 plus units under construction at the end of 1st quarter 2016. Turning Uptown/South End's growth rate into an actual unit count, the submarket has received 4,093 new apartments since 2012 and had an additional 4,874 units under construction in 1st quarter 2016. Of those units, 2,524 should be complete by the end of 2016. All units currently under construction are conventional housing units, meaning that no affordable, student or senior housing was under way as of 1st quarter 2016.
So what is it that is driving apartment growth in the Uptown/South End Charlotte submarket? Let's take a look at the area's history, which will give us a good idea.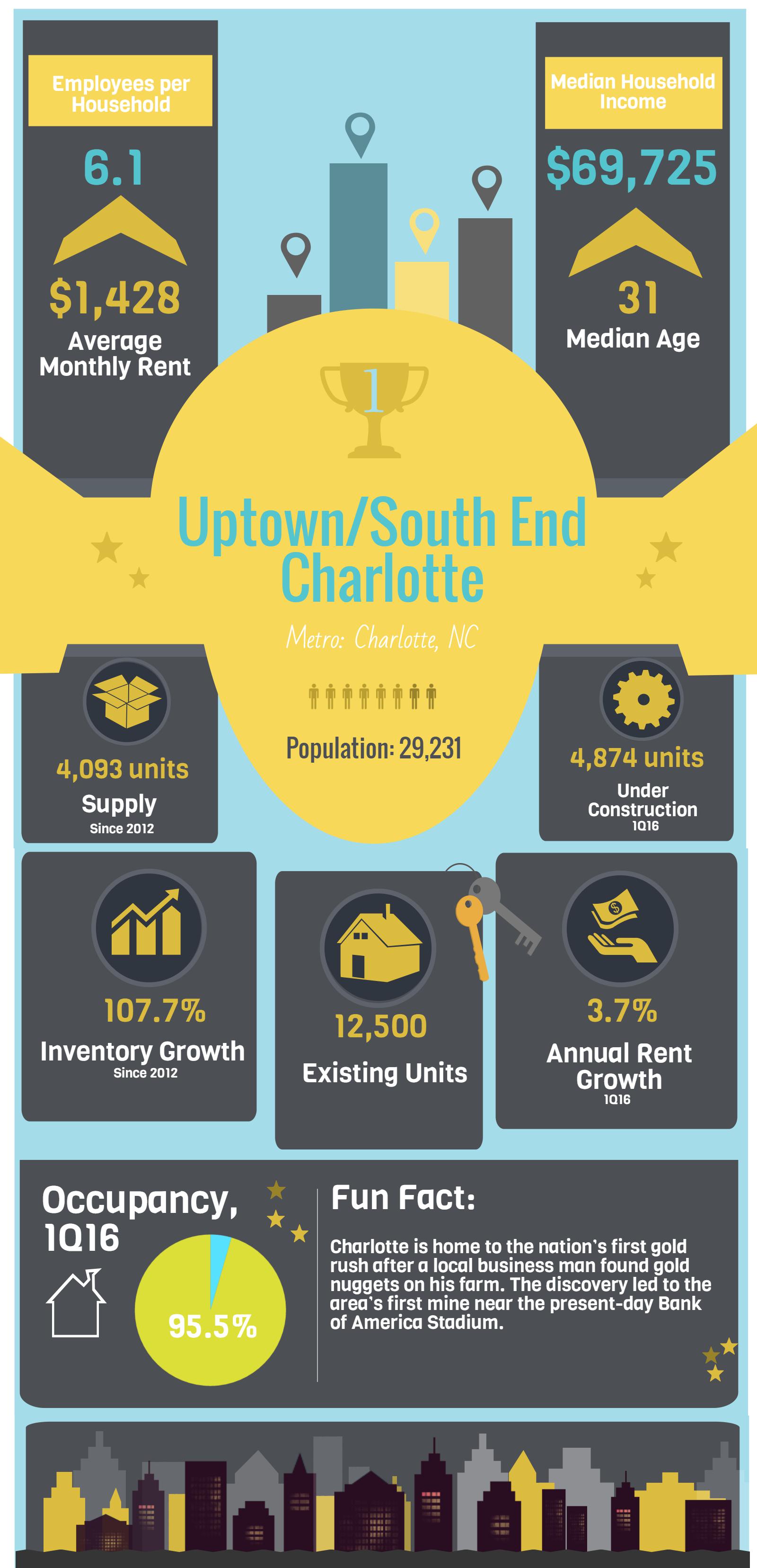 History
In the early 1980s, downtown Charlotte was pretty much a 9-to-5 area – workers drove in to the downtown area, worked their 9-to-5 shifts and went back to their homes in other parts of the metro. Later in the decade, however, there was a big push by the city of Charlotte to make the downtown area more vibrant. A huge campaign was then launched, and the downtown area was rebranded as Uptown Charlotte. The campaign was a catalyst to shed positive light on the previously work-centric area and to promote the area as a desirable, highly livable, group of neighborhoods. It took quite some time for the campaign to really pay off, as the area didn't outgrow its 9-to-5 label until the 2000s. However, the wait proved to be worth it. The campaign spurred positive change that continues to unfold 20 years later. Today, "downtown" and "uptown" are used interchangeably, while Charlotte Center City is used to describe Uptown and several of its surrounding neighborhoods.
As a result of the Uptown Charlotte evolution, tons of entertainment venues were constructed. Then came retail, apartments, the light rail, a couple of Fortune 500 companies, and other major employers. Proven by Uptown/South End's top ranking among our list of fastest-growth metros, the area has emerged as a live/work/play destination. Now, an adjacent area known as South End is also really coming to life. There is a good amount of the apartment construction through the western portion of that area since the Uptown area is becoming built-out. The South End area has essentially become a "feeder" residential area into Uptown Charlotte, but is still a distinct neighborhood of its own. The rapid apartment construction in the Uptown/South End submarket can be attributed to the transformation from a 9-to-5 downtown area to a live/work/play community. The area is drawing in a younger population, with around 43% of residents being in the 20- to 34-year-old cohort, compared to the 20.7% of the U.S. population within that cohort.
Entertainment
Uptown Charlotte is the pulse of the city, considered a premier hospitality and entertainment destination. There are several attractions that make people want to become part of the area, and that pulls tons of visitors daily (11 million visitors annually). Not only is the area home to the Carolina Panthers and the Charlotte Hornets, but it is also filled with venues for large and small events, local dives, acclaimed restaurants, craft breweries, retail and more! Better yet, the area's entertainment is developing alongside the surge in multifamily housing. Let's take a look at some of the area's largest attractions, many of which have recently been updated or have planned expansions.
Discovery Place: First opened in 1951, Discovery Place underwent a $31.6 million renovation, which was completed in 2010. In May 2016, Discovery Place KIDS welcomed its 1 millionth visitor. In 2015, Discovery Place was among the 25 best children's museums in the nation, according to the Early Childhood Education Zone group.
Bojangles' Coliseum: Opened in 1955 as Charlotte's first coliseum, the facility closed in 1988, was remodeled and reopened in 1993. Another $12 million renovation was completed in late 2015. Today, this venue hosts concerts, family events, figure skating, rodeo and bull riding events.
Bank of America Stadium: Opened in 1996, this stadium is on 33 acres in Uptown and is home to the Carolina Panthers football team. The stadium is in the middle of a $87.5 million, five-year renovation plan funded through a public-private financing agreement with the city of Charlotte.
Time Warner Cable Arena: Built in 2005, this arena is home to the NBA's Charlotte Hornets and the American Hockey League's Charlotte Checkers.
Charlotte Convention Center: Opened in 1995, the convention center attracts over half a million visitors each year. The center will break ground on a $1.4 billion expansion project in early 2017.
NASCAR Hall of Fame: Opened in 2010, the NASCAR Hall of Fame is an interactive, learning museum that includes artifacts, exhibits and a theater.
Bechtler Museum of Modern Art: Also opened in 2010, this museum hosts mid-20th century modern art and hosted over 240,000 people in its first five years of operation.
Romare Bearden Park: This urban park, opened in September 2013, is known as the city's new "crown jewel."
BB&T Ballpark: Celebrated its opening day with the Charlotte Knights' first pitch on April 11, 2014. Not only is this an entertainment venue, but it is also receiving a mixed-use development to turn the area into a vibrant, walkable neighborhood.
Retail
Uptown is home to a variety of shopping destinations that are easily accessible to residents by walking, biking or public transportation. According to Charlotte Center City Partners, there is currently 4.5 million square feet of retail space in Uptown and South End. Among the retail attractions:
Epicentre: Home to nearly 40 venues, the Epicentre has entertainment options (a movie theater and bowling alley, to name a couple), retail, restaurants and rooftop terraces, according to its website. The Epicentre is also within minutes from Time Warner Cable Arena and Bank of America Stadium.
Overstreet Mall: Uptown Charlotte has a network of skywalks that connect buildings around the city, making it so that shoppers never have to go outside! This builds a mall-like structure in the middle of Center City. The network can be complicated, so be sure to check out a map!
7th Street Public Market: This is considered Uptown Charlotte's food destination. According to its website, 7th Street Public Market promotes local and regional farmers, food artisans and entrepreneurs. In its fourth year, 7th Street Public Market is adding to its list of vendors and events, like Yoga @ the Market.
Atherton Mill: Located in South End, this mixed-use center offers, shopping, entertainment, and restaurants.
Metropolitan: Offers a variety of restaurants and retail stores in the Midtown area.
Apartment Development
The Uptown/South End area of Charlotte is exploding with apartment development. The area has seen the most apartment deliveries and construction as a percentage of its existing base since 2012 than all other submarkets that MPF Research studies.
The three largest completions over that time have been:
Venue: This 366-unit apartment community recently completed on Weddington Avenue, just northeast of 7th Street. The Venue offers one- and two-bedroom units and has amenities ranging from a movie theatre and wellness center to a pet park and multi-level parking garage.
Element Uptown Apartments: Element Uptown is a 352-unit high-rise project in Uptown Charlotte across the street from Romare Bearden Park and a short walk away from Bank of America Stadium. The project features studio, one- and two-bedroom units. The property has 22 stories, with the rear of the bottom six stories designated for parking.
SkyHouse Uptown: This 24-story tower contains 336 units with studio, one- and two-bedroom options in Fourth Ward in Uptown Charlotte. It emerged from the revitalization effort of the north end of Tryon Street. The apartment tower offers retail space on the bottom floor. It is located on Church Street, bordered by 10th and North Tryon streets.
The three largest properties under construction as of 1st quarter 2016 include:
Crescent Stonewall Station: Crescent Stonewall Station is a massive, 22-story apartment tower featuring 459 studio, one-, and two-bedroom apartments. The property is equipped with upscale amenities such as an invisible-edge saltwater pool, a gated dog park and high-end finishes. A huge selling point for this apartment is its accessibility to a LYNX station and the fact that Whole Foods and other retailers are located on the first floor. The project's developer, Crescent Communities, plans to begin leasing in 2017.
The Mint: This 394-unit, seven-story property is located on the corner of West Trade and North Graham streets in the Fourth Ward in Uptown Charlotte. The property features amenities including a pool and fitness center and is walking distance to many of Charlotte's most popular attractions. The Mint's studio, one-, and two-bedroom units are all outfitted with high-end finishes. The property was scheduled to open in 2nd quarter 2016.
The Dillon: The Dillon, located in Dilworth, is a five-story, 379-unit apartment complex that was on track to complete in 1st quarter 2018. The estimated $82 million project was originally being built by developer Forestar, but was recently purchased by a corporation affiliated with Lincoln Property Co. for $14.4 million, according to The Charlotte Observer.
Transportation
What has really driven growth in the Uptown/South End submarket has been the 2030 Transit Corridor System Plan. Much of the entertainment, retail, restaurants and apartments have popped up along the LYNX light rail line. The plan was adopted in November 2006. Once complete, the plan calls for 25 miles of commuter rail, 21 miles of light rail, 16 miles of streetcar and 14 miles of bus rapid transit. Currently in the works is the Blue Line Extension, which will run from 7th Street to the University of North Carolina at Charlotte and should be completed in 2017. The plan has received attention recently as adequate funding to accomplish the project by 2030 is coming into question. Additionally, since the project started, Charlotte has experienced impressive growth, changing the area's needs. This is leading to a discussion of the Charlotte Area Transit System refreshing the plan to include new transit corridors joining the Blue Line.
Major Employers
According to the 2016 State of Center City, there are upward of 113,000 total employees in over 1,300 companies in the Uptown/South End area. Several companies have buildings or headquarters in the area. Those with asterisks are Fortune 500 companies.
Bank of America*
Chiquita Brands International
Duke Energy*
Wells Fargo headquarters for East Coast operations
BBVA Compass
BB&T
Ally Financial
AT&T
Recent noteworthy moves include Dimensional Fund Advisors opening their East Coast regional headquarters in Center City. The company plans to bring 300 jobs to the area and spend around $105 million on a new office facility. Nearby, construction is under way on a new, 200,000-square-foot corporate headquarters building at the AvidXchange Music Factory. The building can accommodate up to 1,000 employees, but AvidXchange, a company which provides automated bill payment solutions, is already discussing adding another building soon after its completion. Original estimates for the company's Charlotte headquarters included the creation of 630 jobs, but the company will certainly surpass that figure.
South End
The South End area of Charlotte is experiencing a lot of growth recently. This area is a "feeder" area into the more commercial and business-centric area of Uptown Charlotte, but is a very distinct neighborhood of its own. South End is still somewhat of an industrial area, but is also emerging into an urban neighborhood with a unique design district. Shaping the South End area is the South End Strategic Plan, which is in its second year of implementation. The South End Strategic Plan aims to:
Create the South End area as a destination for entertainment and retail
Give residents more neighborhood amenities
Attract new businesses to the area
Create a more seamless neighborhood
This is the newest trendy area of Charlotte, and will only continue to grow in the years to come.
Check out previous posts in our series highlighting the nation's top submarkets for apartment construction:
9. Far Northwest San Antonio, Texas
7. Downtown/Highlands/Lincoln Park, Colorado
6. North San Jose/Milpitas, California
5. Navy Yard/Capitol South, District of Columbia
4. Downtown Houston/Montrose/River Oaks, Texas
3. Central Nashville, Tennessee