The Nation's 10 Busiest Submarkets For Construction: Central Nashville, Tennessee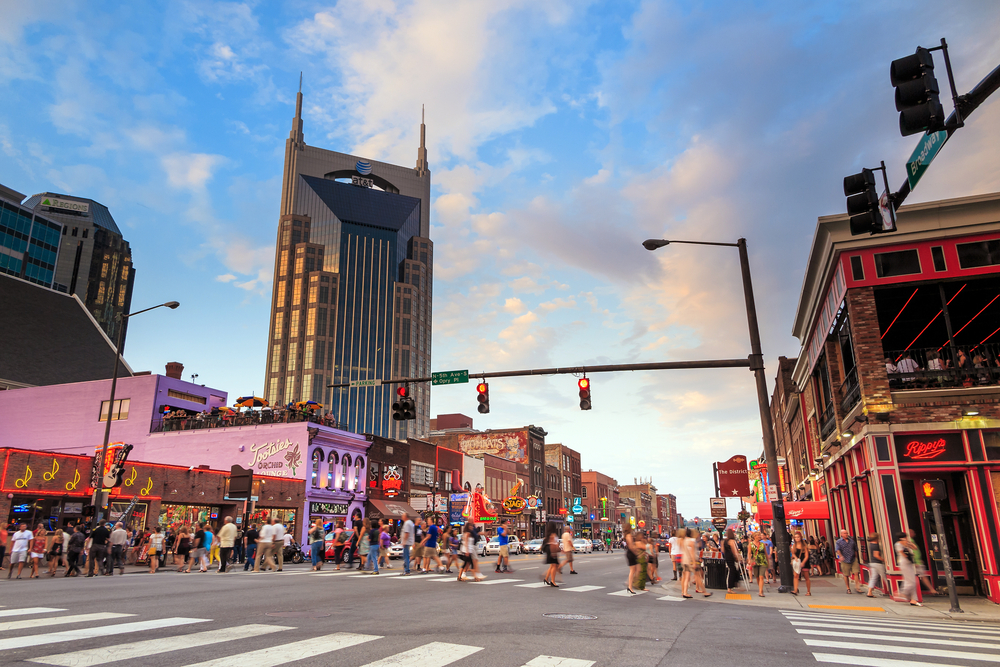 Landing in the #3 spot on our list of The Nation's 10 Busiest Submarkets for Construction is Central Nashville. This submarket's apartment inventory expansion rate since 2012 is 94.4%. That calculation includes new apartment supply plus units under construction at end of 1st quarter 2016. Turning that percentage into a unit count, Central Nashville has received 3,108 new apartments since 2012, and saw an additional 6,856 units under construction in 1st quarter 2016. Of those units under construction, 3,890 should be completed by 1st quarter 2017, increasing the apartment base by 28%. Even with the large completion volumes, the need for the housing is not fading. A 2015 survey by Nashville Downtown Partnership found that only 12% of Downtown Nashville employees actually live in the downtown area and only 54% of respondents lived within Davidson County, an even broader area than the Central Nashville Submarket. This provides the area with an opportunity to satisfy potential pent-up demand for multifamily housing in the growing area.
Let's take a look at a few demand drivers that are making Central Nashville a hotbed for apartment development.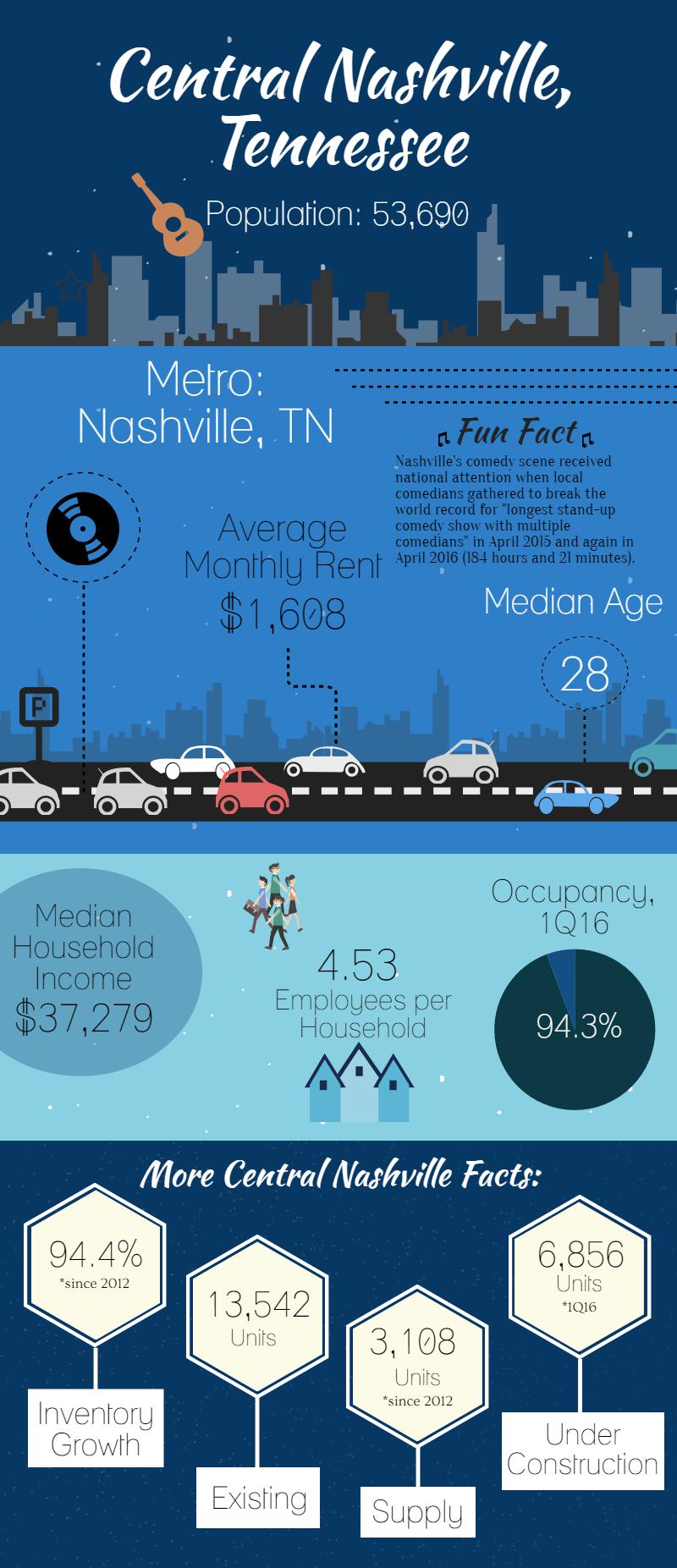 Location
The Central Nashville submarket is centrally located in the Nashville metro and is served by several major roadways, including I-24, I-40, I-65 and I-440. The submarket is also just a short drive to Nashville International Airport. The Cumberland River serves as the northern boundary of the submarket and winds through downtown. The Cumberland River is what first drew settlers to the area. Now, the city no longer relies on the river for commerce, but residents in the Central Nashville submarket still enjoy the view!
A big driver of growth in and around the downtown Nashville area has been an ongoing transformation of several neighborhoods. Apartments, boutiques and upscale retail, unique restaurants and even a $585 million convention center crowd the streets of the Central Nashville submarket. As a result, people are moving to these eclectic areas not only to be closer to work, but also to be closer to that action. Additionally, tourism in the area is booming recently, adding more jobs and further stimulating development of the area.
The Central Nashville submarket includes many of the hippest neighborhoods in Nashville, including the metro's downtown area, which has exploded with economic development over the past decade. Downtown Nashville's population has almost quadrupled since 2000, to 7,840 people in 2014, according to the Nashville Downtown Partnership. Other popular Nashville neighborhoods within the Central Nashville submarket that have seen significant development includes West End, Midtown/Vanderbilt, Hillsboro Village/Belmont, The Gulch and 12 South. The submarket also includes several neighborhoods that are primarily single-family residential areas that have not experienced much multifamily development, including Hillsboro West End, Belmont/Hillsboro, Hadley/Washington and North Nashville.
High-Growth Neighborhoods
A decade ago, the Central Nashville submarket lacked a hip, urban area. But since then, several distinct, trendy areas have emerged, allowing residents to be within walking distance to all the action. Let's take a look at these areas that are attracting people to the submarket:
Downtown Nashville/SoBro: This area is an entertainment hub for the larger metro. The area is home to the all-purpose Bridgestone Arena, Nissan Stadium, Schermerhorn Symphony Center and Tennessee Performing Arts Center. You can also find $623 million Music City Center and the new First Tennessee Park ballpark in this area. While many of Nashville's famous "honkey tonks" are located in downtown Nashville, there are plenty of entertainment options for those who are not into the country music scene, especially in SoBro. SoBro, South of Broadway Street, is a distinct neighborhood away from downtown with more businesses and economic development. In fact, SoBro is quickly becoming the entrepreneurial center of Nashville. There are tons of restaurants, cocktail bars, boutique hotels and entertainment options on both sides of Broadway.
The Gulch: This neighborhood, located just south of downtown Nashville, is upscale, trendy and extremely walkable. The Gulch is also the only LEED certified community in the South. Formerly a railroad terminal and industrial hub of Nashville, the area has been transformed to offer more of a scene for young adults. That transformation has come as part of what is expected to be a $1 billion redevelopment effort. Since the effort started in 2006, the area has lured many companies to the area, including SonyMusic Nashville, which relocated its office from Music Row to The Gulch. The community has also attracted trendy retailers and loads of restaurants and venues. Multifamily development in the area has been primarily mixed-use residential.
Germantown: This eclectic neighborhood is one of the oldest areas in Nashville and is experiencing a huge revitalization effort, bringing an eclectic vibe to the area. The neighborhood has less of an urban feel with primarily single-family homes, townhomes and duplexes, and does not provide as much walkability as other Nashville neighborhoods. However, Germantown offers ample charm and has many family-oriented attractions that other neighborhoods may fall short on. These include the Nashville Farmer's Market and Bicentennial Capitol Mall State Park.
Music Row/Demonbreun: This area is home to some of the area's most famous music-related tourist attractions. Recording artists are commonly spotted coming out of the many studios in the neighborhood, including OmniSound Studios . This area is highly desirable for young adults. Demonbreun provides an epic nightlife destination with a quarter mile of bars and restaurants while its eclectic mix of shops are perfect for daytime meandering.
Midtown/Vanderbilt: With its collection of unique bars and restaurants, Midtown can also provide locals a haven away from the touristy areas of Nashville. Although not an ideal location for families, the laid-back vibe of midtown is perfect for young adults. An added bonus is Midtown's central location that allows residents to easily walk or drive to two large Universities.
Education
A big apartment demand driver in the Central Nashville submarket is education. There are two major universities located west of downtown Nashville:
Vanderbilt University & Vanderbilt University Medical Center: As of the 2015-2016 school year, there were a total of 11,815 full-time students and 790 part-time students in the undergraduate, graduate and professional programs at Vanderbilt University. According to the university's website, 93% of undergraduate students live on campus. Moreover, there are 19,997 people on staff at Vanderbilt University. About 4,075 of staff are employed on the university's central campus, and 15,922 are employed at the medical center. Vanderbilt University & Vanderbilt University Medical Center combine to be the largest employer in Nashville.
Belmont University: This school, dubbed "One of the Best Music Business Programs in the Country" by Rolling Stone and Time magazines, expects over 7,400 students enrolled in the 2016-17 school year. Moreover, there are over 500 staff members on payroll at this university, with a student to teacher ratio of 13:1.
Business Climate
One last demand driver in the Central Nashville submarket is the business climate. The economic center for Central Nashville is the downtown area. Downtown Nashville area was home to more than 57,000 employees in 2015, and the count continues to grow. A major contributor to the Central Nashville economy, as well as the larger metro's economy, is the health care industry. According to the Nashville Chamber of Commerce, Nashville is "widely recognized as a national health care industry capital and global health care industry leader." The health care industry contributes around $38.8 billion to the metro economy annually, according to the Nashville Health Care Council. The metro has over 250,000 people employed in the health care industry and has 18 publically traded health care companies in the region. Zooming in to Central Nashville, quite a few of these health care companies are top employers in Nashville and located in the submarket. These include Vanderbilt University Medical Center, HCA Inc., and HealthStream Inc. A medical office REIT, Healthcare Realty Trust, is also located in Central Nashville.
While development is booming in the health industry, there are many other notable industries with a large presence in the area. For example, the neighborhood is also home to 29 of Nashville's 35 biggest law firms.
This being Nashville, music is definitely a prominent feature of the submarket's business environment. Central Nashville contains some of the largest music industry leaders including CMT, Universal Music Group, Warner Bros Records, BNA Records Label, Sony/ATV Music Publishing and more! With such employment opportunities and a vibrant culture , 90% of employees say that downtown Nashville is a fun place to work, according to the 2015 Downtown Employee Survey. Moreover, 95% of employees said that downtown has a positive and energetic atmosphere.
Proving that business activity is spreading beyond the metro's traditional core central business district, HCA is moving headquarters from Downtown to North Gulch along with their cancer wing, Sarah Cannon. The move will bring over 2,000 jobs by the end of 2016. Up-and-coming companies are also opening in various areas of this hip Nashville submarket. For example, Lyft is bringing 380 new jobs to the area with its customer experience operations center. Additionally, Nashville as a whole ranked among the top 25 metros across the nation for startup activity in the Kauffman Index for Startup Activity, with much of that activity occurring in SoBro.
Apartment Development
With so much development across several neighborhoods in the submarket, it is hard to pinpoint the area with the most growth. However, property-level trends carry through the neighborhoods. One apparent trend with multifamily development across the submarket is that properties that were still under construction as of 1st quarter 2016 were larger than those completed since 2012. The median size of properties completed since 2012 was 142 units, while the median size of properties still under construction as of 1st quarter 2016 was 263 units. These properties are also larger than traditional development in the submarket, bringing diversity to the Nashville skyline. The properties are also much more expensive than the metro's average — something to be expected for units in urban settings that are growing in popularity. There were only two affordable properties under construction as of 1st quarter 2016, with only 77 units between them. No affordable properties completed in the prior year.
The two largest completions between 2012 and 1st quarter 2016 were:
Elliston 23: This 364-unit property is located in the Midtown neighborhood, within walking distance to Vanderbilt University and 85 restaurants. The Silver LEED-certified, mixed-use development features 15,000 square feet of commercial space, with retailers like Massage Envy and Dunkin Donuts on the ground floor. Elliston 23 offers 20 unique one- and two-bedroom floorplans with luxury finishes. Completed in 2014, the project was estimated to cost $60 million. When the developer sold the property to The Connor Group for just over $95 million shortly after completion, the sale broke the record for the highest price paid for one apartment community in the Nashville market.
Eleven North: This 302-unit property in The Gulch features luxury one-, two- and three-bedroom units. The property boasts an oversized saltwater pool with a spa, a rooftop lounge, fitness center and a decked-out community lounge. The property is walking distance to retail and nightlife while being in sandwiched between all of the attractions in Downtown Nashville and Music Row.
The two largest properties still under construction at the end of 1st quarter 2016 were Element Music Row and Church Street. Like in the top completed projects, the largest is located in Music Row with the second-largest situated in the popular The Gulch neighborhood.
Element Music Row: This 430-unit property began construction in 2nd quarter 2014 and was scheduled to complete in 2nd quarter 2016. Element Music Row is centrally located on Demonbreun Street, located next to restaurants and entertainment. The property is also just minutes from both Vanderbilt University and Belmont University. The luxury studio, one-, two- and three-bedroom units feature floor-to-ceiling windows, gourmet kitchens, keyless apartment entry and more! The community is loaded with all of the upscale amenities that you would expect.
Church Street: Construction on Church Street began in 3rd quarter 2015 and is set to complete in 2nd quarter 2018. The five-story, 376-unit property is spearheaded by Pollack Shores Real Estate Group. The developer called plans for the mixed-use property "true to place, mirroring the aesthetic of the neighborhood and livability of the neighborhood and surrounding community."
Central Nashville apartments are surrounded by the submarket's unique atmosphere that serves as a valuable amenity in and of itself. This growing submarket also is ideally located near top employers and universities and is surrounded by a truly incredible amount and variety of entertainment options. This promising area is definitely one to keep an eye on moving forward. The only question remaining is how the submarket will respond to the upcoming supply shock, with nearly half of the units under construction as of 1st quarter 2016 projected to come online in 2016.
Check out previous posts in our series highlighting the nation's top submarkets for apartment construction:
9. Far Northwest San Antonio, Texas
7. Downtown/Highlands/Lincoln Park, Colorado
6. North San Jose/Milpitas, California
5. Navy Yard/Capitol South, District of Columbia