Essential Software for Growing Portfolios
Property management just got a whole lot easier
*For portfolios less than 2,000 units
Which best describes your portfolio?
The Cloud-based Solution That Scales With You
Designed to scale as you grow, RealPage ® Essentials is an integrated solution that enables a seamless prospect-to-resident journey, simplifies back-end processes and empowers team productivity for small and mid-sized multifamily properties. Technology like this isn't just for the "big guys" anymore. Now, you can put our property management software to work for your property's competitive advantage.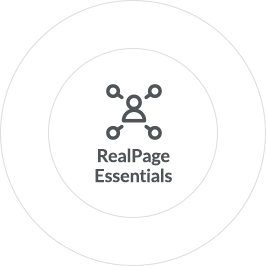 RealPage Essentials
Prospect Management
Give prospects a seamless end-to-end experience
Why hand paper applications and leases to your prospects when you could be moving everything to an online experience? Start the prospect-to-resident journey with an easily accessible, integrated and engaging online leasing experience that delivers all the information prospects are looking for. When they're ready to apply, they can easily select the unit, lease terms, and price that best meet their needs, review terms and agreements, and then digitally sign. They'll appreciate the convenience, simplicity and ease of online application and lease signing.
A 10-minute online application captures up to 7% more leases and 24/7 online leasing captures 33% more applications.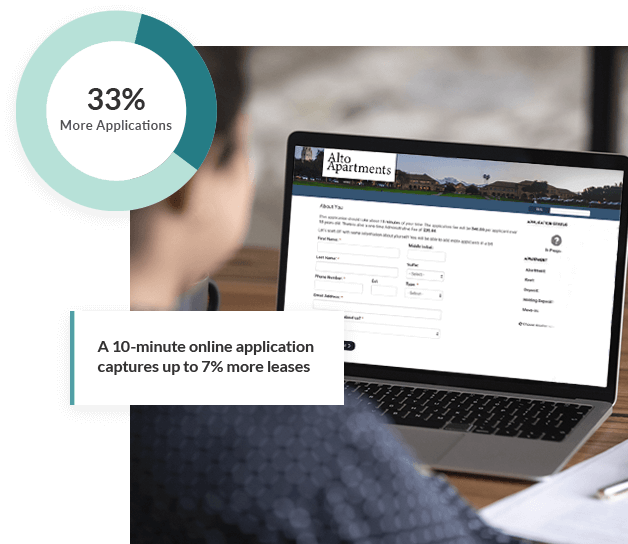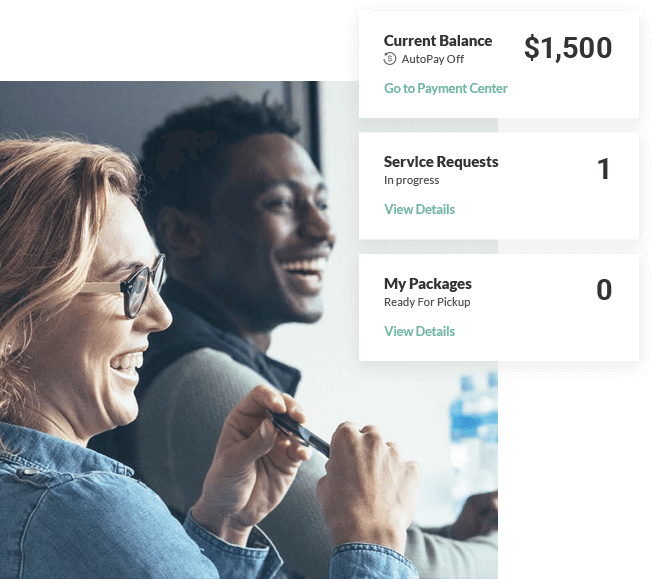 Resident Management
ActiveBuilding saves time, lowers costs and boosts revenue
Once leasing is complete, prospects can begin transitioning to residency even before move-in day with ActiveBuilding – the resident portal that provides mobile access to every aspect of apartment life. ActiveBuilding's convenient, in-app payment options help reduce the risk and cost of checks – and encourages adoption so the rent gets paid that much sooner.
Self-service maintenance requests allow efficient tracking & dispatching of staff and streamline resident management—all while relieving staff to focus on higher-value tasks. Always-on communication tools, available from the web and mobile app, boost resident satisfaction by keeping everyone connected and informed in real time, in the channels they prefer.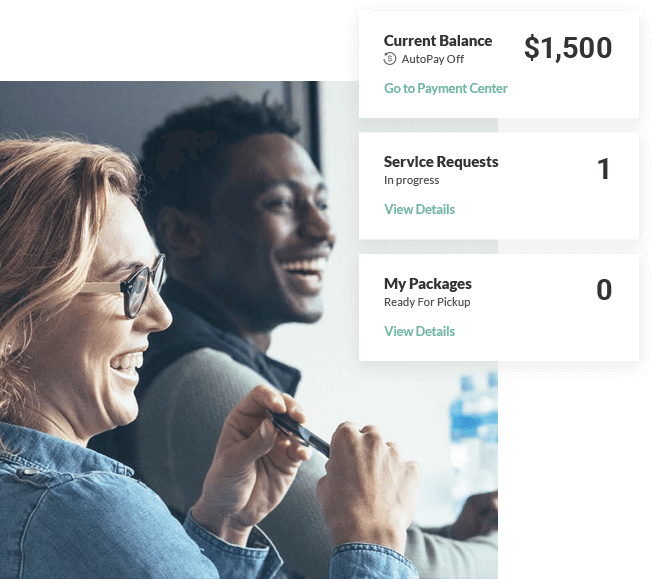 Implementation and Training
RealPage Essentials gives you a tailored, holistic plan and a team of experts who can provide the knowledge and experience you need for a successful onboarding experience and the best possible return on your investment.
Property Operations and Management
Improve productivity. Minimize downtime.
Getting started on the path to improved NOI is as easy as equipping your teams with the essential property management tools your business needs to be even more productive — now and in the future. You can leverage one platform to streamline processes from the front-end to the back-end. The maintenance management app automatically syncs with OneSite® and provides managers with visibility into maintenance activity, fosters better communication, supports collaboration, improves productivity and minimizes downtime. With technology on your side, your team can focus on work that matters most, like customer service.
Maintenance teams can immediately update residents on their progress and better manage turn boards and make-readies. Inspections can be completed more efficiently because maintenance staff can manage the entire inspection process — from start to finish — on the app, and they can easily evaluate the condition of a unit, document damage or repairs needed, and have residents sign off on inspections.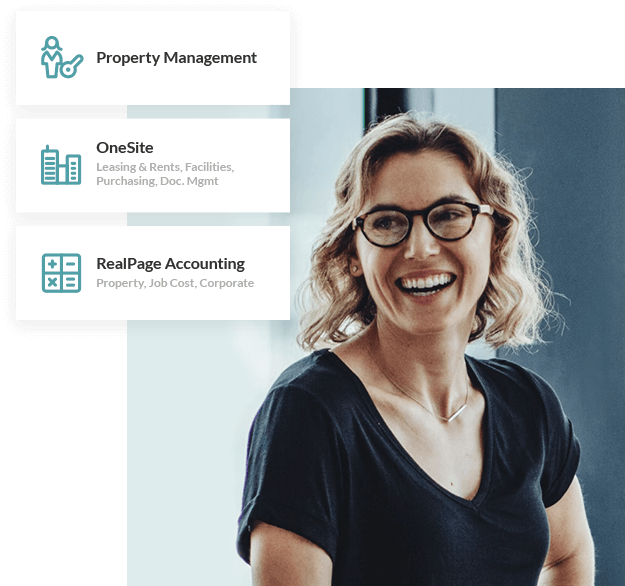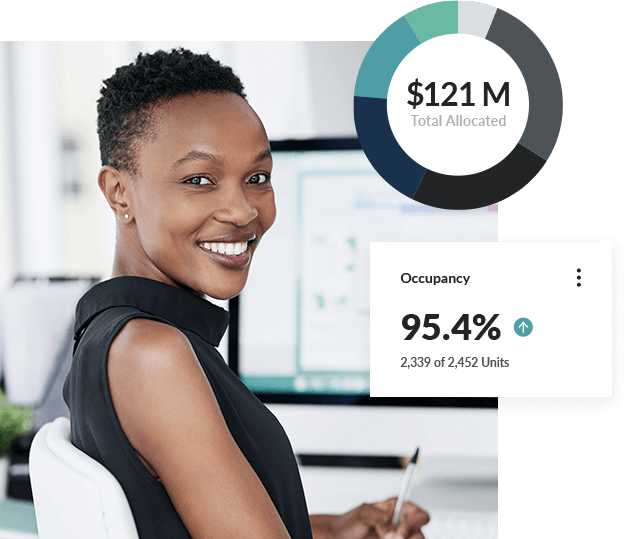 Accounting
Accounting Software that Keeps you Ahead of the Curve
The financial dashboard is customized for your business and provides visibility into key performance metrics, with drill-down visibility to reveal opportunities for reducing costs and increasing revenue. Easy touch features include fee assessments, charge reversals and audit trails.
Our Accounting platform also includes an integrated online purchasing module that empowers you to take control of expenses with step-by-step approval workflows that ensure site teams are ordering from approved vendors and taking advantage of discount catalogs.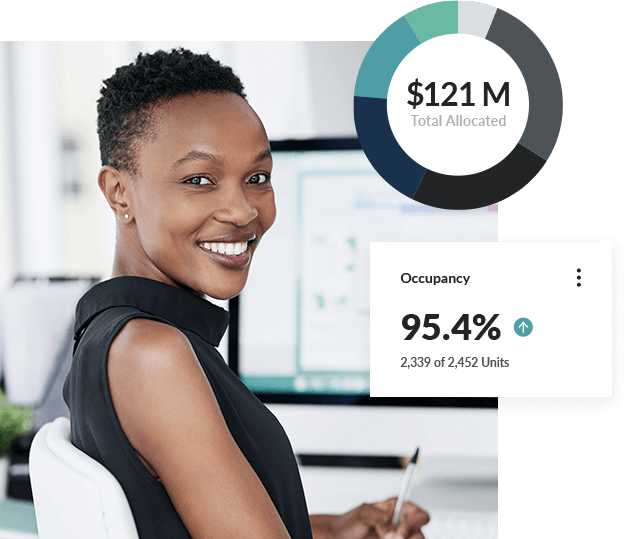 All the Essentials in Two Simple Plans
Essentials
Lite
$1.50
per unit / per month
---
Prospect Management with built In Marketing & Digital Leasing Tools
Property Operations including Maintenance Management with Mobile Capabilities
Property Accounting
Resident Management with RealPage Payments, Online Renewals, ActiveBuilding
Essentials
Plus
$3.00
per unit / per month
---
Everything in Essentials Lite
Standardized & Secure Documents Accessible from Anywhere
Vendor Credentialing to Manage Vendor Risk
Business Intelligence Dashboard and Reporting
Robust Accounting and Reporting including Budgeting, A/R, Non-Multifamily Entities, Spend Management in Accounting and Bank Feed Data
Resources

Dynamic Marketing Moves for Growing Portfolios

Magnolia PC Relies on RealPage to Scale, Grow & Gain Control

Midmarket Playbook: 4 Proptech Strategies Driving Momentum into 2023

Midmarket Playbook: 3 Steps to Uncomplicate Your Multifamily Operations

Level the Playing Field: 5 Tech Hacks From Top Midmarket Multifamily Operators

Overcoming the Big Challenges Facing Smaller Multifamily Operators