Are you looking for a
place to ?
Proudly certified as a Great Place To Work!
Why RealPage?
RealPage attracts people worldwide who love advanced software, have a talent for data technology, and who provide excellent customer service. We are in the business of enhancing the rental experience for millions of residents – and it takes a lot of talented teammates to make that happen! Are you looking for a place to innovate, to achieve and to grow?
New Hires (Since Jan 2020)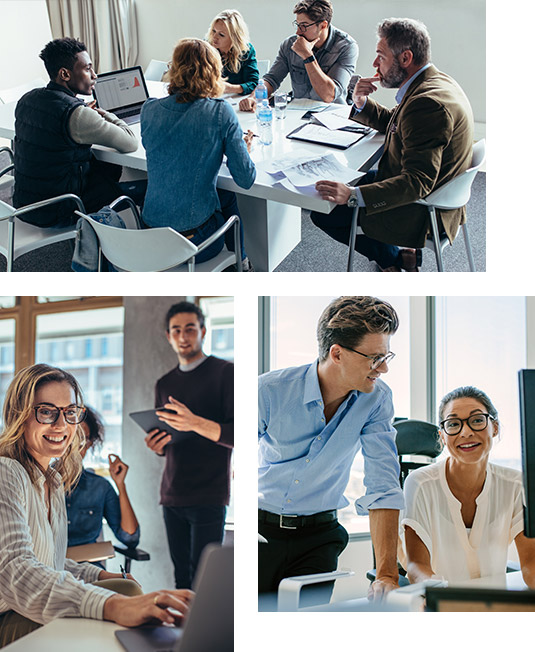 Who We Are
RealPage is transforming the technology real estate industry, and our teammates know how to think big and leave their mark. If you want to join a progressive and inclusive global company devoted to excellence, ownership, character, and teamwork, we are looking for you!
We provide an industry-leading technology platform that enables real estate owners and managers to change how people experience and use rental space. Our customers use our platform to gain transparency into asset performance, leverage data insights and monetize space to create incremental yields. Founded in 1998 and headquartered in Richardson, Texas, RealPage currently serves more than 19 million rental units worldwide with exciting career opportunities in North America, Europe, and Asia. Serving our customers is our highest priority, and RealPage teammates are our greatest strength.
Join a team where your work makes an impact every day!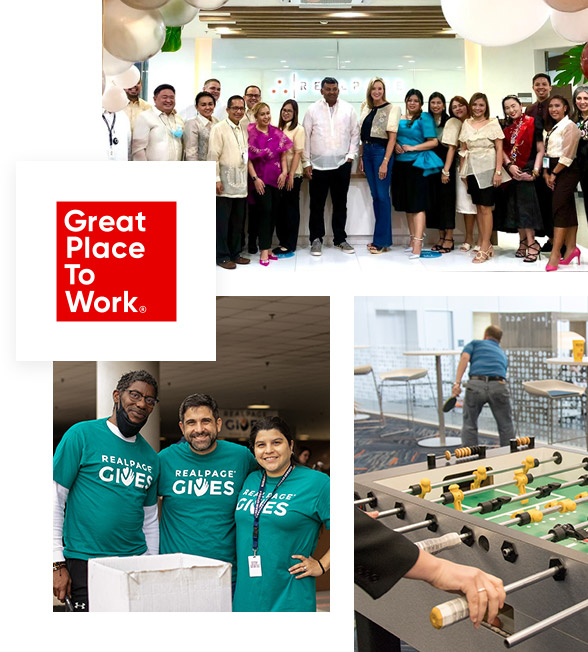 What We Offer
At RealPage, we're always looking for talented professionals who thrive in a collaborative environment that celebrates innovation, creativity, and the achievement of results. It is the things you do that bring out the best of you and RealPage.
RealPage considers qualified applicants without regard to gender, sexual orientation, gender identity, religion, race, national origin, age, veteran or disability status. We celebrate diversity and are committed to building an inclusive work environment where all teammates feel a sense of belonging and valued for bringing their authentic selves to work every single day.
RealPageGIVES
We believe being a good corporate citizen is more than bringing jobs to the global communities we serve ─ it's about engaging and empowering our employees to give back in the communities where they live and work. We believe it's our responsibility to serve.
Culture That Drives Results
Professional Development
We are committed to developing and managing a great company. We believe that a strong corporate culture that nurtures core values and philosophies is essential to our long-term success. We call these values and philosophies the "Realpage Promise" and we will practice the promise in our actions every day.
Explore Professional Development
Inclusion & Diversity
Inclusion and Diversity are at the hear of RealPage. Our unique abilities, perspectives, styles, and ideas make us stronger. Our differences make us grow ─ and excel. Fostering an inclusive and diverse workplace aligns us all to the organizational mission and creates a sense of unity.
Inclusion and Diversity at RealPage
Philanthropy
Giving back to the communities where we work and live is part of the RealPage Promise ─ and an integral part of our culture. Our teammates give their time, talents and financial resources for the benefit of hundreds of global non-profit organization, impacting millions of people.
RealPage Philanthropy
RealPage Around the World
We are a global technology company that's growing opportunities for our real estate customers around the world. Join our great company and make a difference for yourself and for our customers!
Proudly certified as a Great Place To Work!