The Nation's 10 Busiest Submarkets for Construction: Frisco/Prosper, Texas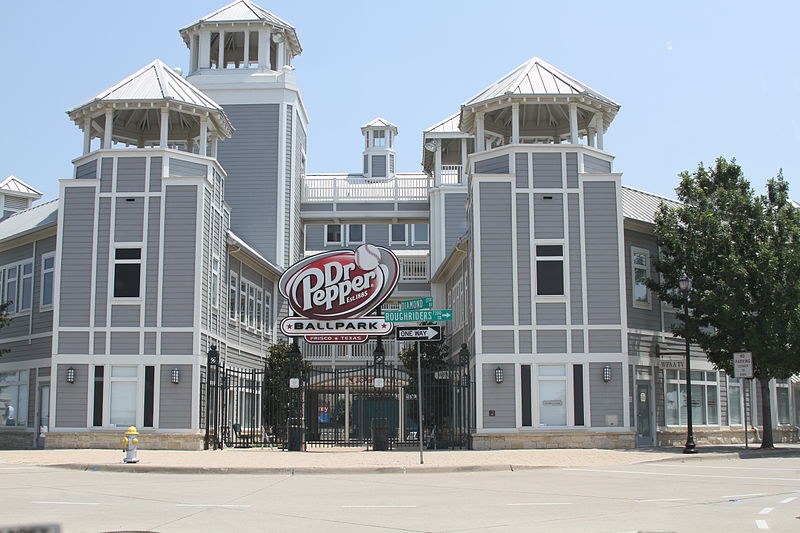 Landing in the #2 spot on our list of The Nation's 10 Busiest Submarkets for Construction is Frisco/Prosper in the Dallas, Texas metro. Frisco/Prosper's existing apartment base has expanded 98.9% since 2012. That calculation includes new apartment supply plus units under construction at the end of 1st quarter 2016. Turning that percentage into an actual unit count, Frisco/Prosper has received 4,298 new apartments since 2012 and has an additional 4,009 units under construction, all of which should be available by 3rd quarter 2017. Development has been concentrated in the southern area of the submarket in the cities of Frisco and Little Elm, with the city of Prosper and the northern portion of the submarket remaining primarily single-family residential. Driving apartment demand in Frisco/Prosper is the area's recent emergence as an employment hub. In fact, Frisco boasts the $5 Billion Mile with four mixed-use developments funded by over $5 billion in capital investments within one mile, located at the intersection of Dallas North Tollway and Highway 121.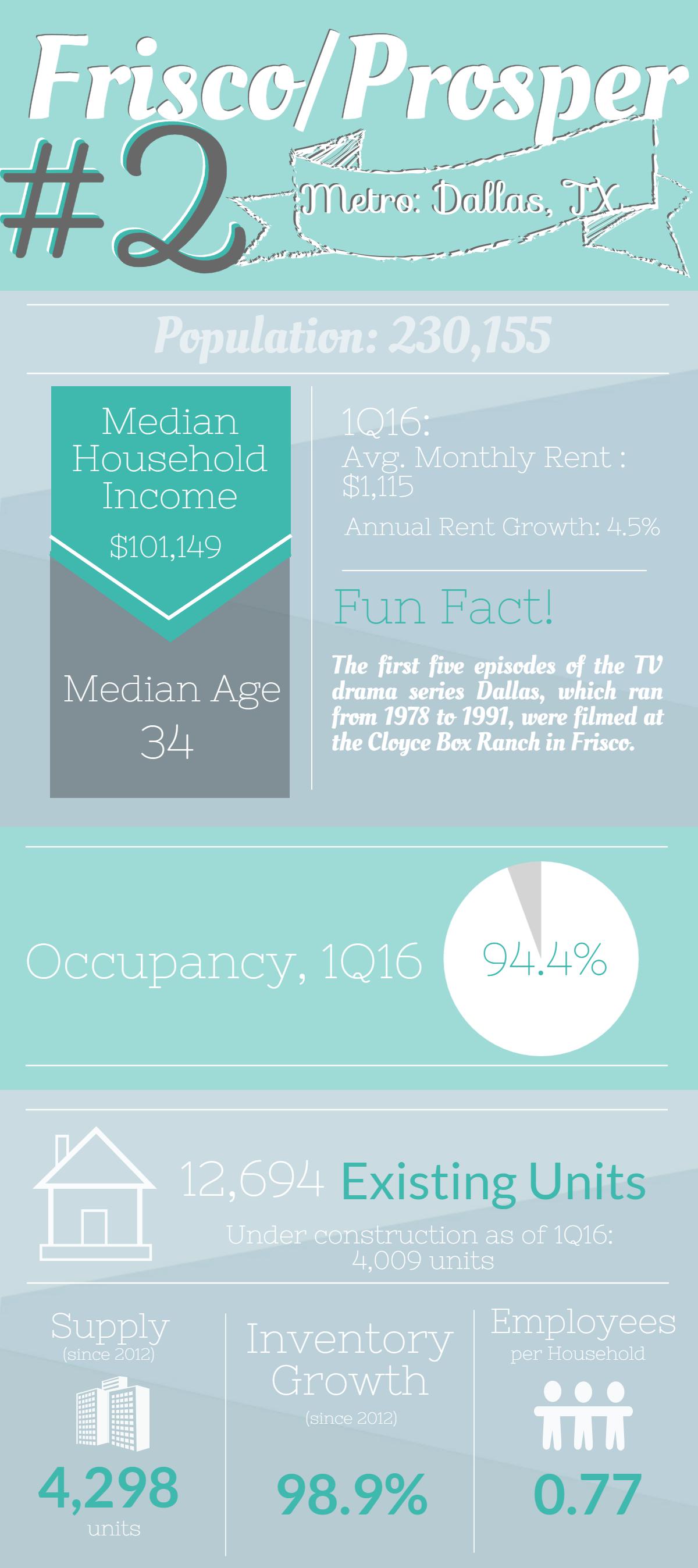 Location
The Dallas metro is expanding northward, and the Frisco/Prosper submarket is located dead center of that growth path. As development around the metro surges, areas like Frisco/Prosper are proving to be essential for sustained expansion. Not long ago, the submarket was largely undeveloped, with vast open spaces. In fact, 15 to 20 years ago Frisco was almost all farmland with a population of 6,000!
The Frisco/Prosper submarket is located on the northern side of Highway 121 (Sam Rayburn Tollway), bordered by Custer Road/Independence Parkway on the east, Lake Lewisville to the west and includes the city of Celina to the north. The Dallas North Tollway cuts up straight through the submarket. The most important part of its location is that Highway 121/Dallas North Tollway (DNT) corridor, where office, retail and apartment construction is concentrated.
The Frisco/Prosper submarket has historically been considered a commuter town, but it is quickly becoming an employment hub in the northern Dallas suburbs. Even so, the area has excellent access to various major roadways, providing residents a straight shot to other booming employment areas in northern Dallas, including Plano, Richardson, and Addison. Moreover, the area is approximately 25 minutes away from the Dallas/Ft. Worth International Airport, around 30 minutes to downtown Dallas, and is about 45 minutes to Fort Worth.
Economic Development
The Frisco area is booming. A lot of commercial construction and apartment construction is taking place close to the 121/DNT corridor, where the $5 Billion Mile is located. The four major projects located in Frisco around the 121/DNT corridor are:
The Star in Frisco: This massive development is the new world headquarters and training facility of the Dallas Cowboys. But it does not stop there. The property will not only include the Cowboys' new training complex and office headquarters, but will also have a 12,000-seat multi-use indoor stadium, a 20-acre multi-use event center, two hotels, retail development and additional office space. The project is expected to create over 4,500 jobs by 2026 and pump $23.4 billion into the regional economy over the next 30 years. The Star's first corporate tenant is Bank of America.
Wade Park: This is a $2 billion development with portions of its initial phase planned to open in fall 2016. The project boasts 600,000 square feet of walkable retail space, 6 million square feet of office space and upscale hotels including Hotel ZaZa. Signed tenants include Whole Foods, iPic Theaters, Pinstripes Bowling, Anthropologie and Free People.
The Gate: A nearly $1 billion mixed-use development, the 41-acre property will feature retail, restaurants and a boutique hotel, with apartment, townhome and condo housing components also planned. Developer Investment Group Overseas plans to begin construction on the project in mid-to-late 2016.
Frisco Station: This $1.7 billion development is divided into six areas: The Campus at Frisco Station, The Towers at Frisco Station, The Offices at Frisco Station, Health and Wellness District, The Hub and Urban Living. Frisco Station will ultimately be able to support 15,000 employees upon completion. Development will begin with an office project on the corner of the DNT and Warren Parkway.
Recent announcements of headquarter relocations within the submarket include Nexius, a software firm (132 jobs over 2.5 years) and Jamba Juice, relocating from California to Frisco (100 corporate jobs). Texas Scottish Rite Hospital for Children plans to open a Center for Excellence in Sports Medicine in Frisco. The hospital purchased a 40-acre site at Lebanon Road and DNT for the new 200,000-square-foot facility. Development is recently underway.
Believe it or not, there are even more companies, large and small, announcing plans to move to the area and even more office space and various plans for additional developments and expansions are underway.
Reiterating the importance of the submarket's proximity to major roadways, neighboring Plano is also experiencing significant growth. A major game-changer has been Legacy West, located along the Dallas North Tollway in the adjacent West Plano submarket. This multibillion-dollar development has brought tens of thousands of jobs to the area. A couple notable announcements in Legacy West include JP Morgan Chase's new location that will include 6,000 employees initially with 16,000 employees expected within two years, a Liberty Mutual campus that will house up to 5,000 employees by the end of 2017 and Toyota Motor's North American headquarters for around 4,000 employees. FedEx Office recently opened their 1,200-employee world headquarters in Legacy West. Other Legacy West tenants include JCPenney and Chase. Coca-Cola even recently announced their decision to relocate its regional office to Granite Park in the 121/DNT corridor.
Entertainment
Frisco has emerged as a sports hub of North Dallas with the new Dallas Cowboys World Corporate Headquarters and Training Facility. The area is also the proud home to FC Dallas. The MLS team plays at Toyota Stadium, a soccer-specific stadium that also hosts concerts and various events throughout the year. The stadium is expanding to include the National Soccer Hall of fame.
Other sports centers in Frisco include Dr Pepper StarCenter (the practice center for the Dallas Stars NHL and home to Texas Tornado Hockey), Dr Pepper Arena (home of the Texas Legends and Dallas Desire) and Dr Pepper Ballpark (multipurpose venue home field for the Frisco RoughRiders).
In addition to numerous sports and entertainment venues, Frisco/Prosper has no shortage of retail options: Stonebriar Centre shopping mall, Stonebriar Commons on Legacy upscale dining, shopping and spa options, Frisco Square Main Street shopping and dining, Frisco Rotary Farmers' Market and IKEA. Other fun activities in the area include indoor sky diving, Urban Air Trampoline Park, Dave & Buster's and more!
Schools
The various school districts within the submarket are also a huge demand driver for the market. The Prosper and Frisco school districts are among the fastest growing in the nation. In fact, Prosper, with a 17.2% jump in enrollment during the 2015-16 school district over the previous year, is the fastest-growing school district in Texas. Frisco ISD landed in the #2 spot, with a 7.4% increase in enrollment, but Frisco ISD had the largest increase in the number of additional students enrolled across the state. Preliminary enrollment numbers suggest that Prosper and Frisco will see another year of chart-topping growth in the 2016-17 school year. Additionally, both Frisco ISD and Prosper ISD were ranked by Niche.com as being among the 20 best school districts in Texas.
Apartment Development
The Frisco/Prosper submarket has seen most of its apartment growth south of Highway 380, primarily in the Little Elm and Frisco areas. While multifamily development has largely been concentrated in Frisco, there has been an uptick in construction across Farm-to-Market Road 423 into Little Elm. Some contributing factors could be land availability and the premium on land in the Frisco area. The northern portion of the submarket, including Prosper and Celina, is in line to see more development as land becomes scarcer in the southern area of the submarket.
Let's take a look at the two largest apartment complexes in the Frisco/Prosper submarket that have completed since 2012:
The Mansions by the Lake: This property, located off of FM 423 in Little Elm, was recently renamed Orion McCord Park. The property consists of 416 one-, two-, three- and four-bedroom apartments and townhomes. The family-friendly community features a playground and activity area, splash park, pool, walking trail, fitness center and more! The property's townhomes feature eco-friendly thermostats, gourmet kitchens, garden Jacuzzi tubs and select units even have one- or two-car garages. The property completed in 2nd quarter 2014.
Emerson at Frisco Market Center: The Emerson at Frisco Market Center is within the Frisco Market Center's 100-acre master-planned, mixed-use community, near the Legacy Drive and Main Street intersection, just north of the DNT. This 410-unit project includes amenities ranging from a Doggie Oasis Pet Spa and The Cave Lounge to tanning beds and a professionally equipped athletic center. The one- and two-bedroom units are decked out with luxury finishes.
As with many other high-development submarkets, property sizes in the Frisco/Prosper submarket are increasing over time. The median property size for units competed since 2012 was 319 units while the median property size of units under construction as of 1st quarter 2016 was 345 units. The two largest properties under construction at the end of 1st quarter 2016 were:
The Mansions 380: This 431-unit property is currently under construction in Little Elm, with completion expected in 2017. The luxury one-, two-, three- and four-bedroom units are outfitted with gourmet kitchens, marble jetted Jacuzzi tubes, one- and two-car attached garages and high-quality contemporary finishes. The property is conveniently located on Highway 380.
Jefferson at Stonebriar: The Jefferson at Stonebriar is a 420-unit property located in Frisco in the northeast quadrant of the 121/DNT corridor. The one-, two- and three-bedroom units will boast all luxury amenities that have come to be expected of the area. The community features the Urban Oasis Pool with a swim-up bar, a fitness club and yoga studio and a large parking garage. The property is set to complete in early 2017.
So the bottom line? Tons of companies are flocking to the Frisco/Prosper submarket (or very close to it), and naturally, employees are following. Despite high levels of multifamily development, the submarket has continued to report strong occupancy figures and steady rent growth. Demand drivers do not appear to be slowing down, suggesting that economic conditions should continue to support elevated supply figures. With the vast majority of units under construction at the end of 1st quarter 2016 anticipated to complete in 2017, the deliveries are well-timed to accommodate for an upcoming surge in hiring for various corporate headquarters coming to the area. With multiple master-planned communities in the pipeline, it does not appear as though apartment construction in this submarket will slow down anytime soon. The good news is, there is plenty of office and commercial development in the works to support that growth.
Check out previous posts in our series highlighting the nation's top submarkets for apartment construction:
9. Far Northwest San Antonio, Texas
7. Downtown/Highlands/Lincoln Park, Colorado
6. North San Jose/Milpitas, California
5. Navy Yard/Capitol South, District of Columbia
4. Downtown Houston/Montrose/River Oaks, Texas