The Nation's 10 Busiest Submarkets For Construction: Downtown/Highlands/Lincoln Park, Colorado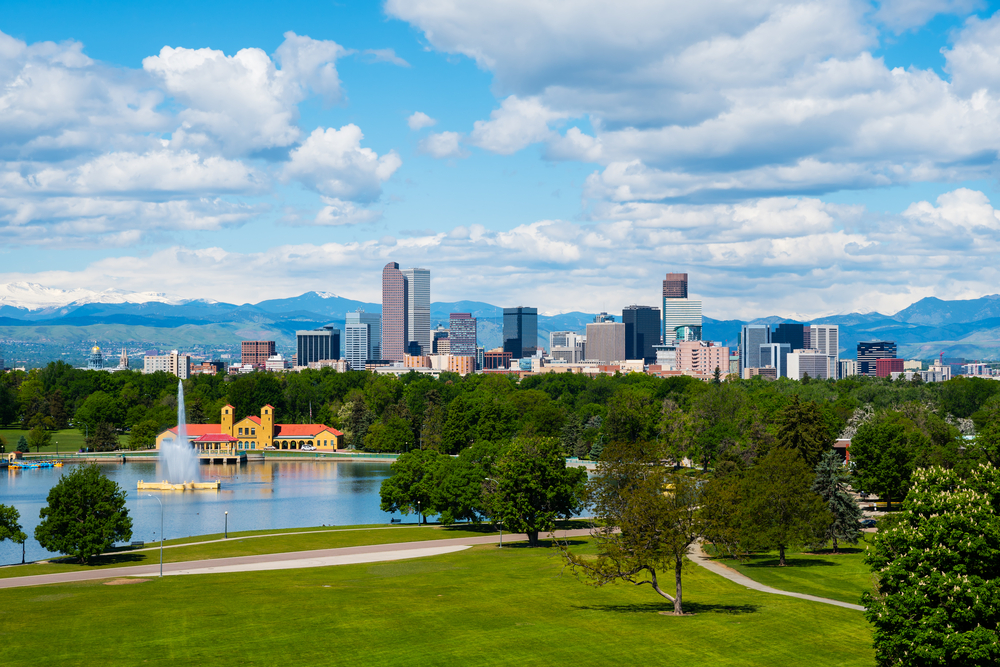 Taking the #7 spot on our list of The Nation's 10 Busiest Submarkets For Apartment Construction is Downtown/Highland/Lincoln Park in the Denver/Boulder metro. This submarket's inventory growth rate since 2012 is 71.0%, including new apartment supply plus units under construction at the end of 1st quarter 2016. Converting Downtown/Highlands/Lincoln Park's growth rate into an actual unit count, the submarket has received 4,824 new apartments since 2012 and had an additional 4,910 units under construction in 1st quarter 2016. Of those units, 2,835 should be complete by 1st quarter 2017.
The Denver/Boulder metro as a whole has received significant attention after several years of solid performance. Downtown/Highlands/Lincoln Park has strong fundamentals to support the growing community including a thriving economy and business environment backed by exceptional higher-education options. The submarket is composed of around 14 of the area's most popular neighborhoods. Most of the apartment activity is located in the downtown area, particularly around the submarket's midline in Central Platte Valleyc (CPV)/Union Station and Lower Downtown (LoDo). The submarket's proximity to other popular areas of Denver such as Ballpark, Uptown and Capitol Hill, as well as its access to major highways and ample public transportation options, position the submarket as a prime location for construction. The area also provides endless entertainment options. From pro football and craft beers to luxury spas and premier shopping, this submarket has it all.
Let's take a deeper look to see what developers see in Downtown/Highlands/Lincoln Park to bring so much apartment construction to the submarket.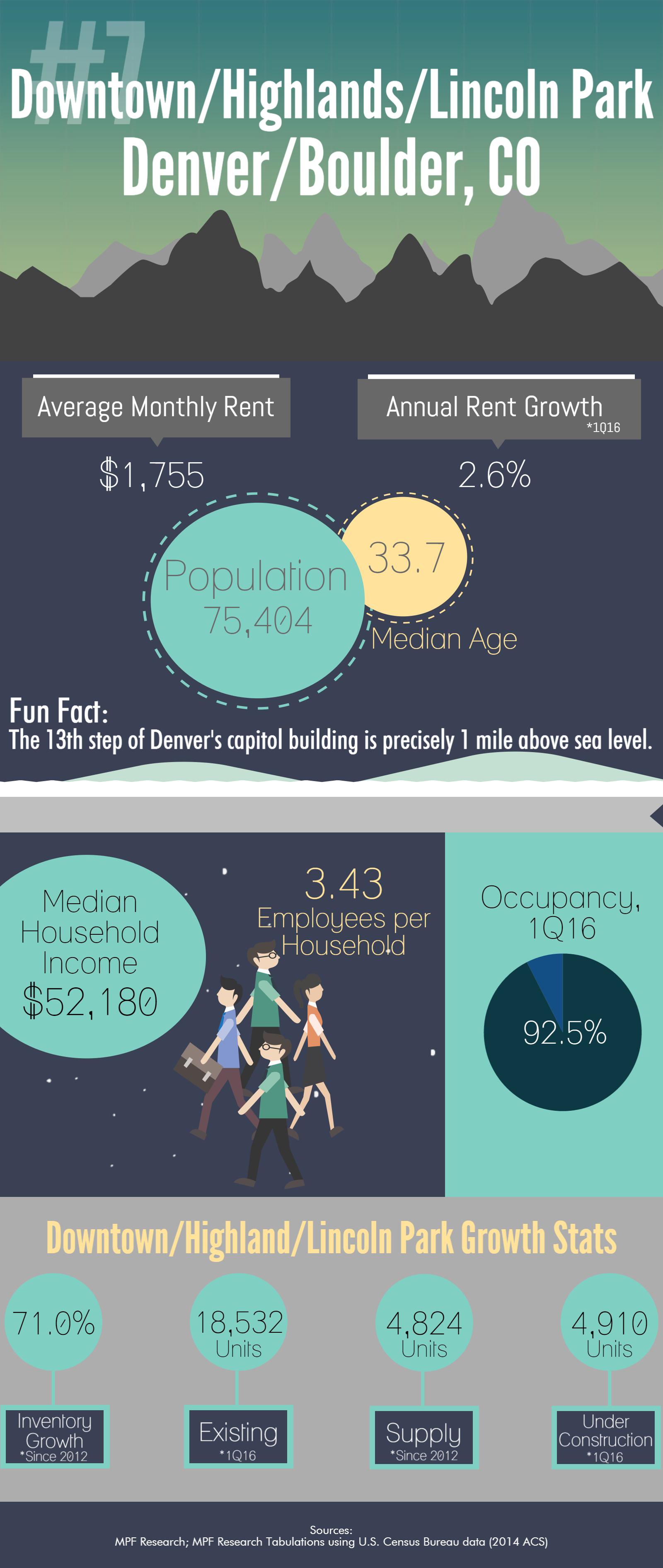 Location and Transportation
However, locals do not need to leave the submarket to have fun or get to work. There are plenty of options within this submarket that we will discuss momentarily. One of the key features of this submarket is the multitude of transportation choices. Public transportation available in the area include rail and bus options that are often faster than getting around in a car. The light rail system is the eighth-largest in the nation, even without the population density of a top 10 city. The line has undergone serious improvements and expansions that are continuing across the metro through the FasTracks program, and will soon clock over 100 miles of rail over 10 different lines. Included in the program is was Denver Union Station, a transportation hub for the metro which opened in 2015 and was essential to the Downton/Highland/Lincoln Park submarket's development. The light rail has brought life into the city, with new multifamily completions concentrated around stops and the new Denver Union Station in particular. Denver Union Station is not only used for the light rail. Other public transportation options including RTD's bus concourse for 12 regional and express buses. Downtown has eight circulator buses dedicated to the area. The MetroRide, a free shuttle system downtown, is another popular mode of transportation that runs during rush hour. The MetroRide came to the area shortly after the 16th Street Free MallRide, a shuttle providing easy transportation to many entertainment options and businesses.
As Denver is one of the nation's most active cities, it is no surprise that the downtown area has a network of hundreds of miles of bike lanes and trails throughout the metro that make it easy for locals to take a leisurely ride or commute to work. Denver B-Cycle is a bike sharing system with roughly 90 stations and 700 bicycles around the downtown area. It provides an easy and convenient way for locals to get around without the worry of trekking a bike around all day. For only $135 for an annual membership, this program is a steal.
If those aren't enough options, downtown Denver also has car2go, eTuks, pedicabs, scooters and taxis to get residents where they need to go. Of course, there is always the option to walk.
Neighborhoods
Downtown/Highlands/Lincoln Park is comprised of 14 distinct neighborhoods around the downtown Denver area. The submarket's northernmost neighborhood is called Sunnyside and is the submarket's most suburban district and most apartment development begins south of that area. West Colfax and Villa Park in the southwestern portion of the submarket primarily offer single-family homes and have not seen the level of extensive apartment development experienced in the many neighborhoods within Denver's downtown area. For that reason, we will primarily focus on the downtown region of the submarket and Highland, a unique neighborhood bordering the downtown area. Each of Denver's various neighborhoods serve as a hub for different activities or functions. For example, The Golden Triangle is an eclectic neighborhood hub for museums and culture, while Auraria is an education-centric neighborhood.
Education
Fueling the submarket's booming employment sector is proximity to a strong university system. These universities provide a pool of highly educated citizens. The Downtown/Highlands/Lincoln Park submarket is home to several academic institutions, including University of Colorado Denver, Metropolitan State College of Denver and Community College of Denver. Those three are located within Auraria Campus in the heart of the Downtown/Highlands/Lincoln Park submarket. Between the three universities, there are nearly 44,000 students and over 4,000 faculty and staff members. Let's take a closer look at these institutions.
University of Colorado Denver had 18,417 students enrolled in Fall 2015, 57% of which students were enrolled in undergraduate programs and 43% in graduate/professional studies. The university boasts significant research funding, with over $400 million in sponsored research annually, according to the school's website . As a testament to opportunities presented in the area, 73% of alumni lived in Colorado in 2015.
Metropolitan State University of Denver (MSU Denver) boasts the highest enrollment in the submarket with 20,105 undergraduate students and 469 graduate students enrolled in Fall 2015. A total of 36% of students enrolled at MSU Denver were studying STEM disciplines in 2015. Similar to CU Denver, the majority of MSU Denver's graduates remain within the state after graduation. In 2015, 75% of their graduates lived in Colorado. Interestingly, 85% of students enrolled at the university work either full or part time, according the school's website .
The Community College of Denver had 9,130 students enrolled in Fall 2015. Of those, 73% were enrolled part-time while 27% were enrolled full-time. In fiscal year 2015, 622 Associate Degrees and 478 certificates were awarded to students. Community College of Denver is the only community college in the Denver metro.
University of Denver is also located just south of the submarket. Also in the Denver/Boulder metro are other well-known universities such as Regis University, University of Colorado Boulder, The Art Institute of Colorado and more, which act as other feeders to the employment pool. Upon graduation, students have ample opportunity to remain in the city because of the booming economy. In fact, Denver ranked third on Forbes' list of Easiest Cities to Find a Job.
Employment
As Colorado's capitol, Denver is home to state government offices and is the center of Colorado's financial district. Denver is also well-known for its top-tier medical centers, supported by a strong university system. Additionally, the metro is experiencing significant growth in the startup and tech community, ranking fourth in the U.S. Chamber of Commerce Foundation's list of Top STEM-based Economies in 2015. Forbes even ranked Denver #1 on their list of Best Places for Business and Careers.
The majority of large companies in the submarket are located in the central business district in downtown Denver with some companies taking root in Lower Downtown (LoDo) or closer to the universities in Auraria. Some of Downtown/Highlands/Lincoln Park's top employers include:
University of Colorado Health
QEP Resources *
A star next to the company's name signifies Fortune 1000 Company headquarters. while two stars signifies Fortune 500 corporate or regional headquarters. Other major energy companies formerly recognized on the Fortune 1000 list with headquarters in the submarket include MDC Holdings, SM Energy, Cimarex Energy and MarkWest Energy Partners.
Check out Metro Denver's impressive list of major relocations and expansions in 2016 here.
Entertainment
Downtown Denver is an eclectic area that provides endless entertainment options. Whether a person is interested in sports, the arts or shopping, there is something in Denver for everyone.
The Golden Triangle is a neighborhood tucked in the southeastern corner of the submarket and is known as the cultural core of the area. The neighborhood is home to many of the area's top museums and art galleries as well as the Central Denver Public Library, the Civic Center and more. Museums within this neighborhood include the Denver Art Museum, the Byers-Evans House Museum, Clyfford Still Museum, The Counterterrorism Education Learning Lab and the History Colorado Center , while more are within walking distance. Denver's Colorado Convention Center is also just north of the neighborhood in the central business district. However, Golden Triangle offers more than just museums. The neighborhood is a great mix of restaurants, bars, parks, retail and businesses.
The Museum of Contemporary Art is another one of the submarket's popular museums and is located in the Lower Downtown (LoDo) neighborhood, right down the street from Denver Union Station. While wandering through LoDo, in large part a historic neighborhood, you will also see dozens of shops, restaurants, galleries and other entertainment options. The diverse neighborhood is packed with life and is even where Coors Field, home to the Colorado Rockies, is located.
More noteworthy activities in the area include:
16th Street Mall is the most famous shopping destination in Denver. The 1.25-mile strip includes Denver Pavilions and around 300 other shops, businesses and restaurants. Mentioned before, the MallRide is a great shuttle to get around the area.
Larimer Square is located on one of the most historic blocks and has cute shops, restaurants, and bars. Several events are put on in Larimer Square throughout the year.
The submarket also houses many of the state's professional sports teams. The Denver Broncos play at Sports Authority Field at Mile High, while the Denver Nuggets and the Colorado Avalanche both play at the Pepsi Center.
The Pepsi Center also hosts several events and concerts throughout the year.
Apartments
The Downtown/Highlands/Lincoln Park submarket in Denver exploding with apartment development, with the majority of construction occurring in two neighborhoods: Central Platte Valley Commons/Union Station and Highlands.
Central Platte Valley Commons/Union Station borders LoDo and the Cherry Creek River. This unique neighborhood offers residents tons of dining, shopping and entertainment options with easy access to all of the best that Denver has to offer. The neighborhood has over 90 acres of greenspace within an urban setting, in addition to a nation's largest outdoor skate park. The neighborhood is home to the Pepsi Center, The Children's Museum, Denver Museum of Contemporary Art, and more! REI's flagship store is even located within CPV, fitting in perfectly with the area's vibe. With Millennium Bridge, pedestrians can easily cross over to LoDo. Union Station, Denver's transportation mecca, is also located along the eastern edge of the submarket, making travel and commuting a breeze.
On the other side of I-25 is the Highlands neighborhood. The area is known for its boutiques, hip restaurants and endless events. Two of the most popular events that Highlands hosts is 32nd Avenue Farmers Market and Taste of the Highlands. Highlands has a community-centric feeling with tons of greenspace and a rich history with post-WWII row houses and Victorian mansions. With a pedestrian bridge connecting Highlands to CPV, urban life is only a short walk away. Most of the multifamily development in Highlands is concentrated along the river and I-25, areas where transportation is most convenient.
The two largest apartment projects completed since 2011 have been:
Westend: This 398-unit community, sandwiched between LoDo and LoHi, completed in December 2015. Westend offers one- and two-bedroom units and has amenities ranging from a workshop for recreational gear to a luxury pool and spa. The property is in a prime location, just east of Interstate 25 and within walking distance to parks, entertainment (including Coors Field), and various modes of public transportation.
2785 Speer: This LEED certified 332-unit property is located in the Highland neighborhood. The property features luxury one- and two-bedroom units in a wide variety of floorplans. It also boasts a high-end fitness center, yoga studio, resort-style pool and more!
The two largest properties under construction as of 1st quarter 2016 include:
Pivot Denver: Pivot Denver is a 580-unit apartment building located at 17th and Wewatta within the CPV/Union Station neighborhood. The property will have 13 above-ground stories and will feature a 56,000-square foot Whole Foods on the ground floor as well as above and below-ground parking. Pivot Denver is set to complete in 2nd quarter of 2018. The developer is Holland Partner Group.
1709 Chestnut: Set to complete in 3rd quarter 2018, 1709 Chestnut is a 510-unit mixed-use property also located within the CPV/Union Station neighborhood. The property will feature a 24-story tower and a 12-story tower. 1709 Chestnut will boast 20,000 square-feet of retail space on the ground floor. Shorenstein Properties is the developer.
This Denver submarket has something for everyone, leaving little room for wonder as to why there is so much multifamily construction activity in the area. The submarket has strong economic drivers with a diverse employment base and highly-educated workforce to support it. However, apartment fundamentals in the area are beginning to fade as supply remains elevated. Occupancy has fallen below 93% in recent quarters and rent growth has slowed to levels well below that of the metro as a whole. Prolonged elevated supply could pull on rent growth through the upcoming year and test how much pent-up demand there is for new supply. But with so many underlying strengths, this submarket is primed for outperformance in the long term.