RealPage Front Office
Deeper Insights. Flexible Operating Models. Frictionless Experiences.
Capitalize on data and AI for greater visibility, scalable agent efficiencies, and best-in-class renter experiences to optimize revenue and maximize NOI.
A Competitive Edge for Your Business
RealPage Front Office uses AI, data, and automation to take you:
from fragmented data and
low visibility to
Deeper Insights
from employee
operational inefficiencies to
Flexible Operating Models
from disjointed renter
journeys to
Frictionless Experiences
TRUSTED DATA SET
Access Deeper Insights
The most informed decisions start with the highest-quality data. Front Office solutions share the most comprehensive, trusted data set to provide greater insights with every solution you implement. Get sophisticated analytics and reporting with a robust set of dashboards, KPIs, and metrics to help you evaluate performance at multiple levels. Better decision-making is at your fingertips.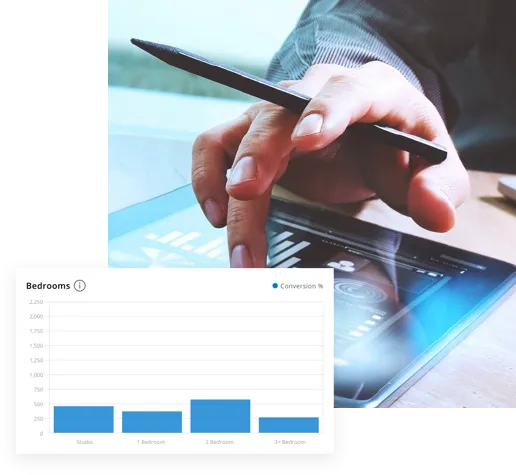 SCALABLE EFFICIENCIES
Achieve Flexible Operating Models
Consolidate and realize scalable efficiencies across the employee journey and across communities with automated systems and streamlined processes. Flexible operating models enable you to move from a community-centric model to a regional or national office model when you're ready.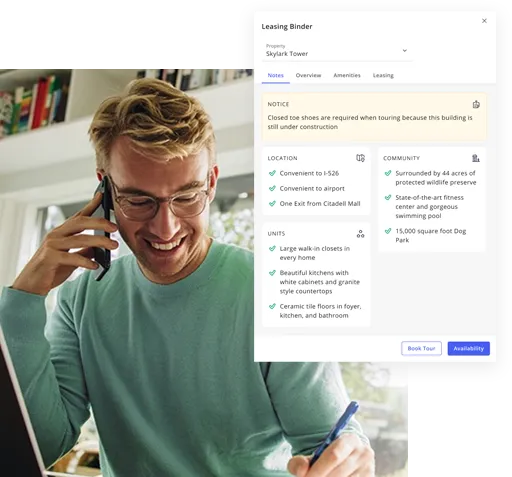 SMOOTHER JOURNEYS
Deliver Frictionless Experiences
Provide consistent resident and employee experiences with a convenient, easy-to-use solution, powered by AI and automation. Self-service options save time and speed payment while intuitive tools save costs and reduce risk. Create a smoother journey for renters by connecting AI communication tools, from bots to call intelligence, and keeping them engaged with a resident portal and rewards.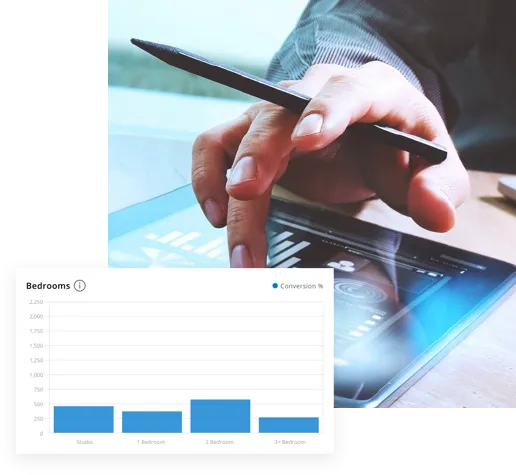 Reimagine a Seamless, Integrated Leasing Experience With
Best-In-Class Solutions
RealPage has reimagined the leasing experience for our customers, making point solutions a thing of the past. Integrated, automated and AI enabled, Front Office helps you improve leasing agent performance, reduce time to lease, and enhance the renter and employee experience. RealPage Front Office best-in-class solutions help you optimize every step of the prospect-to-resident journey, multiplying insights and value with every additional solution you implement. Works with your current PMS, providing enhanced visibility and operational efficiencies more quickly without replacing existing tools.
ATTRACT
Lead Gen
Uses predictive AI and advanced attribution to help you find, engage, and convert more high-intent leads across marketing channels, allowing you to fill occupancy faster at a lower cost.
Knock CRM
G5 Smart Digital Advertising
G5 Integrated Websites
G5 SEO & Listings
G5 Rep & Social
Analytics
CONVERT
Prospect Management
Leverages AI, data, and automation to optimize lead close rates, improve leasing agent performance, and support flexible operating models.
Knock CRM
Centralized Leasing Suite
Call Intelligence
AI Communications
Leasing
Streamlines and digitizes the leasing experience, allowing you to capture and drive higher conversions, employee efficiencies, and monetize high-quality prospects.
Online Leasing (On-Site)
Contact Center —Leasing
Insurance
Deposit Alternatives
Self-Guided Tours
RETAIN
Resident Experience
Enables experiences that engage residents, build loyalty and revenue, and boost your community's online reputation.
ActiveBuilding
Community Rewards
Smart Building
Contact Center—Maintenance
Knock CRM