The Nation's Top 10 Busiest Submarkets: 1. Uptown/South End Charlotte, NC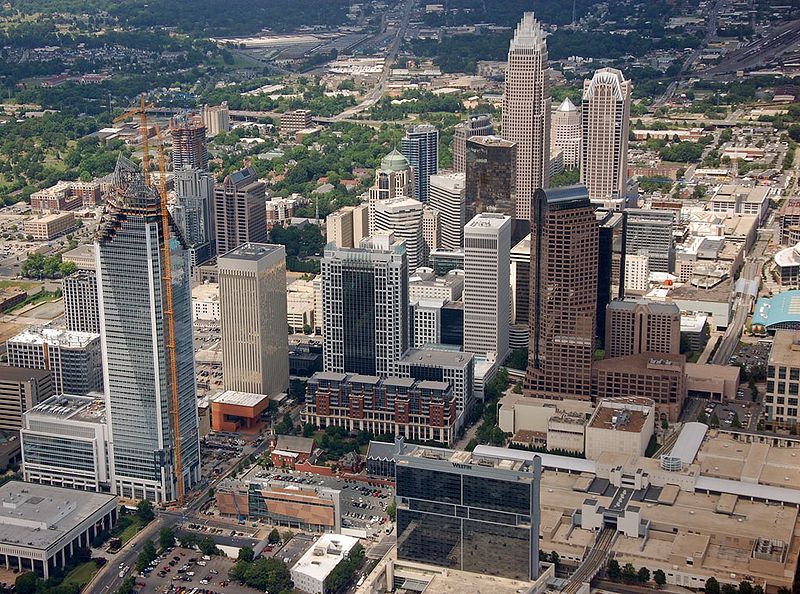 The U.S. apartment market has seen elevated construction levels in this cycle. But construction activity has been concentrated in some spots more than others, and MPF Research has identified the nation's 10 busiest submarkets for construction in this cycle. The submarkets were identified based on inventory growth since 2012, including the total number of units completed since 1st quarter 2012 and the total number of units under construction at the end of 3rd quarter 2014. Why have these spots attracted so much development? We'll take a deeper look in this series highlighting each of the top 10 submarkets.
9. Far North Central San Antonio, Texas
8. Downtown Indianapolis, Indiana
7. Far Northwest San Antonio, Texas
5. Mooresville, North Carolina
3. Franklin/Williamson County, Tennessee
2. North San Jose/Milpitas, California
Uptown/South End, Charlotte
Taking the top spot on our list of the 10 fastest-growing apartment submarkets is Uptown/South End in the Charlotte metro. This submarket's inventory growth rate since 2012 is 81.9% – 15.3 percentage points higher than the No. 2 submarket, North San Jose/Milpitas. Submarket inventory growth rate calculations include new apartment supply since 2012 plus units under construction at the end of 3rd quarter 2014. Turning Uptown/South End's growth rate into an actual unit count, the submarket has received 2,621 new apartments since 2012 and had an additional 3,545 units under construction in 3rd quarter 2014.
So what is it that is driving apartment growth in the Uptown/South End Charlotte submarket? Let's take a look at the area's history, which will give us a good idea.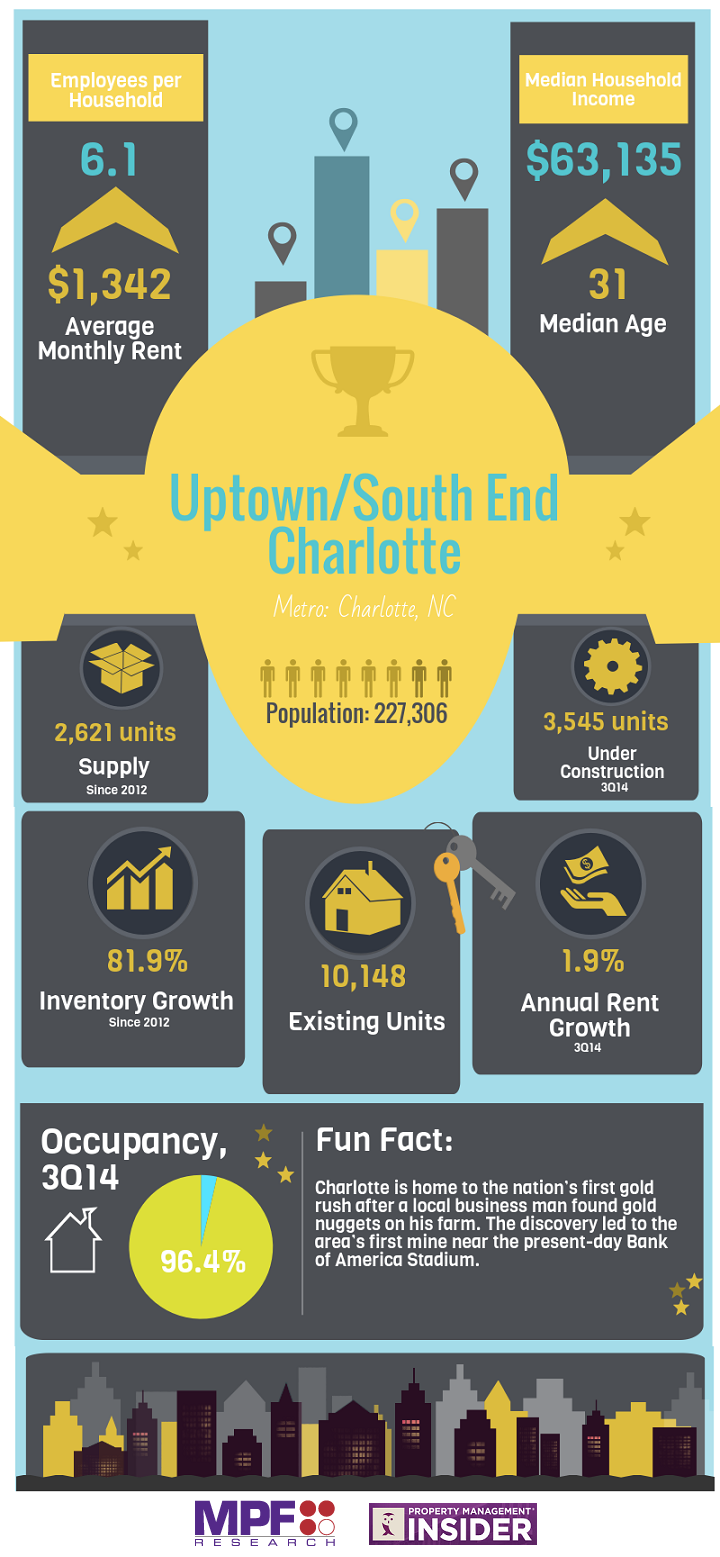 In the early 1980s, downtown Charlotte was pretty much a 9-to-5 area – workers drove in to the downtown area, worked their 9-to-5 shifts and went back to their homes in other parts of the metro. Later in the decade, however, there was a big push by the city of Charlotte to make the downtown area more hip and full of life. A huge campaign was then launched, and the downtown area was rebranded as Uptown Charlotte. The campaign was a catalyst to shed positive light on the area formerly known as downtown Charlotte. It took quite some time for the campaign to really pay off, as the area didn't outgrow the 9-to-5 label until the 2000s. However, it finally did pay off, spurring positive change which continues to unfold 20 years later.
Today, "downtown" and "uptown" are used interchangeably to describe the city center.
As a result of the Uptown Charlotte evolution, tons of entertainment venues were constructed. Then came retail, apartments, the light rail, a couple of Fortune 500 companies and other major employers. As a result, the Uptown/South End submarket of Charlotte turned into a live/work/play destination which has become so attractive to young adults. Now, an adjacent area known as South End is also really starting to come to life. South End is where we are seeing a lot of the apartment construction, since the Uptown area is becoming more or less built-out. The South End area of the metro has essentially become the "feeder" residential area into Uptown Charlotte, but is still a distinct neighborhood of its own.
The evolution of the downtown Charlotte from a 9-to-5 area into a vibrant city center is the key reason for such rapid apartment construction in the Uptown/South End submarket.
Entertainment
Uptown Charlotte is the heartbeat of the city, considered a premier hospitality and entertainment destination. There are several attractions that make people want to become part of the area, and pulls tons of visitors daily (11 million visitors annually).
Discovery Place: First opened in 1951, Discovery Place underwent a $31.6 million renovation, which was completed in 2010. In 2013, 631,529 people visited the Discovery Place.
Bojangles' Coliseum: Opened in 1955 as Charlotte's first coliseum. Was closed in 1988, remodeled, and reopened in 1993. This venue hosts concerts, family events, figure skating, rodeo and bull riding events.
Ovens Auditorium: Opened along with Bojangle's Coliseum in 1955. This venue hosts myriad events ranging from Broadway musicals to symphony concerts.
Charlotte Convention Center: Opened in 1995 and attracts over half a million visitors each year.
Tremont Music Hall: Also opened in 1995 in the South End district. This music hall has had numerous musical acts over the years, including Black Eyed Peas, Jonas Brothers and Goo Goo Dolls.
Bank of America Stadium: Opened in 1996, this stadium is on 33 acres in Uptown and is home to the Carolina Panthers football team.
Time Warner Cable Arena: Built in 2005 and is home to the NBA's Charlotte Hornets and the American Hockey League's Charlotte Checkers.
NASCAR Hall of Fame (pictured below): Opened in 2010, the NASCAR Hall of Fame is an interactive, learning museum that includes an artifacts, exhibits and a theater.
Bechtler Museum of Modern Art: Also opened in 2010, this museum host mid-20th century modern art and attracted 56,936 people in 2013.
Romare Bearden Park: This urban park, opened in September 2013, is known as the city's new "crown jewel."
BB&T Ballpark: Celebrated its opening day with the Charlotte Knights' first pitch on April 11, 2014. Not only is this an entertainment venue, but is also receiving a mixed-use development to turn the area into a vibrant, walkable neighborhood.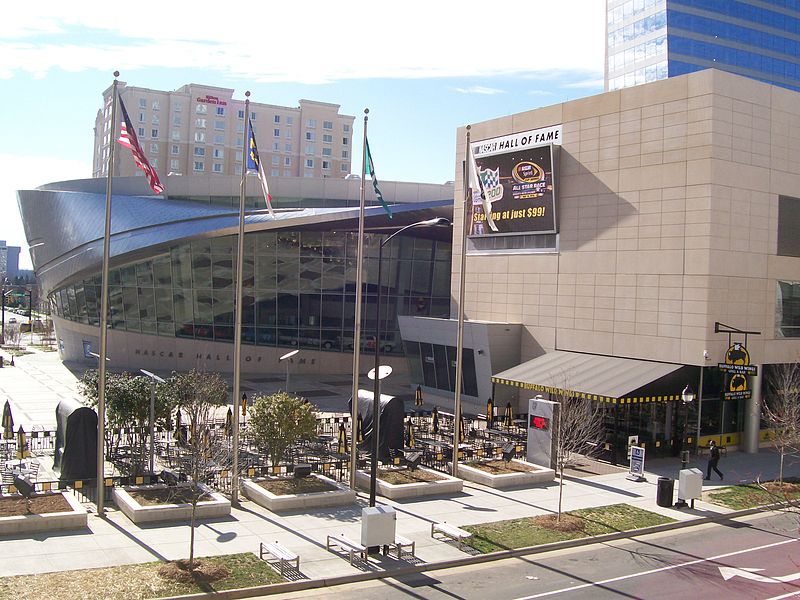 Retail
According to Charlotte Center City Partners, there is currently 4.5 million retail square feet in Uptown and South End. Among the retail attractions:
Epicentre: Home to nearly 40 venues. The Epicentre has entertainment options (a movie theatre and bowling alley, to name a couple), retail, restaurants and rooftop terraces, according to its website. The Epicentre is also within minutes from Time Warner Cable Arena and Bank of America Stadium.
7th Street Public Market: This is considered Uptown Charlotte's food destination. According to its website, 7th Street Public Market promotes local and regional farmers, food artisans and entrepreneurs. This is the second year that this market has been open.
Atherton Mill: Located in South End, this mixed-use center offers, shopping, entertainment and restaurants.
Metropolitan: Offers a variety of restaurants and retail stores.
A few other retail projects are in the works:
North Tryon Street Vision Plan: This is the redevelopment of the North Tryon Street area in Uptown Charlotte. The idea behind this plan is to connect Uptown with the North End's employment centers via a dense mixed-use neighborhood. The area is slated to have urban spaces, officers, retail, housing, cultural venues and educational facilities.
First Ward Urban Village & Park: a mixed-use development that will include a new park, housing options and office, hotel and retail space. This mixed-use project will go along the Blue Line between 7th and 9th streets.
Second Ward Redevelopment: Mecklenburg County is planning to revitalize a new community on 7.5 acres in the second ward. The plans include apartments, office space, and the possibility of a hotel with retail.
Apartments
The Uptown/South End area of Charlotte is exploding with apartment development. The area has seen the most apartment deliveries and construction over the past couple of years
Venue: This 366-unit apartment community recently completed on Weddington Avenue, just northeast of 7th Street. The Venue offers one- and two-bedroom units and has amenities ranging from a movie theatre and wellness center to a pet park and multi-level parking garage.
South Mint: South Mint is a 352-unit high-rise project under construction in Uptown Charlotte, on the corner of South Mint Street and Martin Luther King Boulevard. The project will feature studio, one- and two-bedroom units. The Mint will consist of 22 stories, with the bottom six designated for parking (but will have units on the front side of the building). 
SkyHouse Uptown:  This 24-story tower will contain 336 units with studio, one- and two-bedroom options in Uptown Charlotte. The apartment tower will have retail on the bottom floor. It is located on Church Street, bordered by 10th and North Tryon Streets. This project came with the push for the revitalization of the north end of Tryon Street.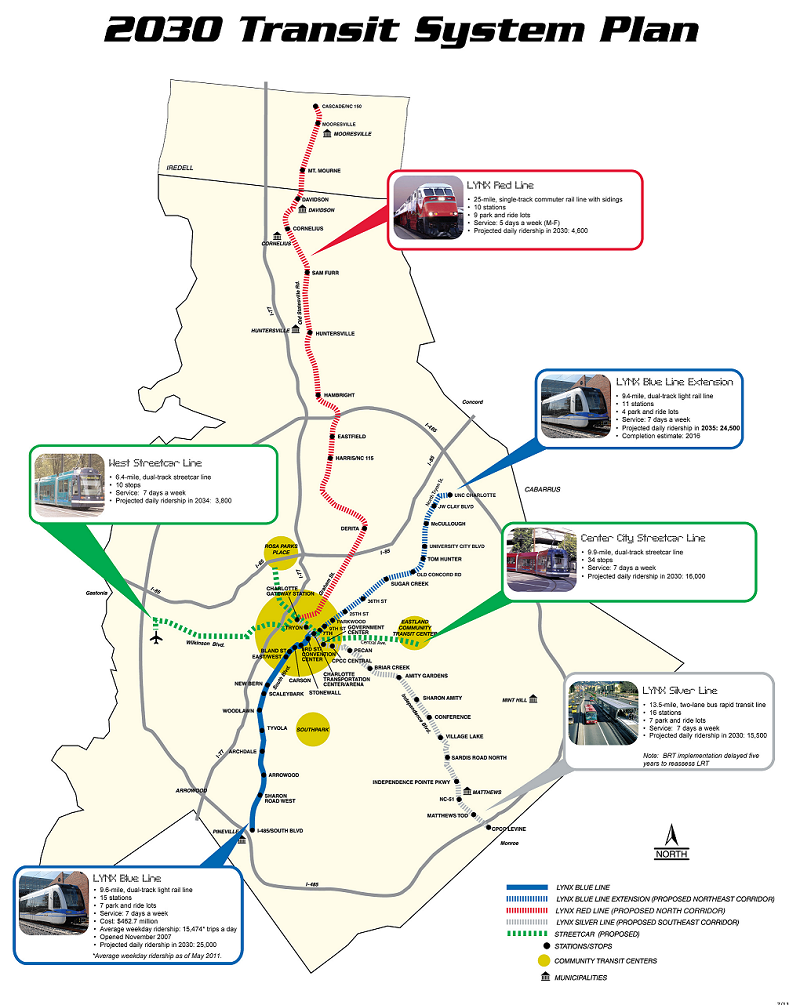 Transportation (rail trail, 2030 transit plan, blue line extension, b-cycle)
What has really driven growth in the Uptown/South End submarket has been the 2030 Transit Corridor System Plan. Much of the entertainment, retail, restaurants and apartments have popped up along the light rail line. The plan was adopted on November 15, 2006. Once complete, the plan calls for 25 miles of commuter rail, 21 miles of light rail, 16 miles of streetcar and 14 miles of bus rapid transit. Currently in the works is the Blue Line Extension, which will run from 7th Street to the University of North Carolina at Charlotte.
Other noteworthy transportation features include:
Rail Trail: This will be considered a public park that is designed to make the city more walkable through Uptown and South end. The Rail Trail is expected to spur even more development along its 3.3 mile trail.
Charlotte B-cycle:  This is a bike-sharing program in Charlotte, intended to inspire people to bike to work or other areas of interest. Currently, this program finished its second year of service. From August 2012 through December 2013, a total of 48,909 trips were made through B-cycle, according to Charlotte B-cycle.
Major Employers
According to the 2014 State of Center City, there are upward of 100,000 total employees in the Uptown area. Several companies have buildings or headquarters in the Uptown area. Those with asterisks are Fortune 500 companies.
*Bank of America
Chiquita Brands International
*Duke Energy
Wells Fargo headquarters for East Coast operations
BBVA Compass
BB&T
Ally Financial
AT&T
South End
The South End area of Charlotte is experiencing a lot of growth recently. This area is a "feeder" area into the more commercial and business-centric area of Uptown Charlotte, but is a very distinct neighborhood of its own. South End is still somewhat of an industrial area, but is also emerging into an urban neighborhood with a unique design district. Shaping the South End area is the South End Strategic Plan, which is in its second year of implementation. The South End Strategic Plan aims to:
Create the South End area as a destination for entertainment and retail
Give residents more neighborhood amenities
Attract new businesses to the area
Create a more seamless neighborhood
This is the newest trendy area of Charlotte, and will only continue to grow in the years to come.
(Image by: Bz3rk via Wikimedia Commons)
(Image by: Groupuscule via Wikimedia Commons)