The Nation's Top 10 Busiest Submarkets: 4. Central Nashville, Tennessee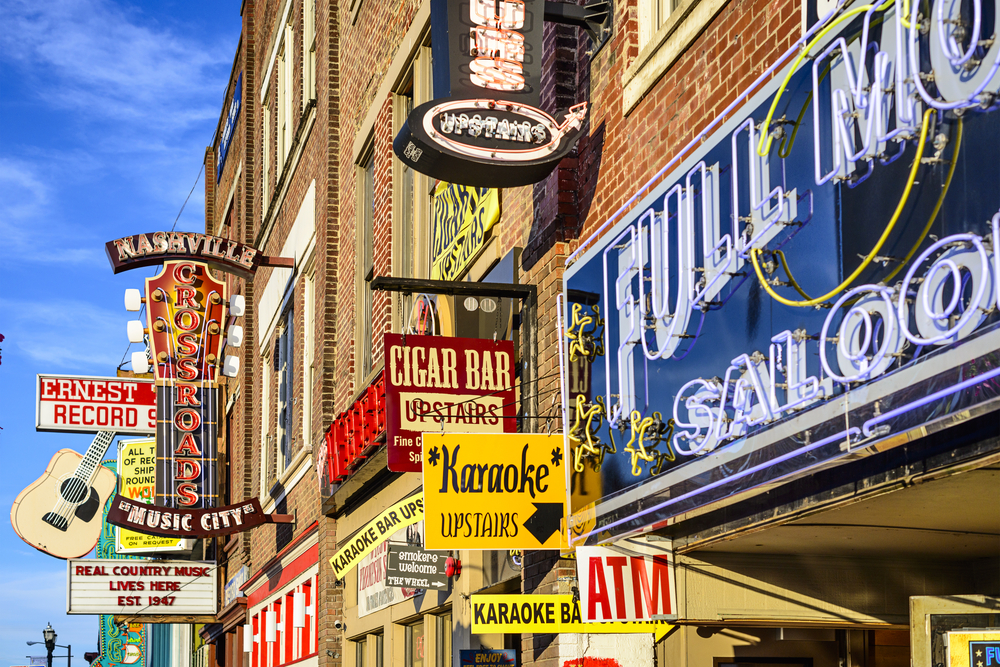 The U.S. apartment market has seen elevated construction levels in this cycle. But construction activity has been concentrated in some spots more than others, and MPF Research has identified the nation's 10 busiest submarkets for construction in this cycle. The submarkets were identified based on inventory growth since 2012, including the total number of units completed since 1st quarter 2012 and the total number of units under construction at the end of 3rd quarter 2014. Why have these spots attracted so much development? We'll take a deeper look in this series highlighting each of the top 10 submarkets.
9. Far North Central San Antonio, Texas
8. Downtown Indianapolis, Indiana
7. Far Northwest San Antonio, Texas
5. Mooresville, North Carolina
Central Nashville, Tennessee
Landing in the No. 4 spot on our list of rapid inventory growth is Central Nashville. This submarket's apartment inventory expansion rate since 2012 is 48.0%. That calculation includes new apartment supply plus units under construction at end of 3rd quarter 2014. Turning that percentage into an actual unit count, Central Nashville has received 1,965 new apartments since 2012, and saw an additional 2,720 units under construction in 3rd quarter 2014.
So, the question is why the influx of apartments? Let's take a look at a few demand drivers that are making Central Nashville such a hotbed for apartment development.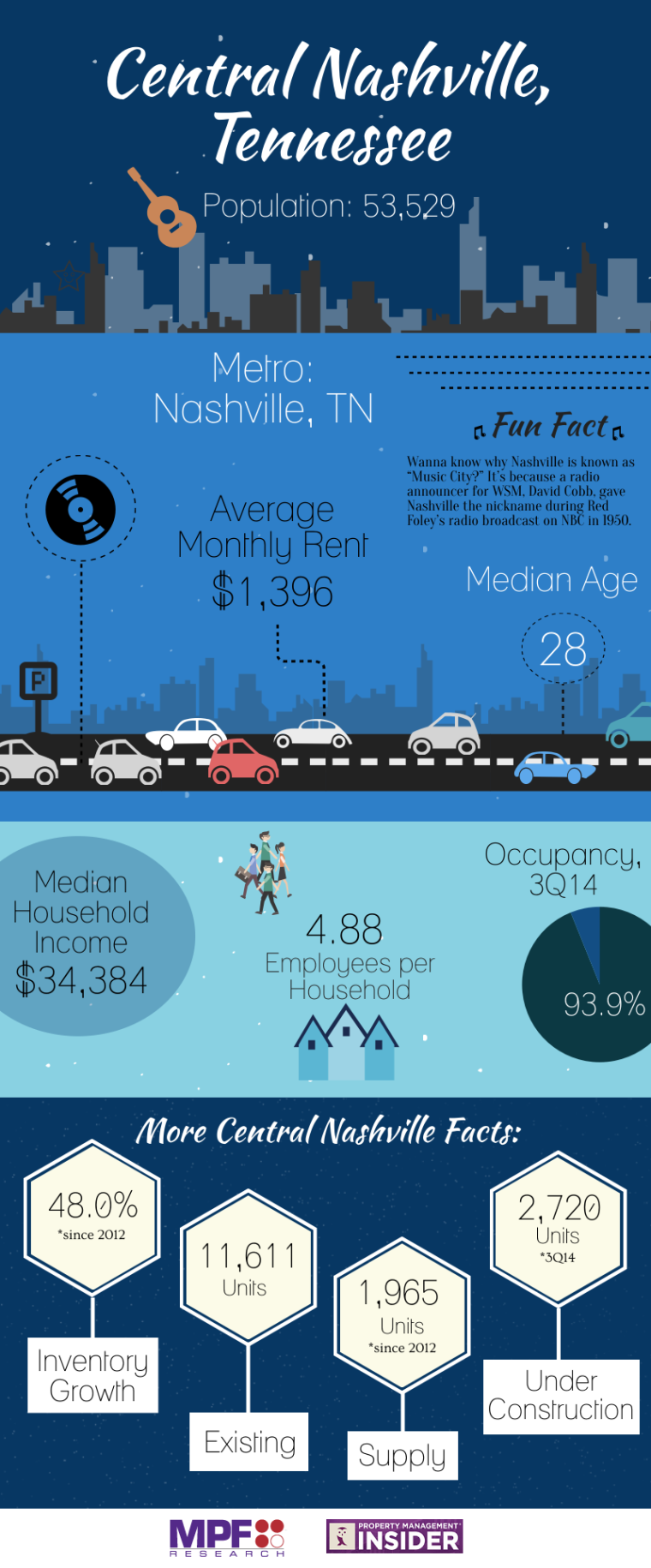 Location
The Central Nashville submarket includes the metro's downtown area, which has exploded with growth over the past 10 years. The downtown area's population has almost quadrupled since 2000, to 7,685 people in 2014, according to the Nashville Downtown Partnership.
The big driver of growth in and around the downtown Nashville area has been an ongoing transformation of several neighborhoods. Apartments, boutiques and upscale retail, unique restaurants and even a $585 million convention center crowd the streets of the Central Nashville submarket. As a result, people are moving to these eclectic areas in order to be closer to that action. (And let's not forget that the popular television show Nashville has really given the Central Nashville submarket a much needed tourism boost.)
Downtown Neighborhoods
A decade ago, the Central Nashville submarket lacked a hip, urban area. But since then, it appears quite a few trendy areas have emerged over the past few years, allowing residents to be within walking distance to all the action. Let's take a look at these areas that are attracting people to the submarket:
The Gulch: This neighborhood, located just south of downtown Nashville, is upscale, trendy, modern and extremely walkable. Formally an industrial area of Nashville, the area has been transformed to offer more of a scene for young adults. That transformation has come as part of a $600 million redevelopment effort and has lured many new residents, including SonyMusic Nashville, which relocated its office from Music Row to The Gulch.
Apartments: The Gulch has a lot of living options. One recently completed community in The Gulch area is Pine Street Flats, a 296-unit conventional complex located on the corner of Pine Street and 11th Avenue. Pine Street Flats received the Excellence in Development Award given by the Urban Land Institute Nashville. Amenities in the LEED Certified apartment community include (but certainly aren't limited to) a salt water swimming pool, interactive iPad stations, and each apartment has either a private porch or balcony.
Downtown Nashville: This neighborhood is an entertainment hub for the larger metro, where many of Nashville's famous "honkey tonks" are located along Broadway. It also includes the all-purpose Bridgestone Arena and Schermerhorn Symphony Center/Tennessee Performing Arts Center.
Apartments: One project that recently completed in downtown Nashville was the Lofts at the Reserve. This 61-unit apartment complex – once the Federal Reserve building in downtown – is located on 1.7 acres on Rosa L Parks Avenue. Available apartments include studios, one-bedrooms and one-bedroom with a study – all with 20-foot ceilings and large windows.
SoBro: This neighborhood is an abbreviated SoBro for South of Broadway. It is a revitalized area of Nashville which houses the $635 million Music City Center. Though the center was the catalyst for revitalization, the neighborhood contains many other features, including the Country Music Hall of Fame Museum/Jonny Cash Museum, as well as tons of restaurants, cocktail bars, boutique hotels and entertainment options.
Apartments: One apartment complex under construction is named for the neighborhood. SoBro, a 30-story tower, will add another 313 luxury units to the Central Nashville submarket. The SoBro apartment project is estimated to cost $90 million, and will include 20,000 square feet of retail and restaurant space, as well as 500 underground parking spots. The apartment tower is expected to complete in early 2016.
Germantown: This eclectic neighborhood is one of the oldest areas in Nashville and offers many family-oriented attractions, including the Nashville Farmer's Market and the Bicentennial Capitol Mall State Park. A fun fact about the neighborhood: Germantown is designated as a city arboretum because more than 100 species of trees are in the area.
Apartments: The Vista Germantown completed in mid-2012. The 242-unit, mid-rise apartment complex is located in the heart of Germantown, on Madison Street, catty-corner from the famous Germantown Café. Amenities include a coffee bar, full-size washer and dryer in each unit, car washing stations and a roof top pet resort is in the works.
Hillsboro Village: This neighborhood, located between Vanderbilt University and Belmont University, includes a mix of college students, young adults and families. It is a walkable area with a unique collection of shops, boutiques and restaurants.
Midtown: A good area for young adults, this neighborhood extends up Broadway and Division Street and is full of hotels, restaurants and bars.
Edgehill Village: This is up-and-coming area is located parallel to Music Row. It is a smaller, more affordable area comprised of mostly single-family homes.
Universities
Another big apartment demand driver in the Central Nashville submarket are two universities, located west of downtown Nashville.
1.) Vanderbilt University & Vanderbilt University Medical Center: As of the 2013-2014 school year, there were a total of 11,965 full-time students and 830 part-time students in the undergraduate, graduate and professional programs at Vanderbilt University. According to the university's website, 86% of these students live on campus. Moreover, there are 20,924 people on staff at Vanderbilt University. Of them, 4,202 people are employed on the university's central campus, and 16,722 are employed at the medical center. Vanderbilt University & Vanderbilt University Medical Center combine to be the largest employer in Nashville.
2.) Belmont University: This school, dubbed "One of the Best Music Business Programs in the Country" by Rolling Stone and Time magazines, had 6,918 students enrolled as of Fall 2013. Moreover, there are over 500 staff members on payroll at this university, with a student to teacher ratio of 13:1.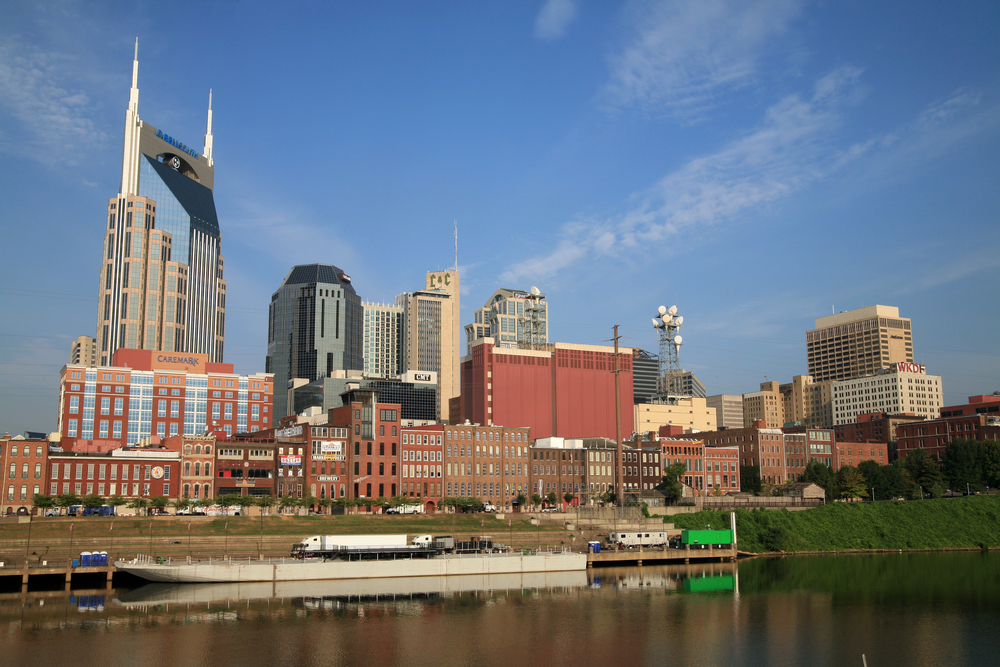 Business Climate
One last demand driver I'd like to talk about in the Central Nashville submarket is the business climate. A major contributor to the Central Nashville economy, as well as the economy for the larger metro economy, is the health care industry. According to the Nashville Chamber of Commerce, Nashville is "widely recognized as a national health care industry capital and global health care industry leader." The health care industry contributes nearly $30 billion to the metro economy annually, according to an economic impact study by the Nashville Health Care Council. The metro has over 210,000 people employed in the health care industry and has 14 publically traded health care companies in the region. Zooming in to Central Nashville, quite a few of these health care companies are located in the submarket and are top employers in Nashville. These include Vanderbilt University Medical Center (16,700 employees), HCA Inc. (7,000 employees) and HealthStream Inc. (504 employees). A medical office REIT, Healthcare Realty Trust, is also located in Central Nashville and employs 260 people.
The economic center for Central Nashville is the downtown area. The area is home to more than 50,000 employees, and the count keeps growing. HCA is moving headquarters in Parallon and Sarah Cannon downtown, which will bring 2,000 jobs by 2016. Banking giant UBS is in the process of bringing over 1,000 jobs to the area. The area is also home to 29 of Nashville's 35 biggest law firms are downtown. Of course, downtown Nashville didn't get the nickname Music City for nothing. It is home to some of the largest music industry leaders including CMT, Universal Music Group and Sony/ATV Music Publishing. With such employment opportunities and a vibrant culture, 92% of employees said that downtown Nashville is a fun place to work, according to the 2014 Downtown Employee Survey. Moreover, 96% of employees said that downtown has a positive and energetic atmosphere.
Stay tuned as we reveal which U.S. submarkets made our Top 3.
(Image Source: Shutterstock)