The Nation's Top 10 Busiest Submarkets: 3. Franklin/Williamson County, Tennessee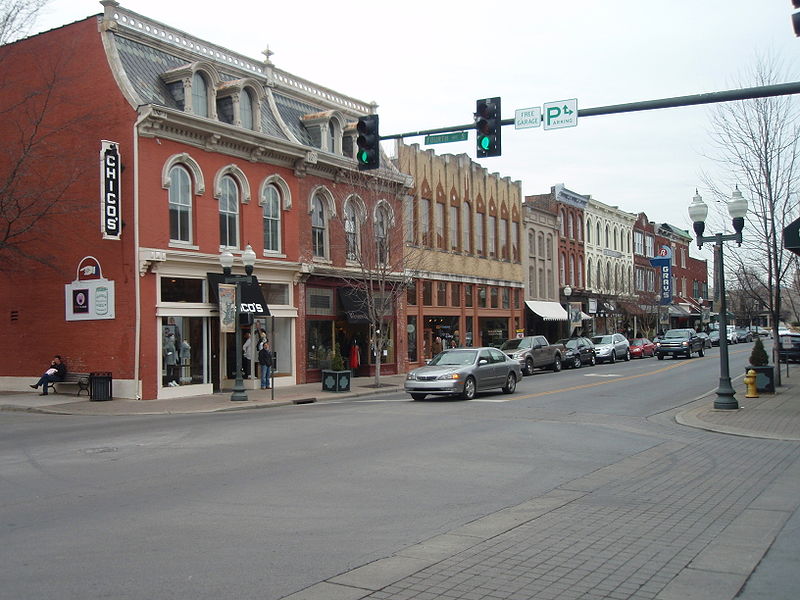 The U.S. apartment market has seen elevated construction levels in this cycle. But construction activity has been concentrated in some spots more than others, and MPF Research has identified the nation's 10 busiest submarkets for construction in this cycle. The submarkets were identified based on inventory growth since 2012, including the total number of units completed since 1st quarter 2012 and the total number of units under construction at the end of 3rd quarter 2014. Why have these spots attracted so much development? We'll take a deeper look in this series highlighting each of the top 10 submarkets.
9. Far North Central San Antonio, Texas
8. Downtown Indianapolis, Indiana
7. Far Northwest San Antonio, Texas
5. Mooresville, North Carolina
Franklin/Williamson County, Tennessee
Franklin/Williamson County places in the No. 3 slot on our list of rapid inventory growth submarkets. The Nashville, Tennessee submarket's inventory growth rate since 2012 is 48.1%, which includes new apartment supply and units under construction at the end of 3rd quarter 2014. Putting that percentage into numbers, Franklin/Williamson County has received 1,467 new units since 2012, and had another 1,225 units under construction in 3rd quarter 2014.
So what makes this area of Nashville so hot for apartment development? The answer if fairly straight forward: a growing population and economy, award-winning school districts and high quality of life.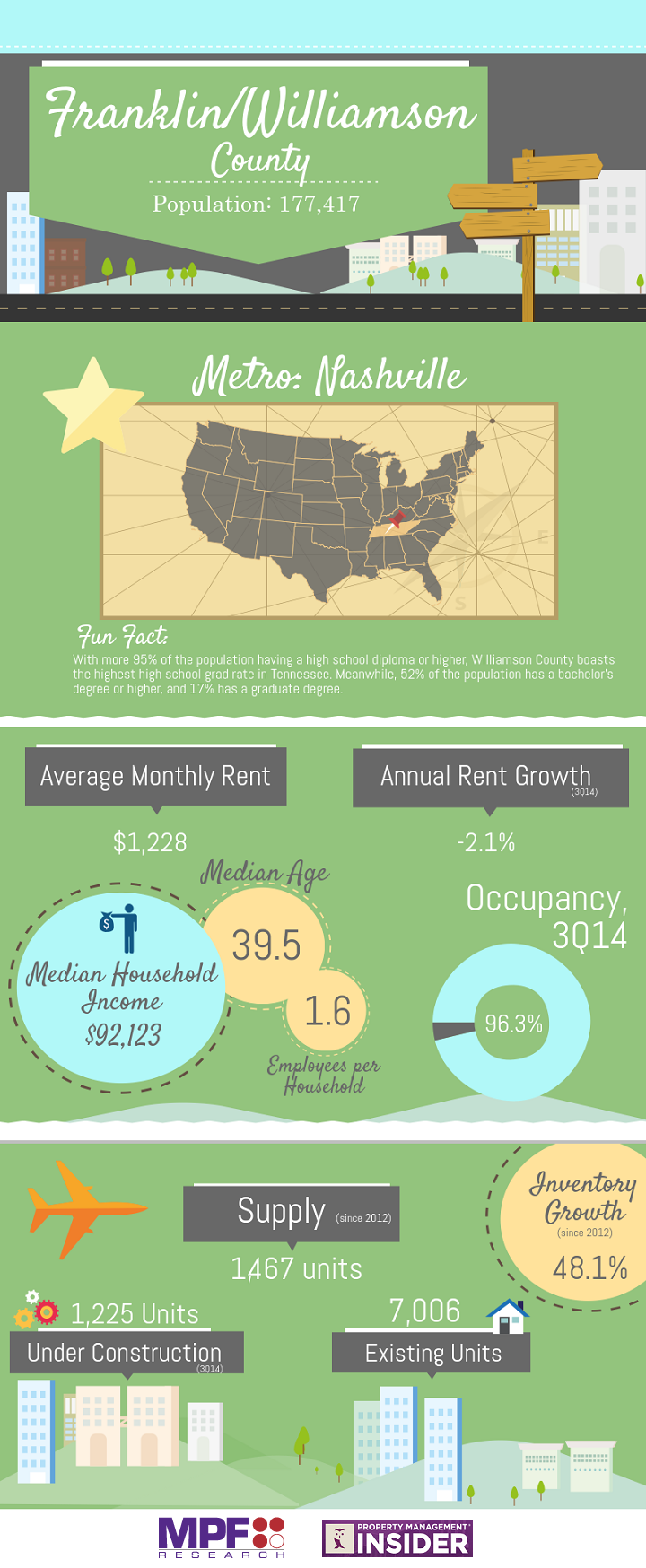 Location
Franklin/Williamson County is located roughly 20 minutes south of our No. 4 submarket, Central Nashville. It encompasses part of the city of Brentwood and all of the city of Franklin, both of which are in Williamson County. Bisecting the submarket is Interstate 65, a north-south route which provides a straight shot into downtown Nashville. The Franklin/Williamson County submarket is located within Nashville's growth path, which is along that I-65 corridor. In fact, Williamson County is the fastest-growing county in Tennessee in terms of both population and job growth.
Employment
Over half of Nashville's largest publically traded companies are located within Williamson County (13 out of 25 to be exact), and 33% of the fastest-growing private companies in Tennessee are based in Williamson County. According to Williamson County's Chamber of Commerce, 54.53% of the workforce in the county both live and work there. Not to mention, the Williamson County workforce is projected to grow to 141,226 employees by 2023, which is nearly 25,000 more jobs than there are today. Roughly 9,500 of those additional employees are expected to come as a result of the 33 economic projects in Williamson's County current development pipeline, according to the 3rd quarter 2014 report issued by Williamson, Inc. Economic Development. Of the companies with projects in the pipeline, 30% are already in Williamson County and 70% are new to the Middle Tennessee region. And with more jobs comes the need for more housing.
The Franklin/Williamson County submarket is an employment hub in and of itself, but can also be considered a commuter area, depending on where you live (since it is such a geographically large submarket). Let's take a look at some of the largest employers in the submarket as of 2014:
Community Health Systems: 4,300 employees
Coolsprings Galleria: 3,500 employees
Nissan North America Headquarters: 1,600 employees
Williamson Medical Center: 1,449 employees
UnitedHealth Group: 1,166 employees
Verizon Wireless: 1,000 employees. (Verizon recently announced that it is looking to add another 300 jobs in the area.)
Tractor Supply Company: 910 employees. (Tractor Supply Co. just recently opened a $59 million headquarters in Brentwood in November. The building has a capacity of 1,200 employees.)
Comdata: 875 employees
Ford Motor Credit: 750 employees
Lee Company: 750 employees
Healthways World Headquarters: 717 employees
Medsolutions: 700 employees
Optum: 700 employees
DaVita: 650 employees
Delek US Holdings/MAPCO Express: 650 employees
Mars Petcare: 628 employees
These companies are located along the I-65 corridor and in the Cool Springs office corridor.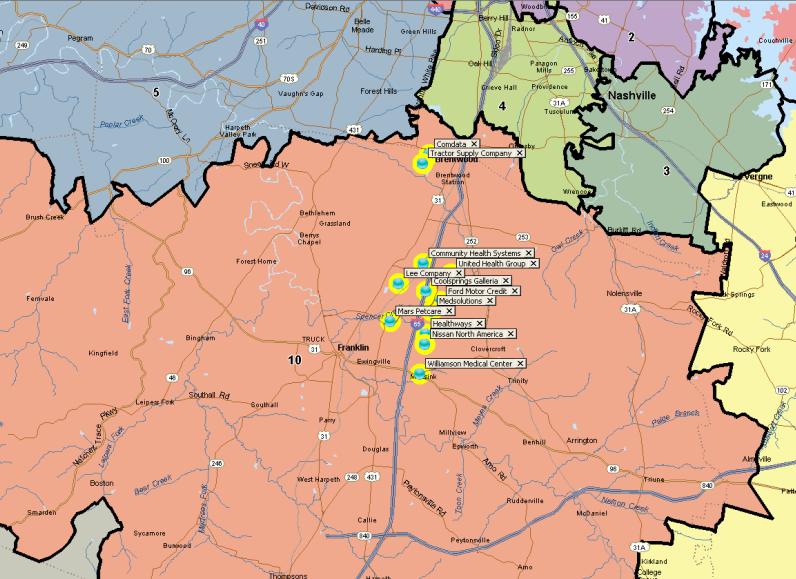 The Cool Springs corridor is a hot area to work. The area is located between Brentwood and Franklin, just off I-65. Several office projects are recently finished, under way or being planned in that Cool Springs office area. One of the larger ones that completed in October was the 272,720-square-foot One Franklin Park. This is the first of five 10-story office towers planned for the 71-acre Franklin Park development. Once all phases are complete, there will be over 1.25 million square feet of Class A office space designed to accommodate Fortune 500 companies. Moreover, there will be on-site apartments along with retail facilities. Some companies that have signed leases in the building include Acadia Healthcare, Franklin American Mortgage and Eco Energy Global Biofuels LLC, according to developer Spectrum Emery.
Moreover, another 147-acre mixed use development, dubbed Ovation, recently got the go-ahead to move forward with development. The Ovation project will be just across the street from Nissan's corporate headquarters, on the corner of McEwen Drive and Carothers Parkway. The mixed-use development will consist of 950 homes, retail space, restaurants and a hotel. The development is expected to create over 6,500 new jobs.
Apartments
Most of the apartment communities completed or under way are in the employment hubs along the I-65 corridor or within that Cool Springs corridor:
1.) District at Seven Springs: This recently completed, 280-unit apartment complex is located in Brentwood, just off Old Hickory Boulevard and just east of I-65. The community is within walking distance of new restaurants and retailers within the Seven Springs area, and offers easy access to downtown Nashville, Cool Springs area and Maryland Farms (where retailer Kirkland's headquarters recently relocated). District at Seven Springs has one- and two-bedroom floorplans for residents to choose from. It also has several features not limited to saltwater swimming pool, energy efficient windows and outdoor fire pits.
2.) Crescent Cool Springs: This 252-unit apartment project is currently under construction on Resource Parkway, just east of I65 between Carothers Parkway and Cool Springs Boulevard.
It is within close proximity to the Cool Springs Galleria. Crescent Cool Springs offers one-, two- and three-bedroom floor plans. Each apartment features upgraded kitchens with kitchen islands, USB ports that are easily accessible, and washers and dryers in each apartment. Construction is expected to be complete by early 2015.
3.) Cameron at Franklin Park: These apartments are part of the Franklin Park mixed-use project discussed previously. This 330-unit, five-story apartment complex is located just east of I-65 on Tower Circle. It's also located within close proximity to several restaurants, entertainment, retail and major employers. The apartment community has one-, two- and three-bedroom options in open, spacious floorplans. Cameron at Franklin Park is slated for completion by the end of 2014.
Schools
The Williamson County School District has earned several awards over the past couple of years, according to its website:
1.) The Williamson County School District earned the 2014 Highest Performing School District in the US servicing 20,000 students from schooldigger.com.
2.) Along those same lines, Brentwood, Ravenwood, Page and Independence ranked as "Best High Schools in the US," according to US News & World Report. Those schools were also featured in the Newsweek's "America's Best High Schools 2012" list.
3.)  The 2014 graduating class in Williamson County district schools had an ACT score of 23.5, well above the national average of 20.9 and state average of 19.5, ranking among the highest in the state.
4.)  And 27 schools in the WCS were dubbed Reward Schools in 2014 by the Tennessee Department of Education. This means that these schools were in the top 5% in the state for annual growth and for academic achievement.
5.)  And three of Williamson County's middle schools received the National Blue Ribbon Schools award (Hillsboro Elementary-Middle, Trinity Elementary, and Kenrose Elementary). These schools received the recognition in the "exemplary high performing schools" category.
The school district encompasses 41 school sites, including nine high schools, eight middle schools, 23 elementary schools and one kindergarten-through-eighth-grade campus. During the 2014-2015 school year there are approximately 35,000 students enrolled in these schools. With so many award winning schools, it gives people even more of an incentive to move to the area.
In addition to the Williamson County School District, Columbia State recently broke ground on a new community college. The campus will sit on 38 acres on Liberty Pike, just east of I-65 near Williamson Medical Center. Construction on the school is expected to take roughly two years. Once Columbia State Community College is complete, it will accommodate 2,200 students.
(Image by: Ichabod  via Wikimedia Commons)