The Nation's Top 10 Busiest Submarkets: 5. Mooresville, North Carolina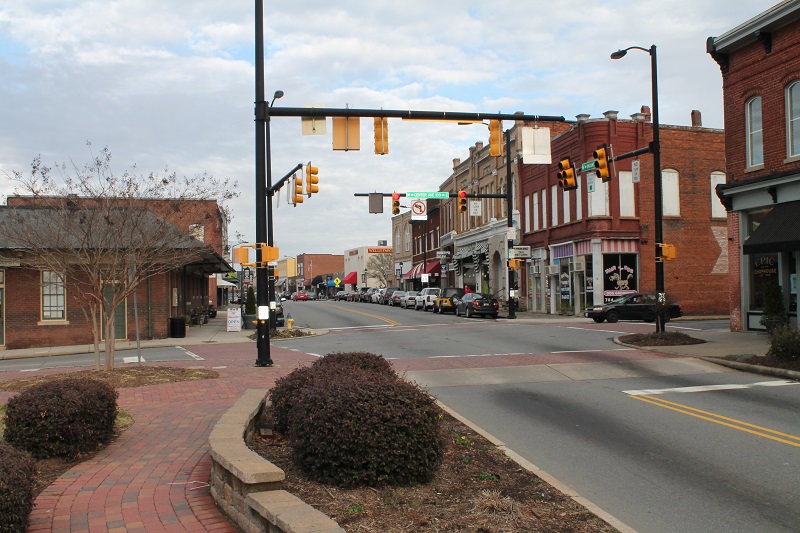 The U.S. apartment market has seen elevated construction levels in this cycle. But construction activity has been concentrated in some spots more than others, and MPF Research has identified the nation's 10 busiest submarkets for construction in this cycle. The submarkets were identified based on inventory growth since 2012, including the total number of units completed since 1st quarter 2012 and the total number of units under construction at the end of 3rd quarter 2014. Why have these spots attracted so much development? We'll take a deeper look in this series highlighting each of the top 10 submarkets.
9. Far North Central San Antonio, Texas
8. Downtown Indianapolis, Indiana
7. Far Northwest San Antonio, Texas
Mooresville, North Carolina
Placing in the No. 5 slot on our list of rapid inventory growth submarkets is Mooresville in the Charlotte metro. Mooresville's apartment inventory growth rate since 2012 is 44.8%, which includes both new apartment supply and units under construction at the end of 3rd quarter 2014. Putting that percentage into numbers, the small submarket of Mooresville has received 759 new units since 2012, with another 541 units under construction in 3rd quarter 2014. So what makes this area of Charlotte so hot for apartment development?

Location
The Mooresville submarket is Charlotte's far northern-most submarket. While other small towns are located within the submarket, the town of Mooresville, located right off Interstate 77, is the driver of growth within the submarket. Interstate 77 runs straight through the submarket, giving excellent access to downtown Charlotte, which is approximately 20 miles away. On the western edge of the submarket lies a fraction of Lake Norman.
Growth
Most importantly, Mooresville is located in Charlotte's northbound growth path, which is a prime reason that such levels of apartment development in the submarket are taking place. The town of Mooresville, specifically, and the surrounding areas are growing pretty quickly. Over the past decade, Mooresville's population has grown 74%, or 34,000 people, and is projected to double in the next 20 years, according to the town of Mooresville.
Mooresville is considered to be a commuter town, but it is also in an area that the Mooresville Tribune called a "triangle of growth." Not only is the area's residential base growing briskly, but its economy is also becoming increasingly robust with jobs and attractions of its own. The "triangle of growth" extends from Mooresville to Lincolnton, back through the Huntersville/Cornelius area to Kannapolis and back up.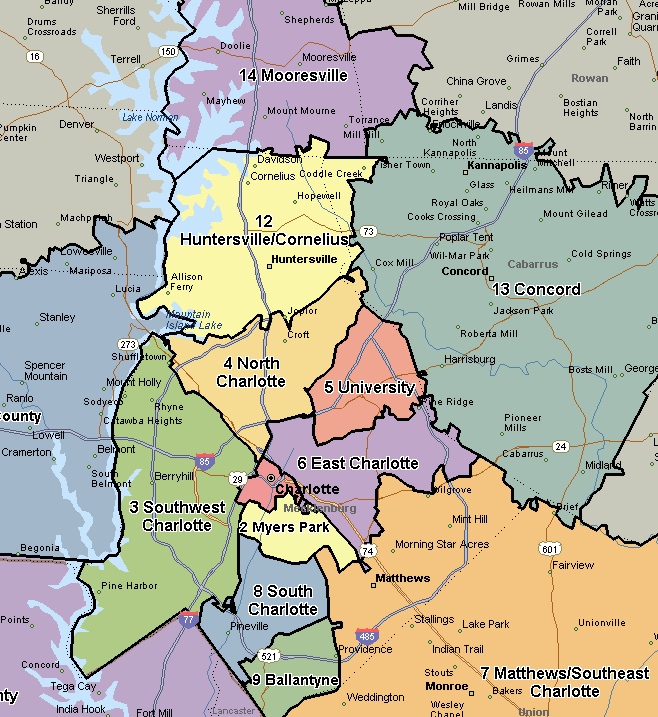 Getting even more specific, within the Mooresville submarket, residential growth is occurring east and west of I-77, while commercial growth is occurring along the NC 150 corridor, west of I-77, close to Lake Norman. And, as land in this area begins to fill up over the next decade, the growth pattern in the Mooresville submarket is expected to shift east of I-77, according to the town of Mooresville. Several transportation projects have already begun to take place due to increasing traffic in the area and even more are planned for the future.
Business Climate
Automotive Industry: Mooresville's nickname is "Race City USA." Car racing is to Mooresville as the movies are to Hollywood. The Mooresville area is home to:
1.) Over 60 NASCAR teams
2.) Lakeside Park, which is home to over 20 NASCAR teams
3.) Over 100 race-related suppliers
4.) An INDYCAR team
5.) Two automotive museums (North Carolina Auto Racing Hall of Fame & The Memory Lane Motorsports and Historical Automotive Museum)
6.) Two wind tunnels for aerodynamic testing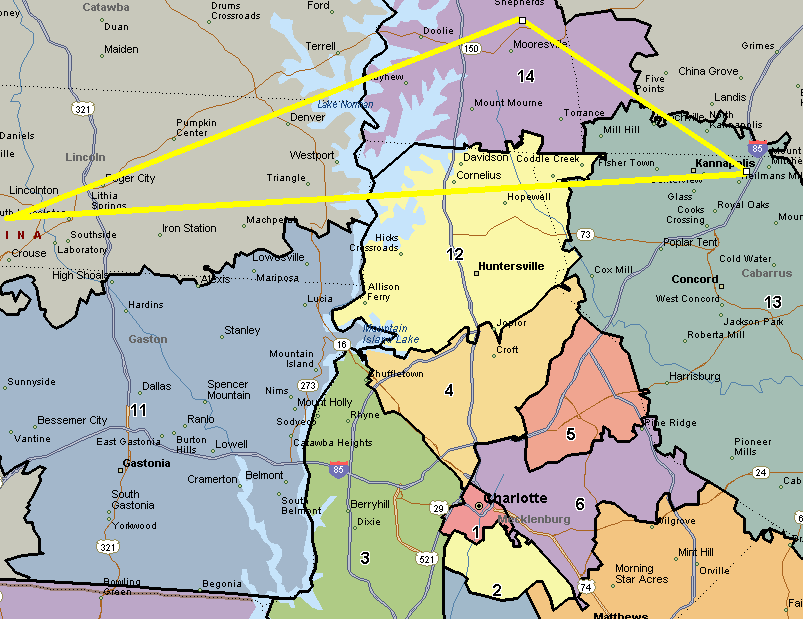 Manufacturing
Needless to say, the industrial area is one of Mooresville's most important assets. Some of the largest employers in the area are manufacturing companies such as:
1.) Ingersoll-Rand Company, manufacturers of air compressors (1,200 employees)
2.) NGK Ceramics USA Inc., manufacturers of ceramic catalytic converters for automobiles (650 employees)
3.) BestCo, Inc., candy manufacturers (450 employees)
4.) Penske Racing, Inc., racing-related company (350 employees)
Moreover, there are several industrial parks located in the submarket, most of which are just east of I-77, and employ thousands of workers. The newest industrial business park, Mooresville Business Park East, will be located on 476 acres on N.C. 801 and will target advanced manufacturing firms, motorsports businesses and companies in the defense industry, bringing more jobs to the area in future years.
Employment
Speaking of jobs coming to the area, Mooresville appears to be a hotbed for companies to relocate to. In fact, Mooresville has won Site Selection magazine's Micropolitan Award in nine out of the past 11 years. This award goes to a micropolitan area which has gained the most jobs compared to other communities of its size. However, since Iredell County (where Mooresville is located), plus a couple of others counties in North Carolina, were added to the Census' new Charlotte metropolitan definition in 2013, Mooresville was no longer considered a micropolitan area and therefore could not be in the running for the award in 2014.
Some companies that have recently announced hiring activity in Mooresville include:
1.) Earth-Kind, Inc.: Chose to locate their manufacturing operations for their all-natural, nontoxic pest control solutions to the area. Over the next four years, the company expects to expand to over 380 full-time employees.
2.) Harvest Garden Pro: Chose to locate their headquarters in Mooresville, which will create 33 jobs. The jobs will pay an average of $70,000 annually plus benefits.
3.) Pactiv LLC: A foodservice and food packaging company announced they are going to expand their business, which should create 50 new full-time jobs.
One last detail about Mooresville's business climate: its home to Lowe's Companies, Inc. Regional Headquarters, which employs over 3,000 people.
Schools
Another reason Mooresville is growing and attracting people to the area is its two school districts, which are nationally recognized for their educational programs.
The Mooresville Graded School District
This school is well known for its digital conversion program.Each student in kindergarten through 12th grade are issued laptops. Students in fourth through 12th grades are issued MacBooks for use at home and school, while third graders receive laptops for school use and kindergarteners through second-graders have laptops and iPads on carts.
The school district consistently contends for the best in the state for academic excellence, according to the district's website. Both the digital conversion program and overall academic excellence prompted a visit to the Mooresville Middle School in June 2013 from President Barack Obama.
According to its website, the school district has been recognized in numerous articles, including The New York Times, Ed Leadership, Ed Week, District Administration and American School Board Journal. This school district was also featured on PBS: The News Hour with Jim Lehrer, a Learning Matters segment.
Iredell-Statesville Schools
This school district has over 20,000 students and ranks among the 20 largest school districts in North Carolina.
There are 36 schools within the district. According to the Iredell-Statesville Schools website, their SAT scores along with graduation rates and writing scores are among the best in North Carolina.
The Mooresville submarket also has a tech institute, NASCAR University Technical Institute. This campus was recently awarded the Accrediting Commission of Career Schools and Colleges School of Excellence Award for the 2013-2014 school year. It was one of only 22 such institutions to receive this award. This institute was also featured on TODAY's "Tricks of the Trade School" series.
Types of Apartments
When looking at apartment trends in the Mooresville submarket, it appears most communities are located in the growth area just west of I-77, near Lake Norman in Mooresville.
1.) The Venue at Mooresville: This conventional apartment community recently wrapped up construction and is located on Lake Norman, just west of I-77 on Plantation Ridge Drive. The Venue consists of 232 units and offers spacious one-, two- and three-bedroom apartments. Amenities include an onsite car care center, intrusion alarms and walk-in closets.
2.) Plantation Pointe: These apartments are currently under construction just west of I-77, north of Highway 150 on Plantation Pointe Loop. Upon completion, there will be 260 conventional units available in spacious one-, two- and three-bedroom units. Construction on Plantation Pointe is expected to complete at the end of this year.
3.) The Grove at Morrison Plantation: This 281-unit apartment complex is currently under construction west of I-77 just off Morrison Plantation Park Road, less than two miles from the Lake Norman boat access. The complex will offer future residents one-, two- and three-bedroom spacious apartment units. Some property amenities include a pet park and spa, car wash and door-to-door valet waste service. Construction is slated for completion at the end of this year.
Recreation Activities in the Mooresville submarket include:
1.) Lake Norman
2.) Carrigan Farms: open to the public for pick-your-own fruits and vegetables, plus other outdoor activities
3.) Lazy 5 Ranch: drive-through safari
4.) Mooresville Artist Guild: located in Downtown Mooresville. Offers classes, workshops, and art exhibits.
(Image by: Cdtew at English Wikipedia via Wikimedia Commons)