The Nation's Top 10 Busiest Submarkets: 8. Downtown Indianapolis, Indiana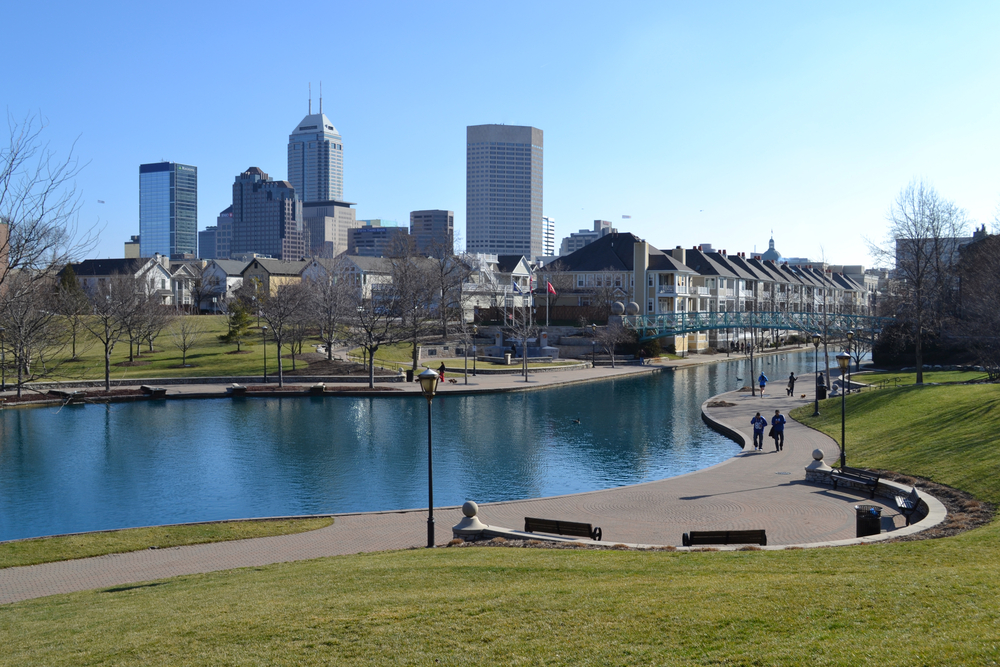 The U.S. apartment market has seen elevated construction levels in this cycle. But construction activity has been concentrated in some spots more than others, and MPF Research has identified the nation's 10 busiest submarkets for construction in this cycle. The submarkets were identified based on inventory growth since 2012, including the total number of units completed since 1st quarter 2012 and the total number of units under construction at the end of 3rd quarter 2014. Why have these spots attracted so much development? We'll take a deeper look in this series highlighting each of the top 10 submarkets.
Downtown Indianapolis, Indiana
Landing in the No. 8 spot on our list of fast-growing apartment submarkets is Downtown Indianapolis. This submarket's inventory expansion rate since 2012 is 44.1%. That calculation includes new apartment supply and units under construction at the end of 3rd quarter 2014. Turning that percentage into an actual unit count, Downtown Indianapolis has received 2,003 new apartments since 2012, with an additional 1,495 units under construction in 3rd quarter 2014. According to the Indianapolis Chamber of Commerce: The metro has more major interstate junctions than any other metro nationwide. Two of the highways that traverse the metro – I-65 and I-70 – merge near the heart of Downtown Indianapolis. This gives travelers good access to the downtown area and residents good access to other areas of the metro.
So the question is, why has there been such an influx of apartments? Let's take a look at a few demand drivers that are making Downtown Indy such a hotbed for apartment development: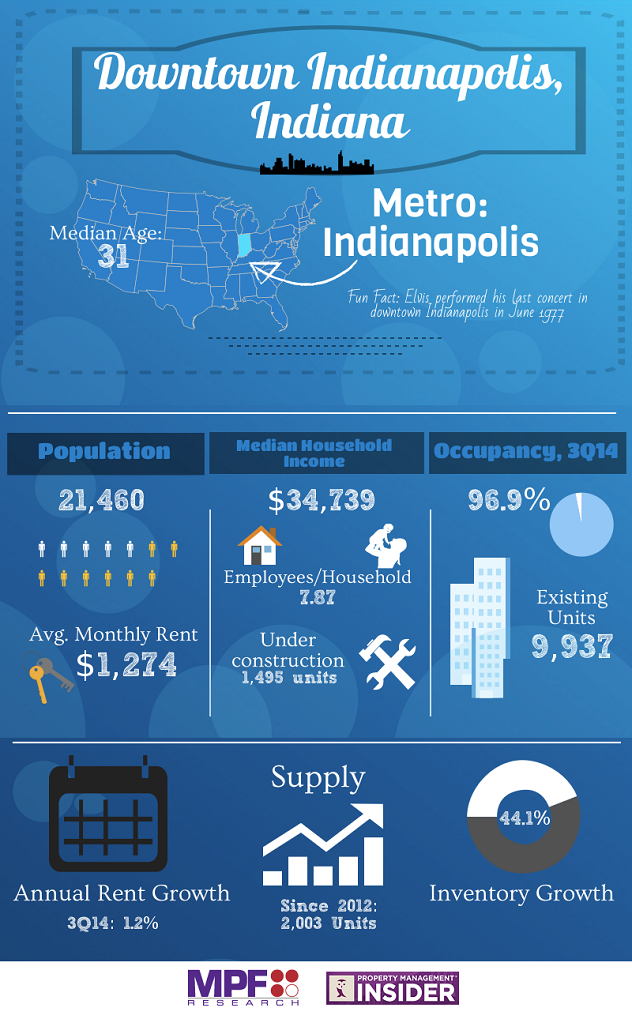 Location
Downtown Indianapolis differs from No. 10 Cedar Park and No. 9 Far North Central San Antonio in that it isn't a commuter area. Many of its residents choose to live here because they work here. In fact, Downtown Indianapolis has the highest employees per household ratio – 7.9, according to Moody's Analytics – than any of the other top 10 submarkets for apartment construction on our list. And the higher ratio, the more people who live and work in this area. It's no wonder residents choose to live in this vibrant area, as they can be within walking distance to tons of restaurants, entertainment districts, professional sports venues and beautiful parks. In fact, WalkScore.com gives the downtown Indy area (ZIP code 46204) a score of 91, calling it a "walker's paradise." And Downtown Indianapolis was also ranked #1 among the "7 Walkable Cities for Meetings and Events" by Rejuvenate Magazine.
Speaking of walking, let's talk about downtown Indy's Cultural Trail. This is a $63 million, 8-mile biking and walking trail that "connects neighborhoods, Cultural Districts and entertainment amenities, and serves as the downtown hub for the entire central Indiana greenway system," according to IndyCulturalTrail.org. The Cultural Trail is a beautiful and environmentally friendly way of getting around downtown or walking or biking to work.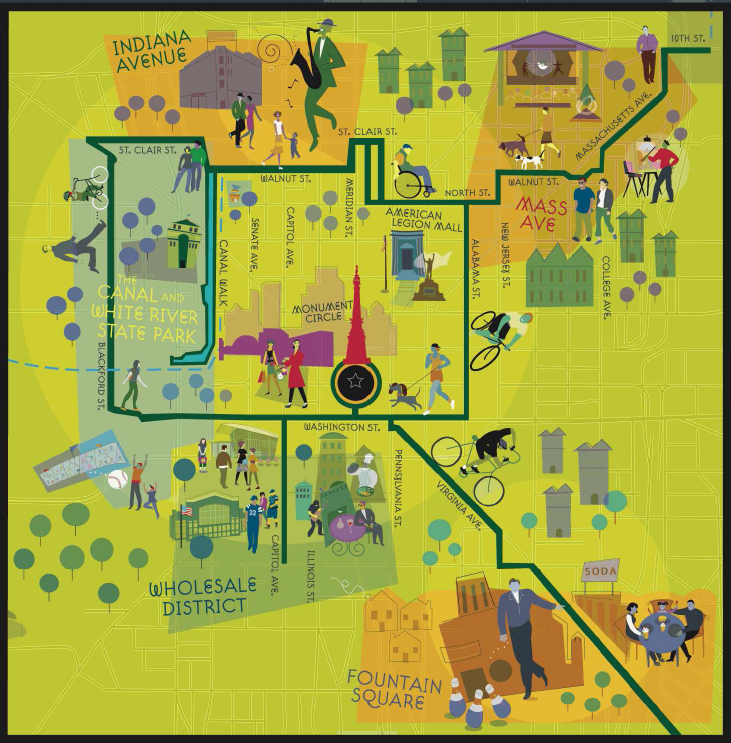 (Source: Midwest Chapter)
Demand Drivers
Downtown Indianapolis is anchored by two Fortune 500 companies and home to several companies' regional and national headquarters. Downtown is also home to a large bioresearch and medical community. (Indy is listed by the Wall Street Journal as a leading national life sciences hub!) Let's take a look at some of the major employers in the area identified by the group Downtown Indy:
1.) IU Health: IU Health is the Indianapolis region's largest employer. The hospital and healthcare system has a headcount of 20,292 people in the area. Specifically, within a roughly two-mile radius of downtown Indianapolis, there are 31 IU hospitals, primary care, outpatient, radiology, urgent care, occupational care and emergency care and lab facilities. Notably, three IU hospitals are within downtown: Riley Hospital for Children at IU Health, IU Health University Hospital, and IU Health Methodist Hospital.
2.) Indiana University-Purdue University Indianapolis (IUPUI): IUPUI is a university that has approximately 5,100 employees.
3.) WellPoint: A Fortune 500 company that is one of the largest health benefit companies in the United States and that employs around 4,500 people.
4.) Simon Property Group: A Fortune 500 company that is the largest publicly traded retail real estate operating company in North America and whose corporate headquarters are located in downtown Indy.
5.) Riley Hospital for Children: This hospital was recognized as one of the top 30 children's hospitals in America.
6.) Salesforce Marketing Cloud: This company, formerly known as ExactTarget, develops digital marketing automation and analytics software for email, mobile, social and online marketing.
7.) Angie's List: A website that has customer satisfaction ratings on local companies, accessed via paid subscription. The company now has roughly 1,800 employees, but announced in October it plans to expand its Indy headquarters and create approximately 1,000 new jobs by 2019.
Two other major employers are not within the defined submarket boundaries, but are less than half a mile south of the Downtown Indianapolis submarket:
1.) Eli Lilly & Company: A Fortune 500 pharmaceutical company that has around 10,500 employees.
2.)  Rolls-Royce North America: A gas turbine engine manufacturing company which employs around 4,100 people.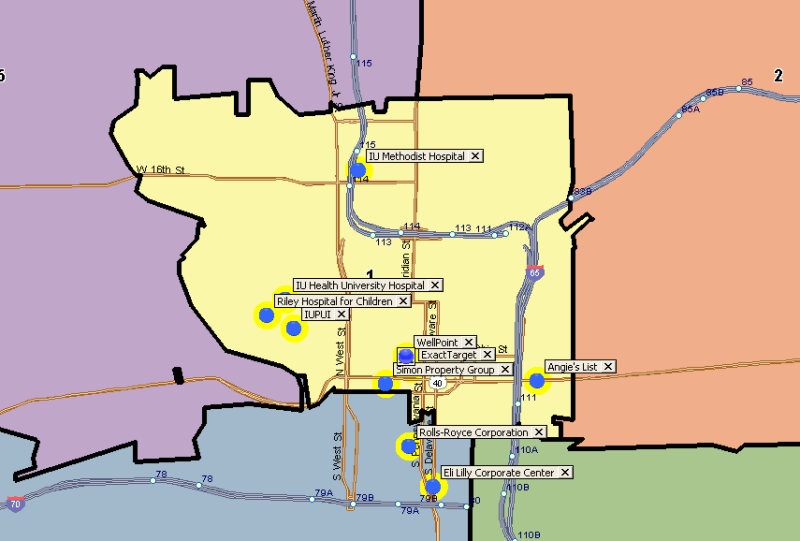 Universities
Another a big apartment demand driver downtown is universities. Downtown Indianapolis has a few universities whose students need a place to live:
1.) Indiana University-Purdue University Indianapolis (IUPUI): A public research university that offers over 200 degree programs from both Indiana University and Purdue University. According to the university's website, there were 30,488 students enrolled in Fall 2013, of which 22,409 were undergrads and 8,079 were graduate or professional students.
2.) Indiana University School of Medicine: This medical school is the second-largest in the nation, with nearly 2,000 students enrolled as of the 2014 entering class, spread across nine medical campuses in Indiana. Specifically, there were 823 students enrolled in the M.D. program at the downtown Indianapolis campus as of 2014.
3.) Indiana University Robert H. McKinney School of Law: This law school had 167 full-time students and 60 part-time students enrolled in Fall 2013.
4.) Marian University College of Osteopathic Medicine (MU-COM): This medical school opened in 2013 and was Indiana's first new medical school to open since 1903. As of the 2013-2014 academic year, there were 150 students enrolled at MU-COM.
5.) Harrison College: Harrison College downtown offers a variety of programs and courses including business, criminal justice, education and a fire department training institute.
Downtown Districts/Neighborhoods/Apartments
Downtown Indianapolis is a patchwork of several districts and neighborhoods. DowntownIndy.org has a great map and list of the different districts here. Several of the apartment buildings under construction were revitalizations of old, historic buildings. With that, let's look at a few:
16 Tech: This area is a district designed to "meet the specific needs of those in life sciences and information technology sectors," according to DowntownIndy.org. The district offers electric vehicle charging stations, bicycle greenways, walking trails and parks and locally designed public art sculptures. The district is located at the northwest side of the submarket, along Indiana Avenue between 16th and 10th streets.
Apartments: One apartment that wrapped up construction mid-2013 in the 16 Tech area was the first phase of the Stadium Renaissance project, dubbed Stadium Lofts, a re-development of the old Bush Stadium. The 131-unit innovative complex overlooks the baseball field. The second phase, Stadium Flats, is still underway and once complete at the end of this year will contain 144 units within four buildings. Stadium Flats is just south of the Stadium Lofts and is expected to complete by the end of 2014.
Canal & White River State Park: This area contains a lot of attractions such as museums, an IMAX Theater, Victory Field (where the Indianapolis Indians play) and tons of outdoor activities. Of course, the beautiful White River State Park is within this area, as well as 1.5 miles of the Canal Walk.
Apartments: 9 on Canal, a student housing complex, recently wrapped up construction in this area. This community has a lot of perks, including a rooftop infinity pool, pet park (also on the rooftop), study rooms and on-site restaurants. The 9 on Canal consists of 304 units, is within close proximity to IUPUI and has ones, two and three-bedroom floor plans to choose from.
Wholesale District: This is considered the entertainment area of downtown Indy and centrally located in the submarket. The Wholesale District boasts over 85 restaurants, 20 nightspots, the Indianapolis Colts home Lucas Oil Stadium and Bankers Life Fieldhouse, which is home to the Indiana Pacers. Within the Wholesale District also lies the Circle Centre Mall, which has more than 100 shopping, dining and entertainment venues. Also, Georgia Street is within the Wholesale District. Georgia Street was recently redesigned to include a pedestrian boardwalk with a catenary lighting system and boasts shops and restaurants
Apartments: Another revitalization project under way in the Wholesale District is the 98-unit Penn Street Towers. The apartment project is currently taking place in what was formerly known as the Consolidated Building, a historical building that was constructed in 1909 and is 15 stories tall. The rehab of the Penn Street Towers is slated for completion around mid-2015.
(Image source: Shutterstock)