The Nation's Top 10 Busiest Submarkets: 6. Frisco/Prosper, Texas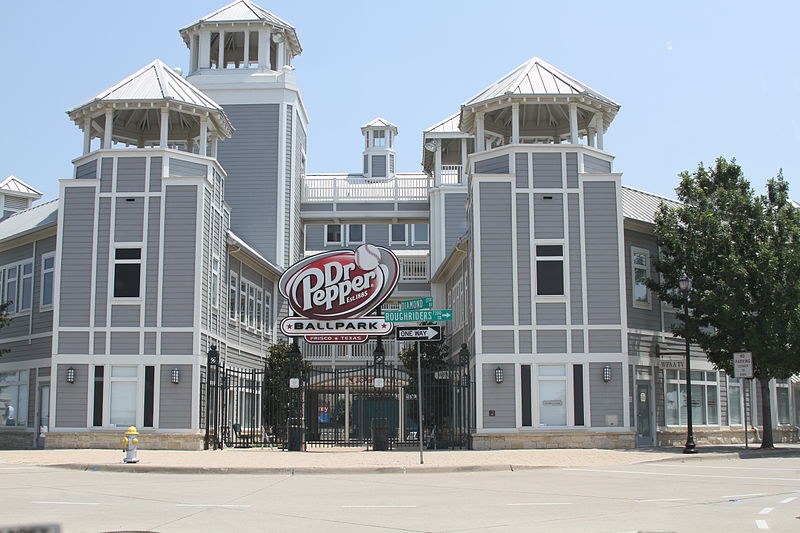 The U.S. apartment market has seen elevated construction levels in this cycle. But construction activity has been concentrated in some spots more than others, and MPF Research has identified the nation's 10 busiest submarkets for construction in this cycle. The submarkets were identified based on inventory growth since 2012, including the total number of units completed since 1st quarter 2012 and the total number of units under construction at the end of 3rd quarter 2014. Why have these spots attracted so much development? We'll take a deeper look in this series highlighting each of the top 10 submarkets.
9. Far North Central San Antonio, Texas
8. Downtown Indianapolis, Indiana
7. Far Northwest San Antonio, Texas
Frisco/Prosper, Texas
Landing in the No. 6 spot on our list of rapid inventory growth is the Frisco/Prosper submarket in the Dallas metro. Frisco/Prosper's inventory expansion rate since 2012 is 44.5%. That calculation includes new apartment supply plus units under construction at the end of 3rd quarter 2014. Turning that percentage into an actual unit count, Frisco/Prosper has received 1,612 new apartments since 2012, and had an additional 2,081 units under construction at the end of 3rd quarter 2014.


Location
The Dallas region is primarily growing north, where the Frisco/Prosper submarket is located. The Frisco/Prosper submarket is north of Highway 121, west of Custer Road, east of Lake Lewisville and extends north to the city of Celina. The Dallas North Tollway (DNT) cuts through the middle of the submarket. The most important part of its location is that Highway 121/DNT corridor, where A LOT of office/retail/apartment construction is going on.
The Frisco/Prosper submarket is considered to be a "commuter" town, but with continued growth over the past decade, it has gained a number of employers. The submarket has three major highways — Dallas North Tollway, Highway 121 and US 380 — that provide residents with good access to other employment areas in north Dallas. For example, the Dallas North Tollway is a straight shot to numerous corporate campuses in the suburbs Plano and Addison and employers in the Galleria area of north Dallas proper and downtown Dallas. Moreover, the area is approximately 25 minutes away from the Dallas/Fort Worth International Airport via Highway 121.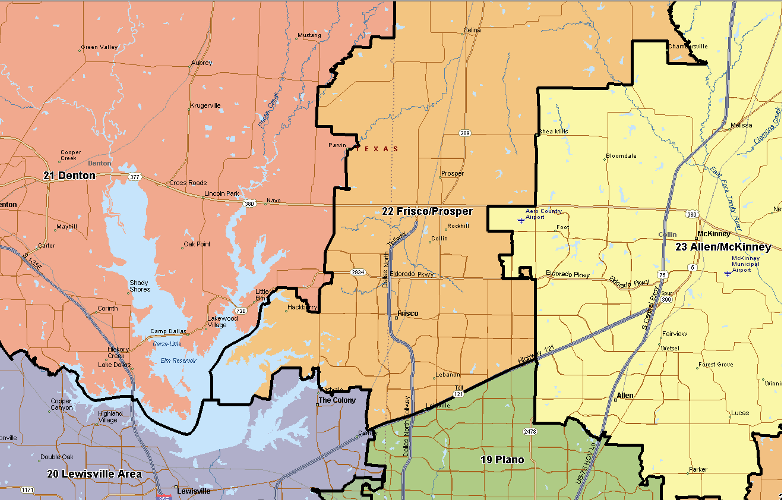 The Frisco area is a hot area right now – a lot of commercial construction and apartment construction is taking place (close to that 121/DNT corridor) currently in this area. Prosper, while commercial and apartment construction isn't as abundant as it is in Frisco, is starting to see construction activity pick up.
So let's get to the question: why is the Frisco/Prosper submarket exploding with apartments? Let's start with the economy.
Access to employers
Over the past couple of years, there have been a few big announcements of companies moving their headquarters close to the Highway 121/DNT corridor. Let's take a look at some of the larger ones that are driving demand:
1.) Dallas Cowboys: One of the more publicized moves was the announcement that the Dallas Cowboys are moving their headquarters to Frisco. The development – dubbed The Star – will not only include the Cowboys new training complex, but will also have a 12,000-seat multi-use event center, an Omni hotel and several other mixed-use projects, according to local media reports. The Star is under way on 91 acres at the northwest corner of Warren Parkway and the Dallas North Tollway. The project is expected to create over 4,500 jobs by 2026 and pump $23.4 billion into the regional economy over the next 30 years.
2.) Toyota: Toyota recently announced they are moving their headquarters (and roughly 4,000 employees) to the Legacy West development in northwest Plano, just south of the Frisco/Prosper submarket border. The company is building their new $350 million headquarters on the southwest corner of State Highway 121 and Legacy Drive. The campus is being developed on 100 acres and will have over 1 million square feet of office space.
3.) FedEx Office: FedEx Office also recently announced that they are moving their headquarters from the Dallas Galleria office to the Legacy West development. The company's 265,000-square-foot corporate campus is being constructed at the northeast corner of Legacy and Headquarters Drive. Also moving to the area will be around 1,200 FedEx Office employees.
Not only have companies announced their intentions of moving headquarters to the Frisco/Prosper area, but there has been a lot of office construction popping up, too. And with office construction comes jobs. Here are a few office projects under way:
1.) Hall Office Park: Hall Office Park's 16th office building was recently completed, encompassing eight stories and 200,000 square feet. Hall Office Park sits on a total of 160 acres and has over 2 million square feet of Class A office space. Not to mention, it's just down the street from The Star.
2.) Frisco Bridges Place: This 170,000-square-foot office building is currently under construction on Hicks Road and the Dallas North Tollway, just southeast of Gaylord Parkway.
3.) Matthews Paradise Office Project: This 275,000-square-foot project has not yet broken ground, but will be located on the northwest corner of the Dallas North Tollway and Highway 380.
4.) Texas Health Resources: This medical company just purchased 10.45 acres next door to the proposed Matthews Paradise office project to build an outpatient medical center.
Retail, tons of retail
Not only are offices and medical buildings popping up in the area, but so is retail. And there have been several big developments recently completed or announced.
1.) Nebraska Furniture Mart Development: This development is in The Colony, on the southeast corner of Highway 121 and Plano Parkway, near the Frisco/Prosper submarket border. Here's a fun fact: Nebraska Furniture Mart's 1.9 million-square-foot retail and distribution center will be about the size of 27 football fields and will be able to hold 500,000 pieces of furniture. That's huge. And working in this massive retail complex are an anticipated 2,300 or more workers once all is said and done in Spring 2015.
2.) Grandscape: The Nebraska Furniture Mart Development is the anchor for this $1.5 billion mixed-use development on 433 acres, according to the Dallas Morning News. Fun fact here, too: Grandscape will span 327 football fields and have up to 3.9 million square feet of retail, entertainment and dining space. Moreover, the city of The Colony predicts that the Grandscape facility will create 20,426 jobs over the first 40 years.
3.) Top Golf: This entertainment venue wrapped up construction last year.
4.) Gates of Prosper: This is a 500-acre mixed-use development at the northeast corner of Highway 380 and Preston Road, by Dallas Cowboys owner Jerry Jones' Blue Star Land Co. Construction has not yet begun yet (with a target start date in early 2015), but the first phase will consist of around 300,000 square feet of retail space.
And those just name SOME of the larger commercial developments planned, under way, or recently completed.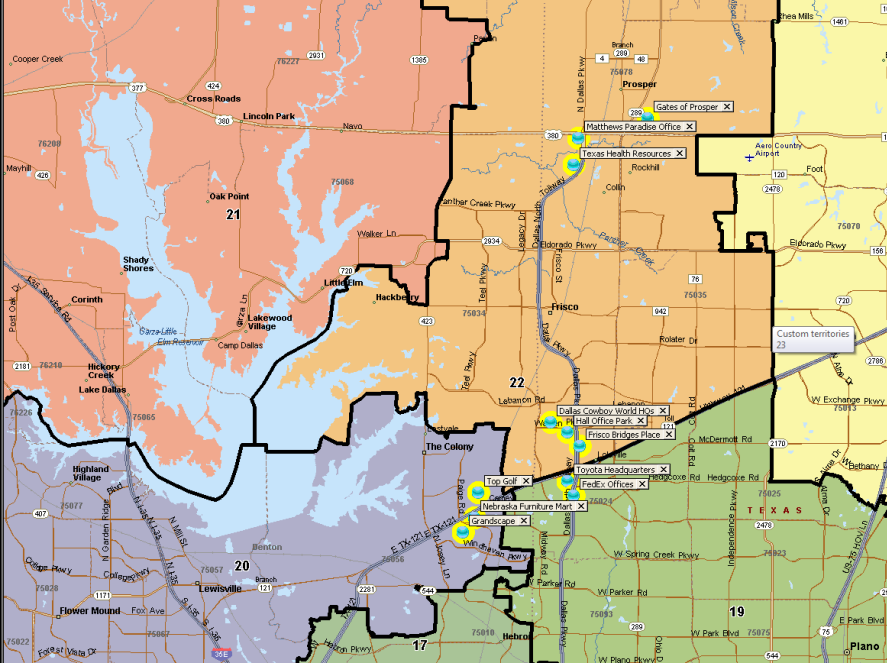 Population growth
Another reason the Frisco/Prosper submarket is bustling with apartment construction? It's growing. According to the Frisco Economic Development Corporation, the city of Frisco's population has grown 300% since 2000. In the year-ending July 2013, the city's population grew 6.5%, to 136,791, according to the most recent Census data available. That annual growth rate made Frisco the second fastest-growing city in America.
Schools
And yet another demand driver in the area is the school districts. Specifically, Frisco has one of the fastest-growing school districts in the U.S., adding hundreds of students each year. However, Frisco Independent School District chose to limit each of its high schools to an enrollment of no more than 2,100 students. In 2013, eight of the top 10 neighborhoods for public schools in the north Texas region were in Frisco ISD.
Apartments
Let's take a look at a few apartment complexes in the Frisco/Prosper submarket. Several of the apartments are located right off the Dallas North Tollway, close to the 121 intersection:
1.) Emerson at Frisco Market Center: The Emerson at Frisco Market Center is currently under construction within the Frisco Market Center's 100-acre, mixed-use, master-planned community, near the Legacy Drive and Main Street intersection, just north of the DNT. This 410-unit project will include amenities ranging from a Doggie Oasis Pet Spa and The Cave Lounge to tanning beds and a professionally equipped athletic center.
2.) Cool Springs at Frisco Bridges: This 290-unit conventional property is located near the intersection of 121 and the DNT on Parkwood Boulevard. The property recently wrapped up construction and has studio and one-, two- and three-bedroom units available.
3.) Origin at Frisco Bridges: This 345-unit apartment project recently broke ground at the Gaylord Parkway and Parkwood Drive intersection. The property is part of a mixed-use project that will eventually house a Hyatt House hotel. Origin at Frisco Bridges will boast a variety of amenities not limited to a party cave and dog park to amplified built-in ceiling speakers in each individual unit.
Other area attractions:
1.) Toyota Stadium: Home of FC Dallas
2.) Dr. Pepper Arena: Home to Dallas Stars NHL and Texas Tornado Hockey NAHL
3.) Dr. Pepper Ballpark (pictured): Home of the Frisco RoughRiders
4.) Fieldhouse USA: 144,000 SF sports facility with basketball/volleyball courts, indoor soccer/football turf and 13,200 square feet of retail space)
5.) Indoor Sky Diving: iFly
6.) Frisco Indoor Trampoline Park
7.) Stonebriar Centre shopping mall
8.) IKEA furniture store
(Image by: Rainchill via Wikimedia Commons)