No Surprise Here: 3Q Homeownership Rates Tick Up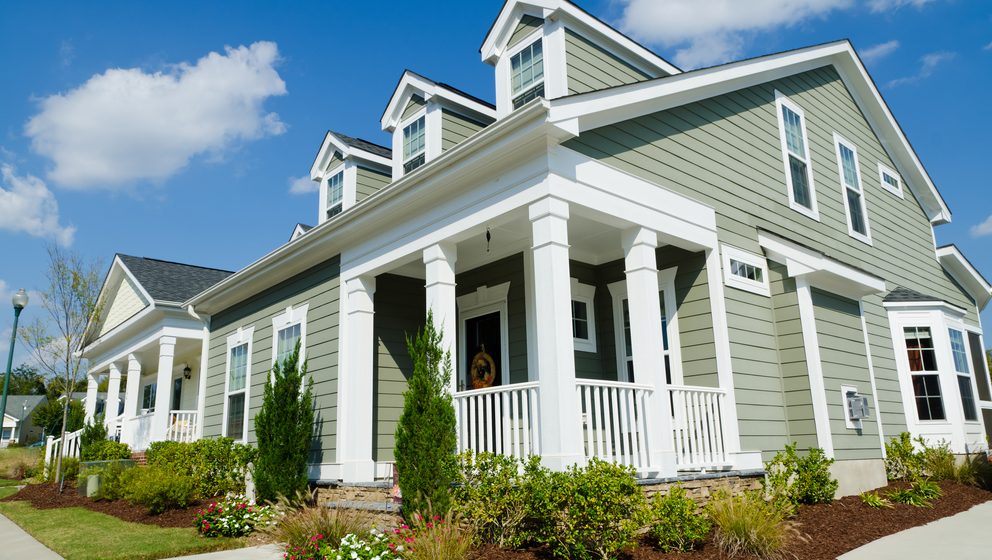 As expected, there are a few more homeowners in the U.S. compared to last year, according to the U.S. Census Bureau's newly released homeownership data for 3rd quarter 2018.
At 64.4%, the homeownership rate in the U.S. is up 10 basis points (bps) since last quarter and up 50 bps year-over-year. Current rates are up 150 bps since the current economic cycle's low of 62.9% in mid-2016.
A slight upward movement in homeownership rates was expected and is largely driven by the oldest millennials. As millennials age, they are growing their incomes, coupling up, having children, paying down student debt and making lifestyle choices that make homeownership more attractive and feasible.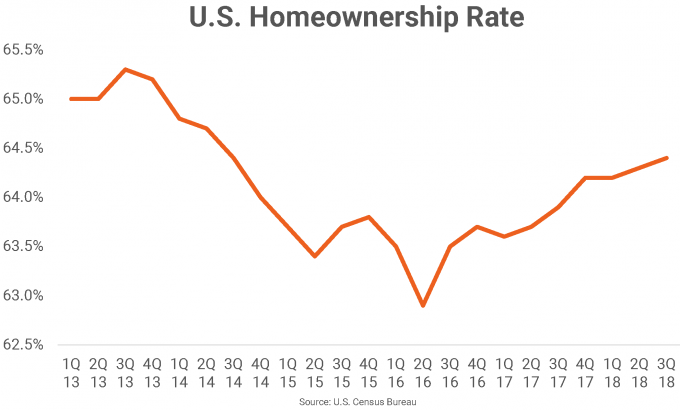 But multifamily owners needn't worry. There are an estimated 71 million millennials in the U.S., making it the largest demographic in 2018. And even if the largest uptick in homeowners comes from those under 35, the overall rate for millennials is still the lowest among age groups, indicating a higher propensity to rent.
"While there's always some trade-off in housing demand between those opting to rent and those opting to buy, the good news is that the economy is exhibiting enough momentum to yield very solid demand for both housing options," RealPage Chief Economist Greg Willett said. "We'll need healthy absorption support in the apartment sector during the near term, as completions will continue to run a very substantial levels."
The employment picture for millennials bodes well for apartment absorption going forward. Over the last five years, unemployment rates for millennials, aged roughly 22 to 37 in 2018, are falling faster than any other age demographic. During the same time frame, unemployment rates for 20- to 24-year-olds, the youngest millennials, has fallen from 14.1% in 1st quarter 2013 to 6.9% today. And unemployment rates for 25- to 34-year-olds have fallen from 7.6% in 1st quarter 2013 to 3.7% today.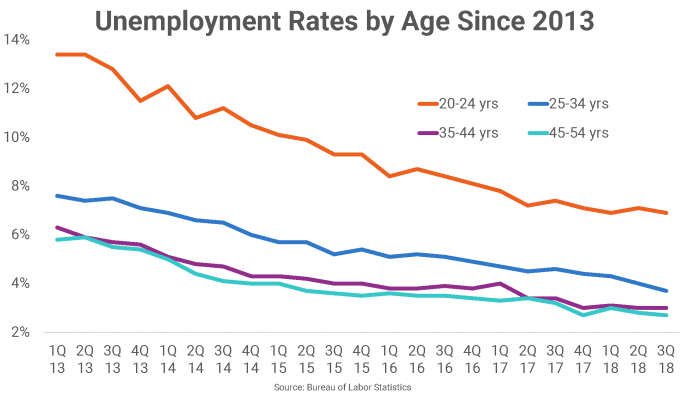 Though ownership rates are rising, rates will likely moderate as housing affordably becomes more challenging. Interest rates are rising. Homes are becoming more expensive, even in historically affordable markets. Many millennials are still under mountains of student debt, complicating saving for a down payment on a house. Homeownership rates, Willett said, should level out between 64% and 65% over the next few quarters.
Based on age demographics of buyers, millennials are making the most significant gains, rising 120 bps year-over-year. During the same period, homeowners aged 35 to 44 rose only 200 bps. Owners aged 45 to 54 and 55 to 64 rose 600 bps. Owners aged 65 and older rose 400 bps.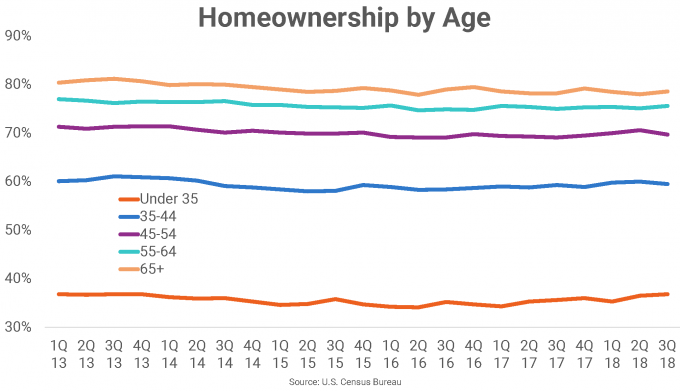 It's worth noting that baby boomers, aged 72 to 53, are ageing in place more than expected. While there's been some movement of baby boomers becoming renters by choice, moving to the urban core, downsizing into rentals or both, Census demographics do not show a significant change.