Affordable Housing Business Intelligence
Gain 360-degree Insight That Enables You to Stay in Compliance and Maximize Revenue
Affordable Performance Metrics
- An Industry Game Changer
Get the most from your portfolio and go beyond your expectations with RealPage Business Intelligence. Provide real-time visibility into compliance status while maximizing your revenue and funding through timely recertification of your residents.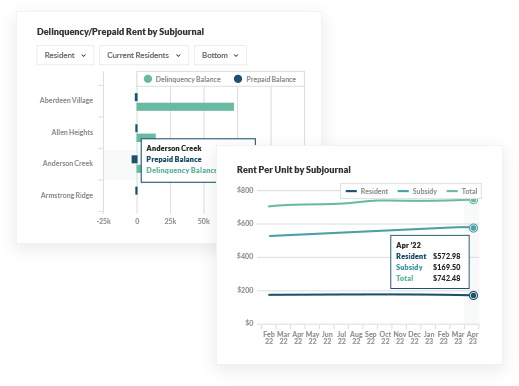 Special claims – Executives and owners can monitor the status, count and total dollars associated with special claims currently in progress.
Delinquency/prepaid rent by subjournal – Monitor delinquency and prepaid balances at the portfolio, property and subjournal levels, as well as asset performance related to delinquency at the portfolio level or any subset of the portfolio.
Rent per unit by subjournal – View overall average rent per unit and see it broken out by subjournal. Or analyze asset value on a rent-per-unit basis for the portfolio or any subset of the portfolio.
Recertification status – Identify properties with certifications past due or coming due within 0-30 days, 31-60 days, 61-90 days and 91-145 days, as well as the certifications due in each category and how many have been started, not started or are completed.
Notices completed – Monitor asset performance as it relates to certification notice compliance at the portfolio level or for any subset of the portfolio.
RealPage Business Intelligence Helps Wingate Companies Stay in Compliance
Karoline Lapointe, Regional Vice President of Wingate Companies, says RealPage Business Intelligence (BI) helps them drill down and look at expenses and NOI in "a snapshot." She touts it as helping Wingate's Affordable properties stay in compliance.
"With Business Intelligence, it's been a game-changer. We are now realizing that it's created a completely different way for our regional managers to work."
Learn how affordable-specific performance metrics can change the game for your business.