Simplify Digital Asset Management with RealPage® PropertyPhotos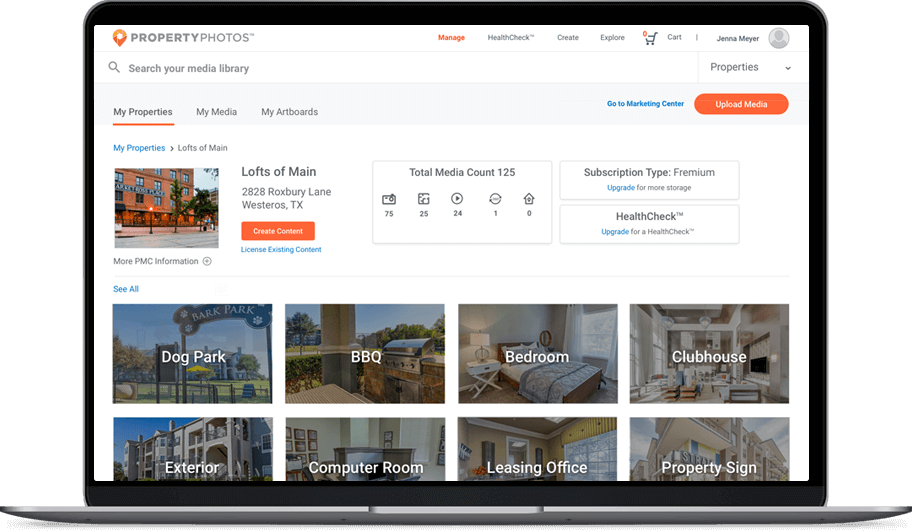 Manage and Protect Your Assets for Any Property Anywhere
Upload, store, and manage all your properties' content in one centralized location with the Digital Asset Manager (DAM) and use the Digital HealthCheck™ to analyze, protect and take action against the potential risk associated with every asset in your portfolio.
Digital Asset Optimization
With PropertyPhotos digital asset optimization and management service, you can streamline your marketing efforts with centralized secure storage and hosting of your photographs, lifestyle videos, virtual tours, 2D/3D floorplans, and more. Manage files from your PropertyPhotos dashboard, review your comprehensive media analysis, and receive clear and actionable recommendations to improve your visual assets and elevate your community's visibility online.
RealPage PropertyPhotos Elevates Brand for Student Housing
Campus Advantage continues to rely on the RealPage Student platform for innovations like PropertyPhotos to elevate the brand across its communities with easy-to-use digital asset management that helps attract students and creates real savings.
Eliminate Worry and Safeguard Your Digital Assets
Want to understand how the media you're sharing online affects your online visibility and ties into your overall marketing strategy? The PropertyPhotos Digital HealthCheck® performs a detailed analysis of your content, delivering clear and actionable recommendations to improve your visual assets. A comprehensive report provides unprecedented visibility into your content's quality rating, displays the online locations of your assets, and offers expert guidance on how to capture more leads through your visual content.
To learn more about the Digital Asset Manager and HealthCheck® – visit PropertyPhotos
PropertyPhotos
Deliver Wow! Manage, protect and create digital assets that drive results.
Stay Updated:
Digital Asset Manager Webinars & Videos