Energy Management
Use less energy and pay less for what you use.
RealPage energy experts use industry-leading data analytics to help you maximize energy and water efficiency and reduce expense.
Energy Management Services
Energy management services help you to take advantage of potential cost savings and risk management opportunities.
Energy Procurement
Energy procurement services reduce energy spending and manage the risks of the energy markets. We leverage our deep relationships to gain multiple bids from vetted suppliers and negotiate terms, both new and renewals. Whether you need natural gas, electricity and/or renewables - like solar, wind and community solar – we deliver the right energy contracts for your properties in deregulated markets.
Interruptible Natural Gas Management
In some large metropolitan areas, natural gas utilities offer rate incentives to facilities with heating oil storage if they temporarily switch from natural gas to heating oil. This allows the utility to manage fuel usage during high demand periods. RealPage provides guidance, incentive negotiation, and fuel-switch notifications to help you capitalize on available rate incentives.
Energy and Water Conservation
Save up to 30% on energy and water usage with RealPage on-site audits and capital improvement projects. Raise property values and pass on the savings to residents to increase satisfaction and marketability.
On-Site Energy Audits
These audits help you understand the energy efficiency and related expense of potential or existing assets. We conduct a thorough on-site inspection of all energy-related procedures and equipment. This includes mechanical, lighting, plumbing and operational systems, along with a building envelope audit to identify potential costs savings and improved energy efficiency.
Conservation Projects
Our conservation program will identify electric, gas and water savings opportunities for your properties, and provide you with an end-to-end solution to help manage project completion. We'll develop project proposals, manage the projects on your behalf and measure actual usage savings after project completion.
As your energy conservation partner, RealPage will:
Analyze
historical energy and water usage and compare against benchmarks to identify properties with the greatest opportunities.
Conduct
on-site audits to identify retrofit and replacement opportunities including lighting, boilers, plumbing fixtures, temperature controls, pools and irrigation.
Develop
conservation project proposals including costs, savings and ROIs.
Manage
retrofit and replacement project implementation, including contractor management.
Track
ongoing usage data and provide reports with actual usage savings and ROI post-project completion.
Rate and Tax Assurance
RealPage helps ensure that you are being charged the correct rates for your energy services. We analyze historical utility consumption and cost data to identify anomalies and rate savings opportunities. Get peace of mind knowing your properties are on the right rates.
Tax Exemptions
Roughly 70% of all properties located in states where multifamily utility usage is exempt from state sales tax are billed incorrectly. We identify tax issues, work with the provider to correct the billing, and follow up to ensure you receive your refunds.
Rate and Tariff Analysis
RealPage analyzes your properties' rates for all water, gas and electric commodities. We evaluate the unit cost, and compare each utility account against tariff rates to identify potential issues. As needed, RealPage contacts your utility or state agency to correct rates and billing errors.
Benchmarking Compliance
RealPage helps you stay in compliance with mandated energy benchmarking through EPA's Energy Star Portfolio Manager. Many large cities have adopted energy benchmarking ordinances, which require commercial and multifamily building owners to report whole building energy and water usage through Energy Star Portfolio Manager. RealPage helps properties like yours comply with mandated benchmarking requirements. We'll set up your properties in Portfolio Manager including your property characteristics. We will also gather, validate and upload the energy and water usage data needed to ensure compliance with all filing requirements.
For a list of utility benchmarking and compliance resources, visit RealPage Benchmarking Compliance.
Energy Benchmarking and Building Audit Mandates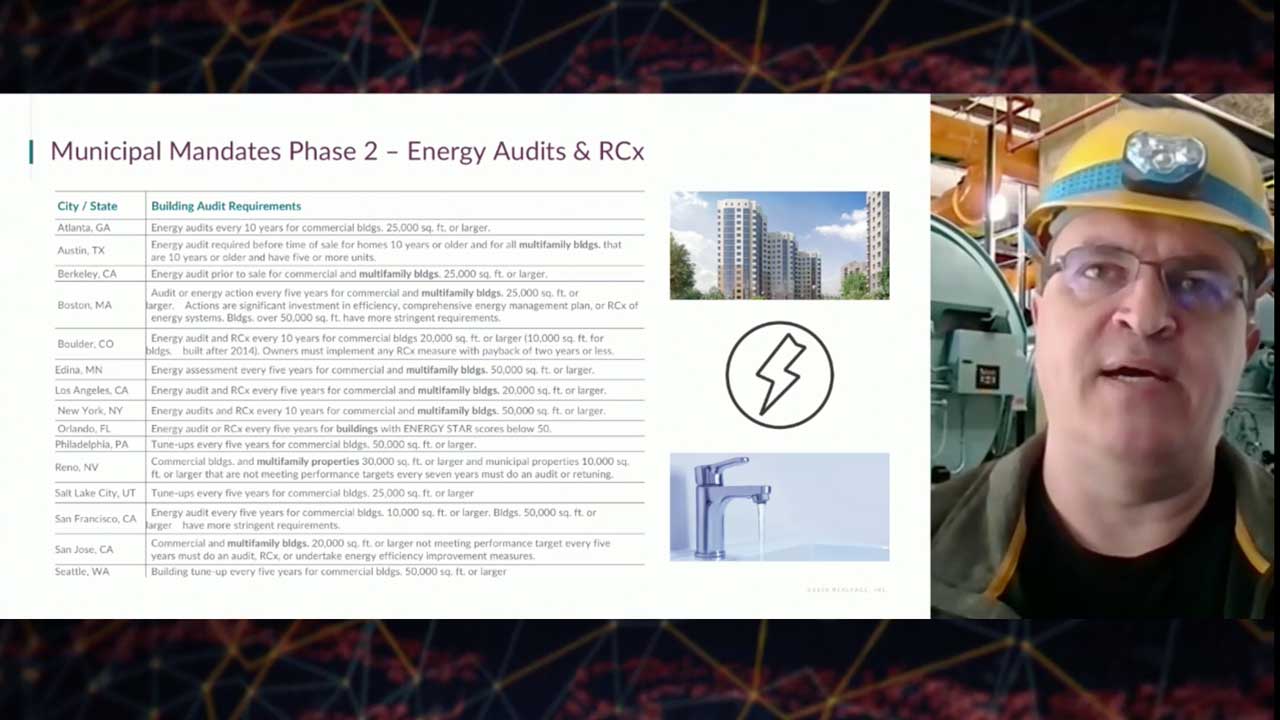 If you're not up to date on the latest mandates and the building audit requirements associated with those mandates, penalties could substantially impact your NOI.
Join RealPage ® Energy Benchmarking experts for this informative webcast that will examine mandatory benchmarking requirements, specific penalties for noncompliance and the timelines you'll need to meet. They'll also discuss the real benefits of benchmarking and when you may be required to perform mandated energy audits.
Energy Procurement Strategies That Reduce Risk and Control Cost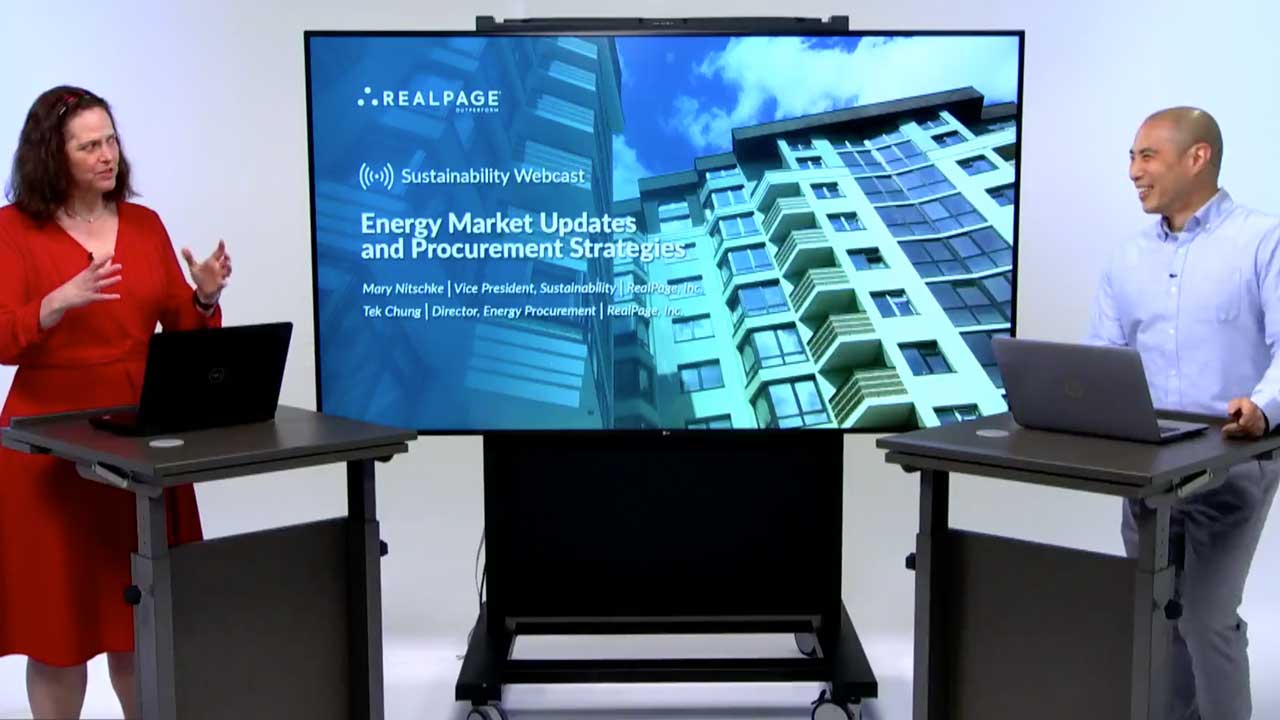 Take advantage of potential cost savings and risk management opportunities in deregulated energy markets throughout the United States.
Don't let pricing volatility drive your energy costs through the roof. Join RealPage ® Energy Procurement experts as they discuss how to develop a holistic buying strategy that analyzes current energy rates, identifies best-fit suppliers for your markets and properties, and strategies for executing new contracts and managing contract renewals to better minimize risk.