The RealPage Idea Exchange
We are excited to announce an improved customer portal experience! As we work to provide our customers access to the new customer portal, the Idea Exchange will temporarily be unavailable. Access to the Idea Exchange is expected by the end of June. We apologize for any inconvenience this change may have caused and thank you for your continued support. If you have any questions or need assistance, please don't hesitate to reach out to our support team or open a case.
We appreciate your patience as we're transitioning the functionality and welcome more users. Let's continue exchanging ideas and shaping the future together!
The Idea Exchange is an open forum for user community to share and discuss ideas on improving RealPage products and services. You can share your ideas, review the ideas of others and vote on ideas you think are good ones.
Features of the Idea Exchange
Submit your enhancement suggestion as an idea.
View popular, new, or recent ideas.
Promote ideas submitted by others.
Review comments added to an idea.
See the ideas that are in development and those that are in production.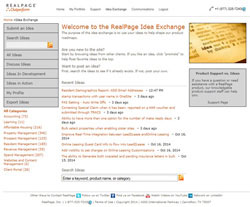 Promote Ideas
Tell us what you would like to see improved in the product. After an idea is submitted, it is available to the RealPage community for review. People can promote your idea and add comments. An idea is promoted by clicking the "thumbs up" or "thumbs down." Each time someone votes "thumbs up," the idea gets 10 more points. Each time someone votes "thumbs down," the idea loses 10 points. The point score shows you which ideas are doing well and getting more responses.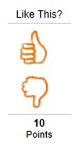 Guidelines
We encourage you to review the ideas periodically to see what clients are requesting. Show support by promoting the ideas you want to see implemented and adding your comments.
You can only promote an idea once.
You can't change your vote.
You can't promote your idea.
Product experts monitor and evaluate all ideas. They periodically run reports and communicate ideas to subcommittees for discussion.
Selecting Ideas
The Idea Exchange plays a critical role in helping RealPage prioritize new ideas for solutions that meet the needs of clients. Twice a year, ideas are reviewed by our user group subcommittees. Together, RealPage and subcommittee members collaborate to select ideas for product development.
Ideas are submitted through the Idea Exchange, located in the RealPage Client Portal.