The Largest Renter Cohort: Starting Out Singles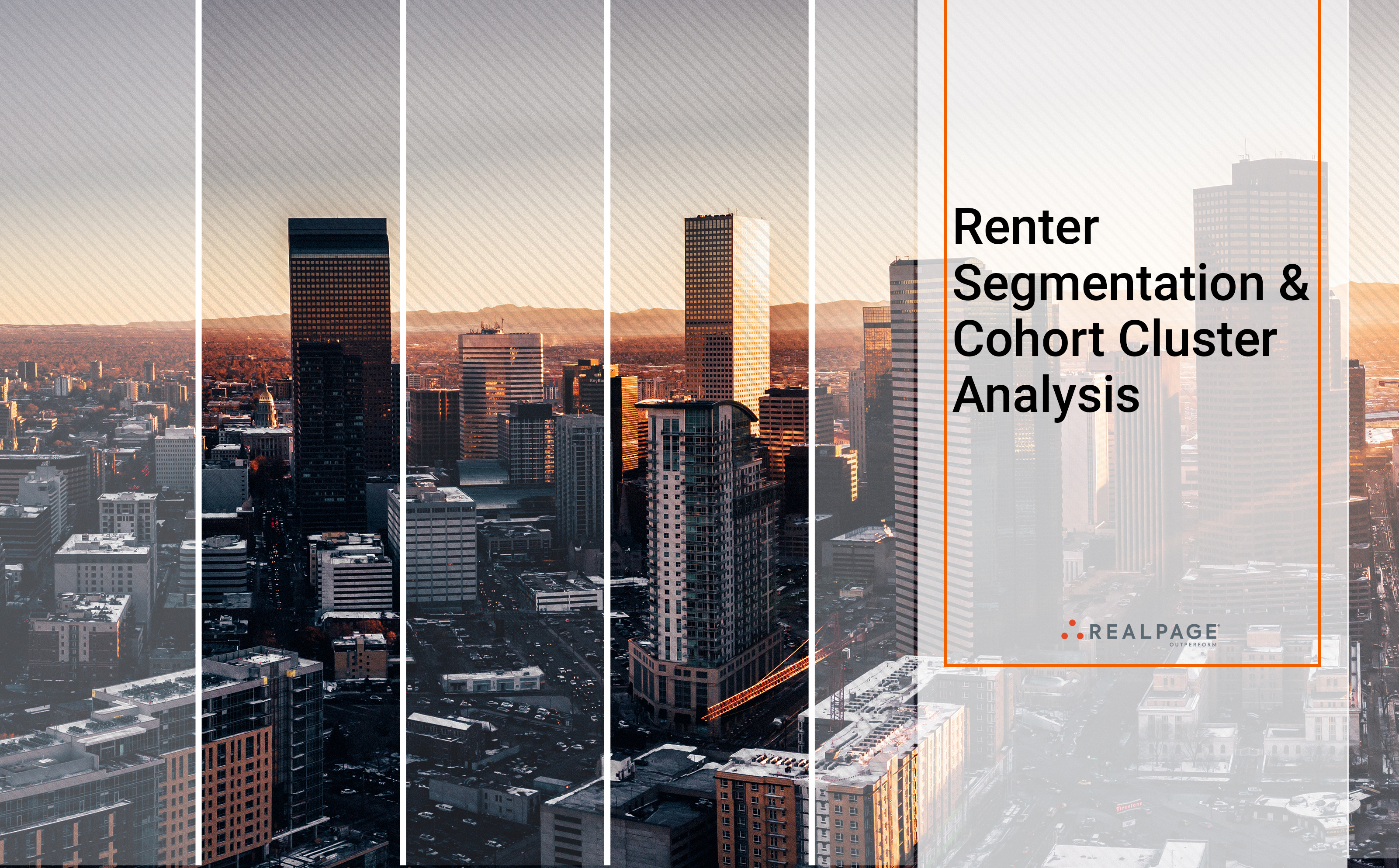 The largest share of U.S. renters belongs to the Starting Out Single cohort, which makes up nearly one third of all apartment renter households.
RealPage performed a massive study of more than 11 million individual apartment leases to create an industry-leading cluster analysis of U.S. apartment renters. Those 11+ million leases were analyzed by our team of data scientists who crunched the numbers and identified the most powerful and explanatory variables.  Then, with their help, RealPage's team of data and market analysts distilled that intel into seven individual renter cohorts based on a suite of demographic variables, including renter income, age, marital status, kids, pets, cars, and so forth. Apartment product selection criteria were also included, such as property age, class, location, number of occupants, lease term, effective rent, rent-to-income ratio, length of stay and propensity to renew.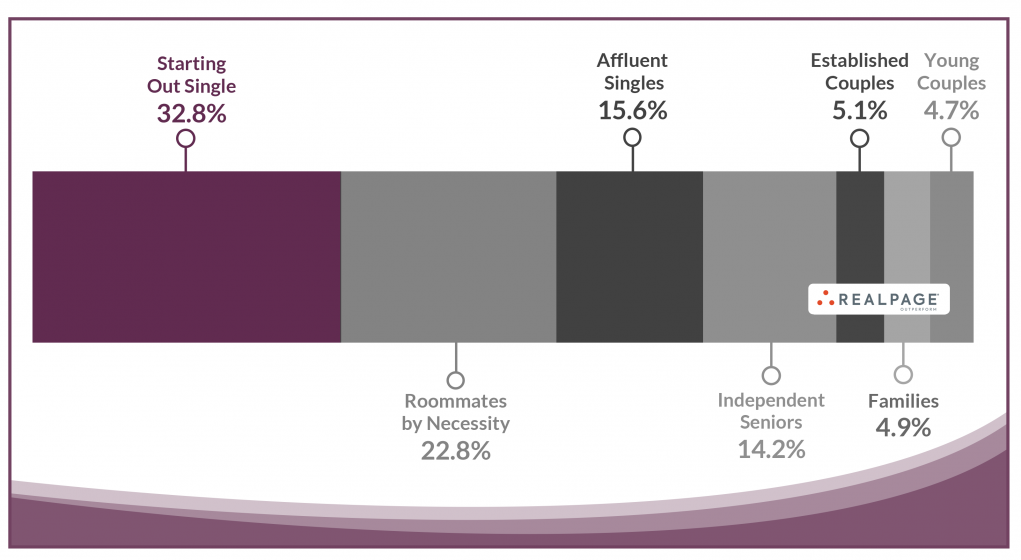 Starting Out Single is primarily a group of younger, unmarried individuals. In fact, with a median age of 27, this is the youngest of all seven cohorts, and nearly five years younger than the U.S. renter average (31.8).
These folks are just starting their careers and as a result typically don't earn as much as those who are well on their career path. The median income from this group is just over $41,000 per year which also ranks the lowest among all seven cohorts. For comparison, the median renter household income at the U.S. level is about $60,000 per year.
It would make sense then that these renters are typically budget savvy and choose to lease the most affordable units. With an average rent of $987 per month, this group actually has the lowest rent among all cohorts as well. That's about $260 less than the typical rent in the U.S. at the time of this analysis.
Not surprisingly, this group of renters rents smaller units as well. The typical unit size for this cohort runs at about 810 square feet, with the smallest number of average bedrooms (1.3) per floorplan. The smaller unit size makes sense given that this cohort of primarily solo renters has the smallest average number of occupants (1.1) per unit among the seven cohorts identified. Additionally, Starting Out Singles and Affluent Singles are the only two cohorts to have an average of only one signer per apartment lease.
Despite the smaller unit size (and theoretically less "stuff" to move, presenting more of an opportunity to price shop), Starting Out Singles had a mean lease term of 12.6 months – just shy of the U.S. average (12.7 months) and actually a bit longer than both Roommates by Necessity and Affluent Singles (at 12.5 months each).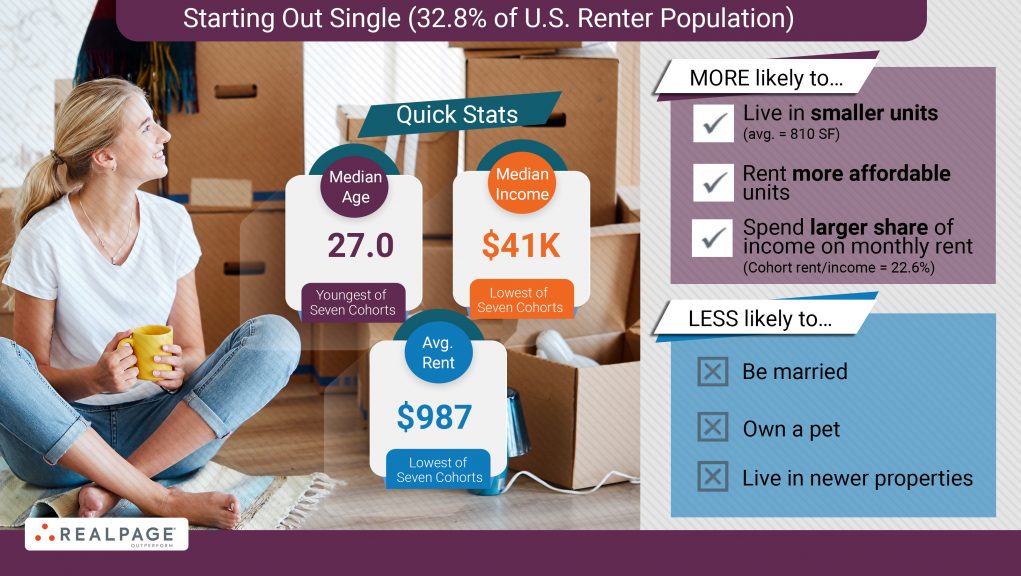 Despite the more affordable rents however, Starting Out Singles still spend a larger portion of their income on their rent. The rent to income ratio of 26.3% was the highest of all cohorts at the time of the analysis.
Still, looking a bit deeper, the median income per lease signer in the Starting Out Single cohort is nearly equivalent to that of the Roommates by Necessity group, the latter of which has a rent to income ratio closer to 21%. This could imply that Starting Out Singles are willing to spend more of their personal income on living independently, or that they are able to find units in their desired location with price points that are comfortably affordable within their income levels.
As one might expect given the lower income levels and the desire for more affordable apartments, this group of renters doesn't tend to live in the most expensive metro areas. There are few renters within this cohort that rent in markets such as Southern California, the Bay Area and New York.
Despite making up one third of the U.S. renter base, the Bay Area really stands out as a metro with an extremely small share of Starting Out Singles.
Instead, it's the affordable Midwest and South region markets where this renter cohort really tends to cluster. Over half of the renter base in Memphis fell within the definition of this cohort.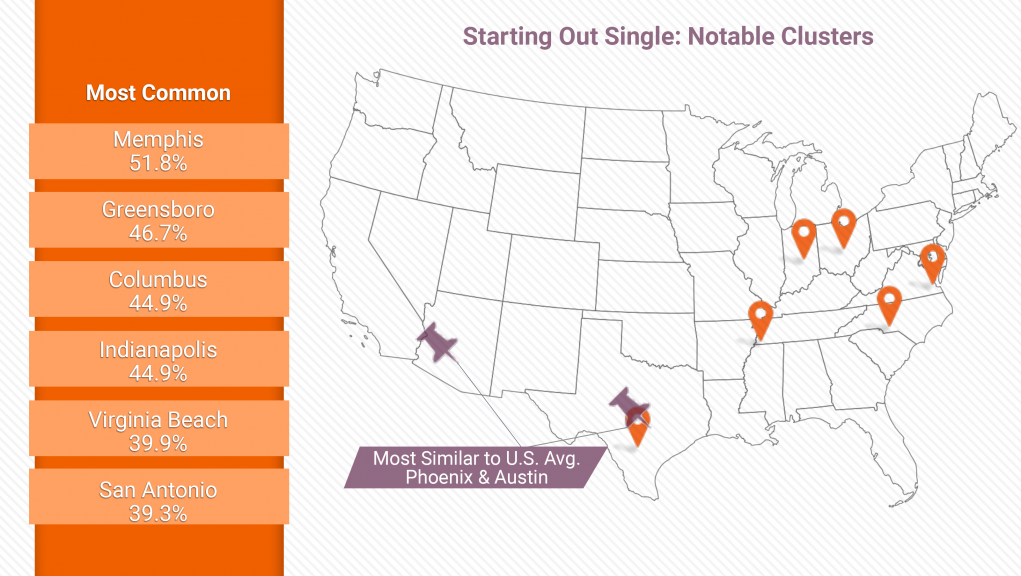 Other similar profile South region markets such as Greensboro and Virginia Beach also fit this group of renters strikingly well. In Virginia Beach and San Antonio, that could point to a concentration of military bases as well.
One last note: the two markets where Starting Out Single renters essentially match the same share of the U.S. overall were Austin and Phoenix.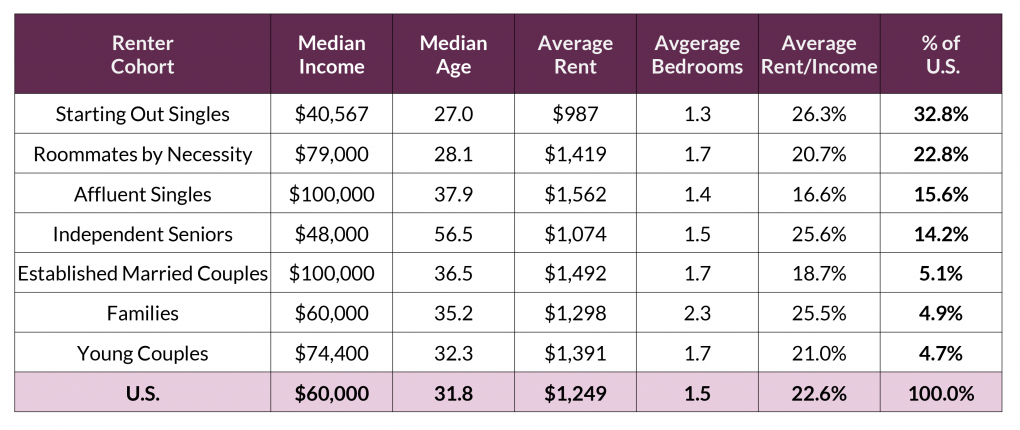 Learn more about renter segmentation by following along with our weekly renter cohort series, where we discuss each individual category of renter in the U.S. apartment market, pinpointing key trends and providing insights into business decisions, now and in the year to come.