Two Small College Towns with Big Multifamily Appeal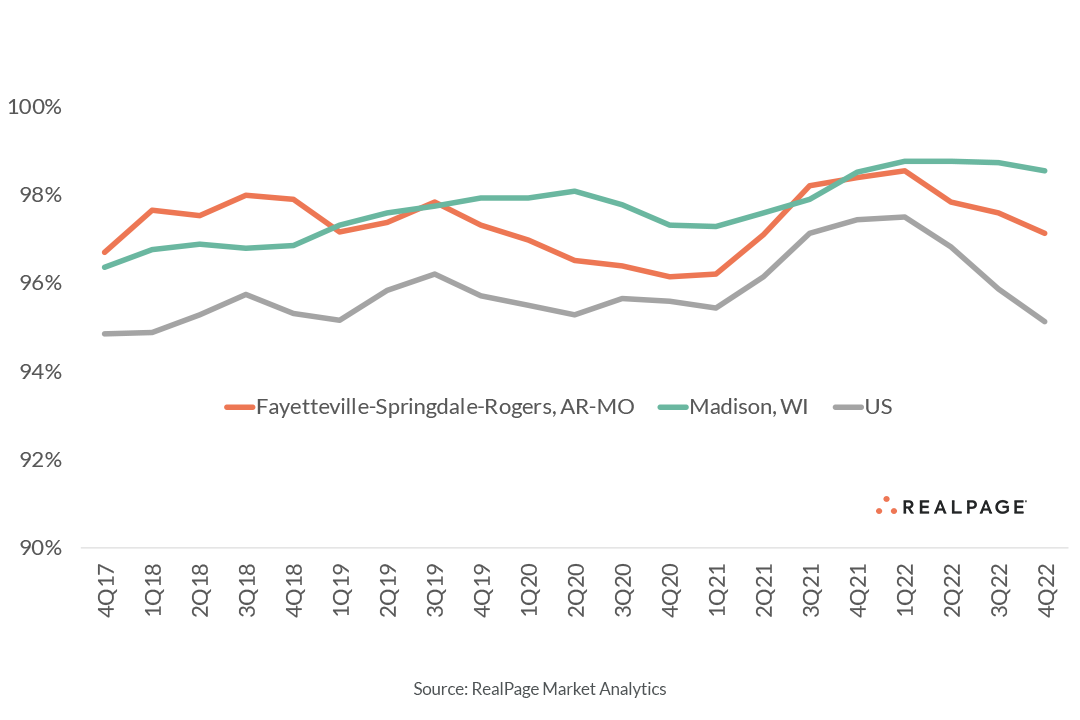 Two small apartment markets are popping up on radars with solid multifamily fundamentals thanks to the economic anchor of a major university: Fayetteville-Springdale-Rogers, home to the University of Arkansas, and Madison, home to the University of Wisconsin-Madison. Both of these small markets tend to register occupancy rates well ahead of the national average. The Fayetteville-Springdale-Rogers metro is home to about 550,000 people. Even with an existing base that has increased by a third over the past decade, demand here remains solid, and occupancy is strong – at 97.1% in 4th quarter. Fayetteville is among the top metros with the highest job growth over the past 10 years, keeping up easily with much bigger markets and bolstering apartment demand. Madison – with about 680,000 residents – was one of the few markets in the country that evaded occupancy contraction over the past year. In fact, Madison consistently maintains one of the tightest occupancy rates in the nation. As of 4th quarter, that rate was at 98.6%. This market is very difficult to build in and typically sees very strong retention rates. Additional economic factors that benefit from the local university are state government offices and an increasingly expanding tech hub.
For more information on the state of the nation's smaller apartment markets, including forecasts, watch the webcast Market Intelligence: Small Markets Outlook for 2023.