U.S. Job Gains Surge in October While Wages Jump 3.1%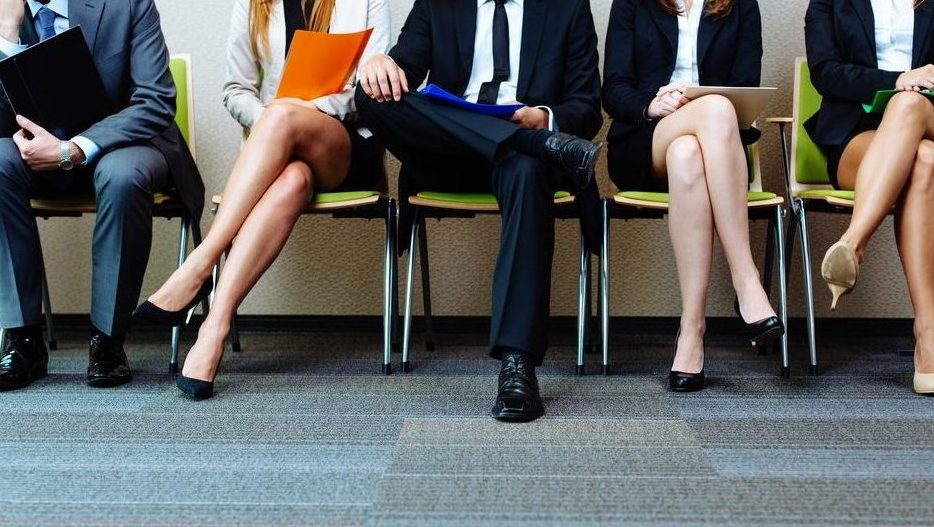 U.S. employers added 250,000 jobs to payrolls in October, according to the Bureau of Labor Statistics. That figure, which marked 97 consecutive month of gains for the national economy, overshot most economists' estimates for the month.
October's figure was the fourth monthly job gain at or above 250,000 this year. The latest monthly gains were influenced in part by rebounds following hurricanes Harvey and Irma last August. The 210,000 job average for the 12 months ending in October 2018 exceeds the 12-month October averages for five of the previous seven years.
The unemployment rate remained at 3.7% – still the lowest level in nearly 50 years – while the other big news was average hourly earnings growth. The annual change in wages for all employees topped the 3% mark for the first time since April 2009, coming in at 3.1% in October. The monthly gain between September and October was 0.2%, but annually, the rate grew $0.83, to $27.30. Annual wage growth had averaged 2.2% from 2010 to 2017, but has averaged 2.8% over the past 10 months and 3.0% over the last three.
Two-and-a-quarter million jobs have been added in the first 10 months of 2018 compared to just under 1.8 million in the same period in 2017. Annual job gains reached 2.52 million in October, about 367,000 jobs more than October 2017's annual total. This annual growth expanded the job base by 1.7%.
Revisions to the previous two months' numbers resulted in no net change between them as August's job gain figure was revised from 270,000 to 286,000 jobs, while September's gains were revised from 134,000 to 118,000, with the 16,000 gain and loss cancelling each other.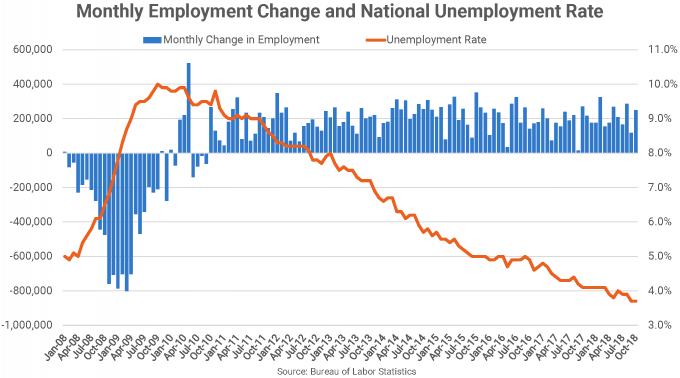 The civilian labor force (CLF) participation rate ticked up 20 basis points (bps) in October from 2017, but the trend has flattened, oscillating between 62.7% and 63.0% since December 2015. However, the CLF for the prime worker age group of 25 to 55 increased 70 bps from one year ago and has trended upward since October 2016, gaining 120 bps in that time. The employment-population ratio of 60.6% increased 20 bps from the previous month and 40 bps from October 2017 as it also continues to trend up.
The number of part-time workers for economic reasons – 4.62 million in October – decreased by 21,000 from September, and was down by 259,000 from October 2017. The U6 unemployment rate, which includes these part-timers and marginally attached workers, ticked down 10 bps to 7.4% in October, and was down 60 bps from one year ago. The number of workers who prefer to work part time – 21.5 million in October – increased 615,000 from last year.
The number of long-term unemployed workers out of work for 27 weeks or more decreased by 11,000 from September, to 1.37 million, and was 272,000 workers less than the October 2017 figure, on a seasonally adjusted basis. The number of multiple jobholders shot up by 684,000 year-over-year to 8.09 million as workers looking for additional income are finding second jobs. Meanwhile, the number of discouraged workers not in the workforce (506,000) decreased by 18,000 from one year ago.
Industry Focus
All employment industry categories produced seasonally adjusted industry job gains for October, with five of 11 gaining 30,000 jobs or more.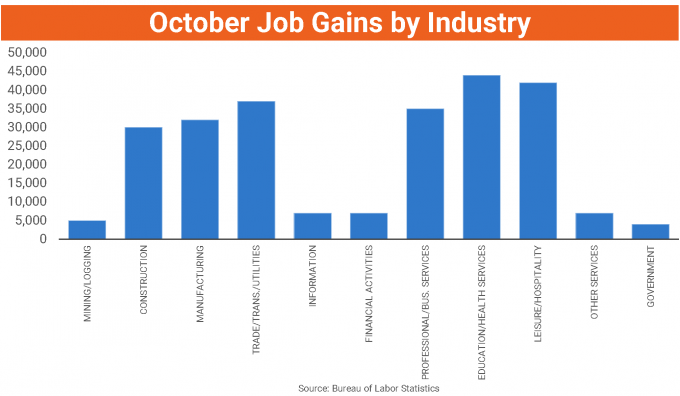 • The Education and Health Services industry's 44,000 jobs gained in October were all in the health care and social assistance sector, particularly the health care subsectors of ambulatory health care services (+14,200), hospitals (+13,000), and nursing and residential care facilities (+8,400). Social Assistance added 11,100 jobs as well. Education services lost 2,500 jobs.
• The Leisure and Hospitality industry added an impressive 42,000 jobs in October as the food services and drinking places subsector brought back 33,500 jobs put on hold by weather disruptions.
• Two-thirds (+24,800) of the 37,000 jobs gained in the Trade, Transportation and Utilities supersector in October were in the transportation and warehousing sector, primarily in warehousing and storage (+7,600), couriers and messengers (+7,600) and support activities for transportation (+4,800). Wholesale trade added 9,100 jobs, while retail trade contributed just 2,400 jobs to the monthly total.
• The Professional and Business Services supersector had a strong month with broad gains across several subsectors of professional and technical services (+19,700), as well as a solid showing in administrative and waste services (+12,400). Hurricane-related cleanup is evident in the 9,100 jobs gained in the services to buildings and dwellings subsector.
• The Manufacturing industry (+32,000 jobs) continues to be led by gains in the durable goods sector (+21,000). The transportation equipment (+10,200) and machinery (+4,800) subsectors contributed the largest share of durable goods gains, while the nondurable goods sector (+11,000) had gains in the food manufacturing (+6,800) and plastics and rubber products (+2,600) subsectors.
• The Construction industry had another solid month with a net gain of 30,000 jobs, as both residential (+13,800) and nonresidential (+7,500) specialty trade contractors contributed. The heavy and civil engineering construction subsector added 7,100 jobs as well.
• The Financial Activities industry's net gain of 7,000 jobs in October were in the real estate and rental and leasing (+8,500) subsector, as finance and insurance retracted by 1,600 jobs.
• The Information industry also added 7,000 jobs in October with gains in motion picture and sound recording industries (+4,300) and other information services (+2,600).
• The Other Services sector gained 7,000 jobs, with the personal and laundry services (+4,800) and repair and maintenance (+2,900) subsectors perhaps reflecting part of the aforementioned weather rebound.
• Support activities for mining (+3,300) accounted for most of the 5,000 job monthly total in the Mining and Logging industry. Coal mining lost 200 jobs for the month.
• The Government sector added 4,000 jobs in October, as hiring was weak across all three subsectors.