U.S. Economy Ends 2018 with Strong Job, Wage Growth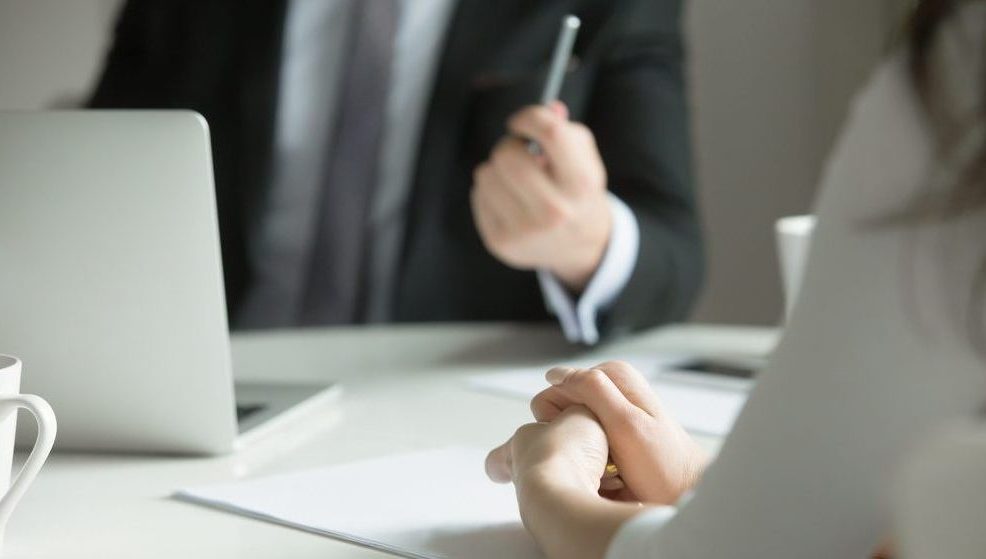 It may have been a matter of delayed timing, but November's weak monthly job gains were followed by an unexpectedly strong gain in December.
The U.S. monthly job gain for December of 312,000 was almost twice many economists' estimates and marked the 99th consecutive month of gains, according to the Bureau of Labor Statistics. Forecasts for a hiring slowdown in 2019 may still come to fruition, but for now, employers are adding workers at an average monthly pace that exceeds those of 2017 and 2016. An average of roughly 220,000 workers were hired each month in 2018, about 30,000 more per month than the previous two years.
The unemployment rate increased to 3.9% as previously discouraged workers reentered the labor pool looking for work. Despite the increase, the national unemployment rate is still one of the lowest rates in nearly 50 years.
Average hourly earnings growth for all employees topped 3% for the fourth time in five months in December, coming in at 3.2%, its best performance since April 2009. The rate translated to a $0.84 increase, bringing average hourly earnings to $27.48, or 0.4% higher than in November.
More than 2.6 million jobs were added in 2018, compared to just under 2.2 million in 2017. This annual growth expanded the job base by 1.8%. Revisions to the previous two months' numbers resulted in 58,000 more jobs than initially reported, as October's job gain figure was revised from 237,000 to 274,000 jobs, and November's gains were revised from 155,000 to 176,000.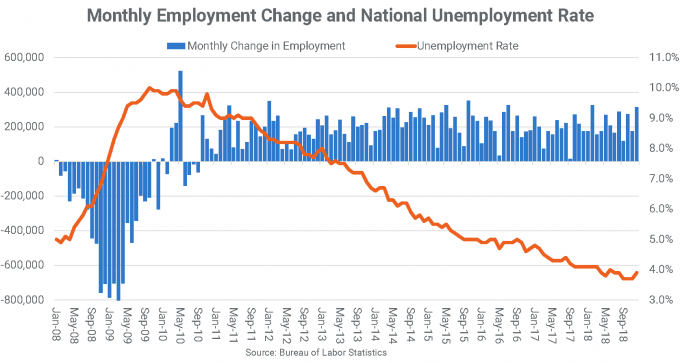 The civilian labor force participation rate increased to 63.1% for only the second month since 2013 as the tight labor market draws in more participants. The rate for the 35- to 44-year-old worker age group was unchanged from December 2017 (82.9%), but all other age cohorts saw increases in participation that ranged from 60 to 100 basis points (bps). More women than men joined the labor pool compared to last year as well. The employment-to-population ratio of 60.6% was unchanged from the previous two months but 40 bps higher than December 2017.
In a sign of the tightening labor market and optimism for job prospects, the number of job leavers increased by 142,000 in December. Job leavers are workers who quit or voluntarily leave their previous job and immediately began looking for new employment. The number of part-time workers for economic reasons – 4.58 million in December – decreased by 146,000 from November, and was down by 373,000 from December 2017. The U6 unemployment rate, which includes these part-timers and marginally attached workers, remained at 7.6% in December, but was down 50 bps from one year ago.
The number of long-term unemployed workers out of work for 27 weeks or more increased to 1.3 million, up 47,000 from November but down 205,000 from the December 2017 figure, on a seasonally adjusted basis. The number of multiple jobholders increased by 254,000 year-over-year, to 8.0 million, as workers looking for additional income are finding second jobs. Meanwhile, the number of discouraged workers not in the workforce (375,000) decreased by 99,000 from one year ago.
Industry Focus
Seasonally adjusted industry job gains for December varied across industry categories, with several strong performances and a few weak-to-moderate losses. Solid gains occurred in the Education and Health Services (+82,000), Leisure and Hospitality (+55,000) and Professional and Business Services (+43,000) industries.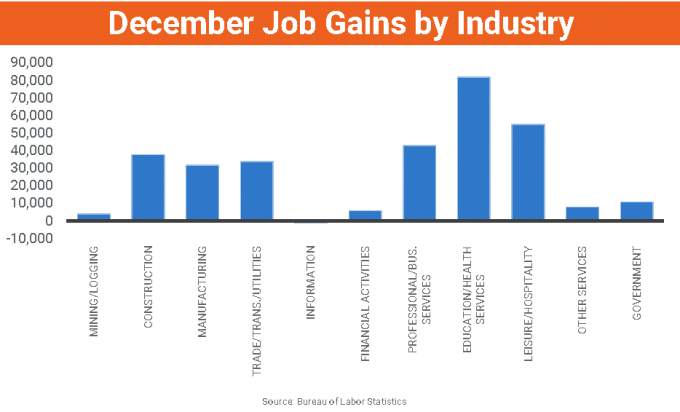 • The Education and Health Services industry's job gains in December were primarily in the health care sector (+50,200), particularly the subsectors of ambulatory health care services (+37,800) and hospitals (+7,400). Social assistance added 7,700 jobs, while educational services gained a solid 24,100 jobs for the month.
• The Leisure and Hospitality industry added 55,000 jobs in December as the food services and drinking places subsector's gain of 40,700 new jobs dominated this month's figures. The amusements, gambling and recreation subsector added 6,300 jobs in December.
• The administrative and waste services sector (+25,200) added the largest contribution to the Professional and Business Services supersector's gain in December, as temporary help services added 10,300 new jobs, on net. The higher-paying professional and technical services sector gained 17,600 jobs for the month, mostly in management and technical consulting services (+4,200) and scientific research and development services (+3,600).
• The Construction industry roared back to end the year with a monthly gain of 38,000 jobs. Strong contributions came from the nonresidential specialty trade contractors (+16,100), heavy and civil engineering construction (+16,300) and construction of buildings (+8,000) subsectors.
• The Trade, Transportation and Utilities supersector had another solid month (+34,000) with the majority of gains from the retail sector (+23,800). Wholesale trade added 8,400 jobs in December, while the transportation and warehousing sector gained 2,200.
• The Manufacturing industry's monthly gain of 32,000 were almost evenly split between durable (+19,000) and nondurable (+13,000) goods. Fabricated metal products (+6,700) and transportation equipment (+4,100) led durable goods, while miscellaneous nondurable goods (+5,500) and food manufacturing (+3,700) led the nondurable goods sector.
• The Other Services sector (+8,000) had solid gains across its three main subsectors, especially for personal and laundry services (+3,200).
• The Financial Activities industry's net gain of 6,000 jobs in December matched last month's gain. Real estate (+5,600) continued to grow while credit intermediation shed the same amount of jobs (-5,600). Gains in rental leasing services, insurance carriers, and securities accounted for the total gain for the month.
• Support activities for mining (+2,500) accounted for most of the 4,000 job monthly gain in the Mining and Logging industry. Logging gained 600 jobs for the month.
• The Government sector added 11,000 jobs in December before the partial shutdown, as hiring at the state (+5,000) and local (+9,000) levels, outpaced a 3,000 loss at the federal level.
• The Information industry experienced another moderate loss for the month (-1,000), with the publishing (-1,600) and broadcasting (-1,200) sectors pulling down gains in the motion picture and sound recording (+900), other information services (+400) and data processing (+300) sectors.