Universities with Higher Enrollment Typically See Stronger Results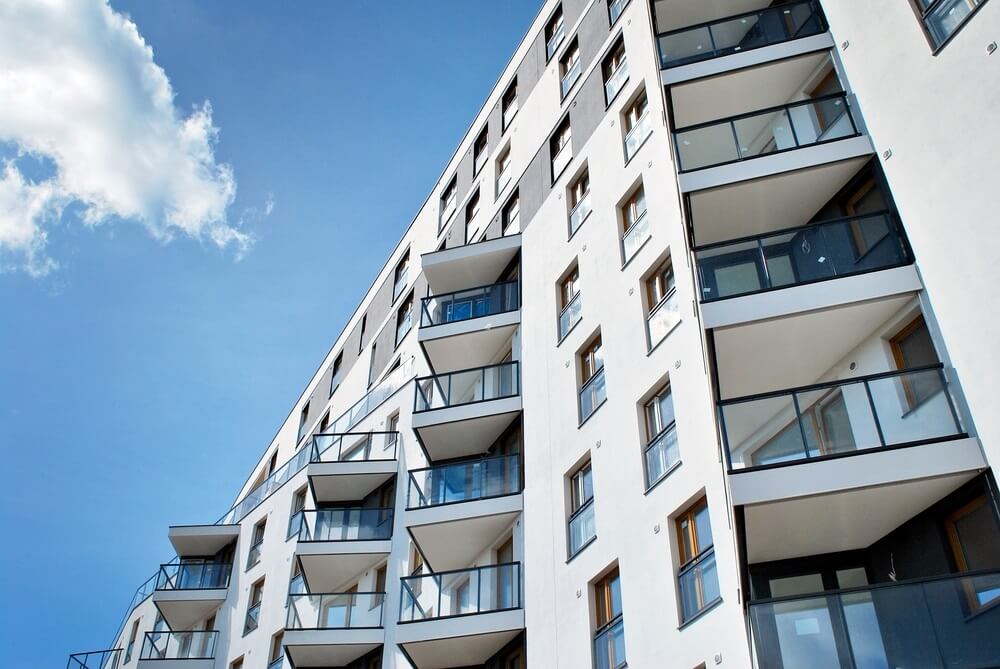 Generally, expectations are higher for universities with larger enrollment as these institutions typically see larger levels of demand and, in turn, in development. Though performance tends to meet expectations from an aggregate basis, some universities may fall below anticipated results.
Due to the higher enrollment levels and typical stability seen across larger institutions, development and investment activity in these markets also tends to be higher. However, average demand is still higher than supply for these universities. Based on the group of universities with enrollment levels of 30,000 or higher, and where RealPage tracks off-campus student housing supply, the average existing privately owned student housing supply per market is 8,600 beds compared to an average enrollment is 41,000.
Generally, a high student-to-bed ratio, in terms of privately owned student housing, illustrates a positive picture for this set of schools in terms of rent growth. Average rent growth for the group of institutions was 2.4% in January – above the 1.7% national rent growth. However, average leasing velocity for this group of schools has slightly decreased by 120 basis points compared to January 2017, but remains above the 37.2% national average, at 38.2%. Though some of these universities are experiencing an elevated or sustained level of new supply relative to demand and see similar trends at an aggregate level, the story is different for every university.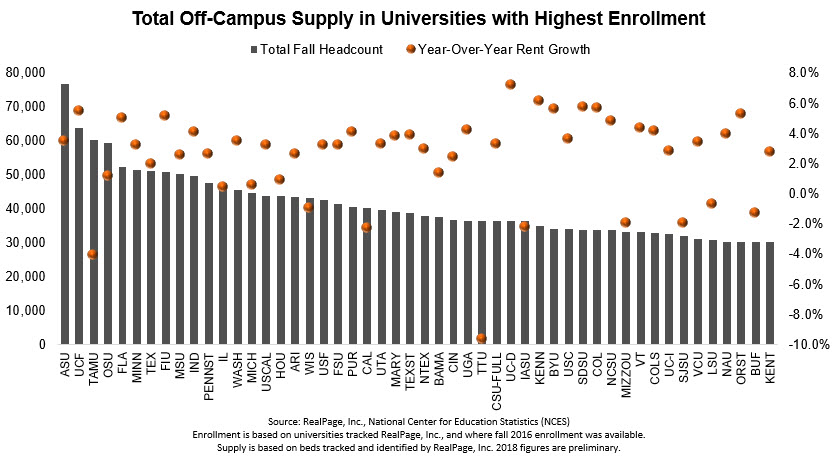 University of California – Davis
Among this set of universities, University of California – Davis saw the strongest rent growth performance in January, with 7.2% year-over-year average rent growth. As of January, average effect rents averaged $964. Such a push in rents at the 36,500-student university may be due to the prolonged absence of new off-campus student housing development in the market. With the exception of on-campus housing, where new deliveries were seen in 2017 through the development of residence hall Tercero 4, no new units have come online at this market since 2011, allowing owners of existing supply room for growth. Additionally, no privately-owned student housing deliveries have been identified until 2020, when 540 beds are planned to add to the existing 2,900 off-campus beds; which can be an indicator of additional rent growth in the market for next leasing season.
San Diego University
A university that also saw one of the higher annual growth levels in rent, compared to last year, in this set of universities was San Diego University. The 33,800-student school experienced rent growth of 5.7% rent growth in January, taking average effective rents to $836. Year-over-year leasing velocity declined by 1,920 basis points in January 2018, which could be in-part due to properties pushing rents and new beds coming online this fall. The project delivering this fall will be the first privately-owned student housing development in this market since 2015. On-campus housing has also experienced some expansion due to the institution's ongoing construction and renovations program, which has pushed to increase university-owned housing by about 330 beds per academic year on average since 2013.
University of Houston
With the exception of 2017, when occupancy was about 93%, the University of Houston's off-campus student housing has hovered at 95% occupied or above every year since at least 2012. The slightly lower occupancy in fall 2017 may have been influenced by three new deliveries, totaling 1,600 beds. The University of Houston, where enrollment is on the higher-end at 43,800, is not expecting any off- or on-campus housing deliveries in 2018, which may allow the market to tighten up once again. Rents have remained flat and leasing velocity increased by 2,240 basis points compared to January 2017. However, at 27.4% prelease as of January, the market's leasing velocity is toward the bottom of the university set.