Top Four Metros Unchanged in June's Employment Report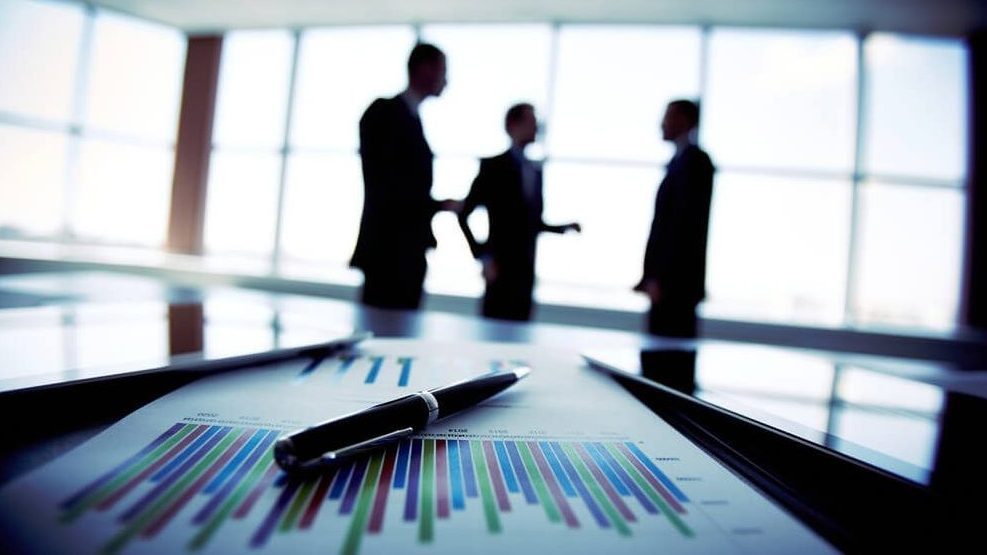 The employment picture continued to improve in June, with U.S. employers adding more than 2.2 million jobs in the year-ending June 2017. That figure grew the country's job base 1.5%, according to preliminary data from the Bureau of Labor Statistics.
Among U.S. metropolitan areas, the top four job-gainers – New York, Atlanta, Dallas and Los Angeles – matched those of the year-ending May 2017 employment leaderboard, though Atlanta climbed one position to swap rankings with Dallas. Meanwhile, Minneapolis-St. Paul vaulted to #5 from #12, knocking Orlando to #11. Minneapolis-St. Paul's greatest gains occurred in the Education/Health Services sector, which accounted for 29.3% of the metro's nearly 65,000 new jobs for the 12-month period ending in June 2017. The sector has seen a boost in annual gains throughout 2017.
Boston, Phoenix and Houston remained in the #6 to #8 spots, while Riverside/San Bernardino improved one spot to #9. Washington, DC returned to the #10 slot from #14. Tampa dropped from #9 to #12.
Together, the total jobs created in the top 10 metros for the 12 months ending in June were up 18.6% from May's annual total, and up 22.1% from the 12-month total for June 2016.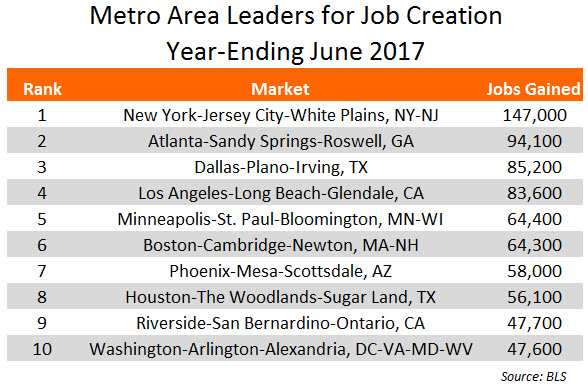 On the annual percent-change leaderboard, Gainesville and Sarasota/Bradenton soared from #5 and #7, respectively, to share the #1 spot with 4.4% annual growth. Gainesville added nearly 6,000 positions in the year-ending June 2017, while Sarasota/Bradenton added 12,900 for the same period.
At the same time, Orlando and Nashville, both previously ranked at #2, fell to #7 and #9, respectively. Actual gains in Nashville and Orlando, however, were in line with recent performance. With the shared exception of the Information industry, every sector within both markets experienced growth.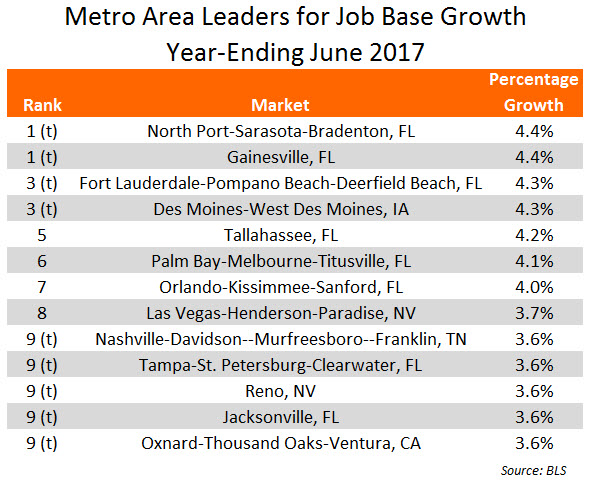 Meanwhile, a handful of leaderboard newcomers – including Des Moines, Palm Bay and Las Vegas – pushed out Dallas, Ann Arbor and Boulder.
While growth in Dallas was on par with the year-ending May 2017 performance, Ann Arbor and Boulder registered notable slowdowns in hiring momentum. Ann Arbor saw only 1.4% growth for the period, while previously reigning Boulder logged growth of 1.8%. Boulder had registered growth near 5.0% in the year-ending May 2017, when the State Government Educational Services subsector experienced a spike in new positions.