Top 15 Metros for Apartment Demand in 2Q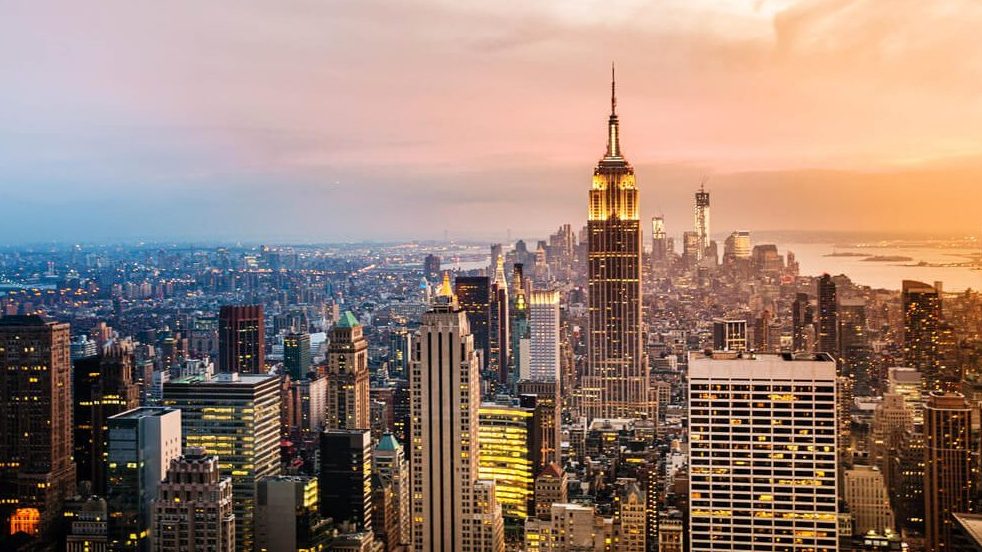 National multifamily absorption rose to near-record levels in 2nd quarter 2017, easily outpacing completions. A similar story played out in most major metros, which saw strong demand due to a number of factors.
The Big Three
The major movers – New York, Los Angeles and Dallas – led the top U.S. markets for demand in 2nd quarter 2017. The three metros continue to fill product about as quickly as it comes online. Los Angeles, like New York, is a market where housing is in short supply. But the Southern California metro's demand figure in 2nd quarter 2017 is especially notable. The metro absorbed 9,561 units for the quarter – its highest level since 3rd quarter 2011. Quarterly completions amounted to roughly a third of that volume. Los Angeles has also seen a slowdown in job growth recently, as unemployment remains at very low levels.
Meanwhile, Dallas has seen strong demand throughout much of the current cycle. Housing demand has been largely fueled by the market's robust, diverse economy. In recent months, corporate relocations to North Texas have become a regular occurrence.
East Coast Contenders
Beyond New York, four other East Coast markets – Northern New Jersey, Boston, Charlotte and Washington, DC – landed on the leaderboard.
The latter two each registered demand increases of around 350% over the same quarter in 2016. In Boston, absorption of 6,835 units followed a 1st quarter 2017 slump of 893 net-move outs. Occupancy also saw an increase in 2nd quarter 2017, rising 70 basis points over the previous quarter, to land at 97.4%.
Further down the shore, Northern New Jersey's 5,823-unit quarterly demand tally sat well above the five-year average of roughly 1,000 units. The spike is largely attributable to a recent increase in development activity, as new apartment units are quickly absorbed in the chronically underserved housing market.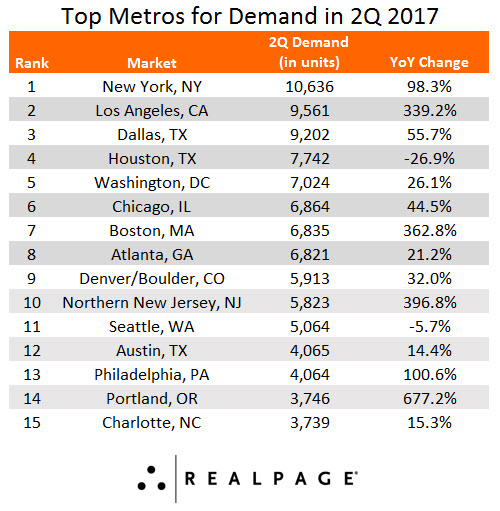 Rounding Out the List
Seattle, Austin, Philadelphia and Portland also managed to squeeze into the roster. Strong absorption has been a characteristic of Seattle during the current cycle, as the Emerald City metro boasts strong demand drivers. Apartment availability has also played a large part in absorption in recent years, as the metro undergoes its largest apartment building spree in more than two decades.
Philadelphia's absorption of more than 4,000 units trails two quarters of net move-outs. A surge in demand within submarket Chester County accounted for more than 25% of the metro's absorption volume. Similarly, roughly a third of Portland's 2nd quarter 2017 demand could be credited to the Central Portland submarket. Portland's overall absorption – 3,796 units – claimed the leaderboard greatest year-over-year change. The market saw demand rise more than 670% over the same quarter in 2016.
Meanwhile, despite sluggish job growth recently, pent-up demand in Austin continues to fill new units. Texas' capital metro has maintained an aggressive apartment development pipeline in recent years.