Sun Belt Claims Most of the Nation's Fastest-Growing Metros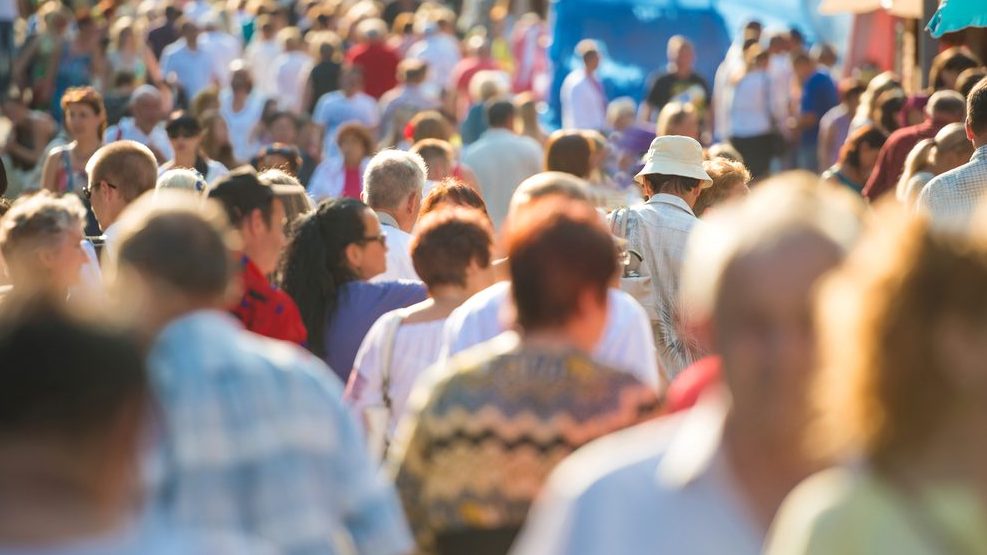 The fastest-growing metros continue to be those in the Southern and Western portions of the U.S, according to the most recent population estimates from the Census Bureau.
Roughly 77% of the metropolitan areas that make up RealPage's top 150 apartment markets saw an increase in population from July 2018 to July 2019. These core 150 markets combined saw a population increase of nearly 1.4 million people, a 0.6% increase.
The South outperformed other regions by leaps and bounds, with its population growing by 943,000 residents from 2018 to 2019, an increase of 1.1%. The West region recorded a boost of 398,000 people, a growth rate of 0.8%. In the Midwest, the population grew by 100,000 people, or 0.2%. In contrast, the population in the Northeast shrank by 43,000 people, a 0.1% contraction to its resident base.
Among the nation's core 150 markets, seven of the 10 largest population increases were in the South region, with Texas markets taking the lion's share.
Still, it was a West region market – Phoenix – that once again came out on top, swelling by nearly 99,000 people during the year. Two Texas markets, Houston (90,000 people) and Dallas (85,000 people), took the next top spots as each added more than 85,000 new residents in the year-ending July 2019.
Also seeing sizable gains were Atlanta, Austin, Charlotte, Las Vegas, Tampa, San Antonio and Riverside. Of these, San Antonio and Charlotte were new to the top 10 in 2019.
Dropping from the top 10 population growth leaders last year were Orlando and Washington, DC. In 2018, Orlando ranked #5 with over 60,000 new residents, while 50,000 additions were seen in Washington, DC, ranking that market at #9. In 2019, additions fell to roughly 33,000 people in both markets. Orlando ranked #14, while Washington, DC was at #15.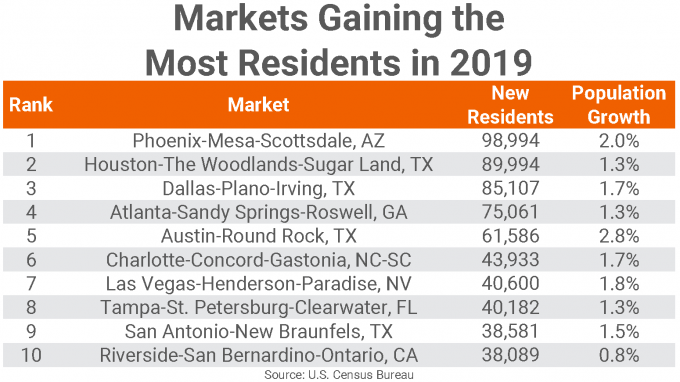 In contrast, New York lost the largest number of residents last year. The market, which had a population of 11.8 million in 2019, was down nearly 56,000 residents from 2018, accounting for a 0.5% decline. That was the market's third population contraction in consecutive years.
In terms of percentage growth, Myrtle Beach took the #1 spot in 2019, as the market grew by 3.3% with the addition of nearly 16,000 new residents.
Austin has reigned as the nation's fastest growing large market for nine consecutive years. In 2019, Austin's population increased by a sizable 2.8%, ranking the market at #2 for percentage growth nationwide. Phoenix was the only other big market on this list, ranking at #8 with a 2% increase.
Boise City took the #3 spot nationally, with population growth of 2.8%, which equated to 20,000 new residents. In total, nine markets saw their populations grow by 2% or more from July 2018 to July 2019.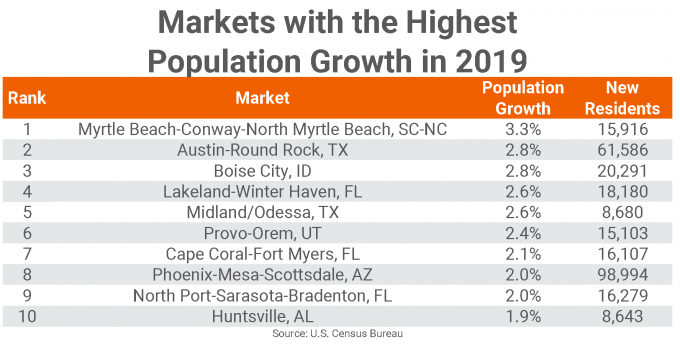 On the other hand, markets that saw the steepest percentage declines were Santa Rosa, CA, which shrank by 0.9%, or about 4,300 residents; and Shreveport, LA, which shrank by 0.6%, or 2,600 residents.