Despite More New Student Beds, Pre-Leasing Tracks 2018's Rate in May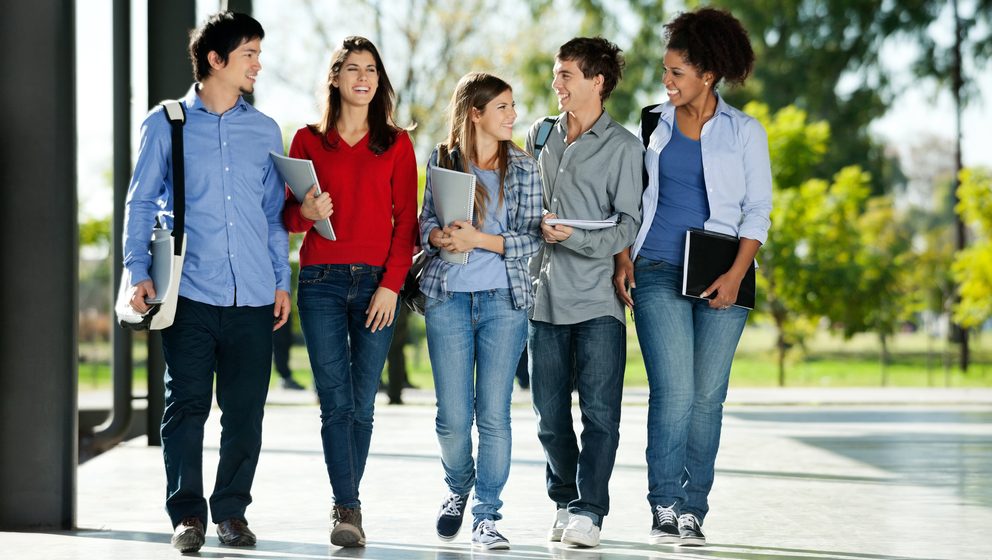 As the fall 2019 semester quickly approaches, the most recent pre-lease velocity numbers indicate there hasn't been much change from last year's rate.
Through May 2019, national pre-lease velocity sits at 76.5%, up a little more than 7% month-over-month. Compared to this same time last year, there's been almost no change in pre-lease velocity, as May 2018's pre-lease was 76.7% – only 20 basis points (bps) stronger.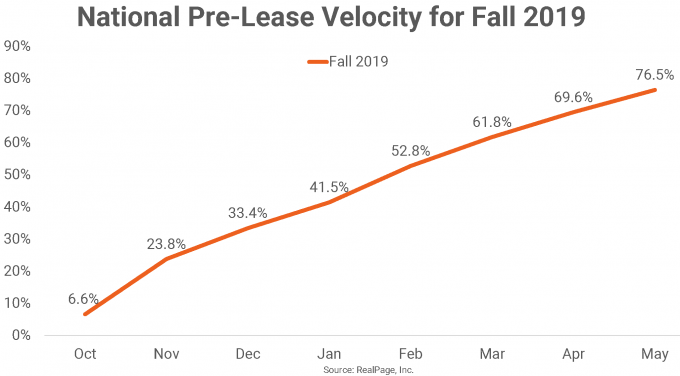 Consistency year-over-year at the national level is probably somewhat encouraging, if not all that impressive. After all, fall 2019's expected delivery volume of about 47,300 beds is greater than the previous two years. Pre-leasing essentially matching last year's rate shows demand has been strong enough to offset some of the initial concerns surrounding the roughly 10% increase in anticipated supply this year.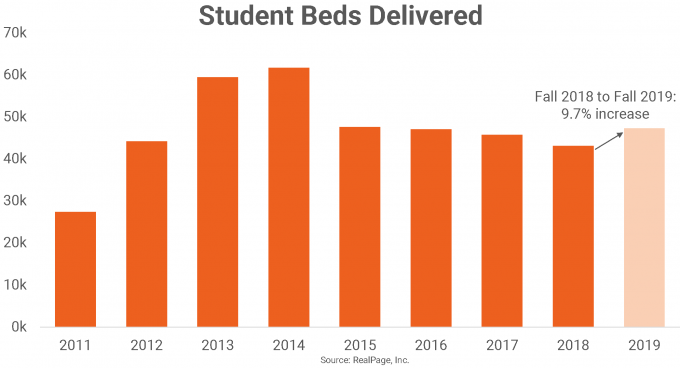 However, the fall 2019 pre-lease velocity had run slightly ahead of 2018's velocity in April, 69.3% compared to 68.0%. But May 2019 saw a slight decrease in momentum compared to last year. The month-over-month change of 7.2% from April 2019 to May 2019 was less than the 8.7% change from April 2018 to May 2018.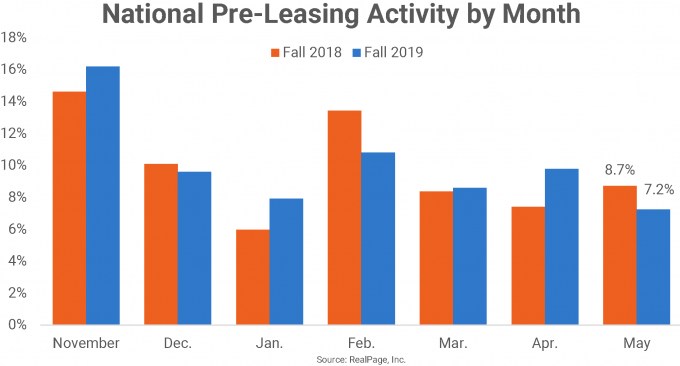 Still, that slight decrease in momentum isn't worth raising significant concern. As indicated by the previous graphic, month-over-month momentum has oscillated several times over the past year. Ultimately, the May 2019 pre-lease rate of 76.5% should serve as an early indicator that Fall 2019's occupancy should once again remain at a comfortable level.
Looking at month-over-month movement by university, there were a handful with some impressive May changes.
The nation's largest month-over-month movement was at the University of Michigan in Ann Arbor, which saw a 14.5% increase from April to May. That's an especially significant jump, given that the school was already enjoying a healthy pre-lease velocity. The April 2019 pre-lease rate sat at 70.7%, effectively in line with the national average. However, that 14.5% increase from April to May was more than twice the national movement.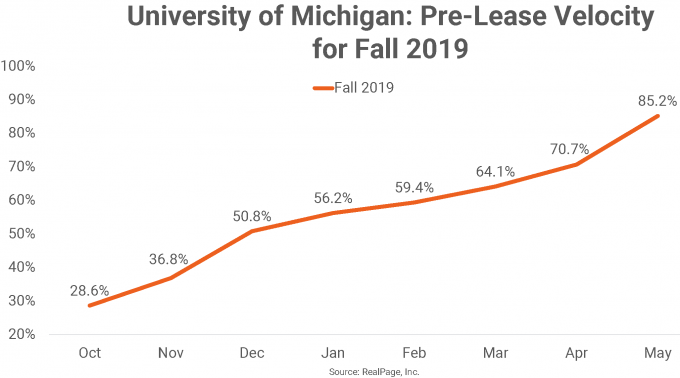 Other schools in the top five for month-over-month movement aren't enjoying quite the same level of pre-lease strength, however. In fact, only the University of Michigan's current pre-lease velocity sits above the national average, thanks in large part to a very impressive May.
Other schools on the list, however, are largely struggling to match the national pre-lease rate.

Western Michigan University was able to inch closer to the national average due to its solid May 2019, which saw pre-lease improve 12.6% month-over-month. This wasn't the first time Western Michigan University experienced a very strong May either. Amazingly, May 2019's 12.6% increase was actually weaker than May's velocity surge last year.
Owners and operators at Baylor University certainly welcome the 12.2% increase seen in May, but overall pre-lease at the school is still tepid at best. Among all universities in the nation where at least three properties disclosed their May 2019 pre-lease velocity, Baylor's pre-lease of 50.9% ranks third-lowest in the nation. Only Louisiana State University (49.3%) and the University of Missouri (49.5%) have a lower pre-lease rate as of May.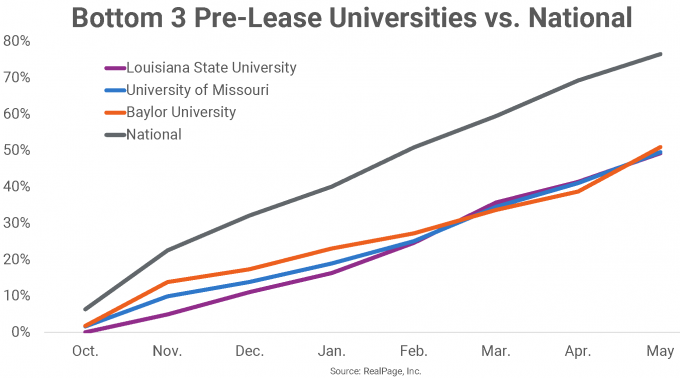 While Baylor University ranks among the top 20 for total new beds delivered this cycle, the school has not seen any new supply since 2017. Enrollment growth has been modest over the past three years, averaging about 0.8%, or roughly 140 new students per year. Still, the 4,369 beds that delivered between 2014 and 2017 has been enough to keep pre-lease velocity modest over the past three years.
Sam Houston State University's recent pre-lease woes are almost exclusively a byproduct of the aggressive development this school is seeing this year. Sam Houston State University – home to roughly 21,000 students in Huntsville, Texas – is slated to deliver nearly 1,200 new beds this year. That's almost equal to the total number of beds delivered between 2011 and 2018. Further, the 1,200 beds delivering in 2019 comes fresh on the heels of 2018's 578 new beds.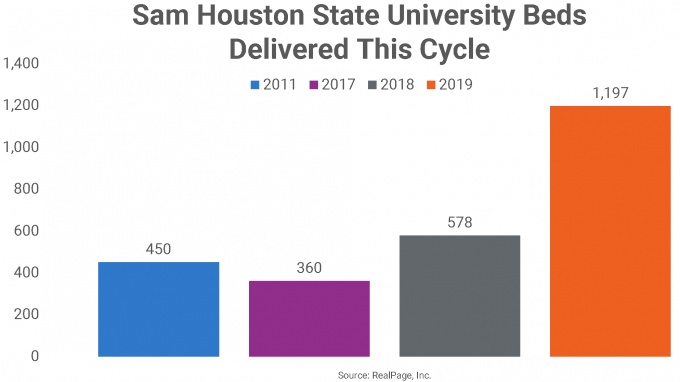 Rounding out the top five biggest pre-lease movers is Texas Tech University, which experienced an 11.5% increase between April and May. That increase put the university's total pre-lease velocity at 72.3%. Although that is about 4.2% weaker than the national pre-lease rate, the current rate is the best rate seen in Lubbock in the past three years.