Southern Metros Make Up Most of Inventory Growth Leaders in 3Q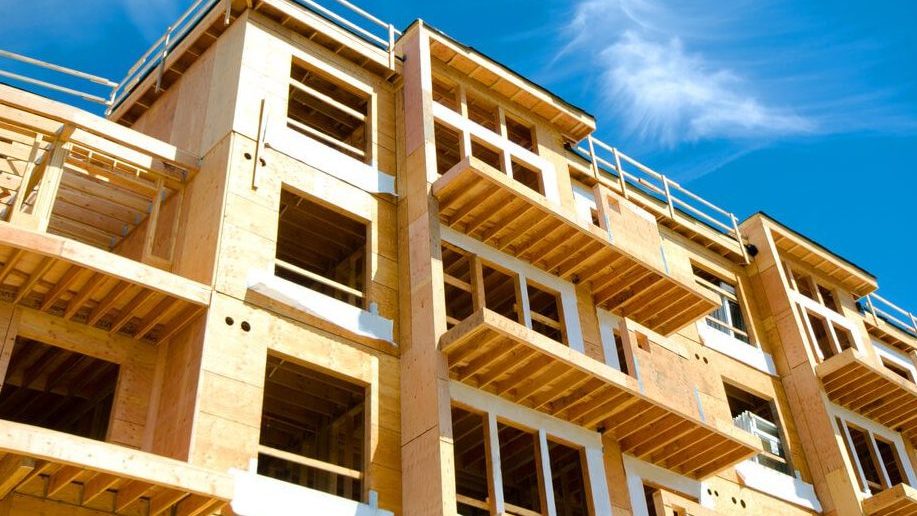 Across the nation's top markets, peak construction levels translated into inventory growth of 2.1% in the year-ending 3rd quarter 2017, with the 10 fastest-expanding major metros all seeing growth rates of at least 3.5%.
Among the top 50 markets, Nashville easily registered the greatest inventory expansion rate. The market's apartment stock grew an astounding 8.0%, or 10,513 units, during the past year – the largest inventory growth Nashville has seen since MPF Research began tracking the market. In fact, the 8.0% expansion rate was 2.4 percentage points higher than the previous high in early 2017. And Nashville won't get much relief in the year ahead, as scheduled completions are set to grow inventory 4.8% over the next four quarters.
During the past year in Nashville, the Central Nashville submarket received the largest share of units – more than 3,700 – while submarkets Franklin/Brentwood, Murfreesboro/Smyrna and Hermitage/Mount Juliet/Lebanon each received more than 1,100 units. Not surprisingly, Nashville also ranked #1 among metros experiencing the steepest occupancy declines for the same period.
Salt Lake City and Charlotte placed at a distant-but-still-elevated #2 and #3, respectively, for inventory growth in the past year. In Salt Lake City, 6,430 new units grew inventory 5.2% annually, while the 8,065 units added in Charlotte represented 5.0% of the existing base. Charlotte's pipeline is especially robust, with the 12,264 units under construction at the end of 3rd quarter 2017 expected to expand stock an additional 7.2% once complete.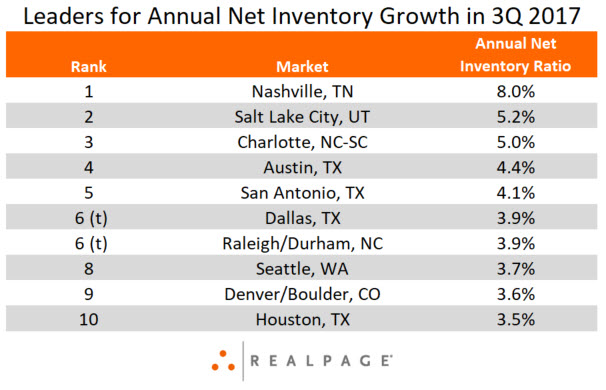 Texas accounted for much of the remaining leaderboard, with each of the state's major metros making the cut. Robust inventory growth was experienced in Austin (4.4%), San Antonio (4.1%), Dallas (3.9%) and Houston (3.5%).
In Austin, development is widespread geographically. That differs from many of the other markets on the leaderboard, where construction is concentrated in the urban core and a few high-end suburbs. In San Antonio and Dallas, many of the more affluent suburbs are on the north side of the metro.
In Houston, construction has been concentrated in the urban core and the Energy Corridor to the west. Of note, Houston's completion volume (23,750 units) was actually about 5,000 units fewer than the scheduled count. Those delays were largely due to extensive flooding in the wake of Hurricane Harvey.