Single-Family Recovering Faster than Multifamily Permits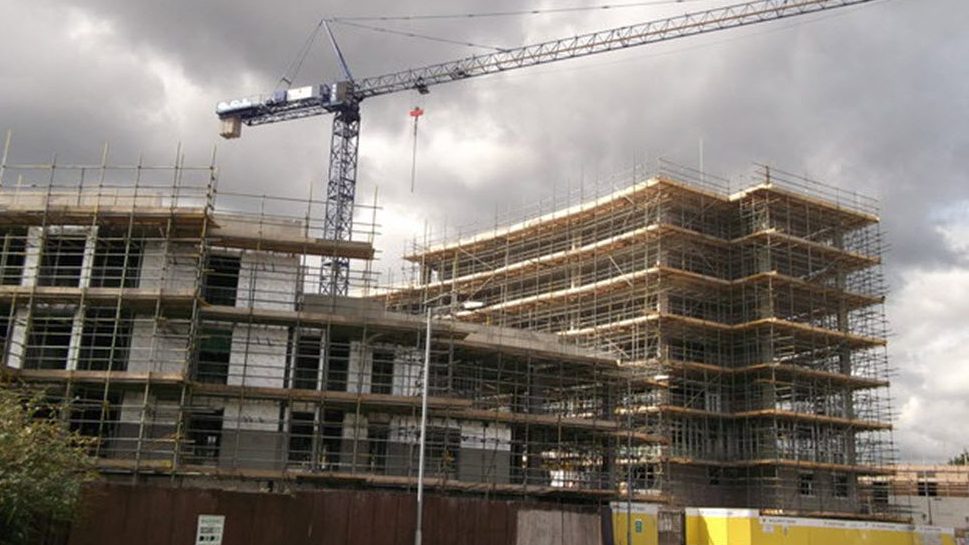 Multifamily permits trended downward again in June, while single-family permits continue to recover from pandemic-induced lows.
Multifamily permitting totaled 368,000 units on a seasonally adjusted annual basis in June. That number was down 14% from May and 4.2% below last year's figure. This is the third month permits have fallen below the 400,000-unit mark in 2020. By comparison, annual multifamily permitting has averaged about 440,000 units since 2015 but stepped up to average closer to 461,000 units over the past 12 months.
Meanwhile, starts of multifamily units, which are more volatile than permits, continued to rebound sharply in June, though remain below pre-pandemic levels. Multifamily starts jumped 18.6% from May to 350,000 units in June, registering only 50,000 units below the 12-month average. Despite this recent increase, multifamily starts remained 2.5% below the June 2019 figure.
The difference between annual multifamily permits and starts in the same month is typically about 40,000-50,000 more units permitted than started. In June, the variance was roughly 20,000 units, closing the gap significantly from the 140,000-unit difference from May. This could be a sign that fears of extended delays at construction sites have been eased somewhat by policies and practices put in place by builders.

Single-family permitting rebounded significantly in June and is well recovered from the recent low from April. Roughly 834,000 units were permitted in the year-ending June, up 11.8% from May and 25% above April's rate, but still down 1.1% from the previous year. Single-family permits are registering close the average for the previous 12 months (880,000 units).
Single-family starts also shot up for the month (+17.2%) but were still down 3.9% from last June. Some economists theorize that suburban home demand will increase with the work-from-home trend, desire for less density, and temporary levels of urban strife, particularly in gateway cities, that is making suburban and outer urban living more attractive.
Total residential building permits were up 2.1% from May while total starts were up 17.3% from last month. Compared to the low point of April, total permits are up 16%, while starts are up a sizable 27%. Despite this recent recovery, however, both permits and starts remain down by about 3% to 4% on an annual basis.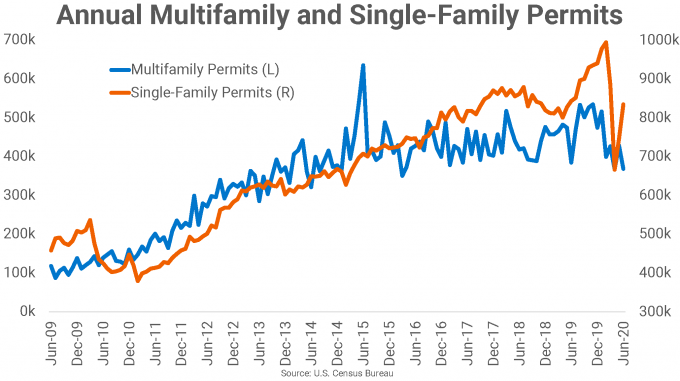 Multifamily building permitting was down in two regions compared to one year ago. Permits in the Northeast were down 19.1% to 56,000 units, while permits in the West fell a steep 28.4% to 81,000 units. On the other hand, the small Midwest region had 22.4% more multifamily permits than the year before, totaling 53,000 units, while the large South region saw 12.5% more units permitted with 177,000 units. Three of the four regions saw declines from their May totals, while the smaller Northeast region permitted about 9% more units than the month before.
Multifamily starts were down annually in only the Northeast region, with the decline there deep at 48.2%, with starts of 32,000 units. The Midwest region was virtually unchanged from one year ago (+0.9%) with 58,000 units started, while moderate gains were seen in the South (+7.0%/160,000 units) and West (+10.4%/101,000 units). All these figures, however, are above the May tallies, except for in the West region, which logged a 24.4% decline from last month.
At the metro level, multifamily building permit totals for June will not reflect the same amount of change as in the national data series since the metro data is unadjusted. However, delays in permitting due to the coronavirus pandemic do not appear to be slowing activity in many of the country's most active markets, at least in annual units permitted. Only two of the top 10 markets experienced decreases in annual multifamily permitting from last year, with an average decrease of 2,166 fewer permits than last year.
All the top 10 permitting markets in June returned to the list from May with a few markets changing places. New York, Houston, and Austin retained the top three spots on the list, with still increasing numbers of multifamily building permits compared to one year ago. New York saw almost a 24% jump in permitting, while Houston was up almost 11% and the smaller Austin market jumped 63% for the year.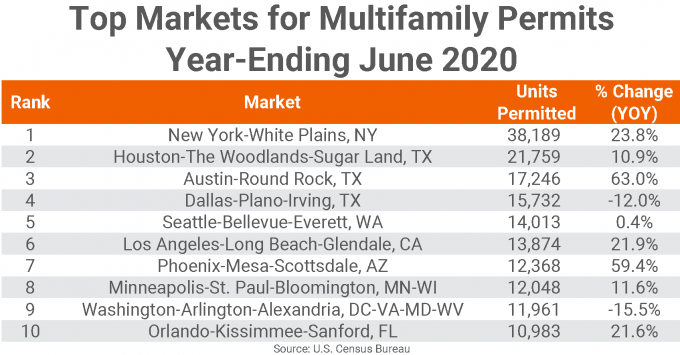 Dallas – the nation's current leader for apartment construction – continues to see a moderate decline in permitting activity (slipping 12% from last year's pace), but retained its #4 spot this month. Seattle and Los Angeles switched places at the #5 and #6 spots, although Seattle's annual total is about even with last year's pace. Phoenix returned to the #7 spot with a 59.4% jump from June 2019's total. Minneapolis-St. Paul moved up one spot to #8 with an annual gain of about 12% and Washington, DC slipped back to the #9 spot as multifamily permitting was 15.5% less than the year before. Orlando again placed #10 on the list and had 21.6% more units permitted than last June.
Other markets that saw significant year-over-year decreases in annual multifamily permitting in June were Atlanta (-5,661), San Francisco (-3,812), San Jose (-2,106), and Charlotte (-1,940). A few smaller markets saw permitting decline sharply too, such as Milwaukee (-1,583), Baltimore (-1,421), Riverside (-1,273), and Jacksonville, FL (-1,211).
On the other side, eight of the top 10 markets permitted more multifamily units than last year. New York saw the greatest increase in annual multifamily permitting of 7,348 units, followed by Austin (+6,668 units) and Phoenix (+4,609 units). Los Angeles (+2,488), Houston (+2,133), and Orlando (+1,952) also had significant increases in their annual permitting totals.
Non-top 10 markets that had significant increases in annual multifamily permitting include Nashville (+2,695), Sacramento (+2,461), Anaheim (+1,862), and Fayetteville, AR (+1,707).
Compared to last month, only two of the top 10 had fewer annual multifamily permits than in May, with Dallas and Los Angeles each decreasing an average of about 3%. Washington, DC saw no change for the month, while the remaining seven markets had increases ranging from 0.9% (Seattle) to 7.7% (Minneapolis-St. Paul), averaging 3.3%.
The annual total of multifamily permits issued in the top 10 metros – 168,173 – was 15.2% greater than the 146,003 issued in the previous 12 months. The total number of permits issued in the top 10 metros was almost equal to the number of permits issued for the #11 through #42 ranked metros.
The list of top individual permitting places (cities, towns, boroughs, and unincorporated counties) generally include the principal city of some of the most active metro areas. As with the top 10 metro list, the top 10 permitting place list includes all the same 10 cities or permit-issuing place as last month. The cities of Austin, Los Angeles and Houston continued to lead the list with more than 10,000 units each, although Houston edged out Los Angeles for the #2 spot. The borough of Brooklyn and Unincorporated Harris County that surrounds Houston returned in their same spots, while the city of Seattle slipped one spot to rank behind Nashville-Davidson. The remaining three spots were the same as last month.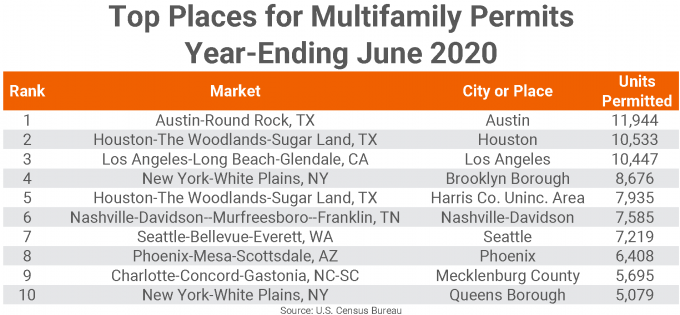 Nashville-Davidson and Mecklenburg County (Charlotte) were the only permit-issuing places to make the top 10 places list whose metro areas did not make the top 10 metro list.