Reno Remains a National Leader for Apartment Rent Growth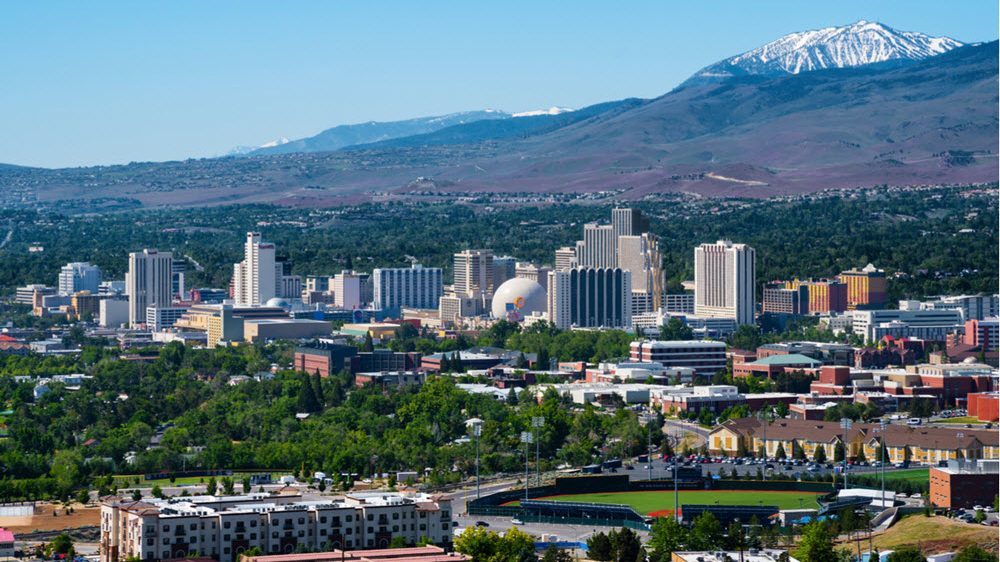 Apartment rents in Reno have been growing at some of the fastest rates in the nation for three years, spurred by very strong job growth and, until recently, limited building activity.
The Nevada market, nicknamed The Biggest Little City in the World, grew apartment rents 6.5% in year-ending 1st quarter 2019, the eighth largest increase among the top 150 U.S. markets. However, it was the lowest increase in Reno since mid-2015.
Reno has placed in the nation's top 10 for annual rent growth since early 2016. Over that time, increases have averaged roughly 9%. Momentum has been broad-based geographically, but among product segments, upper- and middle-tier apartments have led.
Spurring rent growth has been job growth-driven apartment demand. Economic tailwinds stemming from the metro's business-friendly environment, population growth and infrastructure development have drawn corporate relocations through the current cycle and propelled employment in the market, inflating housing demand.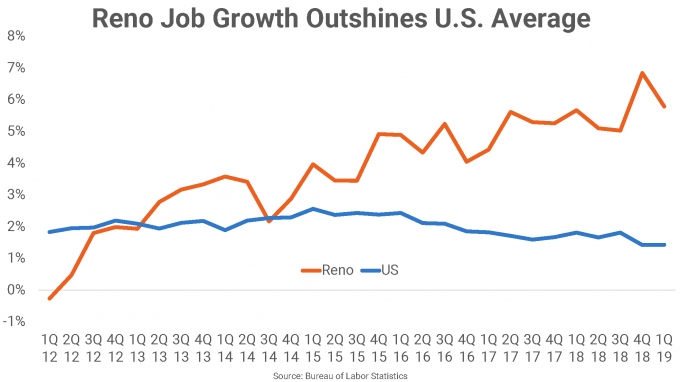 Reno didn't return to job growth mode until 2012, more than a year after the most markets began to expand their employment base. But since early 2013, employment growth has accelerated, averaging about 4.5% for the last five years. Tailwinds from recent economic developments have added jobs at a brisk pace as the market continues to lure big name employers. Aside from headline grabbers like Tesla, Google, Apple, Panasonic, and Switch, the economy is fairly diverse for a small market. About 21.5% of employees come from the trade, transportation and utilities sector, and between 10% and 15% come from the government, leisure and hospitality, education and health services and professional and business services sectors.
Since 2013, the employment base has grown at an average annual rate of 4.4% – one of the strongest rates nationally over that time. In the year-ending May 2019, Reno's job base grew 6.0%, the fastest growth rate nationally.
Similarly, by 3rd quarter 2013, annual rent change in Reno grew to 5.0%, topping the national norm of 3.3% at the time. Since then, Reno's rent growth has climbed, peaking at 11.8% in 3rd quarter 2017 – more than four times the then-national norm of 2.7%. In the last several quarters, the acceleration of rent growth has moderated somewhat, though it still outpaces the national average considerably.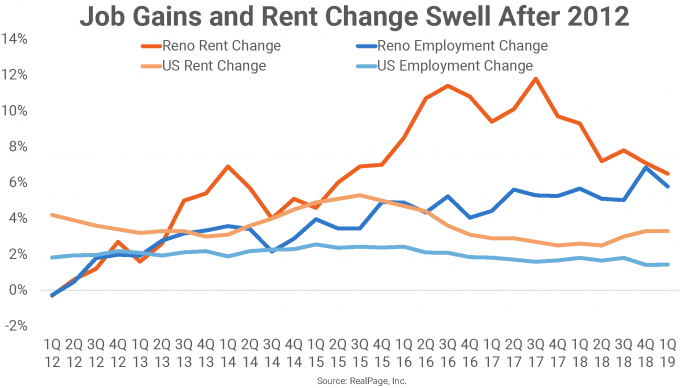 Despite red-hot rent growth and a deepening pool of demand, developers responded only recently. A little more than 2,000 units completed since 2018, roughly the same number that completed between 2013 through 2017. One reason for the recent uptick in construction is that developers didn't become ambitious in Reno until 2014, reflecting escalating permit levels then. That was around the same time Tesla publicly announced its Gigafactory plans and its intent to bring thousands of jobs to the market.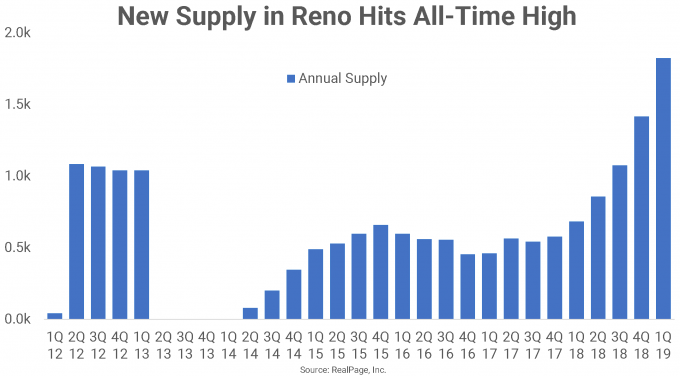 The 1,824 units delivered in the year-ending 1st quarter 2019 account for one-third of the total new supply seen during this economic cycle.
Despite the recent increase in new supply, occupancy remains tight, at 96.4% in 1st quarter 2019. That's in range with rates over the past three years, when occupancy fell between 96% and 98%. At 1,600 units in year-end March 2019, demand didn't quite keep pace with supply, but the two figures have stayed in tandem to each other for a couple years now.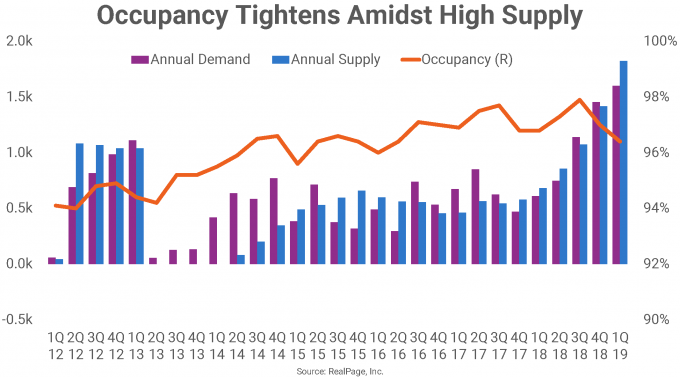 Current annual supply sits at 1,600 units and completions are expected to remain elevated over the next year as more than 2,800 units are in the pipeline.
Another factor that serves as a tailwind for Reno is the high price of single-family homes. Few other markets posted such a rapid pace of growth during that time. The median sales price has gone from $233,300 in 2014 to $388,100 today, according to Moody's.
For more on Reno and other key West region small markets, see the recent RealPage Asset Optimization Webcast.