Permit Volumes Rise as Some Major Metros See Increased Activity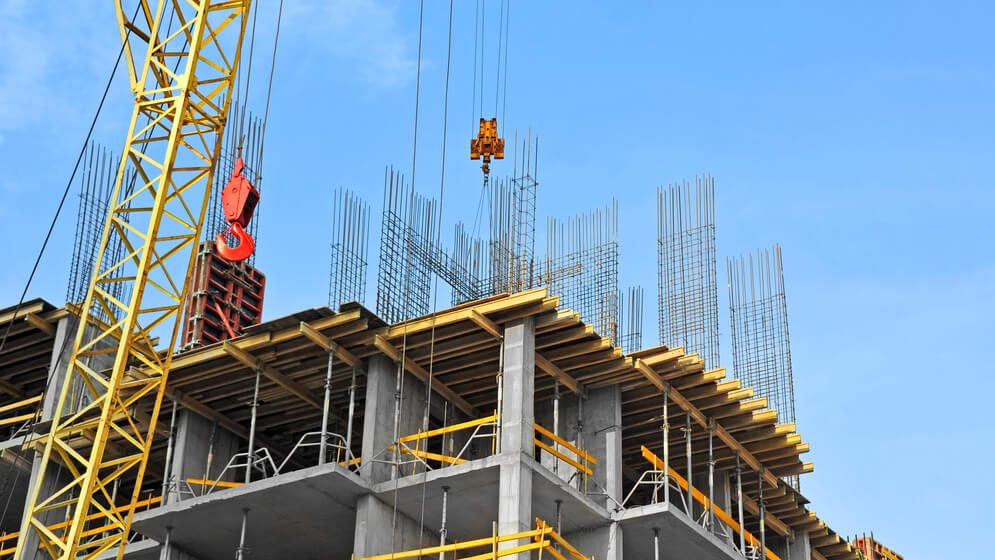 Increased permitting activity among major metros over the past year brought the national annual totals above the year-earlier level in August 2017.
According to the U.S. Census Bureau, local governments across the country approved 464,000 units in the year-ending August 2017. That permitting activity, bolstered by 39,637 multifamily units during the month of August, represents a 22.8% spike from July 2017's annual volume and a 10.2% jump from August 2016's annual total.
On the metro-level leaderboard for annual authorizations, the top 10 remained largely intact, with only Phoenix replacing Miami in the #10 spot. Though Phoenix has recently experienced sluggish hiring levels, inventory in the Arizona capital continues to swell.
Four of the top 10 metros issued fewer multifamily permits in the 12 months ending in August 2017 than they did in the preceding 12 months, but only Atlanta had a double-digit decline in multifamily permits: -22.5%.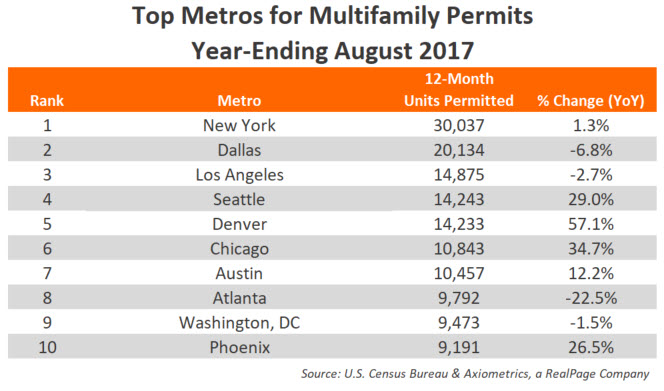 With six of the top 10 apartment markets reporting increases in annual multifamily permits, the annual total of multifamily permits issued in the top 10 metros – 143,278 – was 7.3% greater than the 133,532 issued in the previous 12 months. The total number of permits issued in the top 10 metros was almost equal to the number of permits issued within the 11th-39th ranked metros. A year ago, permits issued in the top 10 metros almost equaled the 11th-34th ranked markets.
Among individual metros, Dallas rose five spots to #1, pushing New York to #2. Similar shakeups occurred across the board. The introduction of Los Angeles, Portland, Phoenix, Nashville and Fort Worth pushed Boston, Atlanta, Miami, San Francisco and Washington, DC from the standings.
Nashville registered the leaderboard's greatest year-over-year change, increasing apartment authorizations more than 550% over August 2016. Demand drivers like a growing millennial population and a robust local economy continue to spur metro development. In 3rd quarter 2017, Nashville delivered 4,555 units to rank #5 in the nation for quarterly completions.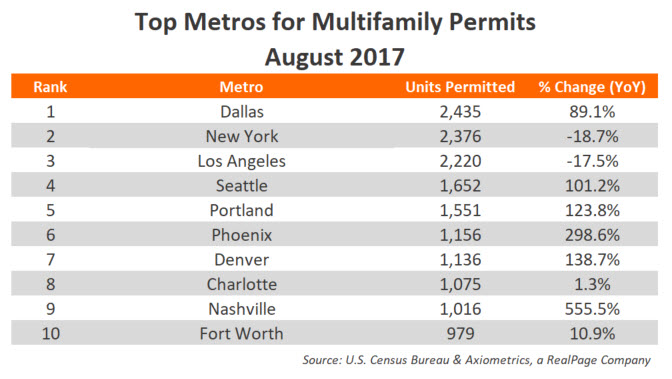 Meanwhile, Seattle jumped to #4 from #9, permitting 1,653 units in August 2017. At the end of 3rd quarter 2017, the high-supply market had 20,197 units underway, with more than 65% of in-progress development expected to complete within a year.