NMHC Panel Discusses Student Housing Demand, Supply, Data Use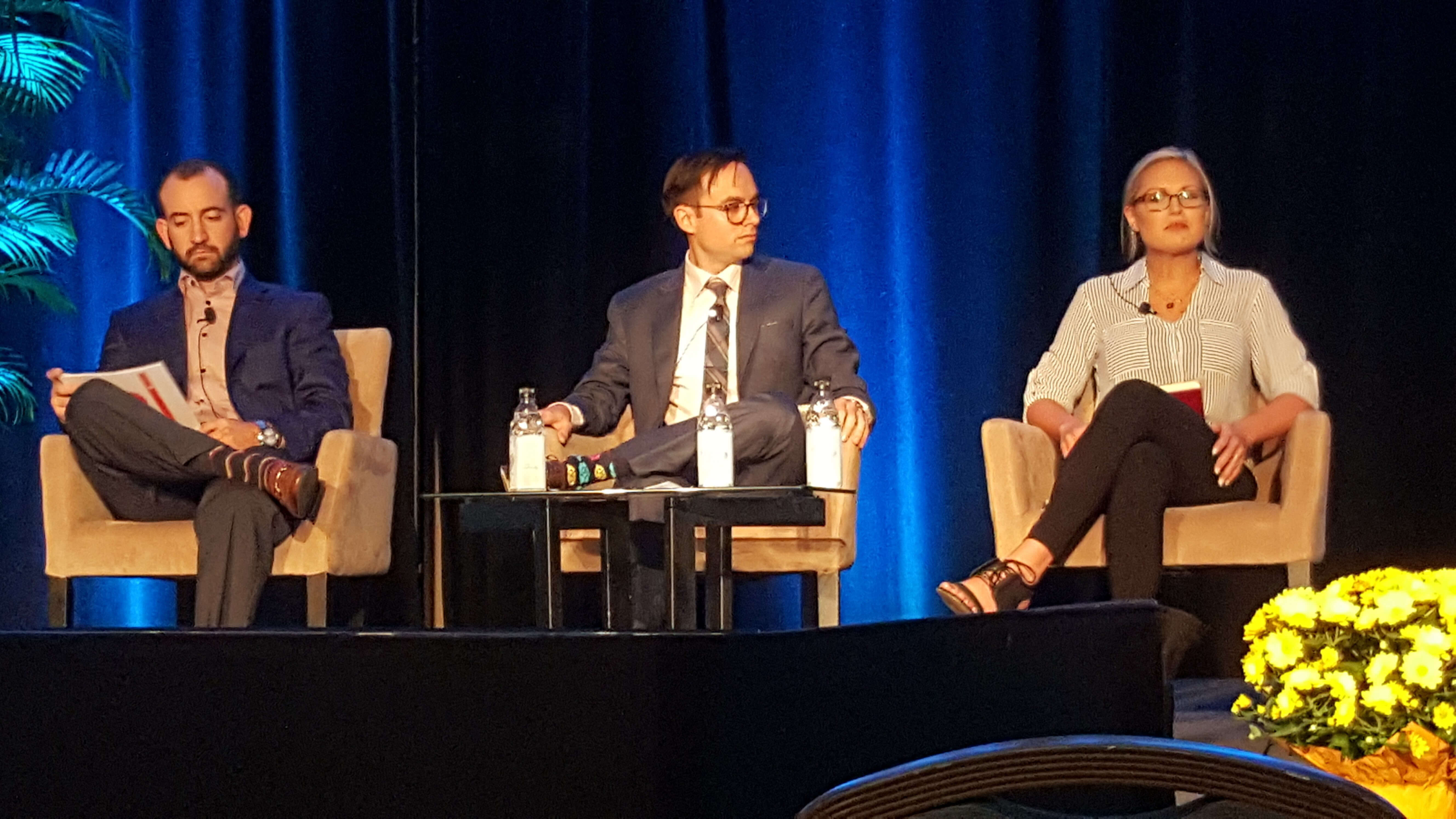 Student housing demand was the first topic discussed at the National Multifamily Housing Council Student Housing Conference's Data Panel on Sept. 27 in Tampa.
The panel comprised myself, Taylor Gunn; William Vonderfecht with CBRE; and Dan Major with The Scion Group
The national view of enrollment can signal slowing student housing demand, but if the change in demand is broken up by type of university, most of the negative growth in recent years can be attributed to public two-year and private for-profit universities. However, these universities had strong growth during recessionary periods.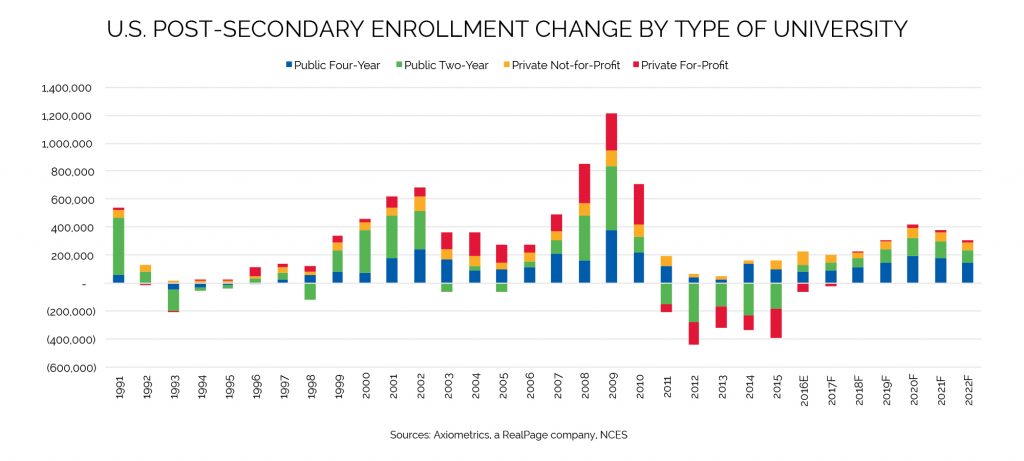 In addition, the public four-year universities haven't experienced negative growth since the mid-1990s, at least on an aggregate basis, according to student housing research from Axiometrics, a RealPage company. Nationally, public, four-year, degree-granting institutions are projected to average 1.7% annual growth. Enrollment growth is expected to average 1.4% at public two-year schools; 1.3% at private non-profit institutions; and less than 1% at private for-profit colleges.
Positive student housing demand is not simply a function of a growing college-age population. The high school graduation rate across the U.S. is increasing, as is the percentage of these grads enrolling in college. This is expected to continue over the next few years, especially because median average earnings are higher for college graduates and the unemployment rate is lower.
The session also discussed where people have found opportunity and developed student housing, along with how to interpret supply trends. The volume of new student housing supply nationally has remained relatively consistent since 2015, with more than 45,000 beds delivered each year and a similar amount expected next fall, the student housing research found. However, the national figures don't show where supply has been delivered and where it's expanding.
Universities with the most student housing supply delivered this cycle were highlighted. The table below illustrates the total number of new off-campus beds compared to the total change in enrollment for these universities.

Texas A&M University ranks No. 1 for most supply this cycle, but also for highest enrollment growth. A&M's growth is what has made this university so attractive for opportunity, but as mentioned throughout the year, the volume of supply delivered has impacted the performance of existing assets.
Texas State has received the second-highest amount of supply this cycle, but new supply has actually outpaced enrollment growth. However, the number of beds being delivered each year has moderated from earlier in the cycle and is not currently affecting performance.
Many of the schools in the table shouldn't be a surprise, given the amount of growth. Though a few universities listed aren't necessarily examples of strong enrollment growth during this time period, their supply has grown. The University of Missouri experienced strong enrollment growth until 2016, when it declined because of campus issues that emerged the previous year, according to Axiometrics' student housing research.
The University of Oregon only had 2,000 off-campus purpose-built beds in the market before 2011. In addition, enrollment declines over the past few years have dropped enrollment to drop to 2010 levels. However, performance is still strong and even improving.
The group then discusses current market performance, a few ways to look at the data and the impact supply has had on certain markets.
As mentioned last week, leasing velocity pulled back this year about halfway through the leasing season. As of August, three-year same-store properties averaged 94.8% leased, down from 95.8% in August 2016. A lot of this can be attributed to slowing performance of properties located in markets that received new supply this fall.
And while leasing velocity has slowed, properties aren't necessarily reducing rents; they're offering giveaways instead. Properties located closest to campus (less than a half-mile) are still seeing highest leasing velocity at 95.3%. And, despite direct competition with new supply, are still seeing positive rent growth of 1.7%, though these are the properties offering the most giveaways.
Performance trends not only vary by individual asset and location, but they also vary by university. These performance metrics by the size of the university and at a few individual universities also were discussed.
Properties at universities of all sizes can be successful, but on an aggregate basis, properties at universities with more than 30,000 students are registering higher prelease and rent growth. These universities averaged 95.2% leased in August and had rent growth average above 2%. Properties at universities with 20,000-30,000 students averaged 93.5% leased in August, and actually had a higher rate than in August 2016.