New York Job Gains Plunge as National COVID-19 Declines Begin to Show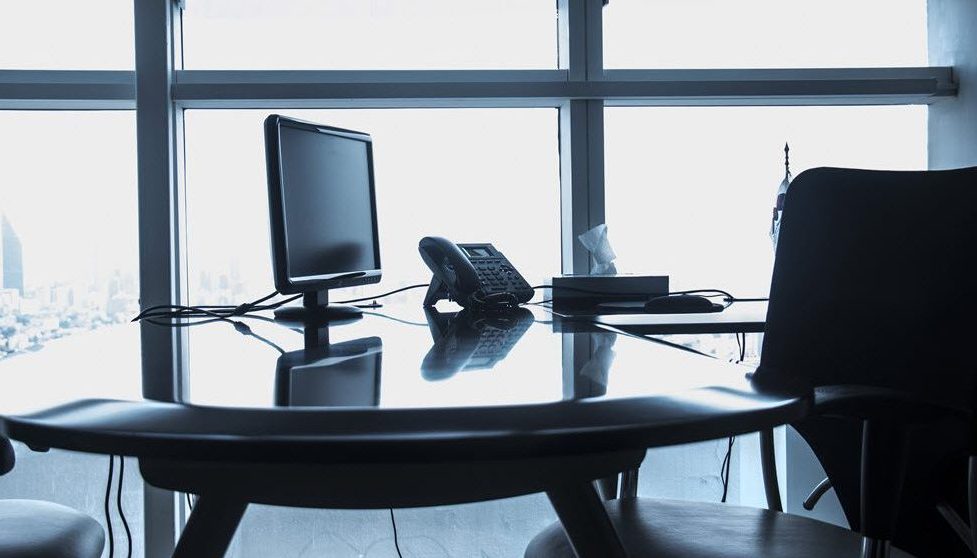 The effects of the COVID-19 pandemic on local economies are beginning to become apparent in the latest metro-level employment data from the Bureau of Labor Statistics.
Most markets experienced fewer job gains in March, though this data likely doesn't represent the full force of deterioration stemming from business closures and cutbacks related to COVID-19. The establishment survey, or Current Employment Statistics survey, is typically conducted on the 12th day of the month, and many state and local governments did not institute stay-at-home orders until after that date.
The nation's epicenter of the COVID-19 outbreak, New York, saw job growth plunge dramatically in March. Only 22,200 jobs were gained here in the 12 months ending in March 2020, forcing the market out of a top 10 national ranking for what could be the first time ever. Annual gains in March were down by 65,000 jobs from the gains seen in February and were 106,600 jobs below the additions from the year-ending March 2019. In addition to New York, Seattle and San Francisco – some of the first U.S. areas to be affected by the pandemic – fell out of the top 10 in March.
Dallas remained the nation's job growth leader, with 77,500 jobs gained in the year-ending March. While this was almost 17,000 more jobs than the market added one year ago, gains were down nearly 18,000 jobs from February's annual figure.
Gaining nearly 60,000 jobs in the past year were Houston and Phoenix. While these two markets ranked with Dallas in the top five in both February and March, annual job gains fell by about 12,000 positions in Phoenix and by nearly 10,000 jobs in Houston from February numbers. Houston's economy relies heavily on the energy sector, and the recent plunge in oil prices will likely influence further decline in this market in the near term.
Atlanta and Los Angeles rounded out the top five job growth markets in March. Atlanta moved up to the #4 spot after ranking #8 in February. This was the only market among the top 10 that saw more annual job gains in March (43,400) than in February (42,400) but, of course, that mild upturn is not expected to continue in the April data. Los Angeles saw one of the nation's steepest slowdowns in job growth between February and March, with gains of 41,300 jobs coming in at about half the volume recorded just one month ago.
Denver and Washington, DC remained in place at #6 and #7, while Nashville, Austin and Tampa rounded out the top 10, moving up from the #11 through #13 spots from February. Washington, DC saw employment growth come down by a sizable 24,000 jobs since February, while the slowdowns were softer at about 2,000 to 9,000 jobs in Denver, Nashville, Austin and Tampa.
Jobs numbers in these and other local markets are likely to continue to fall in the coming months. Since mid-March, about 22 million Americans filed jobless claims, and most of those have not yet been captured in BLS data.
Of the 150 markets RealPage tracks, 133 had lower annual job gain figures in the 12 months ending in March than in the 12-month period ending in February, and 38 experienced actual job losses. The most drastic damage was seen in Chicago, which lost 20,600 jobs in the year-ending March. Newark shed 14,100 jobs in the past year, while losses were at around 8,000 to 9,000 jobs in Cleveland, Cincinnati and Minneapolis.
The total difference from February to March was 748,400 fewer jobs gained. In comparison, the January to February downturn was only 126,500 jobs, with 73 markets experiencing fewer gains than the previous month, and 25 markets logging annual job losses. When April data is released in May, expect most every market to show downturns from March data, and quite a bit more to experience job losses.
Looking at the annual decline, all but two of the top 10 markets saw fewer jobs gained in the year-ending March than last year, with Dallas and Denver going against the grain and gaining from 13,000 to 17,000 more jobs than in the year prior. The remaining eight markets added an average about 11,500 fewer jobs through March than they did last year. While Atlanta's annual gain for March was up a bit from February's data, the market added 26,000 fewer jobs than the preceding 12 months.
In terms of overall additions, the total gains of the top 10 markets combined fell sharply from February, down 31.3% or about 198,000 fewer jobs added. The 434,100 jobs added in the top 10 markets comprised 30% of the total U.S. employment gain for the year.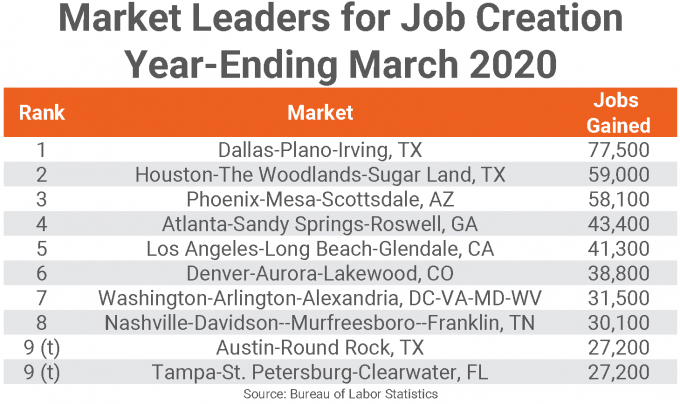 Most of the next 10 in the top 20 spots were returning metros, including the three markets that fell out of the top 10. Falling out of the top 20 in March were Fort Worth, Chicago, Philadelphia, and Riverside. Moving up were San Diego, Charlotte, Jacksonville, and Raleigh/Durham.
Based on the mostly pre-pandemic jobs data, the largest improvements in annual job gains for non-top 10 markets occurred in Omaha, NE, Columbia, SC, Kansas City, MO, and Lincoln, NE, with an average increase of only about 5,700 additional jobs gained than the year before. Only Dallas and Denver recorded 10,000 or more jobs gained than the year before. Conversely, a total of 31 of the 150 markets had 10,000+ fewer jobs gained than the same period last year, with 11 of them turning negative.
The 38 of RealPage's top 150 metros that lost jobs in the year-ending March 2020 were eight more than last month and 34 more than last year. Again, expect the top 150 list to reflect more of the economic downturn in April, with job losses expected in most markets.
According to the BLS's March data, Dallas, Nashville, Phoenix, Denver, Austin and Salt Lake City were the major metros or divisions to make the top 10 list of markets for job growth as a percentage of total employment for March 2020. Returning smaller metros to the top growth list are Boise City, ID and Provo, UT. Again, expect a reduction in these performances in the coming months.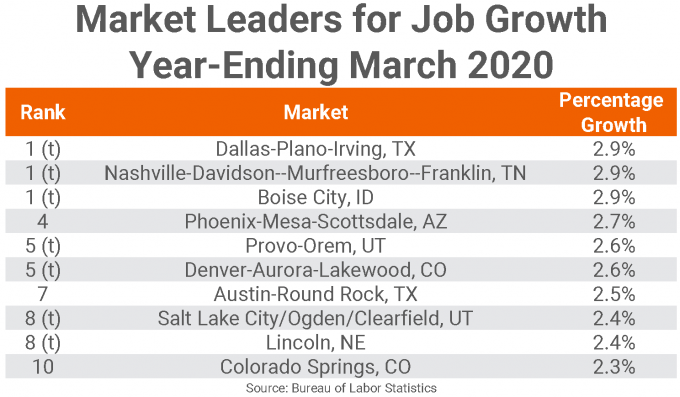 Comparing current annual job growth rates with those from one year ago for the top growth rate markets, none of the top 10 went from loss to growth and all exceeded 2.3%. Looking at those markets with the greatest change in growth rates from one year ago for all 150 markets, only Lincoln, NE improved by at least 200 basis points (bps). Of the 121 metros that had declining annual growth rates in March (for now), 14 fell by at least 200 bps. The largest declines occurred in: Midland/Odessa, TX (-849 bps), Little Rock, AR (-360 bps), Manchester/Nashua/Concord, NH (-342 bps), Naples, FL (-276 bps), and Las Vegas, NV (-274 bps).