New Lease Trade-Out Surges in Some Markets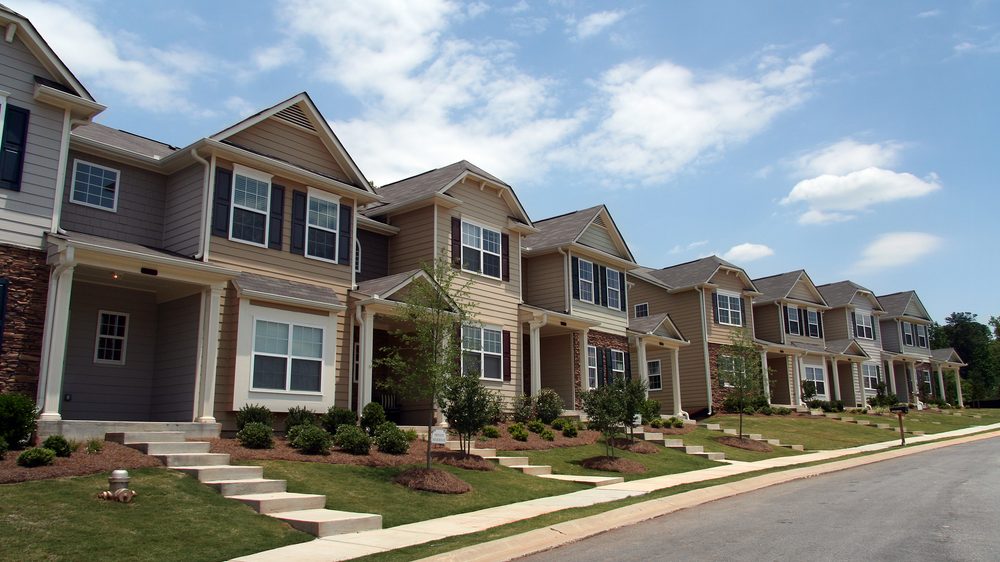 With the surge of leasing activity in recent months, apartment operators are finding the marketplace is arguably as hot as it has ever been. New leases for individual apartments are going for premiums, with rents rising at the fastest rate in more than a decade. And the incredible momentum is happening just about everywhere, as 35 of the country's 50 largest metros saw new lease trade-out hit the highest ever mark in May 2021.
New lease trade-out, which measures the change in rents when one resident moves out and another moves into the same unit, came in at a staggering 11% for the month of May. That's the best reading since RealPage's monthly reporting measures came into place in 2008. The most recent showing was not only the single best monthly figure, it also eclipsed the previous best – a comparatively modest 7% – by an unprecedented level.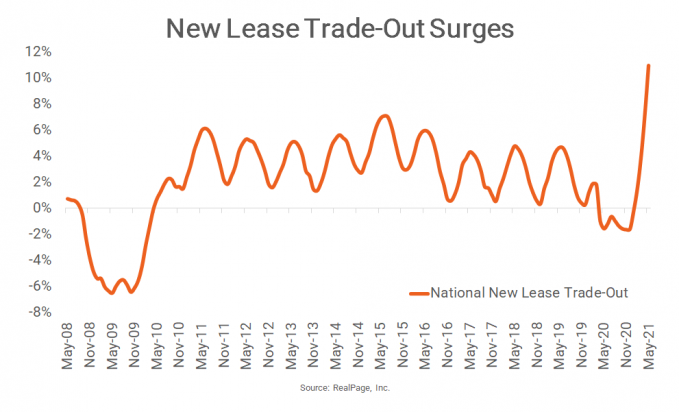 Rent growth between new resident leases was broad based geographically, and increases were simply extraordinary in several individual markets. The nation's clubhouse leaders for May – Phoenix and Providence – surpassed 20% trade-out.
Phoenix's 20.5% trade-out is just part of a continued, sustained run of rent growth. Phoenix was one of only eight major U.S. markets where prices never slipped as units turned over in 2020. There, the lowest monthly trade-out reading came in at a still-noteworthy 1.2% as of May 2020, much better than the 2% decrease at the national level the same month.
Meanwhile, Providence has been something of a dark horse over the past year or so. New lease trade-out over the past 12 months has averaged an impressive 9.2%, ranking third-best nationally during that period.
Two markets achieving 20% trade-out probably seemed unthinkable this same time last year. But perhaps even more jaw-dropping is that another 11 markets achieved trade-out above 15% in May. Three Florida markets – Jacksonville, Tampa and West Palm Beach – were among them.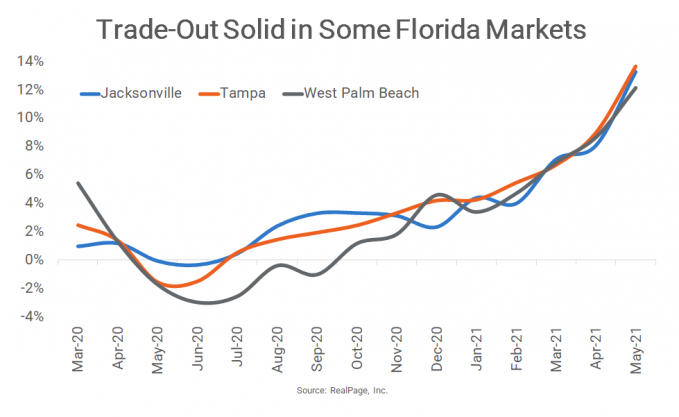 The mix of the remaining markets in this 15% plus range is fairly diverse both in terms of geography and in terms of economic makeup. Most of these markets, however, have seen limited apartment construction activity over the past decade. The exception is Atlanta, where builders have brought significant numbers of new apartments to the urban core and affluent northern suburbs.
Other solid performers include the smaller South region metros such as Greensboro/Winston-Salem, Memphis and Virginia Beach, where local economies are dominated by blue collar jobs.
Three West region markets also saw new lease trade-out above 15% in May. Las Vegas has been a remarkable story of strength throughout the pandemic, due in no small part to an influx of new residents from California. Riverside and Sacramento also have benefitted from migration trends, pulling new residents from expensive neighboring markets like Los Angeles and San Francisco throughout 2020.
About one-third of the nation's top 50 metros posted new lease trade-out between 10% and 15% for the month of May – a testament to the industry's overall rebound.
Indeed, some of the markets with the most impressive rebounds thus far belong to this range of performance. Austin and Miami were just outside of the nation's bottom 10 markets at the deepest point of the downturn in 2020. In Austin, new lease trade-out fell 6.3% at its lowest point. In Miami, the trough came when rents plummeted more than 7%.
Although tepid by national norms, the few markets holding around the 5% to 10% tranche for new lease trade-out still qualify for their highest ever monthly level. Among this group of metros are Anaheim, Chicago and Nashville.
Operators in Chicago, in particular, must be breathing a sigh of relief to see such improved numbers, as the Windy City was among the nation's hardest hit by the downturn. Here, new lease rents were dropping at a pace of more than 10% at the depth of the downturn.
Although May numbers show rapid improvement, today's rental rates still sit below pre-pandemic norms. But a closer look at the data shows Chicago's rental rates are still being pulled down by softness in the urban core, rather than a pervasive, market-wide trend. Therefore, once the urban core begins to rebound, Chicago could move up the national leaderboard fairly quickly.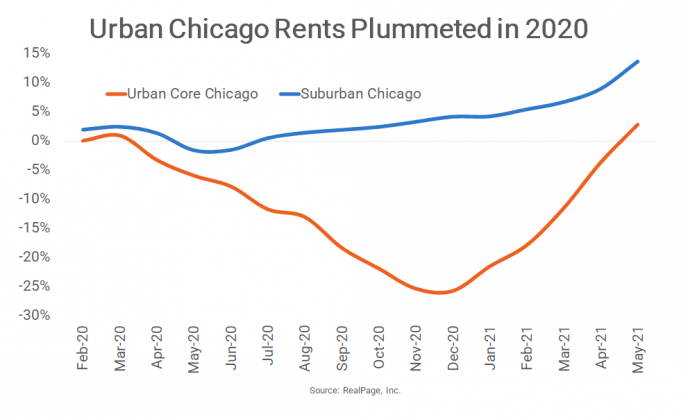 Still, not every market has been able to find its footing just yet. New lease trade-out in eight of the nation's top 50 markets still sat below 5% in May. Included in this list are some markets that are still working toward recovery.
The good news here, though, is that some separation is beginning to occur within this set of underperforming markets. Rents were still falling in Los Angeles, New York and Washington, DC as recently as April 2021. Today, positive – albeit modest – growth is again happening for the first time in over a year.
On the downside is the San Francisco Bay Area. While the worst of the recession appears to be behind the region, local operators in San Francisco and San Jose are still struggling to achieve positive trade-out. With May 2021's rents for those two metros sitting roughly 15% below their pre-pandemic norm, it's going to take multiple months of solid-to-impressive growth to even stabilize at late 2019 and early 2020 levels.