National Permit Volumes Drop as Momentum Shifts in Some Metros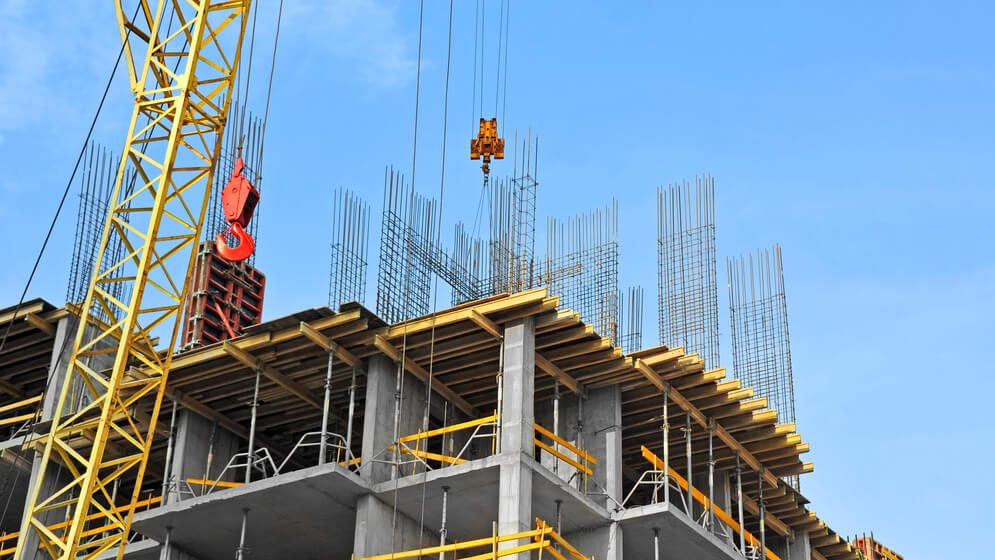 Mixed momentum for metro-by-metro permitting volumes resulted in a drop of national numbers.
According to the U.S. Census Bureau, local governments across the country approved 31,633 multifamily units during May 2017, a 9.3% dip from a year prior. The monthly figure brought the total year-ending May 2017 authorization count to 358,000 units. That permitting activity represents respective declines of 10.1% and 13.1% from April 2017 and May 2016 annual rates.
Among individual metros, year-over-year changes in May were especially pronounced, with several metros registering major shifts in planned development volumes.
Tampa, narrowly breaking into the monthly top 10 with 765 permitted units, saw permitting activity spike from the May 2016 level of just 40 permitted units. However, the metro has seen elevated development activity over much the past four years as the late-cycle recovery in the economy and apartment market kicked into gear. Further supporting new development, job growth in Tampa has run above the national average for some time, which has helped push up occupancy rates and rent growth levels.
Among the rest of the top 10 metros for May permits, the usual suspects settled into the top three slots, mirroring the 12-month leaderboard. New York and Dallas have been development leaders throughout the current cycle. New York and Los Angeles are metros where housing is underserved, and strong apartment occupancy levels and high rents make the markets attractive options for developers. In Dallas, robust and diverse economic growth has fueled the apartment performance metrics to multi-decade highs.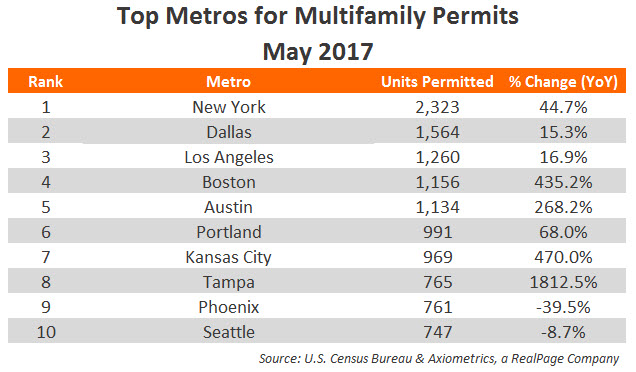 On the annual leaderboard, New York authorized nearly 30,000 units in the year-ending May 2017. While that tally was enough to secure the top spot in the 12-month standings, it marks a 35.3% year-over-year decline in the annual rate. New York is still declining from last year's developer rush relating to tax incentive 421-a.
Runner-up Dallas also saw a drop in activity. The North Texas market permitted 20,638 units for the 12-month period, a year-over-year decline of 16.1%. Overall development activity in Dallas remains at the highest levels since the early 2000s.
Atlanta also saw a double-digit decline (-12.2%) in multifamily permits. Like Dallas, development activity in Atlanta is concentrated in the urban core and affluent northern suburbs. Also similarly to Dallas, Atlanta has seen robust apartment performances in recent quarters.
Most other top 10 metros registered an increase in annual authorizations. Denver and Seattle each saw figures rise more than 25% from May 2016's annual rate. Seattle, which registered impressive 8.0% rent growth in 2nd quarter 2017, continues to absorb product about as quickly as developers deliver it.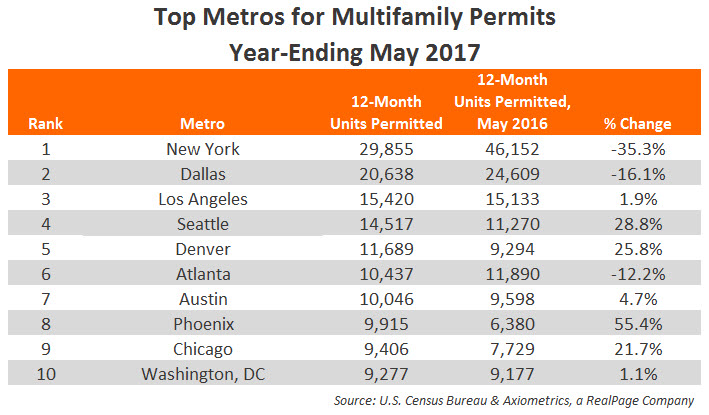 Meanwhile, the roster's greatest spike in authorization volumes belonged to Phoenix. The market permitted 9,915 units during the year-ending May 2017, a year-over-year increase of 55.4%.