May Employment Gains are Strong, But Still Disappoint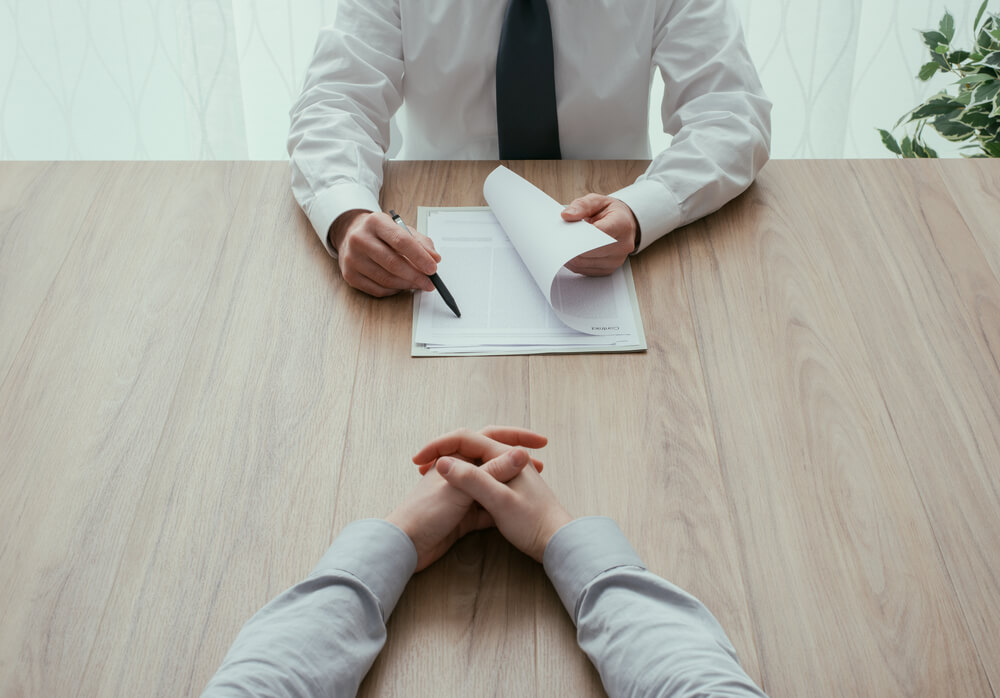 The U.S. employment recovery accelerated in May, but recent gains were still below economists' expectations.
Employers added almost 560,000 jobs in May, according to the Bureau of Labor Statistics (BLS). April's disappointing gains were revised up to 278,000 jobs from the initially reported 266,000 jobs and March's data was revised up by 15,000 jobs to 785,000 jobs gained as the factors hindering a stronger jobs recovery continue to be debated.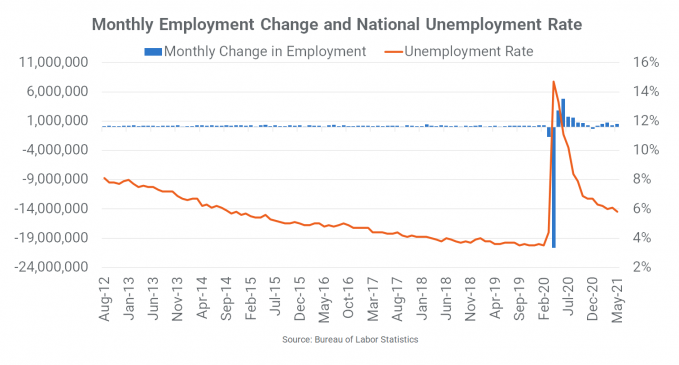 The headline or U3 unemployment rate fell from 6.1% in April to 5.8% in May. However, there are more than 9.3 million unemployed workers and the labor force participation rate ticked down to 61.6%, well below the 63.3% rate before the pandemic began. The U.S. labor market is still more than 7.6 million workers below the pre-pandemic employment level from February 2020.
The torpid pace of economic recovery is being blamed on employer's difficulties in finding workers who may have continued concerns over possible COVID-19 infections, workers with children unable to rejoin the workforce due to school or daycare closures, and an increased rate for worker retirement. Others also argue that enhanced unemployment benefits are keeping some unemployed workers at home.
As the vaccination rate among the population continues to increase, infection concerns should diminish, and most major school districts have committed to full reopenings for the fall. Additionally, supplemental unemployment benefits are scheduled to expire by September (sooner for several states), alleviating some of the headwinds for employers and the unemployed. It remains to be seen if workers who chose to retire during the pandemic reenter the job market, but they may be permanently out of the workforce going forward.
Despite the large numbers of unemployed, the incongruity of employers having difficulty finding workers is placing upward pressure on wages and labor costs. The annual change in average hourly earnings was $0.59 in May 2021, rising to $30.33 per hour, a 2% annual growth rate. That's an improvement from 0.4% annual growth in April. Prior to the pandemic, hourly wages had been growing about 3% annually. The large number of returning lower-wage restaurant and hospitality workers is muting overall wage growth.
The continuing reopening and expanded seating and operating hours of restaurants and other service-oriented businesses is borne out by the sharp decline in the unemployment rate for teenagers (16 to 19), which fell from 12.3% in April to 9.6% in May. Back in May 2020, the unemployment rate for teenagers was 20 points higher at 29%. Additionally, the unemployment rate for men and women both declined 30 basis points (bps) to 6% and 5.5%, respectively. Women were hit harder than men during the early months of the pandemic with an unemployment rate of 14.5% compared to 12.2% for men in May 2020.
As more businesses open their offices to their employees, the percentage of workers that telework fell to 16.6% from 18.3% in April and from 35.4% in May 2020, according to the BLS's supplemental data measuring the effects of the coronavirus pandemic on the labor market. About 7.9 million workers were unable to work because their employer closed or lost business due to the coronavirus pandemic, down from 9.4 million last month. This is far below the 49.8 million reported in May of last year.
The number of people working part-time that want full-time work was virtually unchanged from last month at a little more than 5.2 million but is less than half the figure from last year, while the number of workers who prefer part-time positions has remained near 19 million for the third consecutive month.
The number of unemployed workers on temporary layoff fell by more than 291,000 from April to about 1.8 million, and the number of permanent job losers is just above 3.2 million. Workers marginally attached to the labor force increased to almost 1.9 million in May as the number of discouraged workers stood at 551,000. Persons marginally attached to the labor force are those who currently are neither working nor looking for work but indicate that they want and are available for a job and have looked for work sometime in the past 12 months.
The U6 unemployment rate, which includes part-timers for economic reasons and marginally attached workers, fell to 10.2% in May compared to 10.4% last month and 21.2% in May 2020.
Industry Focus
More than half of the jobs gained in May were in the Leisure & Hospitality industry as the economy continues to reopen. Solid gains were made for the month in the Education/Health Services and Government sectors with only the Construction industry experiencing significant job losses. The remaining industry categories had moderate employment increases for the month.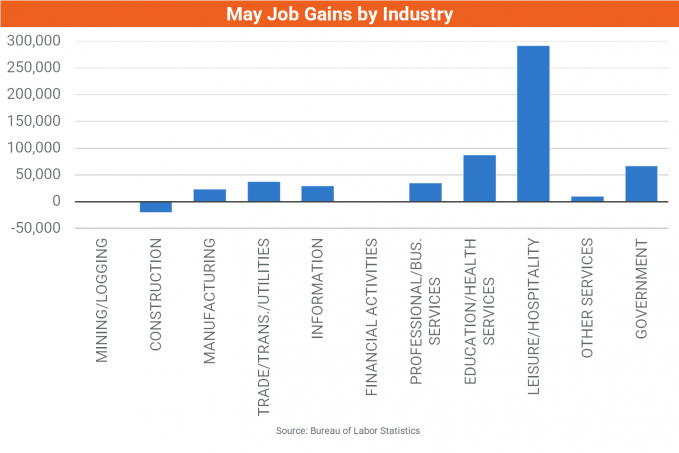 • Almost two-thirds of the 292,000 jobs gained in the Leisure and Hospitality industry were in food services and drinking places (+186,400). Another 71,700 jobs were gained in the arts, entertainment, and recreation sector, particularly in the amusements, gambling, and recreation subsector (+57,900).
• The Education and Health Services industry's monthly gain of 87,000 jobs was almost evenly split between educational services (+40,700) and health care and social assistance (+45,800), with that sector also about evenly split (health care gained 22,500 jobs to social assistance's 23,300 jobs).
• The Government sector's gain of 67,000 jobs in May was all education workers at the state (+50,000) and local (+53,000) levels as layoffs at the U.S. postal service (-14,700) and local governments (-19,800) reduced the monthly total.
• After a significant loss in April tied to food and beverage stores, the Trade, Transportation and Utilities industry bounced back in May with a gain of 37,000 jobs, primarily in transportation and warehousing (+22,900) and wholesale trade (+19,900). Retail trade shed 5,800 jobs for the month with further losses in food and beverage stores (-26,000) offsetting gains in clothing stores (+10,500), department stores (+5,000) and miscellaneous store retailers (+6,000).
• The Professional and Business Services industry also bounced back from strong losses in April in the temporary help services subsector with a total gain of 35,000 jobs in May, three-fourths of that in the professional and technical services sector (+26,000). Meanwhile, the lower-paying administrative and waste services sector added 18,000 jobs for the month, with the services to buildings subsector contributing 12,800 of those new jobs.
• The Information industry experienced a surge of 29,000 jobs for the month with a significant gain in the motion picture and sound recording subsector (+13,900). Solid gains were made in the publishing, broadcasting, and other information services subsector.
• The motor vehicles and parts subsector gained back 24,800 jobs in May, surpassing the Manufacturing industry total of 23,000 jobs. The remaining durable goods subsectors reported mixed results, while nondurable goods manufacturers added a total of 5,000 jobs for the month, mostly in the miscellaneous category (+4,100).
• The Other Services sector had a solid gain of 10,000 jobs in May with a jump of 8,200 jobs in personal and laundry services employment. Membership associations and organizations added 1,700 jobs for the month.
• The Mining and Logging industry gained no jobs in May, as gains in the support activities for the mining subsector (+4,500) were cancelled by losses in logging (-1,100), oil & gas extraction (-1,200) and mining (-2,100).
• The Financial Activities job loss of 1,000 was due to sharp losses in commercial banking (-11,100) and insurance carriers (-4,800) offsetting a solid increase in the real estate and rental and leasing services (+7,500) sector
• The Construction industry lost 20,000 jobs in May with cutbacks in commercial construction the main cause. Nonresidential specialty trade contractors lost 16,800 jobs for the month and heavy and civil engineering construction lost 5,500 jobs. The construction of buildings subsector gained 4,900 jobs with residential building workers accounting for 4,400 of those jobs.