May Could Bring Record Apartment Rent Hikes in Many Markets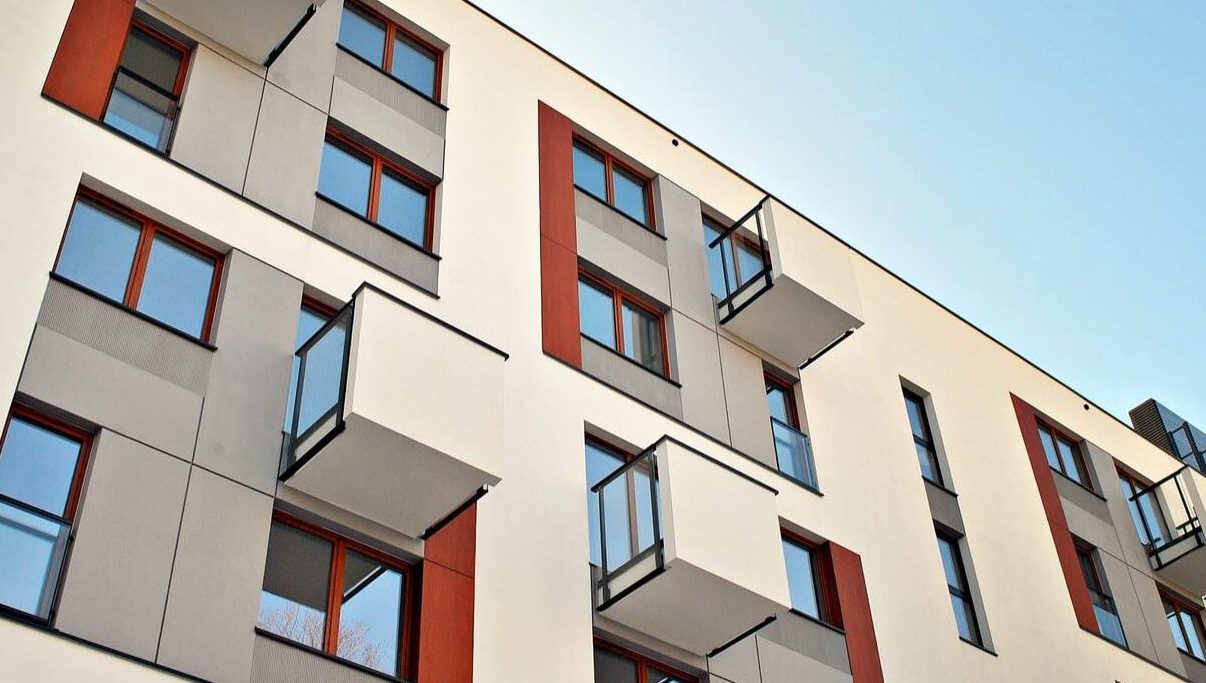 Through the pandemic, apartment rents outperformed most analyst expectations. And coming out of the pandemic, apartment rents could blow the top off all expectations – including our own, which have generally been more bullish than others.
Rent growth on signed new leases in May 2021 could reach double-digits in a surprising number of U.S. markets, based on a mid-month analysis of transacted, actual rent roll data. In turn, the national average will likely top the previous cycle peaks at some point soon.
Large rent increases stem from the same patterns seen in the for-sale home market – huge demand for housing combined with minimal availability, particularly in the suburbs, which are home to about 90% of U.S. apartments nationwide. Rent growth remains far more muted in big coastal cities and in many downtown areas. Additionally, renters renewing their leases for the same unit are seeing substantially smaller rent increases.
The new lease rent analysis is sourced from millions of apartment units running on RealPage's property management, revenue management and analytics platforms. The pricing trends may be less apparent in traditional rent measures based on asking rents sourced from internet listings and phone calls, as these tend to be lagging indicators.
Of course, daily and weekly datasets can be very volatile, and the storyline could shift before month end. But leading KPIs such as abnormally high occupancy rates, elevated lead volumes and normalizing rent collections rates suggest a sudden slowdown in the last two weeks of the month would be unlikely.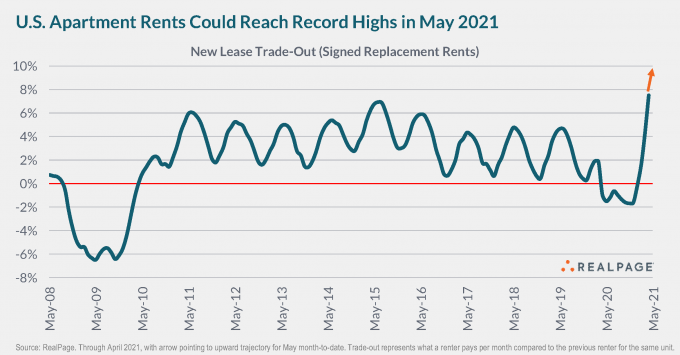 Big rent hikes trace primarily to more demand than supply, especially in the suburbs. Rent growth had been far more restrained than home prices over the last year despite similar demand patterns. The key difference was that individual homeowners could sell at open-market pricing, which often invited bidding wars in this extremely tight market. Apartment operators took a very different approach of capping rent increases for a variety of reasons, even when fundamentals pointed to achievable large hikes.
Strong demand is pushing apartment occupancy to uncomfortably high levels in many locations. Industry best practice is to set a "sustainable capacity" level – target occupancy – somewhere in the mid-90% range. Revenue management strategies are designed to keep occupancy in the target range by attaching rent premiums for demand exceeding those thresholds. Demand is so strong in many markets that renters are willingly paying those premiums. Not coincidentally, renter income levels (based on applications) are also rising, suggesting little difficulty paying the higher rent.
At the same time, renters are also signing for longer lease terms – more than a half month longer on average compared to the same time one year ago. Typically, longer lease terms would be associated with a lower average monthly rent, but the pattern has inversed in 2021.
New lease trade-out in April (7.5%) already surpassed the previous cycle high (6.9%) and are likely to go even higher when the final numbers are processed for May. That metric compares the rent signed by a new tenant compared to the rate paid by the previous occupant of the same unit.
By comparison, the traditional measure of rent growth is based on asking rents for new leases minus an offered concession without providing any visibility into what renters actually sign for. The modern historical high was set during the tech boom in summer 2000, when growth hit 7.5%. At the peak of the last cycle, rent growth reached 5.4% in September 2015. It's important to note that apartment rents never fell much last year outside of coastal markets, so contrary to some views, the growth of 2021 is not merely offsetting cuts from 2020.
Large rent increases are arriving even as resident retention drops to more normal levels. Retention skyrocketed last year when renters couldn't or wouldn't move. Normalizing retention is actually a big win for apartment operators right now, as they're typically able to quickly backfill units at much higher rents than what they'd charge for a renewal. Those gains provide a big boost for apartment owners and operators, who last year absorbed unexpected costs while seeing revenue come short of budget.
High occupancy and large rent hikes are unlikely to go away very quickly. Unlike the single-family market, new apartment supply was already primed to jump in 2021. More than 400,000 market-rate apartment units are scheduled to complete this year, compared to about 341,000 in 2020. But that wave is unlikely to cool the apartment market substantially. Many of the new projects are concentrated in high-density neighborhoods, where demand is improving but vacancies remain plentiful. Conversely, most suburbs nationally have seen – and will continue to see – restrained inventory growth despite mounting pent-up demand.