May Apartment Rent Payments Make Progress in Week 2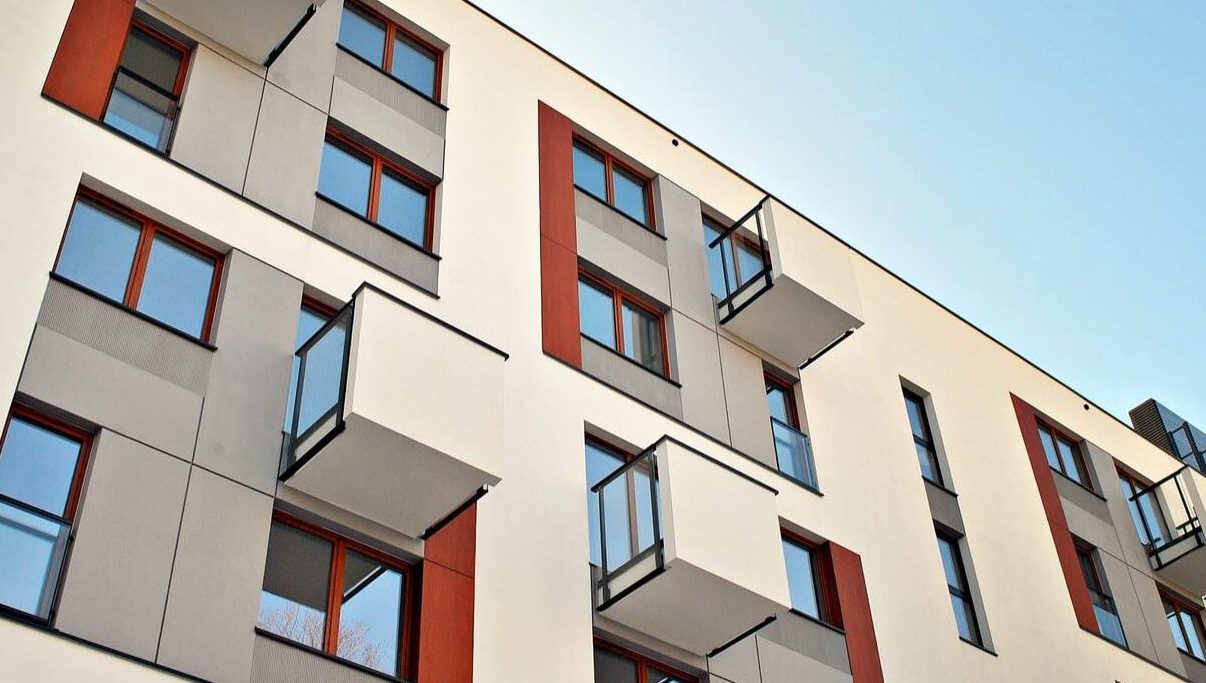 The share of U.S. apartment residents who have paid rent for the month of May continues to climb. As of May 13, payments are in for 87.7% of households, up from 80.2% who had paid through May 6.
The weekly progress is encouraging, as recent big job losses made it unclear whether those who didn't pay right away at the start of May would have the ability to meet their rent obligations.
Monthly payments through May 13 continue to trail year-ago results, but the shortfall is small at 2.1 percentage points.
These national statistics come from information that the National Multifamily Housing Council has compiled from five key property management software providers, including RealPage. The data set covers 11.4 million units.
Payments Vary by Product Price Point
RealPage statistics show that 89.4% of households living in luxury Class A properties have paid their rent for May, while that figure is 88.9% in middle-tier Class B projects. However, those living in lower-level Class C communities are struggling a bit more, with 83.1% of the monthly rent payments received so far in that product niche.
Workers in the hospitality and retail industries have been hit especially hard by the economy's pullback, and many who had been employed in those sectors live in Class C apartments. Furthermore, those on the lower end of the income spectrum rarely have any financial reserves that would help them cope with income interruptions.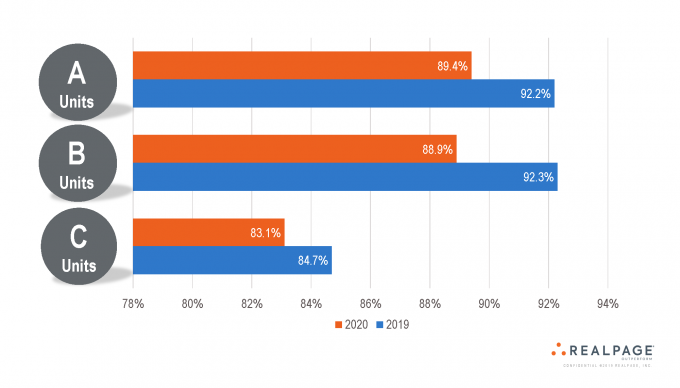 Local Differences Tend to Be Tied to Economic Specialties
Markets with lots of technology and government and defense jobs tend to lead for rent payment rates. Rent has been collected from 93% to 94% of the apartment residents across Sacramento, Virginia Beach, Riverside-San Bernardino, Portland, Denver and San Jose.
Renters also tend to be paying at rates above the U.S. norm in Texas, the Carolinas and select Midwest metros like Cincinnati, Minneapolis-St. Paul and Chicago.
The lowest payment rates – rents have been collected from only about 84% of the renters – are in New Orleans, New York and Las Vegas. These three metros have been rent payment laggards in every reporting period over the past couple of months.
In Los Angeles, 89.3% of apartment residents have paid rent as of May 13. While that's a little above the national norm, it's notable that the collection rate is down 5.5 percentage points on an annual basis.
Payments also lag year-ago collections by meaningful margin across Florida's hospitality-heavy metros like Orlando and Fort Lauderdale.
There Are a Few Other Metros to Monitor
In last week's early May reporting, RealPage identified four metros to watch for the reminder of the month, as rent payments seemed to be deteriorating despite local economies that contain a generally favorable mix of industries.
Concerns remain through the second week of May in Atlanta (collections off 4.4 percentage points annually to 89.8%) and Seattle (collections off 4 percentage points annually to 90.6%).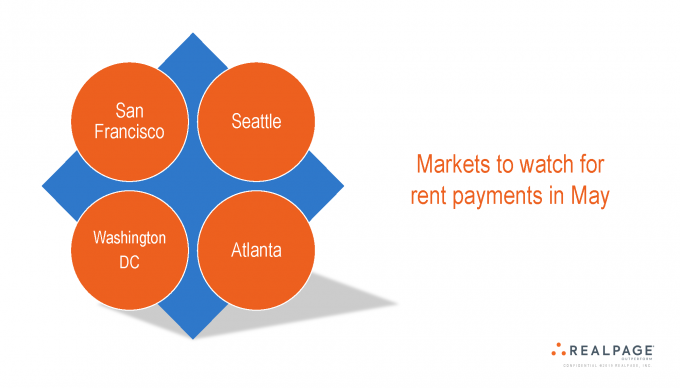 The share of apartment residents paying rent is still off more than 3 percentage points in San Francisco and Washington, DC, but there has been more weekly progress in collections for these spots than in Atlanta and Seattle. In metro Washington, DC, payments appear to be lagging most notably in the Maryland suburbs. The Washington Post reports that the state of Maryland has been unusually slow to process unemployment claims.