Long-Time Leader Sacramento Slips in Latest Rent Growth Rankings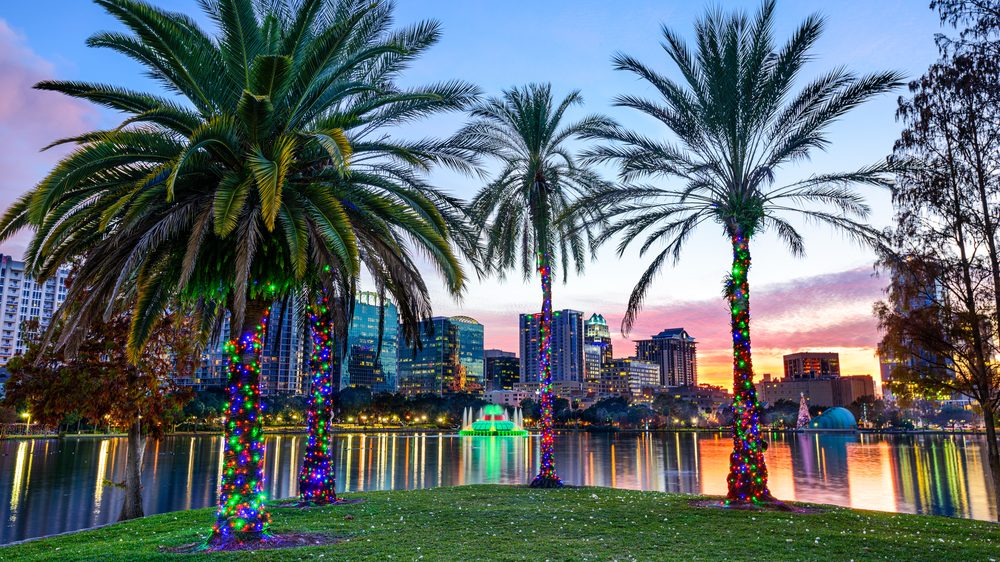 After reigning as the nation's rent growth leader since mid-2016, Sacramento slid in the early 2018 rankings, displaced by a pair of outperforming metros where growth has held relatively steady in recent years.
With annual rent growth of 6.7%, Orlando landed atop the leaderboard in 1st quarter 2018, followed by Las Vegas, where rents climbed 6.3% in the past year. The 6%-plus performances in both markets pushed Sacramento down to #3, as the California capital registered growth of 5.9%.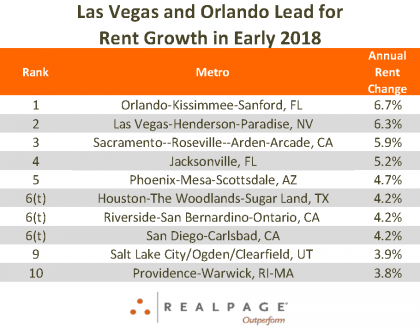 Solid performances have been the norm for all three of these metros over the past four years. Increases since 2014 have averaged about 5.5% in both Orlando and Las Vegas, with most performances remaining in range of that number throughout the past four years. Sacramento has seen more fluctuations, with performances reaching double digits in 2016 before slowing.
The recent 5.9% increase is Sacramento's smallest since mid-2014. Slowing comes despite conditions that drove rent growth in recent years – namely tight occupancy and limited apartment development – remaining in place. However, it appears the runway for additional rent growth is limited, as rents in Sacramento have climbed more than 40% during the current cycle.
By contrast, rents in Orlando have climbed 35% since 2010. Additionally, occupancy is well above the long-term historical average and has been hovering right around the 96% mark for the better part of four years now. An increasingly diverse, steadily growing economy contributed to Orlando's recent success, despite elevated volumes of apartment deliveries.
On the other hand, Las Vegas was among the last major U.S. markets to recover from the Great Recession, and rents have risen less than 20% since 2010. Since occupancy approached the essentially full mark in 2016, the Sin City metro has been steadily climbing the national rent growth ladder. Contributing to the rise of Las Vegas price positioning were manageable supply volumes and a diversifying economic base.
Other top rent growth metros in early 2018 include Jacksonville and Phoenix, with increases in both markets around 5%.
Jacksonville has only recently seen improved momentum. But Phoenix is not a newcomer to the national rent growth leaderboard. This metro has been logging price hikes above 4% for almost four years now. Performance has been strong across nearly every market segment in Phoenix, despite elevated supply volumes.
Meanwhile, rent hikes were around the 4% mark in Houston, Riverside/San Bernardino, San Diego, Salt Lake City and Providence.
At 4.2%, rent growth in Houston is well above the metro's historical average, as the market's performance strengthened following Hurricane Harvey.
Riverside/San Bernardino and San Diego have generally followed the Southern California trend of solid rent growth in recent years. However, the region is showing signs of moderating performance in recent quarters.
Meanwhile, Salt Lake City and Providence have been steady outperformers with fairly consistent growth over the past two years.