Larger, Southeast Schools Outperform for Off-Campus Housing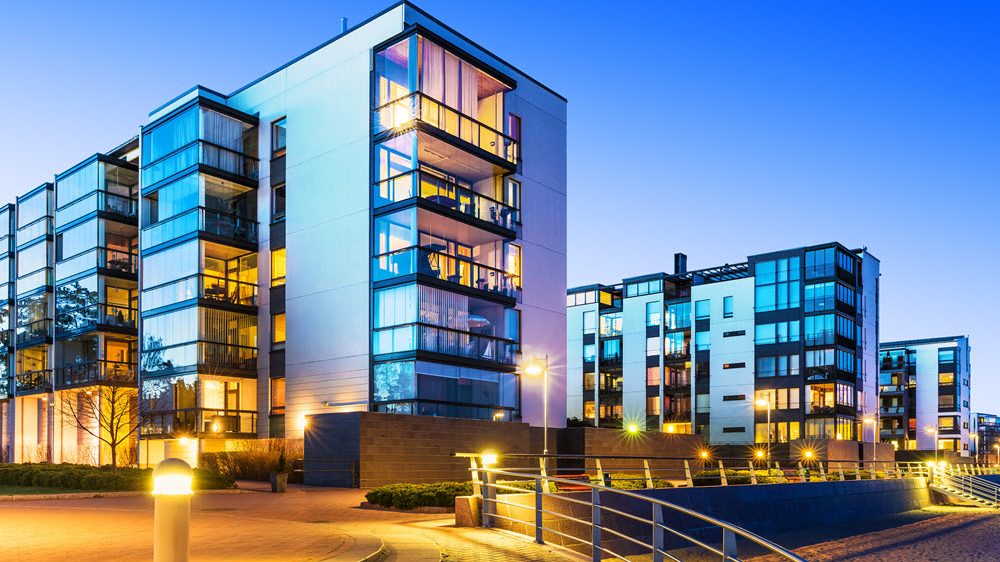 Student housing performance for the nation overall may be lackluster, but as usual in student housing world, there are some distinct winners and losers.
As of February, 40.5% of beds at the 175 core universities tracked by RealPage had been pre-leased for the Fall 2021 academic year, and total annual effective rent growth for Fall 2021 stood at a mere 0.1%. However, the 10 schools leading for both pre-lease rates and rent change as of February are vastly outperforming, and they tend to share several key characteristics.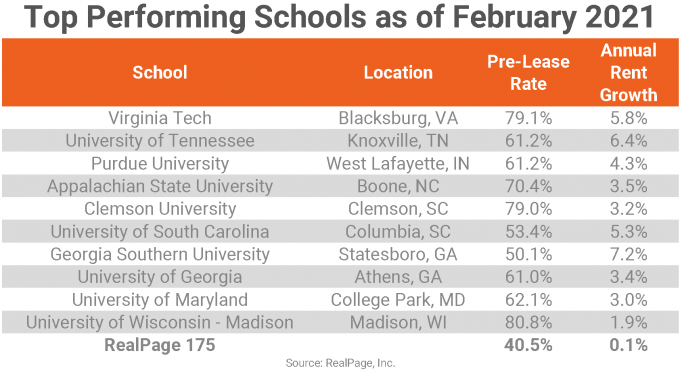 Four of these outperforming schools recorded pre-lease rates of 70% or higher: University of Wisconsin – Madison (80.8%), Virginia Tech (79.1%), Clemson (79.0%) and Appalachian State (70.4%). Four others saw rates around 60%: University of Maryland (62.1%), University of Tennessee (61.2%), Purdue (61.2%) and University of Georgia (61%). The remaining outperformers – University of South Carolina and Georgia Southern – were more than 50% pre-leased for the Fall 2021 semester as of February.
Strong pre-lease rates at these schools enabled strong rent growth, as well. Georgia Southern led, with a 7.2% increase over last year, followed by Tennessee (6.4%), Virginia Tech (5.8%) and South Carolina (5.3%). The remaining schools saw rent growth of 3% to 4%, with the exception of Wisconsin, where rents rose 1.9%.
A Southeastern Scene
These 10 top performing schools share several commonalities, but the one that probably stands out most is that they are geographically concentrated in the Southeast. Virginia, Maryland, Tennessee, Georgia and the Carolinas house many of these campuses, which have benefited from the population and economic growth in the region in recent years. Most of these top performing schools also announced early in the leasing season that in-person classes would resume in the Fall semester, giving students and parents increased confidence to make their housing commitments for the upcoming academic year.
A Growing Student Body
Next, enrollment growth at these large schools has been generally healthy – both in 2020 and in pre-pandemic years. With the exception of Wisconsin's flagship campus, all of these schools have seen better-than-average enrollment growth since 2016. Three of them – Georgia Southern, Clemson and Purdue – have averaged double-digit enrollment growth in the past five years. Enrollment growth rates at two others – Appalachian State and Georgia – are at least twice the RealPage 175 average.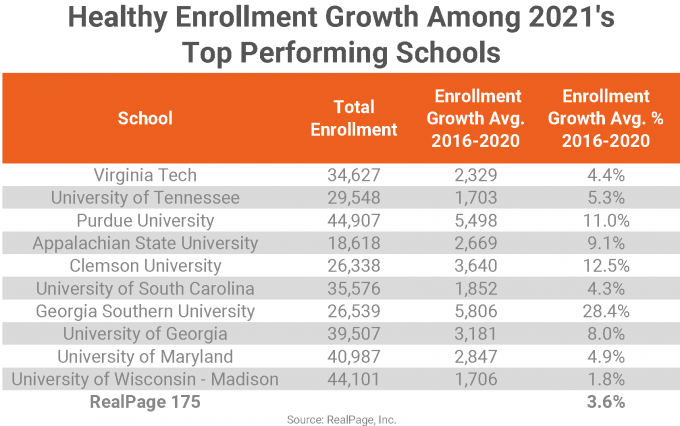 Additionally, these 10 schools have similar enrollment sizes, most with more than 25,000 students. These large schools still don't boast the massive populations of, say, Arizona State, Texas A&M, Central Florida or Ohio State, but their sizable student bodies insulate them from minor swings in enrollment each year.
A College Town
This year's top performers also tend to be located in college towns where there's less conventional apartment product to compete with purpose-built student housing. At most of these campuses, purpose-built student beds make up at least half of rental housing within three miles of campus. In the case of Georgia Southern, Appalachian State and Clemson – each in small towns with populations of roughly 30,000 or less – it's not surprising to see purpose-built beds make up the overwhelming share of off-campus student housing options. As a result, these campuses tend to lease up quickly as student-viable housing options are generally limited.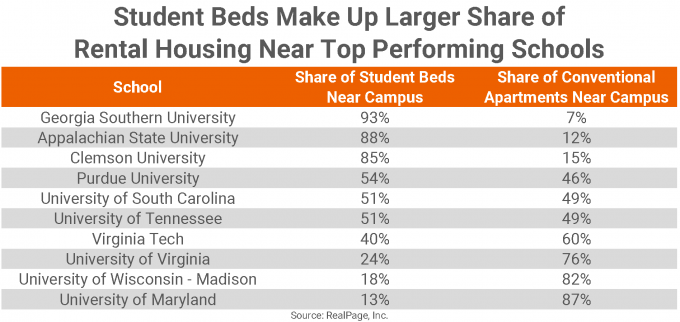 Additionally, the relative isolation of these college-town campuses helps to protect potential housing demand. For example, schools such as Virginia Tech, Appalachian State and Clemson are a considerable distance from a larger urban node where housing is more plentiful. This hampers the ability of students live away from campus and commute to classes each day. The lower share of commuter students indicates the local student population is a better reflection of potential demand than at many urban- or suburban-type campuses, which may have significant numbers of commuting students.