High-Development Markets Offer Steep Rent Concessions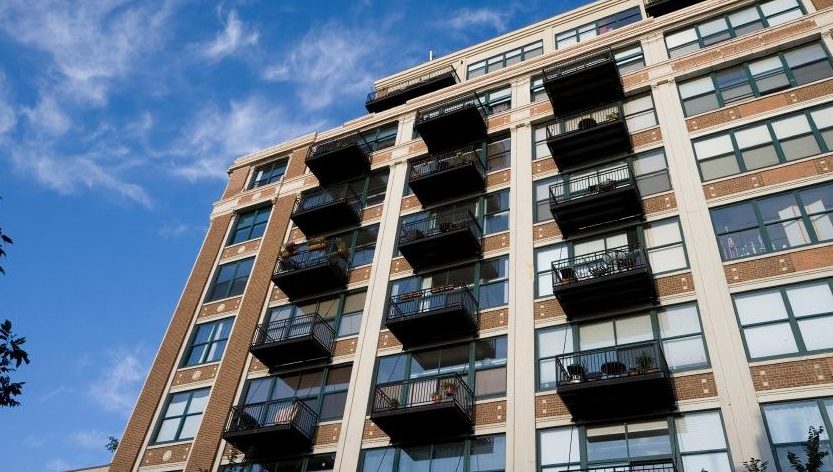 Of the nearly 555,000 apartment units under construction across the U.S., more than half – 51% – are concentrated in just 15 markets. These high-development markets, including many in Texas and the Sun Belt, have all seen at least 32,000 units and up to 132,000 units delivered since 2010, when this economic cycle began.
With so much new supply coming online in these 15 markets, operators of new properties often turn to concessions to entice renters to lease up the property. Such concessions generally come in the form of free rent. Markets with the steepest rent concessions tend to be in high-construction markets.
As of January 2020, Charlotte claimed the title as the market with the highest lease-up concession value. At 10.8%, Charlotte renters moving into newly-built properties are getting about five weeks of free rent, on average. That operators here are offering such large rent discounts is not surprising. Charlotte is no stranger to lots of new apartment development, seeing the most inventory growth of any large market this cycle. But at 9,100 units, scheduled completions in 2020 represent the biggest block of new supply this market has seen in any 12-month period in decades.
Charlotte's concession value is followed closely by Chicago, Washington, DC, Houston, Atlanta, Miami and Los Angeles, which are all seeing rent discounts at or above 10%. These high-development markets have also seen huge blocks of new supply in the last decade. Both Washington, DC and Houston have seen more than 100,000 new units complete since 2010. Chicago, Atlanta and Los Angeles have all gained more than 54,000 new units in the last decade. Completion volumes in all but Chicago are scheduled to surge in 2020. Chicago's scheduled completions are on par with 2019's elevated delivery totals, and development there remains highly focused in the urban core area.
Los Angeles, in particular, will see an aggressive spike in deliveries in 2020. The number of new units on tap – 17,700 – are huge relative to the market's recent completion volumes. And like Chicago, development in LA is concentrated downtown and in a handful of adjacent areas.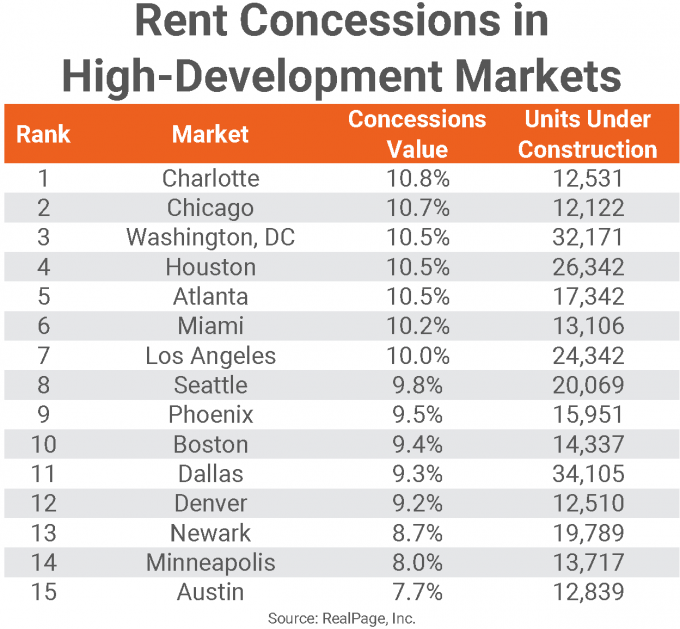 In Houston, which is typically a market with high concessions, the value of concessions has subsided from 2018, when development slowed as market fundamentals weakened. Following some stronger demand showings in 2019, however, the market appears to be recovering from the Hurricane Harvey-related ups and downs. As such, development has returned, and the market now has more than 26,000 units underway. That represents about a quarter of the total number of new apartments built in Houston since 2010.
Increased development activity is also inflating concessions in Seattle, Phoenix, Boston, Dallas, Denver, Newark, Minneapolis and Austin. Operators in each of those markets are offering about one month of free rent in order to build their initial resident bases.
Furthermore, markets that have seen consistent blocks of new supply delivering for several years – markets like Seattle, Austin, Dallas, Houston and Washington, DC – tend to reappear on this list of highest concession values year after year. Dallas has added nearly 133,000 new units since 2010 – the most in the nation. Houston has added about 112,000 units, Washington, DC has added about 104,000 units and New York has added about 98,000 units.
Though the three Bay Area markets were not among the top 10 for construction volumes, about 18,000 units are scheduled for completion in 2020. That volume would top 2019's completion total by about 150%, among the largest increases nationally. With such a big block of new product on the way, lease-up concession in San Francisco, San Jose and Oakland are among the highest nationally. Operators are offering rent discounts of 10% to 11.5% in each market as of January.