Following Cuts Last Year, Austin Rent Growth Now Lands in Top 15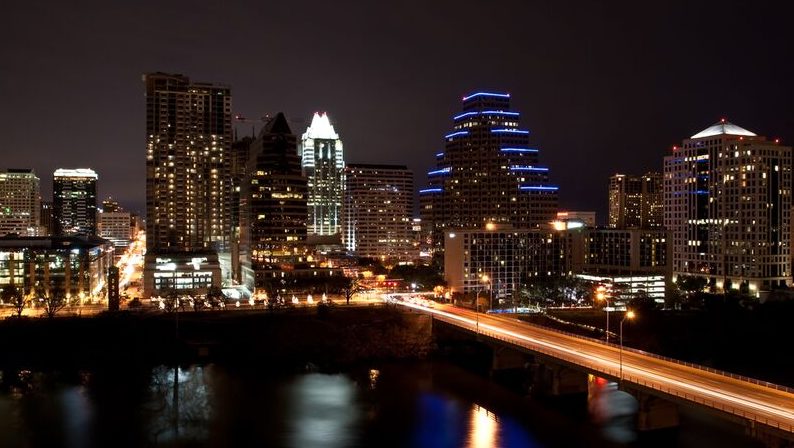 True to form for Austin, rent change over the last several years has been, well, weird. After seeing essentially no growth for the last several months, rent growth has regained its footing to stand at 4.2% as of November 2018.
That increase was the 13th largest among the major markets in November. That's a far cry from a year ago, when Austin's 0.8% cut was the nation's worst performance.
The market's previous lackluster rent performance was predominantly driven by negative rent change in Class B and C units, following a slowdown in Class A performance. Cuts were especially severe in the lower-tier stock. For nearly 18 months, Class C properties saw negative change, dipping to -2.7% at its lowest point in October 2017. Rent performance first turned positive in July 2018, and Austin's Class C properties are averaging 2.3% growth today.
Austin's Class B stock saw negative change that bottomed at -1.1% in March 2018 before turning positive in June. This middle-market segment recorded growth of 4.2% in November.
As the middle and lower end of the market drove performance into negative territory, the top end is driving it up. Class A rent growth now sits at 6% as of November. That's significant improvement after rents flattened from mid-2016 to mid-2017.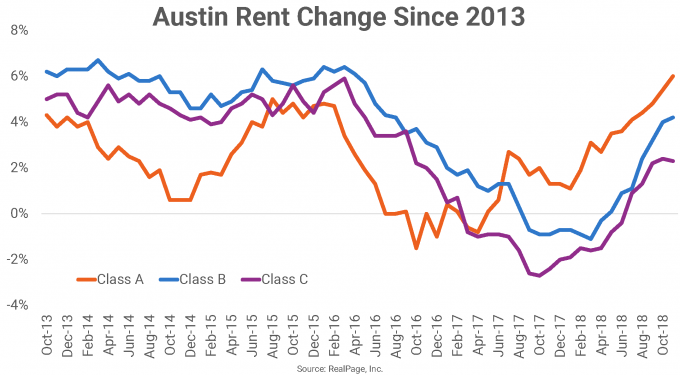 In looking into a primary driver of multifamily demand – job growth – we can make sense of Austin's rollercoaster rents. Though the Austin metro, which employs about 1.1 million people, has been a national leader in job growth this cycle, some key employment sectors have fluctuated, according to the Bureau of Labor Statistics. Class A performance stalled as gains in Professional/Business Services slowed in 2016 due to a shortage of skilled workers, especially for high-paying technology positions. Leisure and Hospitality employment took a dip in 2017, which is also when rent change in Class C turned negative.
Government, usually a stable anchor for the Texas capital, also experienced job cuts from mid-2017 to mid-2018, led by cutbacks in state government.
Slowing growth in private-sector jobs stemmed from low unemployment. Austin has clocked low unemployment rates around 3% since 2015. In many sectors, there are simply not enough qualified applicants to fill open positions.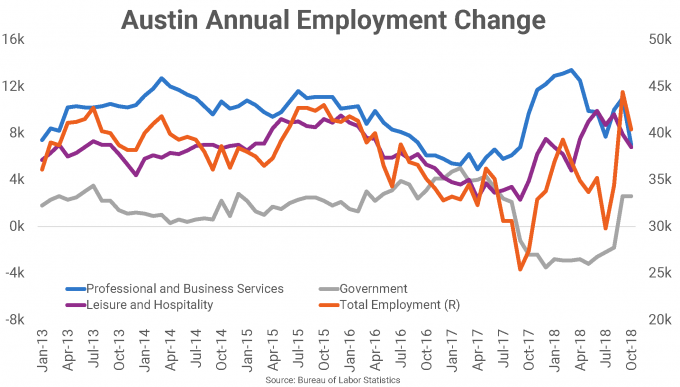 From a submarket view, areas with high concentrations of Class B and C stock have generally followed product-level trends. These include several northern and western areas from Far West Austin to Pflugerville/Wells Branch.
Meanwhile, three submarkets that are some of Austin's largest and most culturally significant geographies – Downtown/University, East Austin and South Austin – have seen varying levels of supply and rent growth throughout this economic cycle.
After a couple years hovering just above and below stagnant rent change, Downtown/University stands at 6.7% growth in November 2018, making it the best-performing submarket in Austin, counter to national trends. And after growing inventory by as much as 6.5% annually over recent years, downtown construction has slowed. The submarket has added virtually no new units to its stock so far in 2018 and has less than 500 units in its pipeline.
East Austin, alternatively, has a full pipeline and plans to add approximately 1,500 more units to the 15,000-unit submarket over the next year. The submarket saw its weakest performance of -0.6% in April 2017, with the metro as a whole growing at an uninspiring 0.3% annually.
In South Austin, where the apartment stock has grown nearly 34% in the past five years, rents are averaging 5.8% growth after 2017 was essentially flat. In 2019, no completions are expected, which should allow recently completed supply to lease up and occupancy in the submarket to rebound.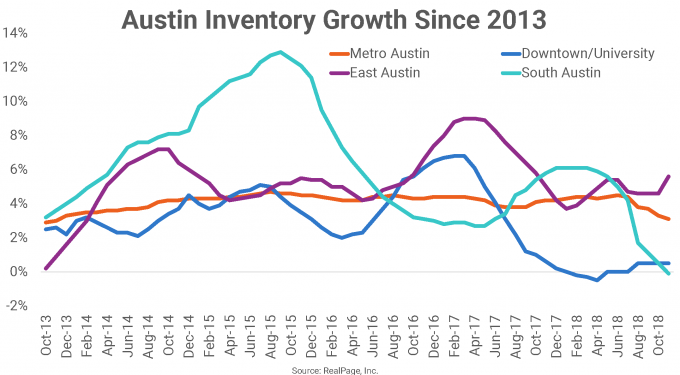 Although Austin's supply had been growing at 4.5% annually, completions are scheduled to ease in the year ahead. Annual deliveries topped 10,000 units as recently as mid-year. But as of November, Austin has the least amount of units under construction since mid-2014. And deliveries in the year-ending November are scheduled to come in at the lowest level since 2014.