Five Adaptive Reuse Stories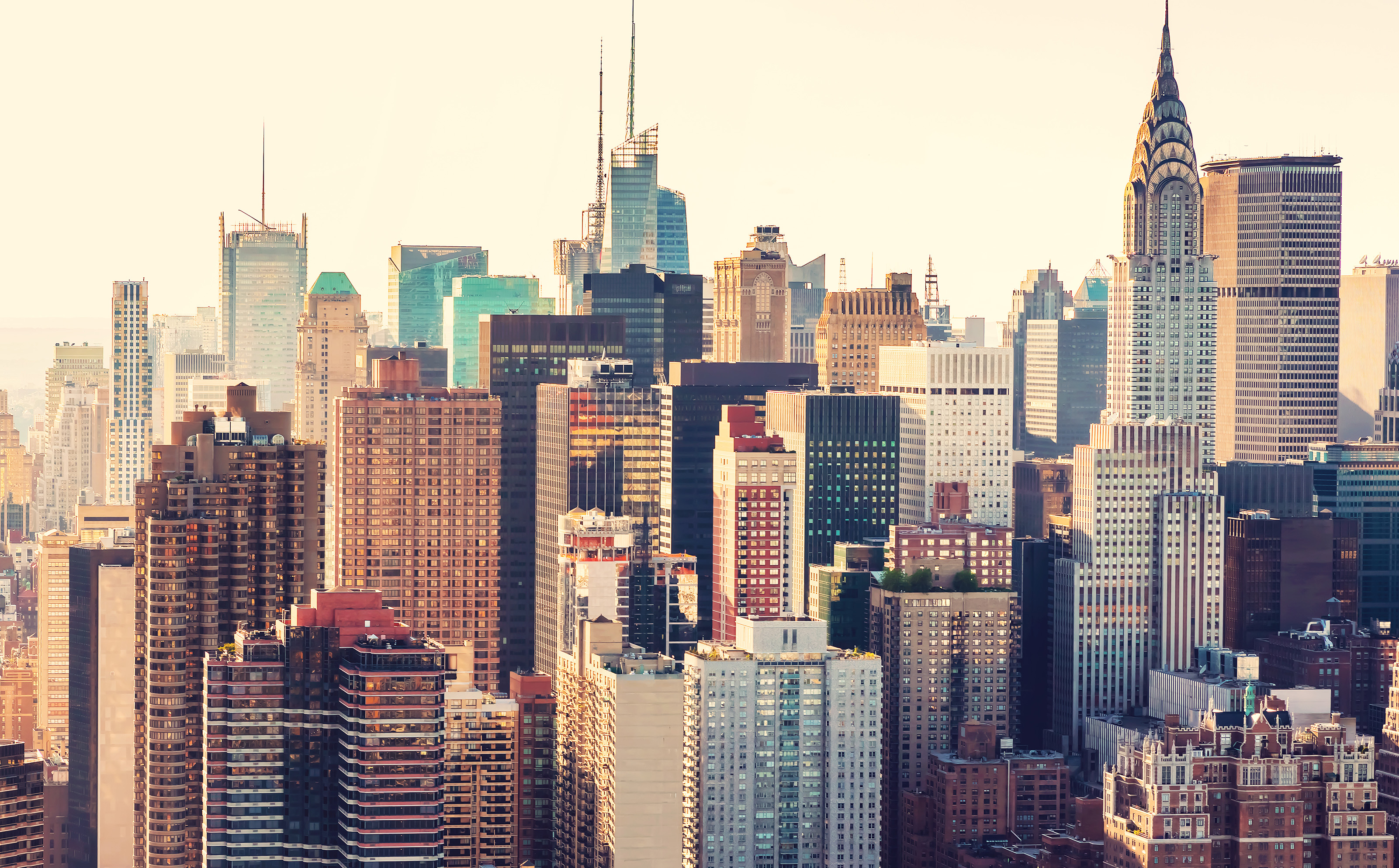 With demand for rental apartments continuing to rise, some apartment developers are choosing to rehabilitate existing structures and repurpose them into apartments. Nothing seems to be off limits, as developers have used office buildings, schools, hospitals, churches, warehouses, mills, hotels, factories and breweries. Adaptive reuse projects are most common in urban areas where vacant land is scarce and where there are plenty of buildings with unique architectural features to be preserved.
Why are developers drawn to adaptive reuse projects? There are three main reasons developers choose to repurpose existing buildings rather than build projects from the ground up: cost savings, tax benefits and environmental sustainability.
Cost Savings
The first and foremost reason a developer might choose an adaptive reuse project instead of new construction is cost savings. According to Trade and Industry Development, construction costs for a complete building rehabilitation is about 16% less than new construction. And the construction timeline can be reduced by 18%, which also reduces labor costs.   
Tax Benefits
In addition to saving money on the constructions phase, some projects may be eligible for tax benefits. The Federal Historic Tax Credit (HTO) offers up to a 20% tax credit over a five-year period for certified rehabilitation of historic structures. Some local governments also offer tax incentives.
Environmental Sustainability
Another benefit of adaptive reuse projects is that they are good for the environment. Adaptive reuse projects use less building materials than new construction. There's less production of materials to build the project and less transportation of materials to the job site, therefore decreasing the development's carbon footprint. Without complete demolition, there's also less heavy machinery and less energy involved.
Following are some examples of adaptive reuse apartment projects from around the country that RealPage has identified as either recently completed or under construction.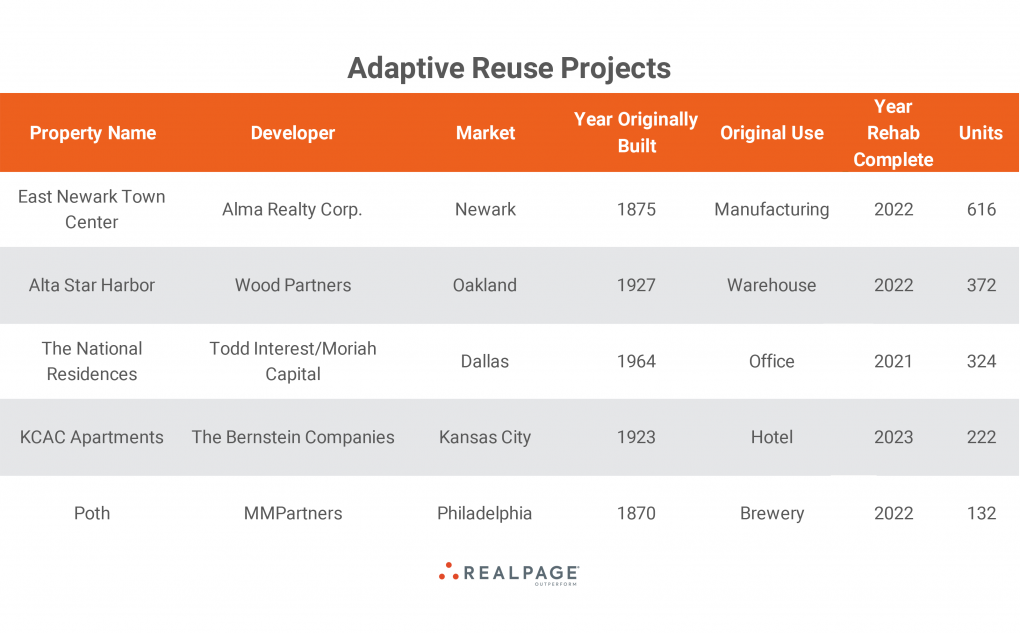 East Newark Town Center
Developers broke ground in 2020 on the redevelopment of the Clark Mill Complex. The property is on Passaic Avenue near the Passaic River in East Newark, within the Hoboken/North Hudson County submarket. Queens, NY-based developer Alma Realty Corporation is undertaking the project that once housed the country's largest thread manufacturing firm. The brick industrial buildings were built in 1875 on 13 acres and are now part of East Newark's Clark Thread Company Historic District which is listed on the National Register of Historic Places. Plans for East Newark Town Center call for turning eight structures into 616 residential units, plus roughly 91,000 square feet of retail space and about 4,400 square feet of commercial space. Virtually all the buildings will be preserved, and their interiors modernized. The redevelopment of the Clark Mill Complex is the largest project in East Newark in decades and is scheduled for completion in late 2022.
Alta Star Harbor
In late 2019, Atlanta-based Wood Partners broke ground on Alta Star Harbor, the redevelopment of a historic Del Monte Warehouse in the Oakland market. The property at 1501 Buena Vista Avenue in the Oakland/Berkeley submarket will be the first market-rate apartment development on Alameda Island in more than 40 years. Wood Partners is developing 10 acres, incorporating the six-acre historic site. The 240,000-square-foot warehouse, which was built in 1927, is 1,000 feet long and 240 feet wide and was originally used to store salmon from Alaska. Project plans include the redevelopment of the warehouse as well as new construction which will house 372 apartments, lofts and townhouses, plus 11,000 square feet of ground-floor retail space. Amenities at Alta Star Harbor will include a fitness center, resident lounge and multiple rooftop decks. The community is expected to open in early 2022.
The National Residences
Dallas-based Todd Interests in partnership with Moriah Capital redeveloped the First National Bank tower at 1401 Elm Street in downtown Dallas after the building stood vacant for more than a decade. With 52 stories, it was the tallest building west of the Mississippi River when it delivered in 1964. Now it is the 10th tallest building in the city of Dallas. The redevelopment of the 1.5 million-square-foot building in Intown Dallas was completed in 2021 at a cost of $450 million, one of the biggest adaptive reuse projects in Dallas. The developer received $100 million in historic tax credits and received $50 million in Dallas tax increment financing. The high-rise contains a 219-room luxury Thompson Hotel and 324 apartment units on floors 22 through 48, plus 37,000 square feet of office space and 43,000 square feet of retail space. Residents have access to Thompson Hotel services such as traditional room service and maid service. Other amenities include a pet concierge service that will care for, groom and board pets on site, a golf simulation room, poker and pool tables, a private wine room, an elevated pool, and an outdoor bar and restaurant on the ninth level.
KCAC Apartments
Washington, DC-based The Bernstein Companies is in the process of converting the 23-story Mark Twain Tower in Kansas City to market-rate apartments. The company plans to invest $60 million to revamp the building into the KCAC (Kansas City Athletic Club) Apartments, with 222 units and 18,000 square feet of ground-floor retail space. The Kansas City Land Clearance for Redevelopment Authority board granted a 10-year, 90% tax abatement to Bernstein to convert the building into apartments. The historic structure at 11th Street and Baltimore Avenue in the Central Kansas City submarket was designed in the Late Gothic Revival style and opened in 1923 as the Kansas City Athletic Club. The club included a near Olympic-size swimming pool, a gymnasium, squash and racquet ball courts and a two-story ornate ballroom on the fifth floor. Those amenities, which will be preserved as part of the redevelopment, occupy more than half the space in the building. The Mark Twain Tower was the home of the Hotel Continental from 1938 to 1983, when the building joined the National Register of Historic Places. A Playboy Club made its home on the 22nd floor in the 1960s and 1970s. Renters are expected to start moving into the building in late 2022 with the entire project slated for completion in early 2023.
Poth
After sitting vacant for nearly 20 years, the 150-year-old former cold storage facility of F.A. Poth Brewery Company in Philadelphia is getting a new lease on life. Philadelphia-based developer MMPartners (MMP) is turning the 200,000-square-foot building into 132 loft apartments with 25,000 square feet of retail space. The new apartment community will also feature an indoor parking garage and many of the features from its original design in 1870. The building, at 31st and West Jefferson Street in Northeast Philadelphia's Brewerytown, is the last remaining structure at the brewery site and is one of the last remaining 19th century brewery structures in Philadelphia. It is an example of the Rundbogenstil-style industrial architecture designed by architect Otto C. Wolf. The brewery went out of business due to Prohibition and was used for other uses until the Red Bell Brewing Company returned the facility to its original function in 1996. The building went into foreclosure in 2002 after Red Bell's stock tanked and the company lost their brewing license. MMP bought the structure in 2018 for $4.1 million and plans to invest $37.6 million in the project. The company has received $5.5 million in historic tax credits. The redevelopment of the five-story building is scheduled for completion in spring 2022.