Familiar Markets Make Up Bulk of Construction Activity in Mid-2021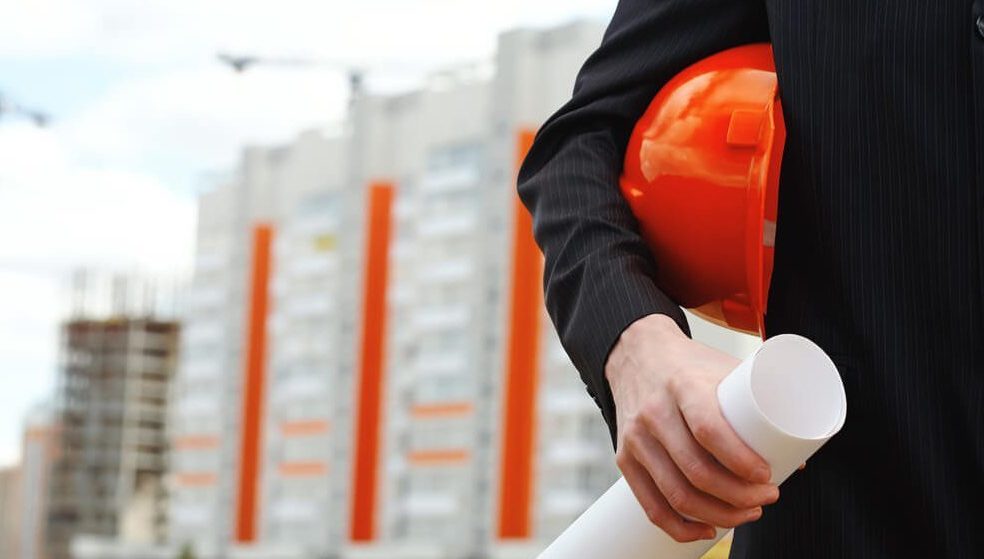 U.S. apartment construction volumes are elevated, and a handful of familiar markets make up the bulk of activity.
As of 2nd quarter 2021, over 623,500 units were under construction in the 150 largest U.S. apartment markets. This marks the 11th consecutive quarter of apartment construction activity exceeding 600,000 units. While the latest construction number doesn't quite match up to the over 690,000 units that were underway a little over a year ago in 1st quarter 2020, it still is one of the highest construction numbers on record.
Units currently under construction in the U.S. translate to near-term inventory growth – within the next 18 or so months – of 3.4%. In the coming year, alone, inventory growth is slated for 2.2%, which is up slightly from the prior year's growth.
A good portion of this elevated construction activity is focused on a handful of key apartment markets. Only 13 markets nationwide account for nearly half of apartments under way. Each of those 13 markets have more than 15,000 units under construction.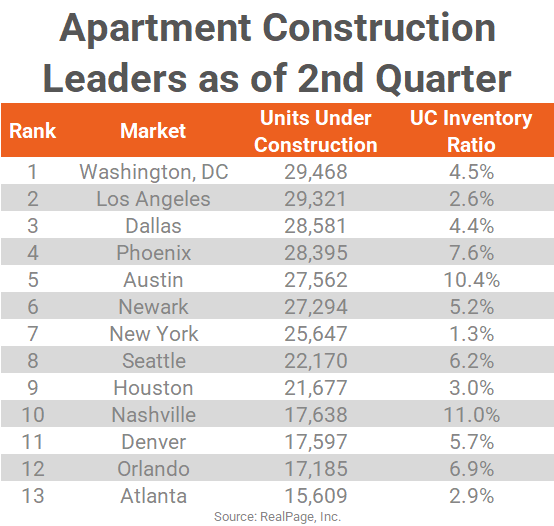 The apartment markets on this list of construction leaders is familiar, as several of the areas with big blocks of product under way now have regularly led the nation for deliveries in recent years. In fact, the list of markets with more than 15,000 units under way in mid-2021 reads nearly identical to last year's list.
Construction leaders, unsurprisingly, tend to be in regions and markets where a swelling population has necessitated more housing and a diverse, healthy economy keeps investors and developers confident in lease-up potential. In addition to gateway markets that often claim large volumes of new supply, several Texas and Sun Belt markets make the list, where some suburban nodes are growing nearly as fast as urban cores.
As of 2nd quarter 2021, Washington, DC is the nation's construction leader, with nearly 29,500 units underway. This market has already been a new supply leader in recent years, with the local inventory increasing more than 20% over the past decade. The volume of stock under way is set to increase the existing stock by another 4.5%.
Los Angeles has over 29,300 apartments currently under construction, with that stock sets to increase the existing base by 2.6%. In the past decade, over nearly 67,000 units were delivered in Los Angeles. While that was one of the biggest completion volumes nationwide, deliveries resulted in a minor volume increase of 6.8% due to the already huge apartment base in Los Angeles. New supply in recent years has been focused in the Downtown Los Angeles, Mid-Wilshire and Burbank/Glendale/Pasadena submarkets. Moving forward, Mid-Wilshire and Downtown Los Angeles are scheduled to continue receive the bulk of activity.
Dallas is also no stranger to big construction activity. This market saw nearly 153,400 new apartments delivered in the past 10 years, which was more than any other market nationwide and increased the existing stock by 31.2%. Now, there's another 28,600 units under way, set to up the inventory base by another 4.4%.
Phoenix has the most product under way completing within the coming year, with nearly 20,100 units set to complete in the next 12 months. That accounts for the bulk of the nearly 28,600 units currently under construction, which will up the inventory base here by a sizable 7.6%. Phoenix was also a big contender in the past decade, with 57,100 units completed, increasing the existing base by 18.2%.
Austin has been one of the fastest inventory growth markets nationwide in the past decade and continues at its lightning-fast pace today. The more than 27,500 units of apartment stock under way in Austin is set to increase the inventory base by 10.4%, one of the fastest rates nationwide. Austin saw nearly 76,600 units deliver in the past 10 years, which resulted in an inventory increase of 40.6%, the #2 rate behind only Charlotte.
When gauging future deliveries by the volume of inventory increase, only the smaller Huntsville beats out Austin, with units under construction set to increase the existing base by 15.6%.
Several smaller markets that will grow inventory most in the near term have also been leaders in other performance metrics. Huntsville, Boise City, Reno and Fayetteville have been consistently high rent growth markets with steady demand for the last couple years. Others, such as Charleston and Cape Coral, have seen strong population growth.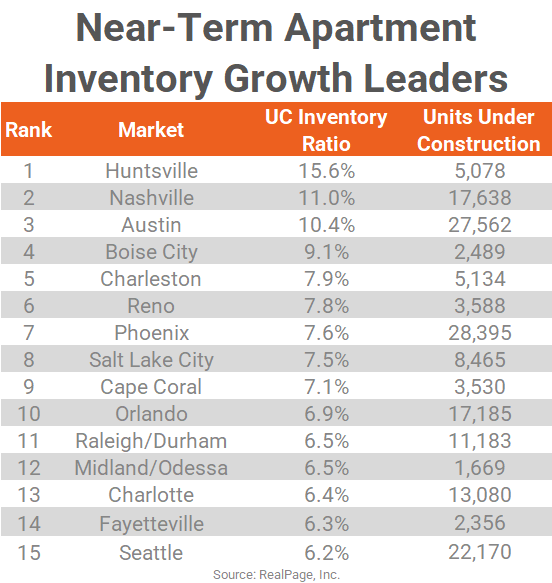 Five markets with more than 17,000 units under construction are also slated to see a near-term inventory increase of more than 6%. Markets leading the nation for both data points include Phoenix, Austin, Seattle, Nashville and Orlando.
In the coming year, specifically, the most prolific construction activity is scheduled in Austin, where total inventory will grow by 6.9% or more than 18,000 units.