Des Moines Maintains Solid Apartment Fundamentals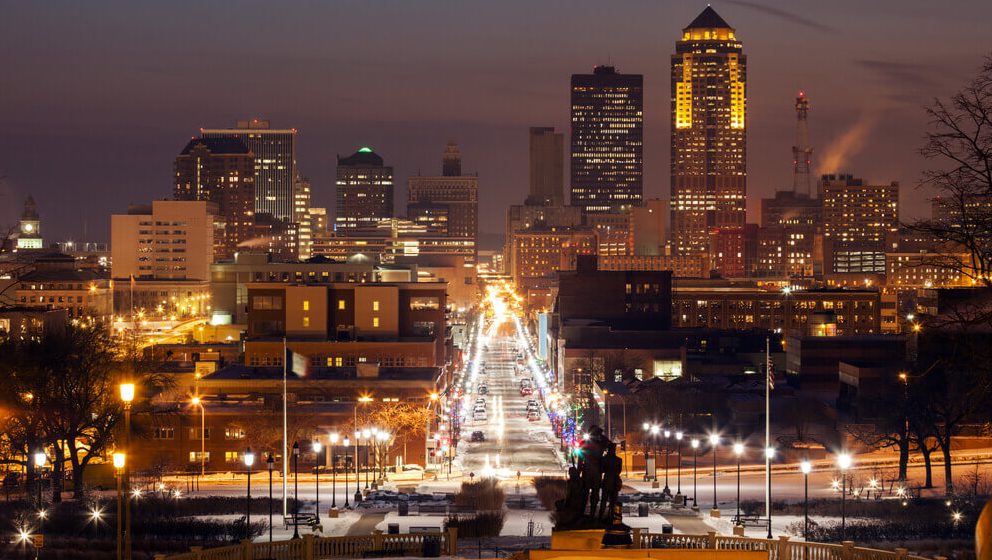 Posted September 27, 2017
During the current cycle, Des Moines has largely managed to avoid the performance inconsistency common in most small apartment markets. Relative stability stems from strong underlying fundamentals, including a solid local economy and favorable demographic profile that have spurred along apartment results in recent years.
The Des Moines apartment market has seen few vacancies over the past five years, maintaining occupancy of roughly 96% to 97% over much of that time. In 2nd quarter 2017, the rate landed at 96.2%. Despite tight occupancy, rent growth has remained mostly modest. Annual increases ranged from roughly 1% to 2% over the past four years – a performance slowdown that coincides with the start of the recent supply wave.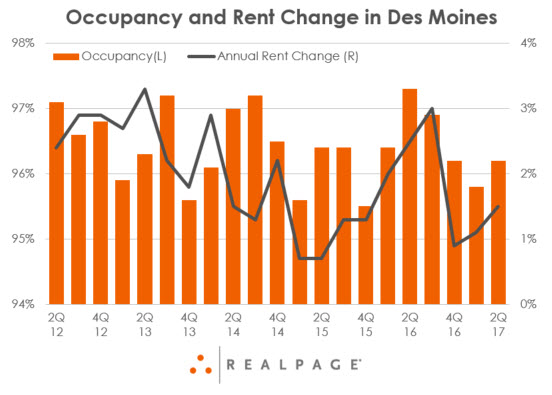 Apartment developers, lured by the solid structural story in Des Moines, have ramped up activity in recent years. Annual supply volumes in Des Moines have remained around 1,000 or more units over much of the past three years, according to RealPage permit-based models. Completions grew inventory a total of 8.3% since 2014. Another 3,000 units were estimated to be underway in mid-2017, a total that represents 6.8% of existing inventory – a top 10 tally, nationally.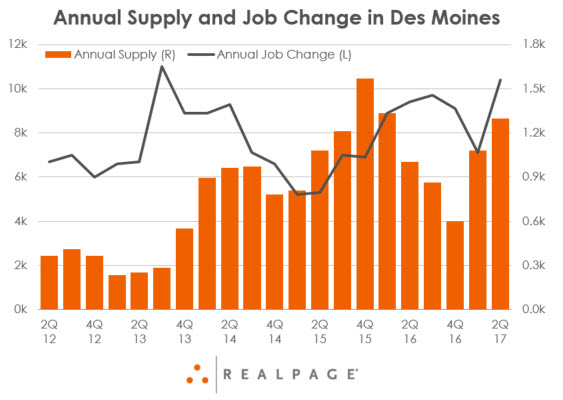 New apartment units come as the Des Moines metro has maintained annual job base growth of roughly 2% to 3% since late 2011. Such hiring has resulted in very low unemployment. Not surprisingly, many of the new jobs have come in financial services. Des Moines is regional hub for the insurance and financial industries. Wells Fargo is headquartered in Des Moines, and other major companies like Principal Financial Services and Nationwide Insurance are major employers in the metro. Additionally, convenience store chain Kum & Go is building a new $150 million headquarters downtown. IT firm Cognizant Technology has also announced plans to add more than 1,000 jobs in a new office in the downtown area, which is currently undergoing a building boom of commercial and residential projects.
The presence of major insurance and financial companies has translated into median household income of nearly $63,000, roughly 13% above the national average. Additionally, population growth more than doubled the national average from 2010 to 2015 – with a significant number of new residents being 20 to 34 years old, the prime renting demographic.
Though the metro boasts solid demand drivers, the influx of supply will likely cause occupancy in Des Moines to cool. Still, the market should remain essentially full throughout the supply wave. Once deliveries slow, rent growth is expected to tick back up to the 2% to 3% range seen before the supply wave. Among the headwinds for rent growth going forward, Des Moines remains a single-family dominant market with a homeownership rate well above the national average.