D/FW Leads for Demand (Again)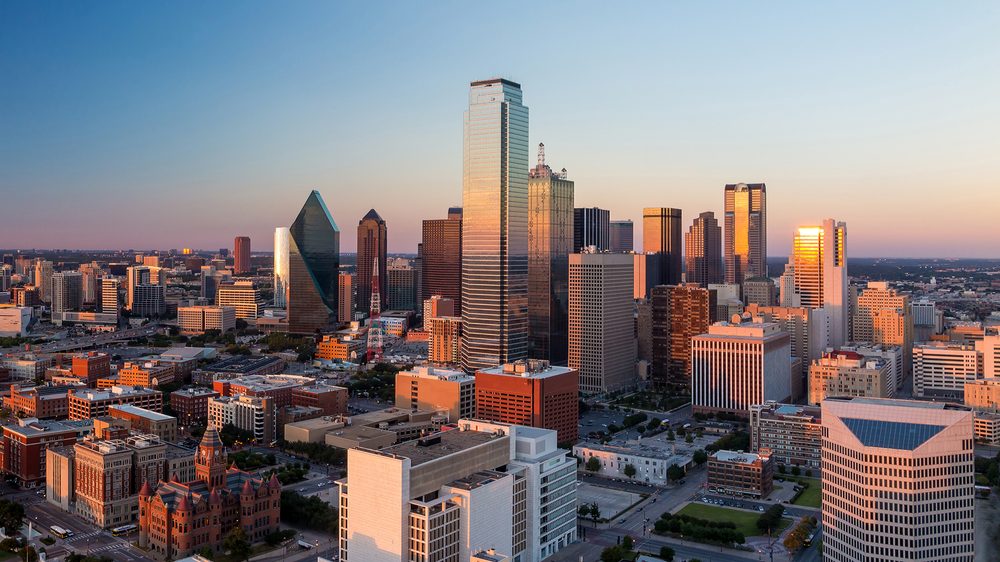 If simply getting in front of demand is a key component of your apartment investment strategy, Dallas/Fort Worth is the market for you.
After getting off to a slow start in the first half of 2020, demand came roaring back later in the year, yielding 20,412 apartments absorbed for all of 2020. That was the country's top demand performance, exceeding the absorption of 16,400 or so apartments in metro Atlanta.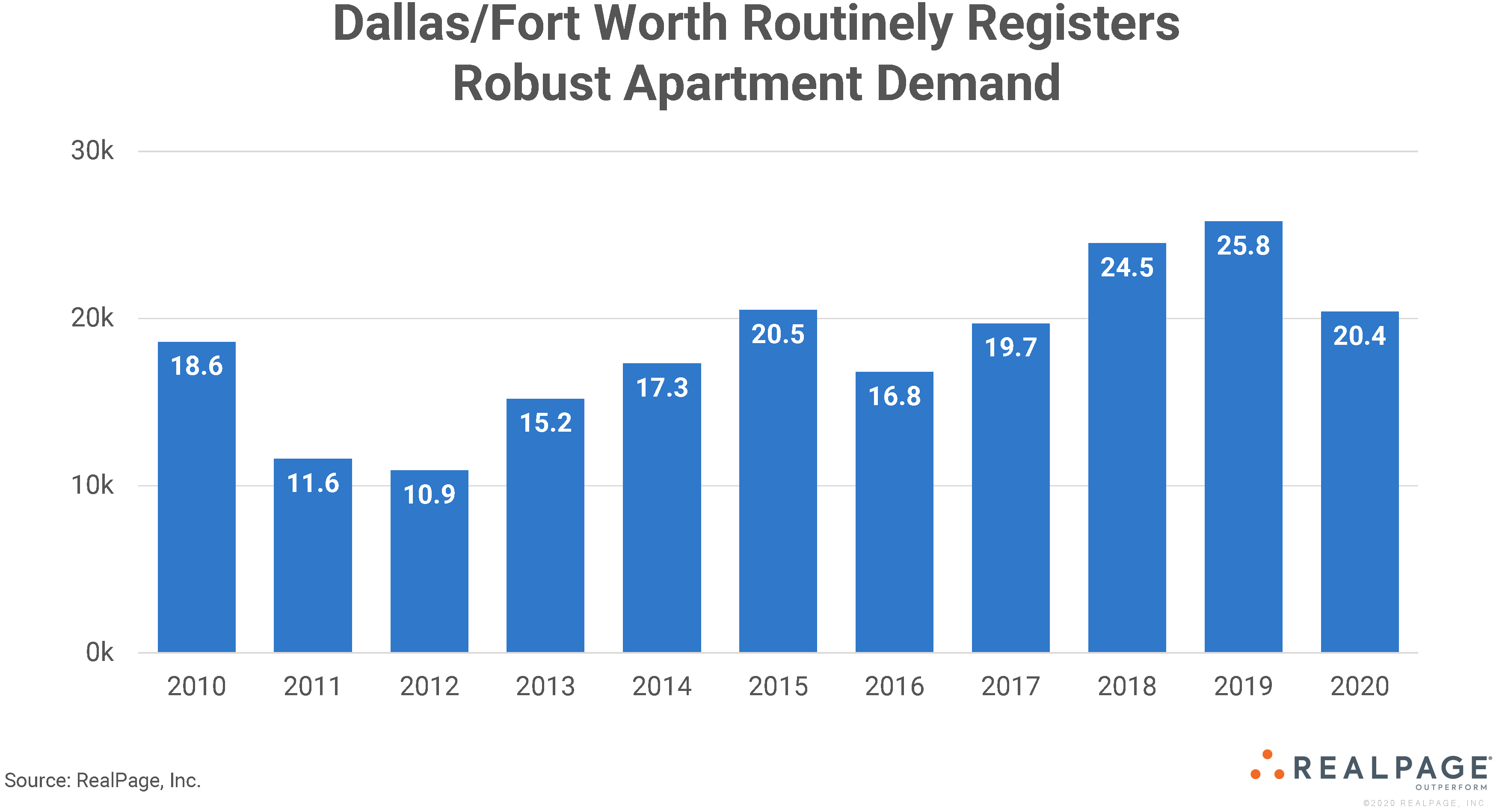 The #1 position in terms of apartment demand is a familiar spot for DFW. Since 2010, when national demand kicked back in following the recession of the late 2000s, the North Texas occupied apartment count has climbed by a stunning tally of 201,322 units.
During the last 11 years, then, the Dallas/Fort Worth area has absorbed the equivalent of every single existing apartment unit in a metro the size of Charlotte, San Antonio or Las Vegas.
The Area Also Leads for Construction
Sustaining the sort of apartment demand that registers in DFW requires lots of construction, and developers rarely stop pushing deliveries.
New supply in 2020 totaled 26,101 units, topping demand specifically in the past year even though North Texas has a good track record of keeping supply and demand in a relatively good balance. Dallas/Fort Worth led the nation for deliveries in 2020, topping the totals of about 18,000 units in Houston and 13,000 or so apartments in Atlanta and Washington, DC.
A flurry of completions right at the end of 2020 brought ongoing construction in Dallas/Fort Worth down to 36,028 units, with that total falling below the 40,000-unit mark for the first time in five years.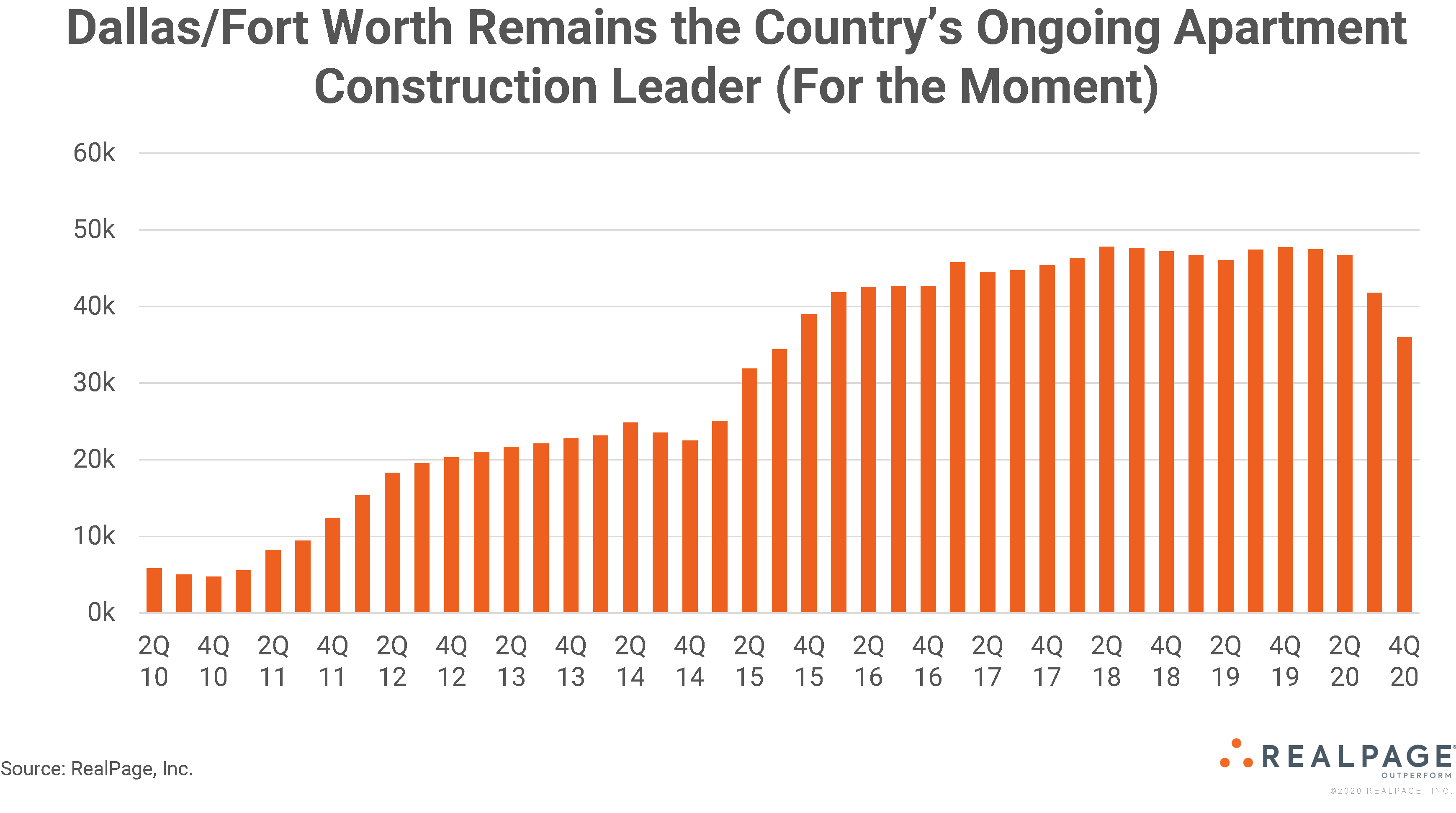 North Texas remains the country's busiest building center for the moment. However, Washington, DC, Newark/Jersey City, Los Angeles and Phoenix all have moved within shouting distance of the Dallas/Fort Worth total, and multifamily building permits are trending downward more quickly in D/FW than in those other spots. It wouldn't be surprising to see another location at least briefly move ahead of Dallas/Fort Worth for ongoing building by the end of 2021.