Can Gateway Metros Burn Off Apartment Rent Concessions?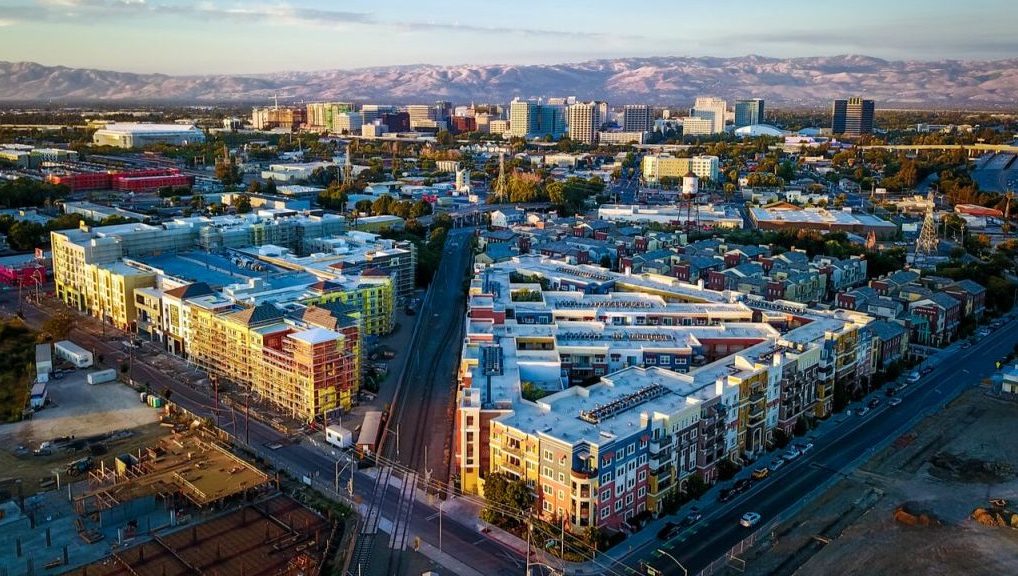 After apartments in U.S. gateway metros suffered big price cuts in much of 2020, effective asking rents are beginning to inch up again on a month-to-month basis. While the return of some momentum is encouraging, the path to full recovery of rents in these areas will be influenced quite a bit by how quickly properties can retreat from free rent periods for new leases.
Discounts Are Common
As of April, rent giveaways were offered about twice as frequently in gateway metros than in other parts of the country.
Looking specifically at communities with stabilized occupancy (meaning initial lease-up has been completed among the projects that were finished recently), rent concessions were reported for 40.4% of San Jose's stock. The share of product with discounts was 31.8% in New York and roughly 28% in both San Francisco and Oakland.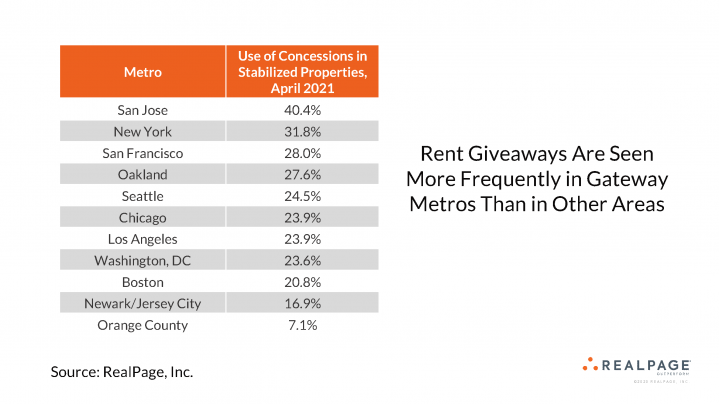 Use of free rent periods as a leasing incentive was somewhat more moderate at roughly 21% to 25% in Seattle, Chicago, Los Angeles, Washington, DC and Boston, but those results still well exceeded the 14% or so share of all product across the U.S. featuring concessions.
New York-adjacent Newark-Jersey City and Southern California's Orange County to some degree function as gateway metros. April stats showed discounts for 16.9% of the stabilized stock in Northern New Jersey, leaving Orange County as the sole gateway zone with rent giveaways below the national norm. Concessions were in place as of April for only 7.1% of the product there.
Lots More Product Is On the Way
Apartment demand has climbed during the initial months of 2021 in the gateway metros, even the ones that suffered net move-outs last year. The potential for robust product absorption is there during the near term, as more workers return to the big office job centers found in these areas and as COVID-19 vaccinations allow the lifestyle appeal of gateway metros to begin to bounce back.
Still, most gateway metros face the headwind of big blocks of new supply on the way. Brand new projects will discount their rents while in initial lease-up. That's just the normal practice where you're trying to entice people to live in what's oftentimes an active construction zone. In turn, stabilized luxury properties in the same neighborhoods will tend to match those discounts in order to hang onto existing renters.
It could be a tough assignment for existing properties to burn off concessions during 2021 – and to some degree in 2022 – across Newark-Jersey City, Washington, DC, Los Angeles, the California Bay Area, New York and Seattle.
Going into 2nd quarter 2021, each of these areas had roughly 22,000 to 30,000 market-rate apartment units under construction and scheduled for completion in 2021 through 2022. Thus, leasing competition among Class A properties is likely to remain intense.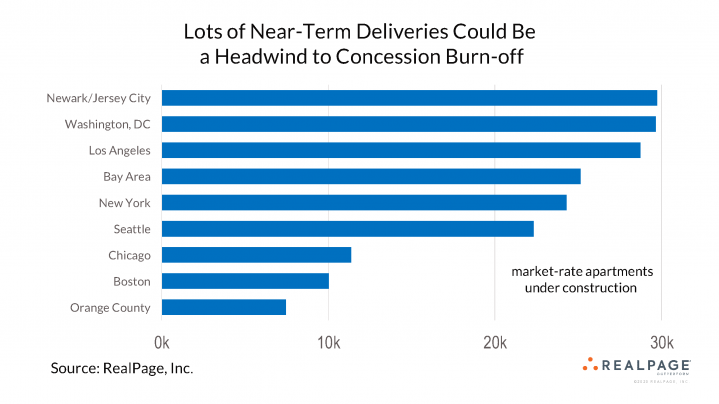 On the surface, the situation looks better in Chicago, where total ongoing development is more restrained at just over 11,000 units. However, much of that metro Chicago building activity is focused in just two neighborhoods – The Loop and Streeterville/River North. Those are the same two spots where occupancy has taken a big hit during the past year, leading to common use of rent concessions.
Likewise, metro Boston's ongoing construction of 10,000 or so apartments isn't over the top, but quite a bit of that product will come on stream in the urban core neighborhoods where rent discounting is most frequent.
Once again, then, Orange County appears to be in the best shape. The 7,000 or so apartments on the way should be fairly easy for the metro to digest without triggering a run-up in free rent offers at existing luxury properties.