BLS Revises Down 2019 Job Gains in Most Major Metros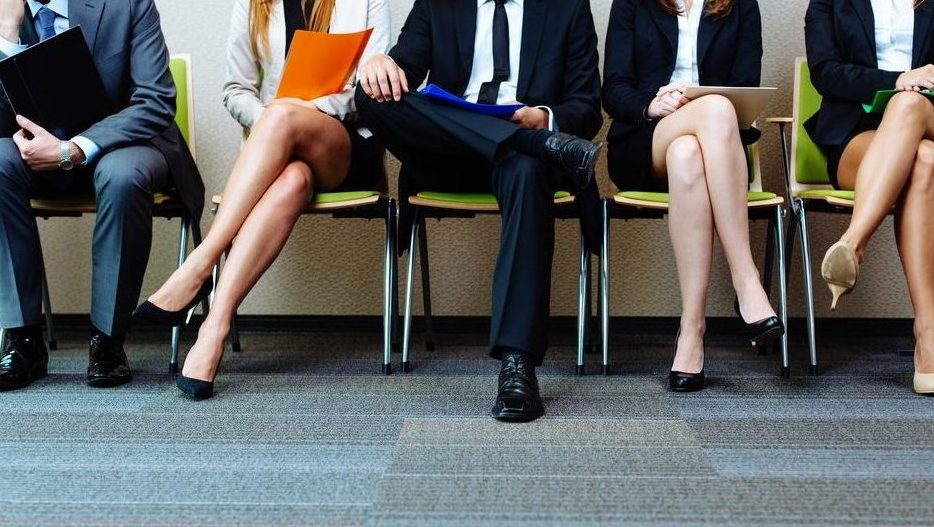 The U.S. gained about a half-million jobs fewer than originally estimated in 2019, according to new benchmark data.
Each March, the Bureau of Labor Statistics (BLS) revises historically reported employment levels for the U.S. in a process known as benchmarking. The result for 2019 was a decrease of 505,000 jobs, or 0.3% less than what was originally reported. Still, the U.S. employment market ended the year very tight, as December's unemployment rate registered at 3.5%, a 50-year low.
That downward revision was, of course, spread out across the country's hundreds of metropolitan areas. In most cases, the market-level revisions were relatively small. However, there were some markets that suffered more significant losses.
Across the 150 largest apartment markets, a total of 172,700 fewer jobs were created last year than the BLS initially reported – a downgrade of 0.2%. Job gains were revised down in 83 of those 150 markets.
Chicago and Los Angeles saw the sharpest decreases in their reported job gain figures after revisions, each gaining 30,000 jobs fewer than original estimates. Chicago's job gain figure for 2019 is now just 3,900 jobs.
Houston, Dallas and New York were each revised downward, lowering their overall employment levels, but not changing their status as some of the top three job gain metros in the country. Dallas is still the nation's job growth leader with 88,000 jobs gained in 2019.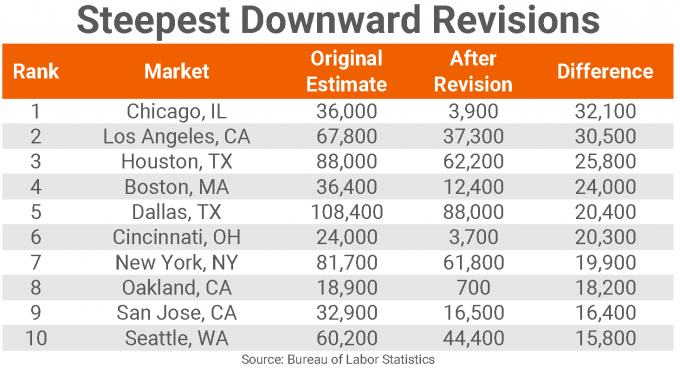 Oakland, San Jose and Seattle joined Los Angeles as the West Coast markets faring poorly in this year's revisions. Employment gains in those markets were down by roughly 16,000 to 18,000 jobs from original numbers.
On the other hand, some markets saw some large upward revisions in 2019. Nashville had the biggest boost, jumping from 17,900 jobs gained, to almost 30,000 – an increase of 11,400 jobs. Washington, DC and Fort Worth each added more than 8,000 jobs to their annual gain figures, while Pittsburgh, Detroit, Denver and San Francisco added more than 5,000 jobs to their totals.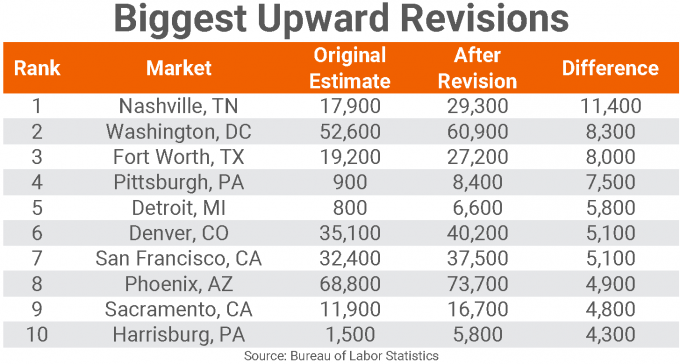 While most of the big revision metros were among the nation's largest 50 markets, Harrisburg, PA also ranked among the nation's top job growth revisions, with 4,300 more jobs than were originally estimated.