Bay Area Apartment Performance Tumbles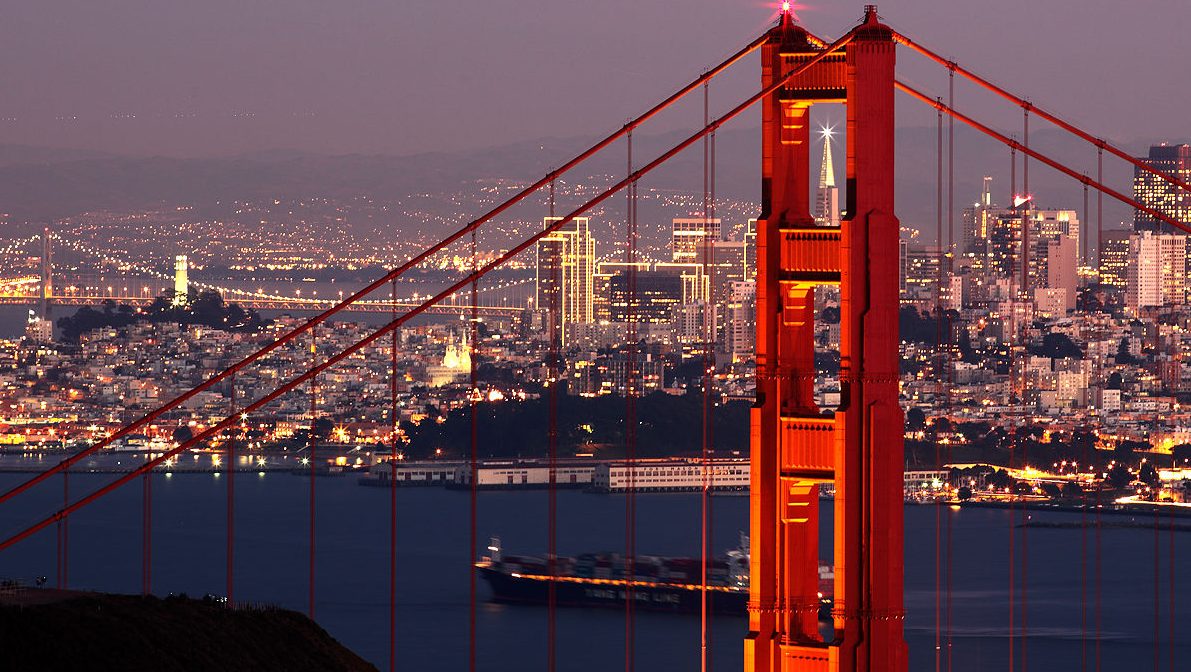 While apartment market performances continued to soften nationwide in July, no major market is experiencing more severe performance slumps than those in the Bay Area.
Among the nation's 50 largest apartment markets, all three of the major Bay Area metros logged some of the steepest declines in effective asking rents. In the year-ending July 2020, San Francisco operators slashed effective asking rents 10.1%. San Jose saw a decline of 9.5% and Oakland operators cut rents 4.7%. New York and Boston rounded out the bottom five markets for asking rent change performance in July. Nationwide, the U.S. logged asking rent cuts of 1.1%.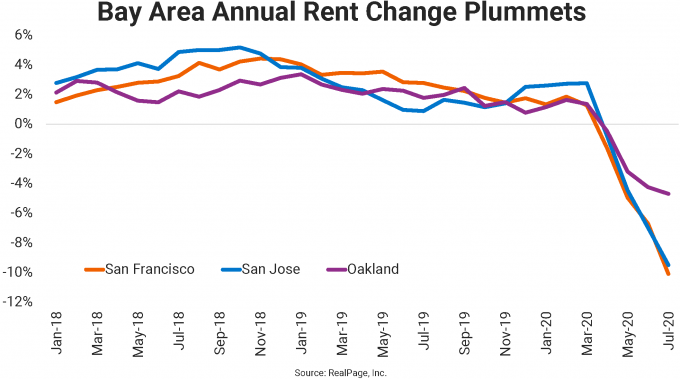 The Bay Area's recent deterioration has been less pronounced in Oakland. Asking rent change in Oakland went from 1.8% growth in July 2019 to cuts of 4.3% in July 2020. That annual slump of 650 basis points (bps) is still better, however, than the 1,040 bps drop seen in San Jose and the 1,290 bps decline in San Francisco.
The same pattern held true in executed rent change. San Francisco saw the worst decline nationwide, with executed rents falling 16.3% year-over-year in July. San Jose's executed rent cuts were also pronounced at 11.2%. Oakland also logged executed rent cuts, but they were much more moderate at 3.3%.
Big shifts in Bay Area apartment rents aren't unusual. These markets are often are often among the nation's leaders for rent growth in prosperous times. But apartment operators here also have a history of reacting strongly to even minor shifts in external factors, such as softening in the economy or proposed rent control measures.
But COVID-19 has also had a significant impact to occupancy. The Bay Area is a chronically underbuilt region, and occupancy typically runs above the national norm. As of July, however, Oakland was the only Bay Area market where occupancy still outperformed the national norm of 95.3%. All three markets have hit recent lows in occupancy, but the plunge in San Francisco and San Jose is especially notable.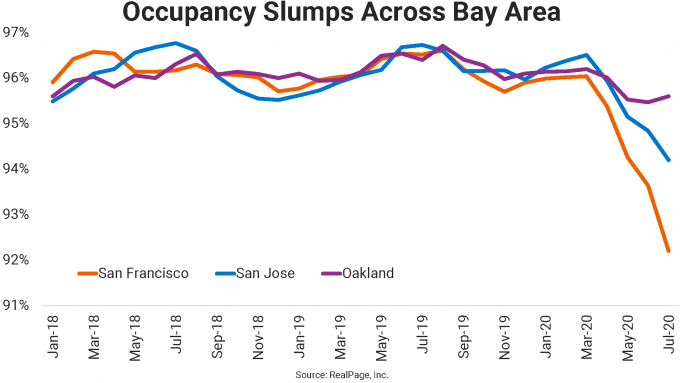 Oakland has lost about 80 bps in occupancy in the past year, which is comparable to the 70 bps softening seen in nationwide. Meanwhile, San Francisco's occupancy has plunged 430 bps, followed by San Jose's softening of 250 bps. These were the two most severe declines among in the nation's largest apartment markets.
These occupancy results reflect stress in these pricey areas, especially among top-tier product and urban locations in San Francisco and San Jose. Both markets are struggling with net move-outs in recent months while new apartment projects continue to come online. Move-outs stem from job losses that shrank the employment base 11% in San Francisco and 8.1% in San Jose, according to data for the 12-month period ending in June from the Bureau of Labor Statistics.