Apartment Rent Payment Results for Mid-February Continue to Trail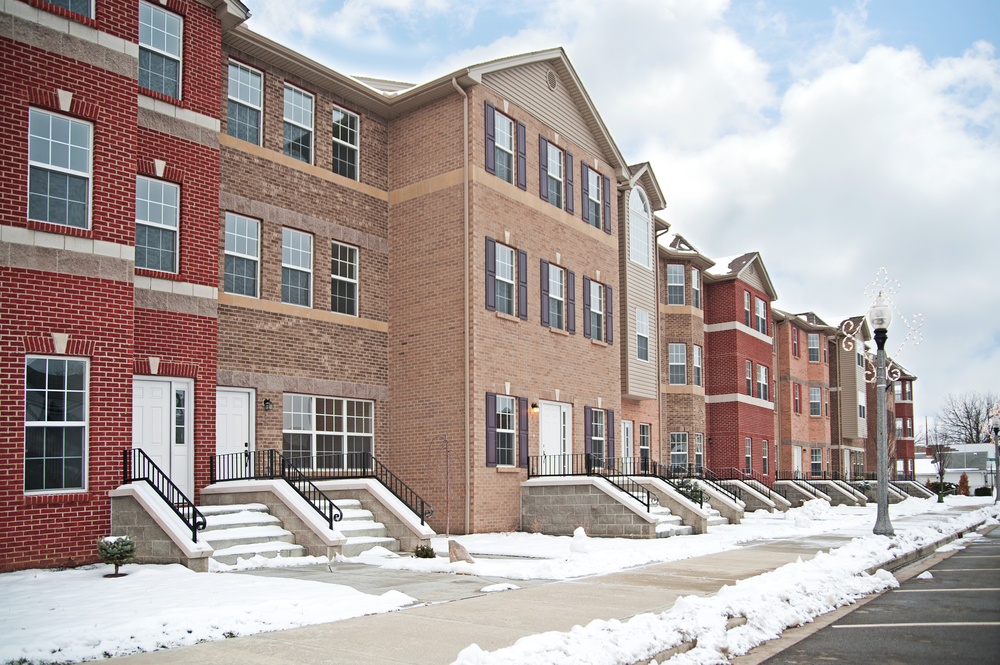 The year-over-year moderate loss in U.S. apartment rent collections continues as of mid-February, according to the latest statistics from RealPage, Inc.
Nationally, the share of households paying February's rent through the 13th is off by 1.6 percentage points from the mid-February 2020 figure.
Note that this information is limited to performances of professionally managed properties using RealPage's property management software. The National Multifamily Housing Council is not publishing data from the organization's Rent Payment Tracker research this week. That Rent Payment Tracker research covers a larger set of properties, relying on info from not just RealPage but also another four property management software providers.
Previous Patterns Hold in Property Class Payments
As has been seen since the COVID-19 pandemic began, rent collections remain better in the upper-end and mid-range apartments than in the lower-tier properties. RealPage stats show payments for February through the 13th at 88.9% in the Class B block of product and 88.8% in the Class A inventory.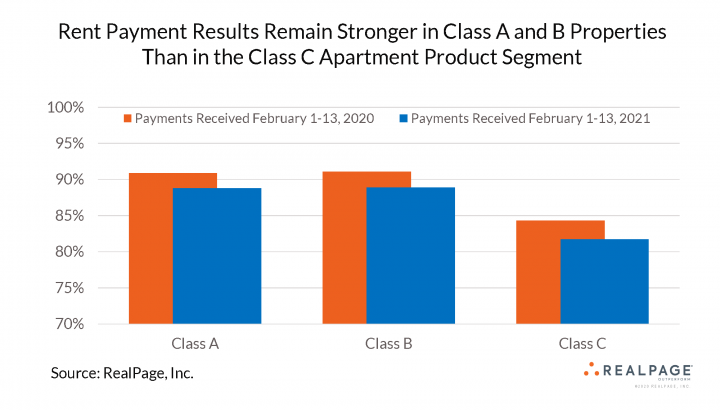 Collection levels are lower at 81.7% in Class C projects. Still, payments in the Class C stock did again make sizable progress from the initial week of February to the second week. It's normal for payment activity in Class C communities to trail by an especially big margin in the first week of a month. Many renters in these less-expensive apartments pay their bills by check, rather than electronic payment, and there can be delays in processing check payments.
Expensive Metros Among the Payment Laggards
With more and more households making late payments, patterns in collections results are not as clear as they were a few months ago. However, there's still a tendency for the payment levels to trail in expensive metros, where those dependent on unemployment benefits struggle to cover living expenses.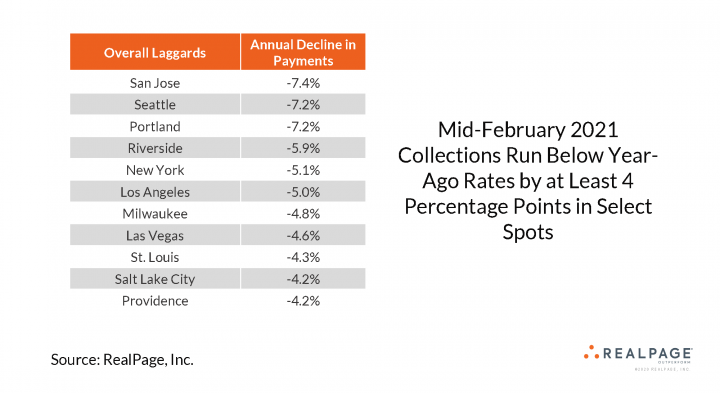 The biggest collections shortfalls relative to mid-February 2020 levels are in San Jose, Seattle and Portland. Annual declines register around 7 percentage points in these locations.
There's an annual drop of 5 to 6 percentage points in the share of households up to date on rent payments as of February 13 in Riverside, New York and Los Angeles, while the decline comes in at 4 to 5 percentage points across Milwaukee, Las Vegas, St. Louis and Providence.